Harley-Davidson (HOG) needs no introduction, but there is certainly cause for evaluation as trade war concerns escalate in global markets and debt-laden companies take a hit. The stock trades relatively cheap to the broader market, but for good reason. There is far too much debt, with a significant short-term portion, and I believe the risks being taken on by investors aren't accurately reflected. However, the company has both a five-year and ten-year plan in order to grow the business and improve margins, which can offset short-term weakness. With that being said, I think investors wait on this name until trade war concerns abate or until leverage reduction becomes the core priority.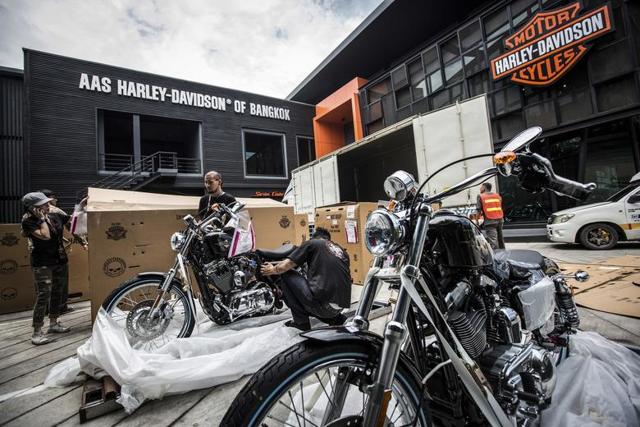 Source: The Seattle Times
Breaking Down The Debt
In terms of a liquidity position, the company has a positive bottom line, earning roughly $500 million annually, which converts into about $1.1 billion in operating cash flow. It also has high free cash flow conversion, with $908 million in the last 12 months, which is a great sign if sales can grow materially and the company can ride the tailwind of electric motorcycles. EBITDA comes in close to operating cash flow at $1.086 billion in the last 12 months, effectively levering Harley-Davidson to 5.5x LTM EBITDA on a gross basis. On a net basis, we're looking at 4.6x leverage. Both are high, and if you were to take a simple glance at the credit rating profile, you'd be scratching your head.
Harley-Davidson is currently rated A3/BBB+ by Moody's and S&P respectively, which simply doesn't make sense to me. How these leverage figures don't exceed the thresholds that these ratings agencies have set in their normal credit analysis process is beyond me. However, in trying to think about what positives and benefits of the doubt that the agencies are giving Harley-Davidson, there are a few items that might increase recoveries and thus warrant more certainty around the credit risk.
First, Harley-Davidson is an asset-intensive business that sells tangible goods. The reason this is a good thing is because it means there is a higher level of plants, property, and equipment to back the company's debt and far more certainty around the sales profile than say a subscription-based business or one with a high level of intangibles. Additionally, the company's combined liquidity and cash flow profile leaves me with a significant level of comfort. First, the company is generating around $900 million per year in free cash flow. Second, it has close to $1 billion in cash.
So, despite the high leverage figures, the company has the short-term liquidity profile to tend to its maturities and opportunistically refinance. However, if macro headwinds picked up and materially dragged on sales, there'd be more cause for concern as EBITDA would be negatively impacted. Even with the liquidity profile, it's incredible to see a company that has over 5x leverage and operates in a domestic environment with flat rider growth be three notches above junk.
Caught Up In Tariffs
I believe that if material debt reduction can begin to occur, then the company can not only justify its current credit rating, but also gain more investor support about future prospects. Truthfully, the whole equity story with Harley-Davidson has revolved around tariffs and the associated impact. The stock is down nearly 19% this year because of those concerns, and while the valuation looks cheap, the headwind persists.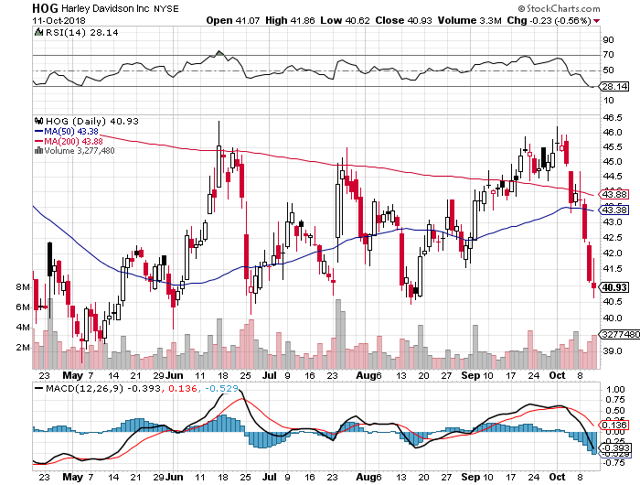 Source: StockCharts
With tariffs center stage, I think investors are only going to become more and more sensitive to the trend of margins as profitability becomes the core concern. The company is targeting an EBIT uplift in the next five years of 75bps to 125bps. That's really not a lot considering that means an average of 15-25bps per year. This is part of its strategic growth plan through 2022, but it's going to be interesting to see what the actual end target is. The reason I say that is because its EBIT margins swing widely.
For example, in Q3 2017, it was 8.4%, and then in Q4 2017, it was 8.26%. Moving into this year, we see Q1 EBIT margins at 15.3%, and in Q2, there was a further uplift to 18.91%. It should be noted that there is a significant element of seasonality and that looking at EBIT margins on an annual basis allows for far greater understanding of the business. With that being said, the operating margin has deteriorated in the past few years from 19.2% in 2015 to the current LTM 13.46%. The Street seems to be rather optimistic on HOG, however, with the full-year 2018 estimate at 15.41%.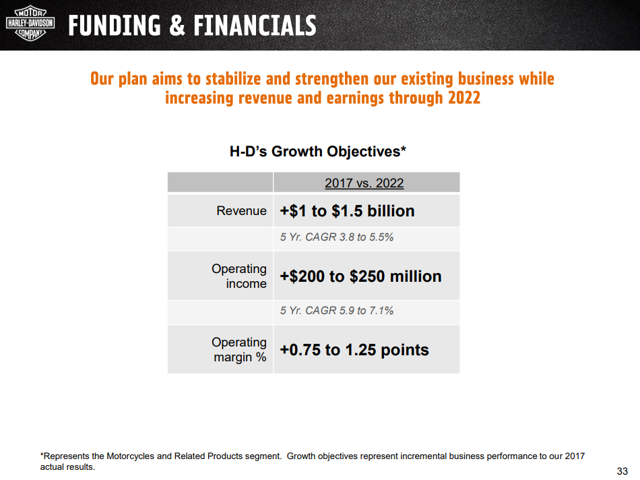 Source: Investor Presentation
With volatility in operating income, it's worth considering the current valuation, especially following a near 20% dip this year. The stock trades at 11.1x forward earnings versus a peer set that trades at 9.2x. However, I'd like to break this down a bit further. The peer set includes Ford (F), General Motors (GM), Honda (HMC), and Kawasaki (OTCPK:KWHIY), which all have P/Es sub-8x with the exception of the latter. Those stocks have historically traded in the high-single-digit P/E, so it's understandable that HOG would trade at a premium, especially given a lower nominal financing risk for the assets themselves.
I'd say the more key comps to look at are Honda and Kawasaki. Kawasaki trades about 0.1x richer than HOG, but is substantially cheaper on both an EV/EBITDA and EV/EBIT basis. Honda trades considerably cheaper than both Kawasaki and Harley-Davidson at 7.5x earnings, which is a slight premium to that of Ford and GM.
The valuation can adjust for Harley-Davidson if it delivers on its long-term plan and quite simply becomes more profitable. Its 2027 objects are five-fold. First, achieving two million riders in the U.S. and then growing the International Business segment to half of total volume. Right now, about 40% of motorcycles sold are sold internationally, so a 10% mix shift is quite doable. The reason I have such confidence in the mix target is because the company has hit that target before.
The most recent quarter it happened was in Q3 2017 when the mix was 52.8% international and 47.2% domestic. It also occurred in Q4 2016 when 52.5% of motorcycles sold were sold internationally. HOG is also seeing decent growth in its Asia small 150-400cc segment, which while being non-core is still targeting volume up at a 6% CAGR through 2022. Opportunities, however, rest in Europe and India, where the company has seen solid growth. In India, notably, it's projecting a 25% CAGR in its 250-500cc lineup and 18-28% CAGR in its >500cc through 2020.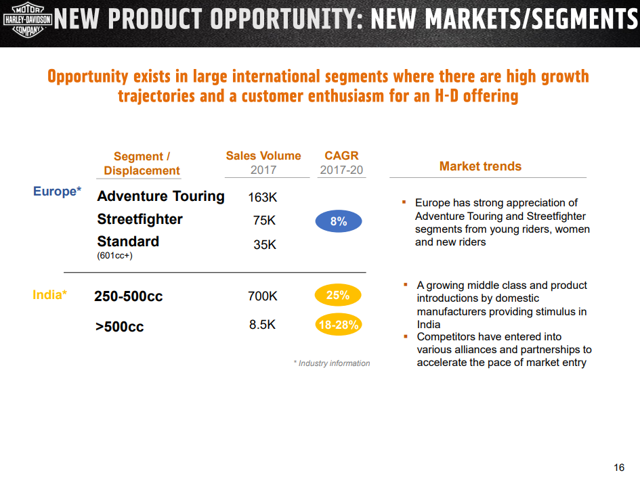 Source: Investor Presentation
Then, there comes the goal of launching 100 new high-impact Harley-Davidson motorcycles. Adding nearly double the market's expectation for new models creates a wide product suite to offer consumers across the globe. I believe this is a great initiative, and while it won't start showing up as a financial impact for a few years, it nonetheless shows the willingness of the company to adapt to changing consumer needs. Fourth, the company has the goal of delivering a top-quartile ROIC within the S&P 500. Traditionally, ROIC for the company has been in the 8-9% range, but in recent quarters, it's drifted to 5-6%. Harley-Davidson will need to hit a target above 9% at bare minimum to achieve this objective.
Finally, its last goal is to grow the business without growing the carbon footprint. That's not something that's easily quantifiable without specific safety and risk metrics from the company itself, but it's worth noting that this is an alignment with ESG investing values by management. Considering the growth of this style of investing, the consciousness of management to be more green is a qualitative point to the bulls, even if it doesn't mean a material net impact on the financials.
One way to potentially create some granularity on this item is the increased product opportunity from electric motorcycles, which this company is projecting to grow at a 50% CAGR across the mid- and high-power segments in the U.S. and Europe over the next three years. Additionally, it's looking to that same 50% CAGR for the mid-power segment in Asia. With the benefit of scale and considerable production experience, the company can outpace competitors significantly in this segment, and I believe this is the key to watch with Harley-Davidson in the medium-term.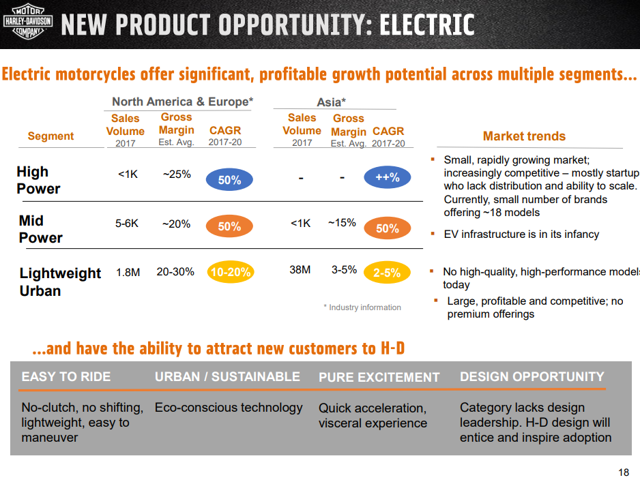 Source: Investor Presentation
Conclusion
If Harley-Davidson is to truly leverage the core business, see an uplift in margins, and reduce dependency on the macro environment, it's going to need to execute well ahead of schedule on its five-year plan, as well as reduce debt materially. I believe the projections set out through 2022 by the company set a low bar and are easily achievable, but still require diligent execution. There are several levers this company can pull to achieve its targets, and one of the most promising looks to be electric motorcycles. When delivery occurs, I expect this company to meaningfully de-lever and ease that substantial headwind, making this stock all the more inviting to investors.
Disclosure: I/we have no positions in any stocks mentioned, and no plans to initiate any positions within the next 72 hours.
I wrote this article myself, and it expresses my own opinions. I am not receiving compensation for it (other than from Seeking Alpha). I have no business relationship with any company whose stock is mentioned in this article.