Over time, investors tend to get distracted by overarching themes in the marketplace. This usually only happens temporarily, which is why it is imperative for investors to capitalize on stock market gyrations the moment they are identified. With political concerns seemingly dominating all media outlets - financial and non-financial outlets - on a daily basis, certain sectors in the market can go underappreciated. That is currently happening with the financial sector amid highly controversial events such as the ongoing trade dispute with China and the Supreme Court nomination of Brett Kavanaugh. The 10-year treasury rate, a primary driver of bank income, has risen from 2.97% to 3.21% in the last month alone. Surprisingly, as the charts below indicate, the Financial Select Sector ETF (XLF) has actually fallen over the same time period, creating a chance for opportunistic investors to capture value in financial stocks.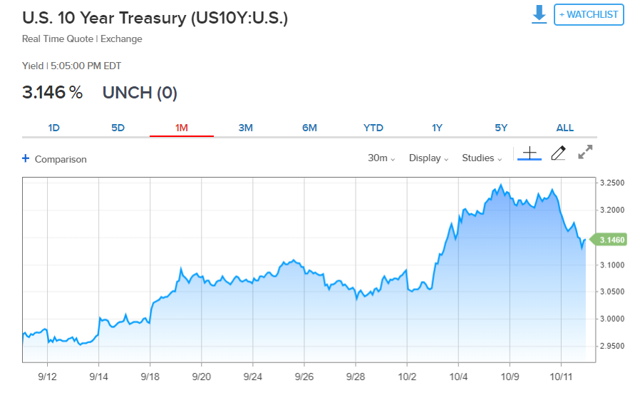 Source: CNBC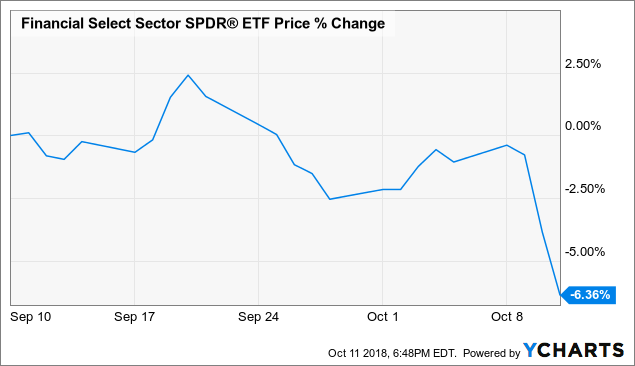 Another type of investment vehicle that can often get overlooked are smaller companies, irrespective of industry. Despite the inundation of computer-driven trading, there is still a human element to the market and that results in the "bigger" names in certain sectors being bid up faster than the lesser-known companies. Hancock Whitney Corp. (HWC) fits both of these molds and is undervalued, something that has become increasingly difficult to find in this market.
Company Profile
Hancock Whitney is a regional bank that operates in the Southeastern United States boasting one of the Top 50 Trust portfolios by size in the US due to its acquisition of Capital One's Trust & Asset Management Business. This acquisition is expected to be EPS-accretive immediately, adding $0.07-0.08/share to HWC's existing base. The company also boasts very strong diversification in terms of both its revenue streams and its loan portfolio. Per Hancock Whitney's Q2 2018 Earnings Presentation, the bank has a $6.1 billion securities portfolio on top of its $22.2 billion deposit base on which it commands an impressive 3.40% net interest margin. These primary sources of income are then coupled by just under $70 million in non-interest income per quarter. The images below show the breakdown of both the loan and securities portfolio that HWC manages: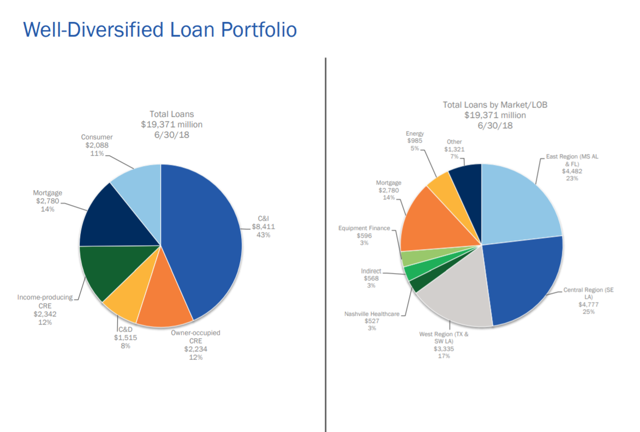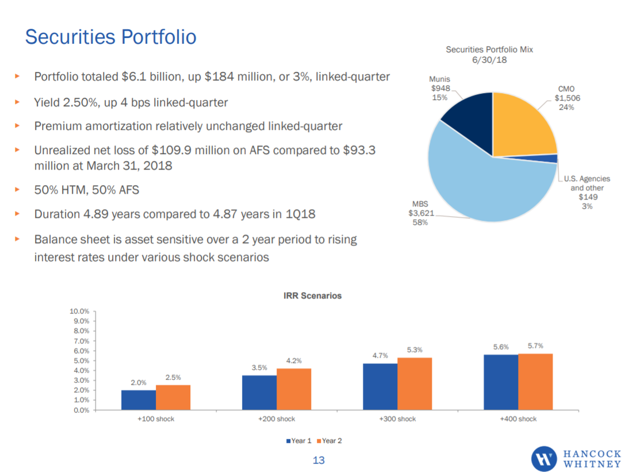 Diversification is always something I look for in prospective investments, especially a financial company. Markets are inherently volatile - and that applies to more than just the stock market - so it is imperative for a company whose profitability is driven by financial instruments to have adequate cover. Another crucial characteristic to ensure safety is balance sheet strength, something that HWC has been improving over time, especially in Q2.
Q2 2018 Performance
The Second Quarter was strong across the board at HWC, but the impact it had on its balance sheet was most notable. Not only did the Capital One acquisition add valuable assets to the bank but there was also significant improvement on the existing asset base. Criticized commercial loans fell 17% quarter-over-quarter and nonperforming loans decreased 11% over the same time period. It is difficult to post such impressive figures on a year-over-year basis, yet HWC managed to do so in just three months. This asset improvement was driven by the company's strategic decline in exposure to energy loans. The company was targeting energy loans to comprise 5% of its overall portfolio, a figure which it has just finally reached.
Hancock Whitney also enjoyed growth that will continue to boost its top line with its loan book increasing 6% year-over-year, a growth rate that is expected to be maintained in Q3. Deposits were up 1% and the securities portfolio increased 3% sequentially while non-interest income grew 4%. Rising interest rates will serve as a boon to the value of both HWC's loan and securities portfolios, its two largest revenue drivers. More than half of HWC's loans are variable rate loans which will continue to become more profitable for the bank as rates rise. With regard to the company's securities portfolio, the company's internal rate of return grows substantially under potential "shock scenarios" as depicted below: (in this instance, a shock scenario refers to interest rates rising beyond expectations at varying levels).

Non-interest income is expecting a near 10% jump next quarter, driven almost entirely by the new assets purchased from Capital One. Growth in almost all areas does cost money as operating expenses grew 2% sequentially, however, the bank's efficiency ratio improved 11 basis points to 57.4% indicating the benefit of scale. Things are heading in the right direction at HWC, but there is still room for improvement as the company has not yet reached all of the goals it set forth with a self-imposed deadline of Q4 2019: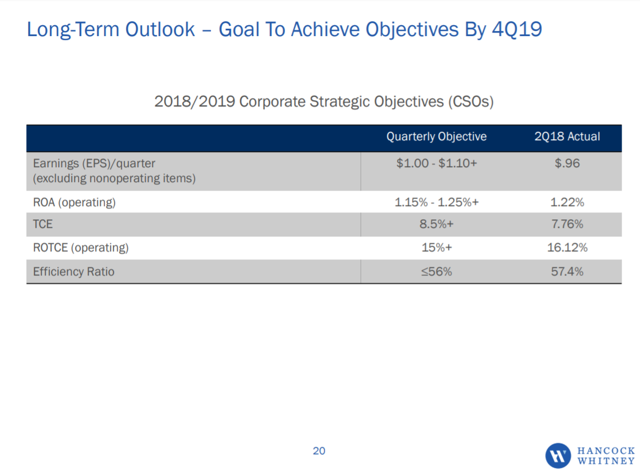 All operating performance and balance sheet metrics for HWC were sourced from the company's Q2 2018 Earnings Presentation
Valuation
Investors are growing more tolerant of lofty valuations due to the extended bull run that has occurred over the past several years. Rising stock prices have made bargain shopping in the market increasingly difficult, making relative valuations even more important for value investors. The table below shows EPS estimates from the Wall Street Journal for HWC compared to Tuesday's closing price of $47.99/share:
| | | |
| --- | --- | --- |
| Year | EPS | P/E |
| FY18 | 3.91 | 12.27 |
| FY19 | 4.25 | 11.29 |
| FY20 | 4.57 | 10.50 |
In a market where stocks trade above the historical averages, a forward price-to-earnings ratio of 11.3x is very attractive for a company with improving fundamentals. Add in the secular tailwind from rising interest rates and the value in HWC shares is apparent. Wall Street analysts agree with that assertion as seven of the ten analysts covering the stock have a buy rating, while the other three have a hold rating. The average price target on the Street of $57.70/share represents a 20% premium from where the stock trades now. Even the lowest analyst target implies 13% appreciation.
Risks
Every investment inherently has risk even if the underlying company is diversified in a way that mitigates that risk. A couple of more obvious risks that could prevent HWC's stock from climbing higher would be interest rate growth slowing and the integration of the former Capital One assets proving to be more difficult and/or costly than initially anticipated. Acquisitions and subsequent integrations often appear easier than they actually are in practice, especially when the assets purchased are material in size relative to the acquirer's existing base. A more unpredictable risk is the potentially devastating impact of Hurricane Michael, which at the time of writing, is currently making its way through the Southeastern United States. With billions of dollars of damage expected, it's difficult to say exactly how much HWC's primary geographic market will fare once the storm passes.
Conclusion
Hancock Whitney is far from the first name that investors will cite when they talk about financial stocks they're interested, but that's part of why there's still value in its shares. While political distractions and larger companies continue to dominate headlines, HWC will continue to improve its fundamentals, increase its top line, and reap the benefits of higher interest rates. The company's strong balance sheet and diversified revenue stream will propel the stock higher in the long term. Investors should take action now before the easy money is gone. Long HWC.
Disclosure: I/we have no positions in any stocks mentioned, and no plans to initiate any positions within the next 72 hours.
I wrote this article myself, and it expresses my own opinions. I am not receiving compensation for it (other than from Seeking Alpha). I have no business relationship with any company whose stock is mentioned in this article.