Germany's K+S AG (OTCQX:KPLUY, OTCQX:KPLUF), which sells salt and potash products, is one of few companies that have little correlation to the business cycle. It obeys a different cyclicality, as its sales are impacted primarily by the weather (de-icing salt) and by agricultural commodity cycles (potash fertilizers). Like its peer Compass Minerals (CMP) in the U.S., it offers an interesting diversification.
2018 has been a tough year for K+S. Some headwinds - which I believe are temporary - weighed on the stock. In my book, this is exactly the right time to investigate the company and assess whether this is a buying opportunity. My analysis below leads me to believe that K+S is attractively-priced indeed, with 40%+ potential upside.
Company Overview
K+S operates across two business segments:
potash and magnesium products: Fertilizers, industrial use
salt: De-icing salt, food processing, industrial use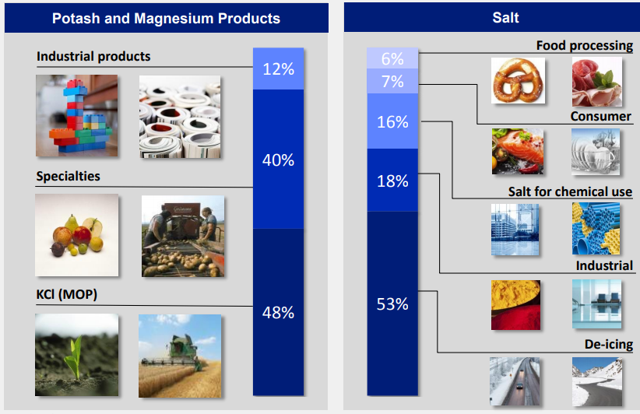 (Source: Company's Compendium - August 2018)
The company is headquartered in Germany, but it's production facilities and markets are global:
In the potash segment, K+S produces MOP (muriate of potash) and SOP (sulfate of potash), in Germany and at its new Bethune mine in the Canadian province of Saskatchewan. The sales are predominantly in Europe, but the proportion of sales to South America (Brazil) and Asia (China) is expected to grow as the Bethune production ramps up. The segment is supported by the growing demand for fertilizers globally.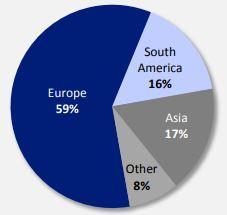 (Source: Company's Compendium)
As far as salt is concerned, production facilities are located near the consumption areas, understandably so due to the prohibitive transportation costs. In addition to some presence in South America, K+S operates in some of the world's main markets for de-icing salt. In North America, it owns Morton Salt, acquired in 2009, and competes against the likes of Cargill and Compass Minerals. Sales in this segment are driven by the number of snow/ice events in each market. In short, the worse the winter weather, the better the outlook for K+S.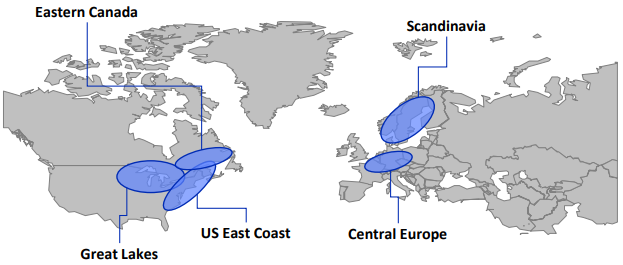 (Source: Company's Compendium)
Recent Headwinds
Back in August, K+S released the following results for H1 2018:

(Source: half-yearly financial report)
While the numbers were not that bad (with the negative variance in salt vs H1 2017 coming from currency effects), they fell short of the market's expectations. In fact, the headwinds have been accumulating since May, as reflected in the shares' slump (the recent sell-off in German equities did not help either):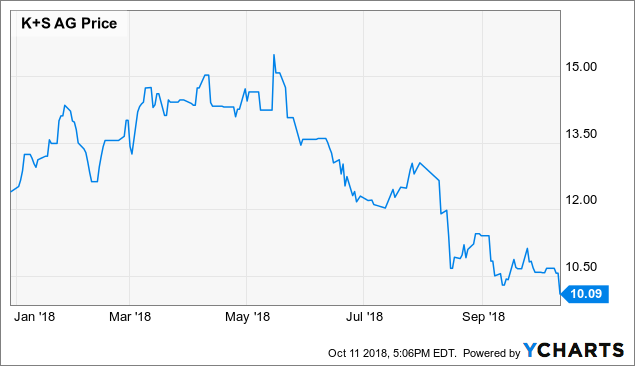 Note: these are the ADR-listed shares, in USD. K+S AG trades primarily in Germany (SDF:GR) and its share price is €17.6 at the time of writing.
What headwinds triggered the negative market sentiment? For the most part, the negativity came from the potash segment, specifically the slow ramp-up of the Bethune mine in Canada, and a production decrease in Germany.
Slower ramp-up in Canada
Bethune, which started production in the summer of 2017, is a brand new potash mine located in Saskatchewan, the world's most prolific potash region. The ramp-up, however, has not been smooth, and the company's production volumes have been below expectations so far.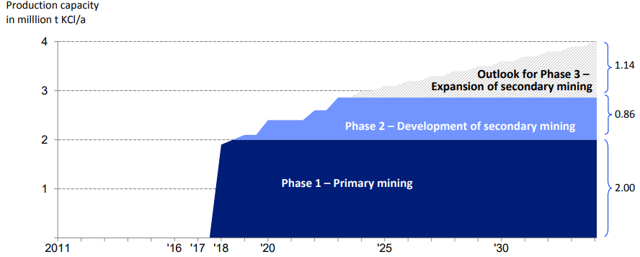 (Source: Company's Compendium)
Normally, as per the mine plan, K+S should be producing 2 million (metric) tons of MOP this year. But as part of the H1 2018 earnings release, the company indicated that they now target a range of 1.4 to 1.5mt. This doesn't look like a massive difference, but, given the amount of debt the company took on to build the mine (more on that below), anything that delays cash-flow generation does not go down well with investors. It also shows that the solution-mining technology chosen is more difficult than planned to master.
Production decrease in Germany
In parallel, the news out of Germany provided little comfort. Local production was hampered by two factors:
the drought during the summer: Due to exceptionally low water levels in the Werra river, wastewater disposal by K+S was no longer possible and the company had to halt production at its Werra plant.
the lower potash grades (K2O content) at some of the facilities
The conjunction of a slower ramp-up in Canada and production issues in Germany will weigh on both the 2018 and the 2019 production. The market was, understandably, disappointed to see that the volumes will not rise in 2019: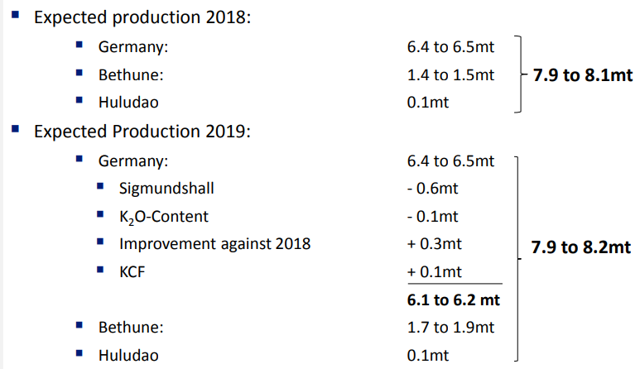 (Source: Company's Q2 results presentation)
Valuation
That being said, the selloff may have been overdone, in which case there could be an opportunity for long-term investors. I suggest a sum-of-the-parts valuation, comprising:
the Salt business
the Bethune Potash mine
the German Potash operations
Salt business
The salt business is a mature one. It cannot be expected to grow significantly, even if the company has some plans to expand into Asia in the future. But this is a business that should keep doing well, as competition is limited (due to the high transportation costs).
One can value the segment based on "average weather conditions": Even if sales can vary from one year to another, depending on the weather, in the long run, we can find a normalized level. The winter of 2017/2018 was considered to be a normal one (after two years of mild winters) in Europe, and also in North America according to Compass Minerals. As a result, we will consider 2018 EBITDA to be a normalized level.
K+S expects the 2018 EBITDA to be in line with 2017, equating to €325m:

(Source: Company's 2017 annual report)
Given that this is a mature, utility-like, business, I will apply a multiple of 8 to this segment's EBITDA. This gives us about €2.6bn of value for the segment.
Bethune
K+S recently updated their valuation for the Bethune mine, based on the following assumptions: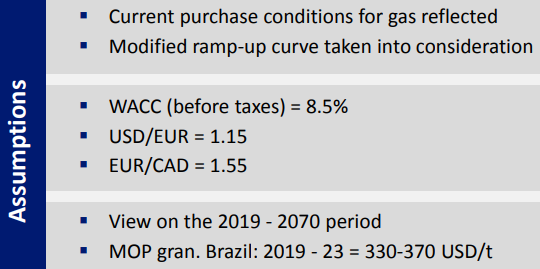 (Source: Company's presentation)
Under these assumptions, K+S calculates a Net Present Value of €4.8bn for the Bethune operations. In terms of sensitivity, a +/- $10 variance in potash prices would amount to a +/- €200m NPV change.
I consider the company's assumptions reasonable. As per Mosaic's (MOS) latest nutrient price dashboard, MOP prices in Brazil are currently $349, well within the range selected by K+S for 2019-2023 (330-370 $/t).
Importantly, the outlook for potash is positive in the long term. For more detail, readers can refer to a piece I recently published here.
German potash operations
I prefer to be cautious when it comes to the German side of the potash business. The EBITDA history can be found below:
| | | | | | | | | | |
| --- | --- | --- | --- | --- | --- | --- | --- | --- | --- |
| € in millions | 2009 | 2010 | 2011 | 2012 | 2013 | 2014 | 2015 | 2016 | 2017 |
| Potash EBITDA | 317 | 567 | 834 | 867 | 668 | 619 | 689 | 185 | 269 |
(based on Company's 2017 annual report)
I will base this part's valuation on the 2016 EBITDA, which is conservative as 2016 was the trough in the fertilizer cycle. Applying a multiple of 8, we get to a value of €1.5bn.
Putting it all together
The corporate costs of the company are actually offset by revenues from complementary activities (waste management, animal hygiene products); therefore, we just need to add up the Salt, Bethune and German potash valuations:
| | |
| --- | --- |
| Salt business | €2.6bn |
| Bethune | €4.8bn |
| German potash | €1.5bn |
| K+S Enterprise Value | €8.9bn |
(Author's estimate)
Meanhwile, what does the market tell us? At the current share price of €17.6 (Germany-listed shares), the market capitalization is €3.4bn, which, factoring in net debt of €4.1bn (see below) implies an EV of €7.5bn.
My valuation of €8.9bn represents a 19% increase from this €7.5bn. Importantly, it translates into 41% upside for the share price (with net debt at €4.1bn, €8.9bn EV implies an equity value of €4.8bn, 41% higher than the current €3.4bn market cap).
On that basis, the Germany-listed shares would be worth almost €25, and the ADR's price would be $21.
A Look In the Rearview Mirror
How realistic is this estimate? Looking back a few years, K+S was worth considerably more than what the market considers today (ADR-listed shares, in USD):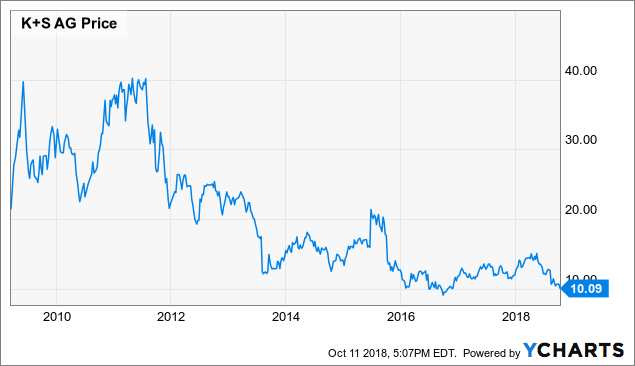 The pre-2013 period was marked by exceptionally high potash prices. The 2015 spike was due to a takeover offer from Potash Corp (today, Nutrien (NTR)), that K+S rejected.
But even if we leave aside these periods, it's clear that the shares were, historically, worth much more than today. And importantly, at the time, the company's most modern asset (Bethune) was still under construction.
Debt considerations
The main reason for the current discount is the high level of debt as a result of Bethune's development. As stated earlier, net debt is €4.1bn, an amount which includes long-term provisions. Net financial liabilities strictly speaking are in the region of €2.9bn:

(Source: half-yearly financial report)
The Net debt/EBITDA ratio went up in 2016 and 2017 due to a perfect storm of lower EBITDA due to the potash trough, and rising debt as Bethune was being built. But looking ahead, the ratio is expected to decrease rapidly, and K+S expects to qualify for investment grade status by 2023: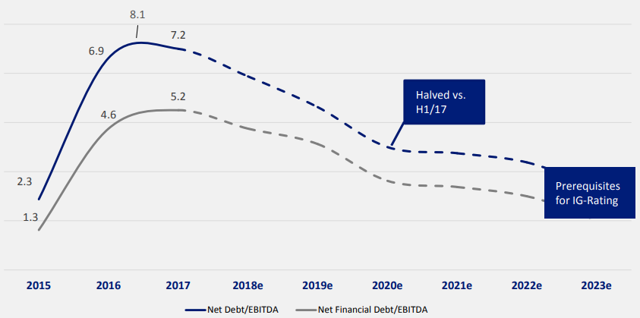 (Source: Company's presentation)
The ratios probably scared away some investors (and still does). However, with Bethune now in operation, and no significant capex in the salt business, the free cash-flow generation of K+S should increase rapidly starting 2019: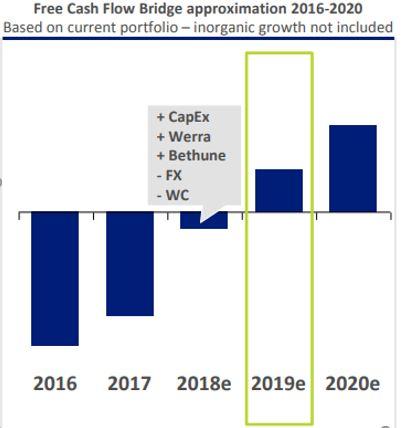 (Source: Company's Compendium)
Dividend Policy
With such a debt load, one might expect dividends to be a remote possibility. However, K+S plans to keep rewarding shareholders, even if the amount remains constrained at the moment (2% yield at current share price).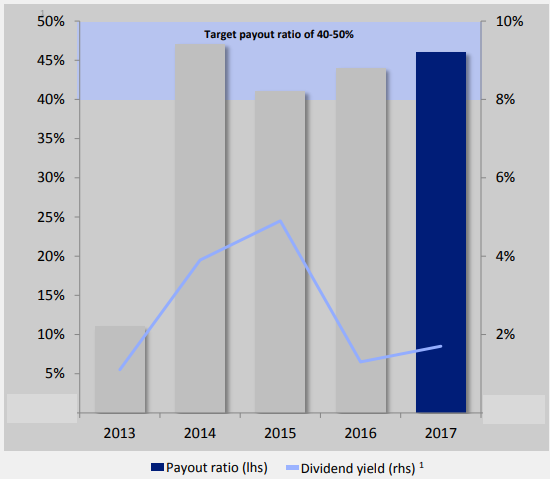 (Source: Company's Compendium)
In the long run, a payout ratio of 40-50% is the target.
Takeaway
Based on our sum-of-the-parts valuation, K+S is significantly undervalued, with 40% upside, using rather conservative metrics. The current discount, also illustrated by a price to book ratio of 0.84 - well below its peers in the fertilizer space - seems unwarranted.
The company's debt position should not be overlooked. But for investors who can live with a bit of leverage, and who believe in the positive outlook for potash, K+S is one of the most attractive names in the space.
Thanks for reading. Those interested in the fertilizer sector can find my previous articles below:
Nutrien: Could The Stock Be Worth $90?
Nutrien: The Potash Market's Swing Producer?
Will The Lithium Boom Upend The Potash Market?
Have The Stars Finally Aligned For Nutrien?
Compass Minerals: Nice Dividend, But Can It Keep Growing?
Disclosure: I am/we are long K+S AG.
I wrote this article myself, and it expresses my own opinions. I am not receiving compensation for it (other than from Seeking Alpha). I have no business relationship with any company whose stock is mentioned in this article.
Additional disclosure: The opinions and views expressed in this article are for information purposes only and should not be used or construed as an offer to sell, a solicitation of an offer to buy, or a recommendation to buy, sell or hold any security, investment strategy or market sector.
Editor's Note: This article discusses one or more securities that do not trade on a major U.S. exchange. Please be aware of the risks associated with these stocks.