In line with our process of being on the ground in the countries we invest in, Fund Manager and CEO Thomas Hugger travelled to Pakistan recently in order to meet with management of portfolio or shortlisted companies. All photos are by Asia Frontier Capital.
There is not much choice in flights when planning a trip to Pakistan nowadays. It is astonishing that from South East Asia and North Asia only Thai Airways is still flying to Pakistan [Islamabad, Karachi and Lahore] and from Europe only Turkish Airlines. All other major airlines stopped flights to Pakistan years ago. However, Chinese airlines started flights to Pakistan and there are now flights from Beijing, Guangzhou and Urumqi to major Pakistani cities, which is again a sign of continued interest from the Chinese government and Chinese companies in Pakistan.
I arrived late in the evening on Sunday at Lahore International Airport and to my surprise it was still raining upon arrival which caused a bumpy landing as we flew through a large thunderstorm when approaching Lahore, mainly over Indian airspace. The old Airbus A-330 plane was completely full [mainly with Pakistani citizens] and about 30 passengers lined up after disembarkation at the two immigration counters for foreign passport holders at Allama Iqbal International Airport. It took me about 20 minutes to pass the immigration counter and thereafter a hotel shuttle bus took me to the Pearl Continental Hotel, about a 30-minute drive away. On our way to the hotel we drove through the "Beijing Underpass" which is 1.3 kilometres long and was built in only 125 days, having been inaugurated in December 2017. Even though it was past midnight, the streets were still full of cars and many more motorbikes [with entire families on them] which was very different compared with my last visit exactly two years ago when the roads were basically deserted at midnight. Arriving at the entrance of the hotel was reminiscent of my visits to East Germany in the 1970's and 80's: very strict control and a thorough search of the vehicle while about 20 heavily armed male and female security guards observed the process and area – even at 1am in the morning.
Lahore
We spent the day meeting with companies either in their offices or at our hotel. Lahore is the capital of Punjab province and with 11.2 million people, it is the second largest city in Pakistan. Lahore is also referenced to as the "City of Gardens," which becomes clear when driving through the city.
Lahore: City of Gardens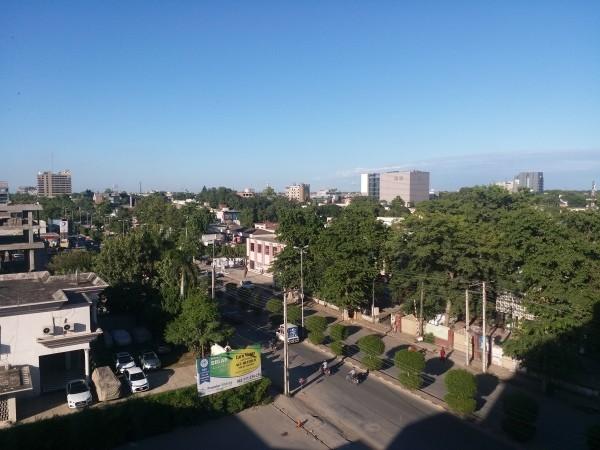 The new Prime Minister, Imran Khan, was also visiting Lahore on the same day we were in town and we passed by the building where he was having meetings.
Election propaganda in Lahore for the upcoming by-elections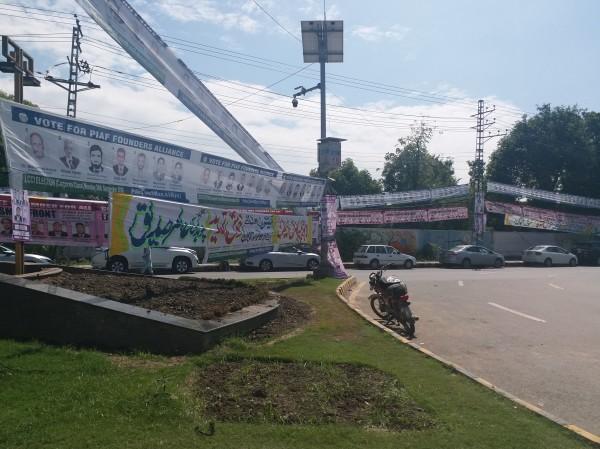 One of the companies we met that day was a previous "darling" of foreign investors about two years ago. The company produces air conditioners, refrigerators and freezers, as well as power equipment such as transformers and meters which we thought at that time should benefit from better power supply and investments in the power sector and generally low penetration of refrigerators [only 47% of households have a refrigerator and 52% a washing machine]. However, the company has been especially hard hit in the last few months since the Pakistani Rupee was devalued from around 105 to the USD to the current 128 and generally companies in Pakistan cannot hedge their foreign currency exposure. For this company, an increase of 1 PKR against the USD is equal to 150 million Rupees in additional costs which the company has been able to only partially pass onto customers. Additionally, a relatively new Chinese entrant in the aircon market was able to gain significant market share in only 5 years and is now the major player. Other companies we met in Lahore were in the insurance and cement sectors, the latter being one of the dominant industries in Pakistan. The cement sector in Pakistan especially benefitted from the heavy Chinese infrastructure investment into the China Pakistan Economic Corridor [CPEC]. The Chinese government and Chinese companies have committed so far to invest over USD 60 billion into infrastructure projects in Pakistan, including roads, ports, bridges, railways, dams and especially power generation [mainly coal fired]. The cement industry grew in 2017 on average by 15% compared with 5% on average over the past 25 years. Thanks to the boom in the cement sector many companies announced and started expansion projects, especially in the south which allows them to export some of their cement or clinker to neighbouring countries, East Africa or even to South Africa. Despite the increased supply, the price of a bag of cement has increased this year from 515 Rupees to currently 570 Rupees in the north of the country. However, profit margins are under pressure due to the weaker currency and a higher coal price [most coal for cement production in Pakistan is imported from South Africa] or higher gas prices which the new government announced a few days earlier [see further below]. On the positive side, continued investments in CPEC related projects and especially a "5 million housing project" which should be announced by Imran Khan's government in October, will be very beneficial for cement companies in the medium term.
Karachi
Later in the afternoon we took a flight from Lahore to the country's largest city and commercial centre, Karachi, on Pakistan International Airlines [PIA], which is still 85% owned by the Government [Ministry of Defense] and last year lost USD 30 million each month. The company just changed its CEO and he wrote in the in-flight magazine that he will turn PIA around and the airline will have the "best entertainment system in the world" – let's see! The aircraft was an old Boeing 777-200 and several signs such as the exit, restrooms and no smoking are still written in Vietnamese, maybe because the previous owner of the aircraft was Vietnam Airlines. We also noticed a Vietjet [a Vietnamese budget airline] aircraft on the tarmac right next to us which was obviously "wet leased" to PIA. We arrived safely in Karachi after a 1 hour and 20 minutes flight, and the hotel bus drove us through heavy traffic on the three-lane highway with many newly built bridges and flyovers to our hotel in Clifton.
Over the following two days we met with several companies from various sectors: banking, car manufacturing, cement [of course], chemicals, food, insurance, pharmaceuticals, steel, technology and textiles. Many of these companies are suffering from the Rupee deprecation and higher raw material costs and thus their net profit margins are depressed and generally the expectation is that the currency will weaken further, putting more pressure on those companies in the short term.
One sign of optimism came from a CEO of one of the leading textile companies in Pakistan. They received in the past several weeks more orders from U.S. textile buyers, especially for low end products as imports of low-cost textiles from Pakistan, Bangladesh or Vietnam will face a 0% duty, while imports from Chinese factories will be taxed at 10%. This particular CEO was also of the opinion that textile companies in Bangladesh and Vietnam are working at almost full capacity which is not the case in Pakistan since Pakistani textile companies cannot compete with Bangladesh due to, in his view, the overvalued Pakistani Rupee.
Most of the meetings were held at the Movenpick Hotel in Karachi and I was looking forward to our final two meetings which were with a food/snack company not far from the hotel and a pharmaceutical company, based in one of the industrial areas situated near the Karachi Port. The drive to the pharmaceutical company was unique as in the middle of the congested roads it is still possible to come across carts pulled by horses, donkeys and even camels. Also, very unique to Pakistan are the colourful painted buses and trucks which dominate the roads in busy Karachi.
Passengers on the roof of a colourful bus in Karachi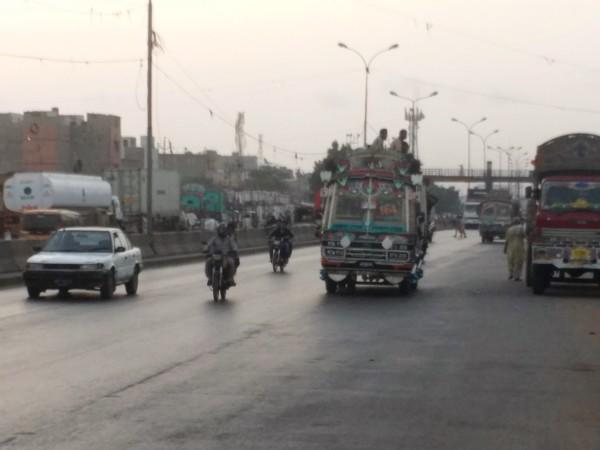 "Lots of optimism but also realism"
Obviously in almost every conversation with C-level executives the topic of the new government under the leadership of the newly elected and former cricket player, Imran Khan, came up. Imran Khan assumed office on 18th of August 2018 and his government is already meeting a lot of high expectations from the public. Khan needs to quickly resolve some pressing economic issues like the low US Dollar reserves that are currently just 9 billion USD due to a chronic current account deficit which puts the Pakistani Rupee under further devaluation pressure as well. Khan already increased the gas prices for individuals and industries in order to reduce the subsidies and it is further expected that the price for electricity will be increased soon too. The new government is continuing to implement an existing policy introduced by the previous government which requires passenger car buyers to provide their tax filing number when purchasing a car in order to bring in more individuals to the tax net.
Generally, it is expected that interest rates will rise further, back to double digit levels, and that the Pakistani Rupee needs to devalue further against the USD from the current level of 124 to about 135 to 145 in order to make the country competitive again for exports [mainly textiles at the moment].
One of the most important and urgent economic tasks for Imran Khan's government is the decision of how to finance the ever-growing current account deficit [due to higher imports and stagnant exports] and to stock up on their depleted foreign exchange reserves. Khan has basically two options: go to the IMF [again for the 22nd time in the history of Pakistan] or ask for additional loans from China and/or Saudi Arabia. In this respect, everybody I asked was of the same opinion: bite the bullet and go to the IMF. Therefore, it is not surprising that the government has just announced that they plan to begin talks with the IMF for a loan program.
One CFO of a diversified conglomerate described the expectation of the new government as "lots of optimism but also realism": voters are optimistic that the Imran Khan-led government can change the country's course towards a better future, but the same people are also realistic that it will be a huge challenge to overcome the current financial situation Pakistan faces at the moment.
Investors can gain exposure to Pakistan via an ETF such as the Global X MSCI Pakistan ETF (PAK) or through the London listed GDR's of OGDC (Oil & Gas Development Corp.), UBL (United Bank), and Lucky Cement. The Global X MSCI Pakistan ETF (PAK) is primarily made up of large cap Pakistani companies with large exposure to banks [30%] and energy [26%] stocks and has a total 36 holdings. This ETF currently has around USD 39 million of assets under management and trades at a P/E of 7.5x and since inception of the ETF on 22nd April 2015, it has returned -31.9% while the KSE Index has returned +7.2% in USD terms during the same period.
Disclosure: I/we have no positions in any stocks mentioned, and no plans to initiate any positions within the next 72 hours.
I wrote this article myself, and it expresses my own opinions. I am not receiving compensation for it. I have no business relationship with any company whose stock is mentioned in this article.
Additional disclosure: The AFC Asia Frontier Fund is invested in Pakistan.