I drove into San Francisco for a client dinner last night and had to wait an hour at the Bay Bridge toll gate. When I finally got into town, the parking attendant demanded $50. Dinner for two at Morton's steakhouse? How about $400.
Which all underlines the fact that we have reached "Peak" San Francisco. San Francisco just isn't fun anymore.
The problem for you is that if the City by the Bay has peaked, have its much-loved big cap technology stocks, like Facebook (FB), Alphabet (GOOG) (GOOGL), and Netflix (NFLX) peaked as well?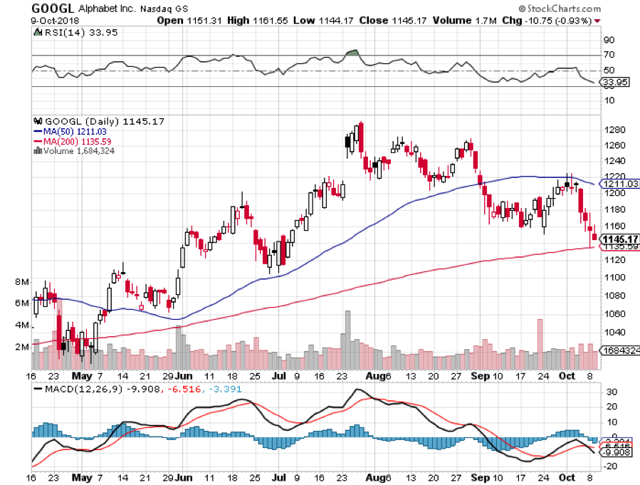 To quote the late manager of the New York Yankees baseball team, Yogi Berra, "Nobody goes there anymore because it's too crowded."
What city was the number one creator of technology jobs in 2017? If you picked San Francisco, you would have missed by a mile. Anyone would be nuts to start up a new business here as rents and labor are through the roof.
Competition against the tech giants for senior staff is fierce. What, no foosball table, free cafeteria, or on-call masseuses? You must be joking! You would be much better off launching your new startup in Detroit, Michigan.
Better yet, hyper-connected low-waged Estonia where the entire government has gone digital.
In fact, Toronto, Canada is the top job creator in tech now, creating an impressive 50,000 jobs last year. Miami, FL and Austin, TX followed. Silicon Valley was at the bottom of the heap.
It's been a long time since peach orchards dominated the Valley. Signs that the Bay Area economy is peaking are everywhere. Residential real estate is rolling over now that the harsh reality of no more local tax deductions on federal tax returns is sinking in.
To qualify for a home loan to buy the $1.2 million median home in San Francisco, you have to be a member of the 1%, earning $360,000 a year or better.
Two-bedroom one bath ramshackle turn of the century fixer-uppers are going for $1 million in the rapidly gentrifying nearby city of Oakland, only one BART stop from Frisco.
Most school districts have frozen inter-district transfers because they are all chock-a-block with students. And good luck getting your kid into a private school like University or Branson. There are five applicants for every place at $40,000 a year each.
The freeways have become so crowded that no one goes out anymore. It's rush hour from 6:00 AM to 8:00 PM every day.
When you do drive, it's dangerous. The packed roads have turned drivers into hyper-aggressive predators constantly weaving in and out of traffic, attempting to cut seconds off their commutes. And there is no drivers ed in China.
I took my kids to the city the other day for a Halloween "Ghost Tour" of posh Pacific Heights. It was lovely spending the evening strolling the neighborhood's imposing Victorian mansions.
The ornate gingerbread and stained glass buildings are stacked right against each other to keep from falling down in earthquakes. It works. The former abodes of gold and silver barons are now occupied by hoody-wearing tech titans driving new Teslas.
We learned of the young girl forced into a loveless marriage with an older wealthy stockbroker in 1888. She bolted at the wedding and was never seen again.
However, the ghost of a young woman wearing a white wedding dress has been seen ever since around the corner of Bush Street and Octavia Avenue. Doors slam, windows shut themselves, and buildings make weird creaking noises.
Then I came to a realization walking around Fisherman's Wharf as I was nearly poked in the eye by a selfie stick-wielding visitor. The tourist areas on weekdays are just as crowded as they were on summer weekends 30 years ago, except that now the number of languages spoken has risen tenfold, as has the cost.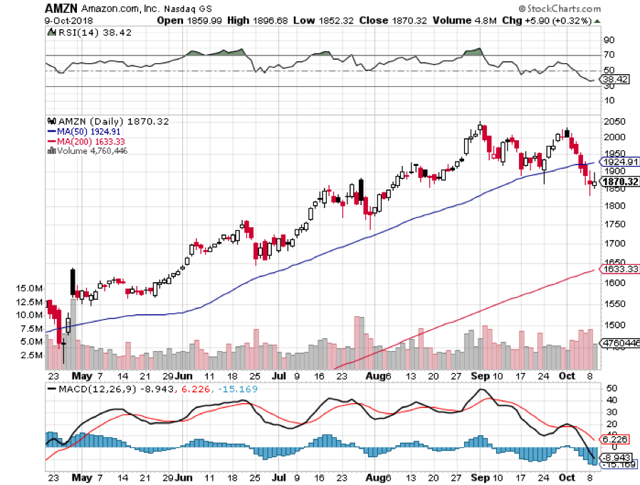 It started out to be a great year for technology stocks. Amazon (AMZN) alone managed to double off its February mini crash bottom, while others like Apple (AAPL) rocketed by 56%. But traders may have visited the trough once too often.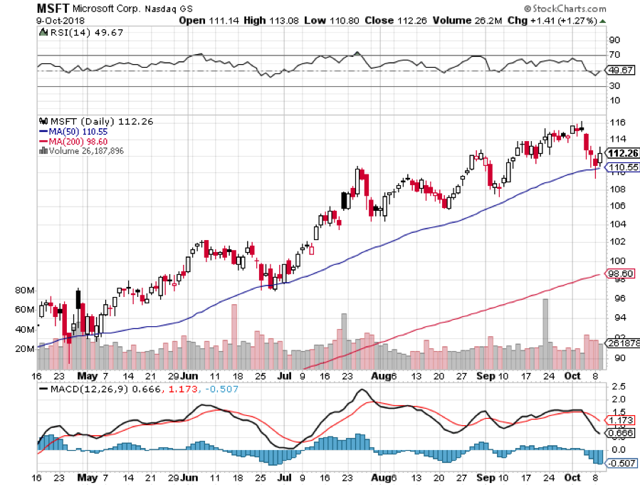 The truth is that technology stocks have not performed since June, right when the Mad Hedge Fund Trader dumped its entire portfolio. Only Microsoft (MSFT) and Amazon have managed to eke out new all-time highs since then, and only just.
The rest of tech has been moving either sideways in the most desultory way possible, or suffered cataclysmic declines like Facebook and Micron Technology (MU).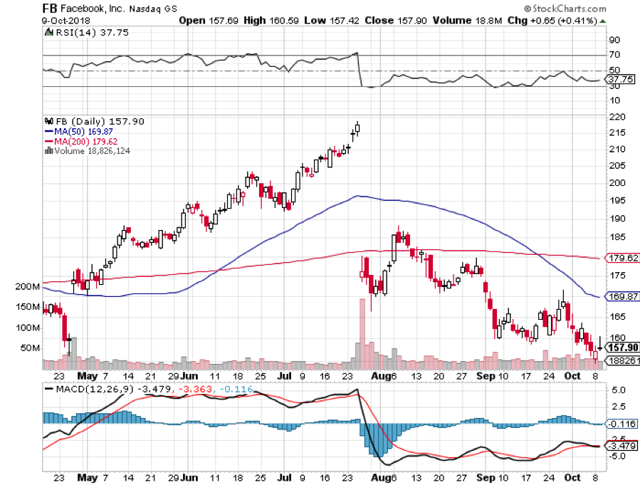 Of course, the trade wars haven't helped. It's amazing that big tech hasn't already been hit harder given their intensely global business models.
Nor has rising interest rates. Big cap tech companies have such enormous cash balances that they are all net creditors to the financial system and actually benefit from higher interest rates. But dear money does slow the US economy and that DOES hurt their earnings prospects.
No, I'm not worried about tech for the long term. There is no analog company that can compete with a digital company anywhere in the world.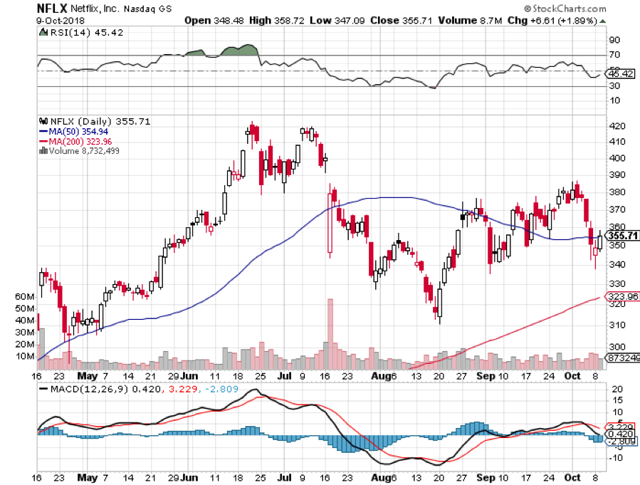 Accounting for 26% of the stock market capitalization and 50% of its profits, it's only a question of when we get a major new up leg in share prices, not if.
The only unknown now is whether this next leg will take place before or after the next recession. Given the rate at which interest rates and oil prices are rising in the face of a slowing global economy, it's looking like the recession may win the race.
As our tour ended, who did we see having dinner in the front window of one of the city's leading restaurants? A young woman wearing a white wedding dress. Yikes! Maybe the recession is sooner than I thought.