Please note that all amounts are in Canadian $ as these are Photon Control's reporting currency.
Photon Control Inc. (OTC:POCEF) designs, manufactures and distributes a range of optical sensors and instruments that measure pressure, temperature, position and flow, such as probes, converters and sensors. The company has had a whirlwind few years, kicking off with a boardroom battle I discussed here, that resulted in the installation of a brand new management team.
The company has posted stellar results each quarter up to Q2 2018; in this quarter, management warned on its conference call that they expected a slowdown in H2 2018 due to supply constraints for memory and wafer fabrication in the semi-conductor industry. Photon sells into several other industries, but WFE OEMs have become its leading customer group. Photon's shares have had a violent sell-off since that point: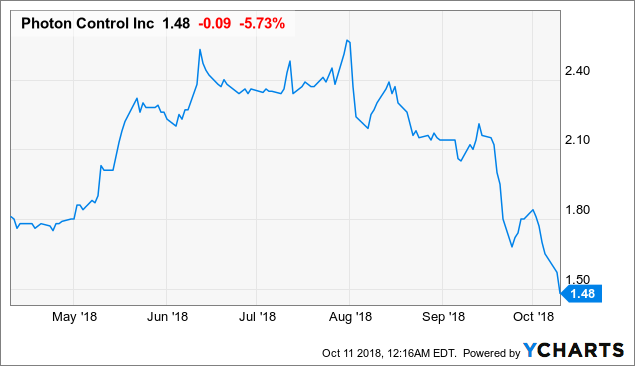 I believe that this sell-off is significantly overdone, and that the current price level has some support based on Photon's prior trading range. The company has taken many steps over the last couple of years to strengthen both its management team, governance and business processes that help to bode well for Photon after this cyclical weak-point in the semi-conductor industry. The recent sell-off has also discounted Photon's valuation metrics, making an investment here a more compelling proposition.
Management & Organizational Change
Since I last reviewed Photon, the new management team has taken a lot of steps to improve its operations. One overhang with the company was the setup of its R&D function as a separate private company which then licensed its technology back to Photon. This had a lot of governance issues as this company was owned privately by former members of Photon's management and founding group. Although I believe it was set up to avoid having to disclose information privately and to contain costs for the public company, it may have been a real risk to Photon's ongoing business and ability to develop new technology. Photon's new management initiated a lawsuit against the group before settling in April 2017 with a fixed royalty rate at half the previous rate, while also settling all other litigation, bringing an end to a very turbulent period for the company.
In July 2017 it completed its management change with the appointment of a new CFO, Daniel Lee, who prior to joining Photon had worked with Scott Edmonds at Webtech Wireless and its successor company, BSM Technologies Inc. (OTC:BSMZF). This hire ensured finance was on the same page as the rest of the management team. The addition of Michelle Klein to the Board in October 2017 was key as she has extensive expertise in the semi-conductor industry, especially in the startup and venture areas, on top of spending time with Applied Materials (AMAT). With Photon's increased focus on the semi-conductor industry, as well as developing its own R&D, Klein's support will be very helpful. She may also provide good intelligence should Photon desire to conduct any M&A. Photon's COO left in November after joining the company earlier in 2017, which the company noted was due to a restructuring of its operations.
Focusing Operations
The company has been streamlining its operations as it sought to increase its Gross Margin levels to the mid-50's and EbITDA performance to the mid-30's. The first step it took was to hire Ace Instruments in August 2017 as distributor for its Focus 2.0 Optical Gas Flow Meter. By adopting a distributor model rather than employing its own sales force, Photon was likely able to repurpose its sales force on different products. As we have seen, with a greater focus on semi-conductors, Photon's smaller markets may be better served with a distributor who can market multiple products more directly to some industries, in this case the oil industry, than Photon could. This effort was followed by the outright sale of the entire product line in February 2018; it clearly was providing less value to the company which made it better served with an owner who would focus on the business. Photon retained a royalty on it which ensures some income will come in with minimal efforts and freeing up efforts to focus on higher margin products.
The company moved into a new facility in September 2017 which gave it room to produce at greater scale and flexibility to support its future growth. The company is currently only running one shift, giving it room to scale up production should demand require it.
The Path Forward
The company has clearly focused on the semi-conductor industry due to its large addressable market which the company has estimated at around $700m annually: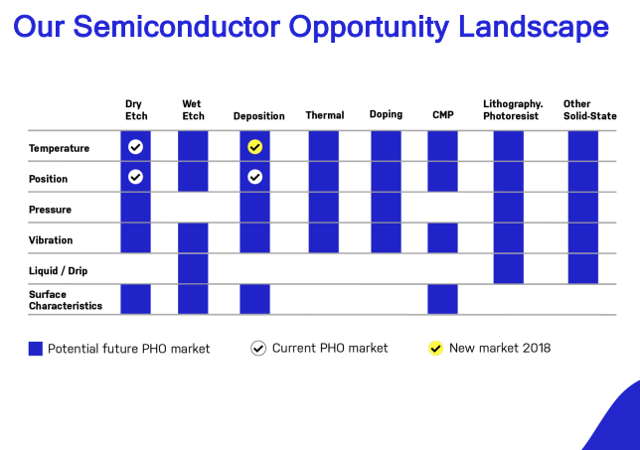 Source: Company Presentation, August 2018
The company clearly sees a lot of different verticals it can pursue beyond its current expertise. It feels it has a clear pathway to doubling its revenues by 2020: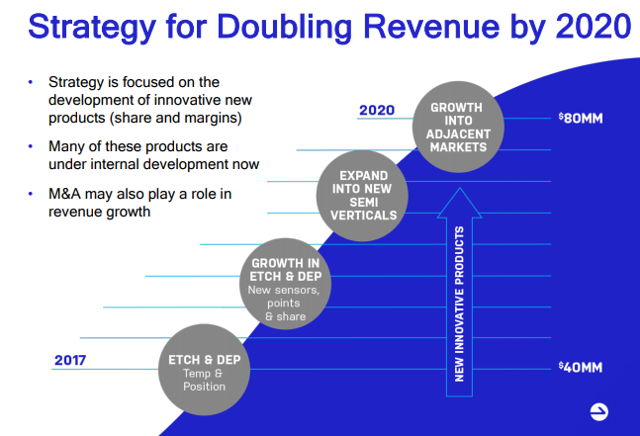 Source: Company Presentation, August 2020
After securing its IP through the litigation resolution, Photon has clearly identified its need to grow its R&D capabilities. On its Q2 2018 conference call, they highlighted a recent hire from Fairchild Semiconductor that would be leading new product development at the company, starting in August 2018. This is an aggressive target which will require an expansion of markets as well. To push this point home, Photon issued a press release in late September 2018 detailing its rapid Prototyping process and how the company is rolling it out.
The company has established a distribution agreement with Crowntech Photonics, a China-based distributor to the semi-conductor industry. The company anticipates this opening up the market for them, though not bringing any effect to the company until 2019. This will clearly be a big pillar to the company increasing its sales and scale of operations.
Valuation
With shares off by over 30% from its highs in late July, Photon has definitely got a lot more inexpensive as a result of the sell-off. To date, the company has had a very strong development of both revenues & EbITDA over the last several quarters:
| | | | | | | | |
| --- | --- | --- | --- | --- | --- | --- | --- |
| | Q4 2016 | Q1 2017 | Q2 2017 | Q3 2017 | Q4 2017 | Q1 2018 | Q2 2018 |
| Revenue | $9.0m | $11.9m | $8.9m | $12.0m | $11.0m | $13.9m | $14.6m |
| EbITDA | $2.4m | $4.8m | $2.5m | $4.0m | $2.9m | $4.7m | $5.1m |
Source: Company Filings
The company has guided to a Q3 result of between $10 and $12m, which is in-line with last year. Assuming they are able to maintain their 35% EbITDA margin, this would yield an EbITDA between $3.5m and $4.2m, very close to 2017's results but in a much softer environment.
It is not out of the question that the company can do this as it has historically outperformed the semi-conductor market: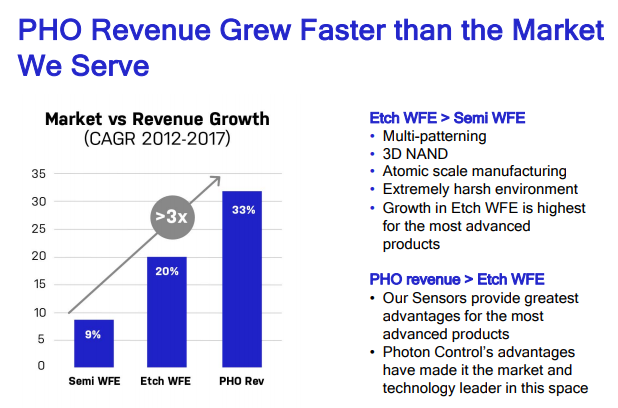 Source: Company Presentation
This assertion by management seems to bear itself out as they have continued to have a strong order flow despite the short-term hiccups in the semi-conductor industry. It is worth reviewing their recent revenue, backlog and order entry levels:
| | | | | | | |
| --- | --- | --- | --- | --- | --- | --- |
| | Q1 2017 | Q2 2017 | Q3 2017 | Q4 2017 | Q1 2018 | Q2 2018 |
| Revenues | $11.9m | $8.9m | $12.0m | $11.0m | $13.9m | $14.6m |
| Backlog | $11.0m | $11.9m | $12.6m | $18.3m | $24.7m | $19.5m |
| Order Entry | $14.1m | $9.8m | $12.7m | $16.7m | $20.3m | $9.4m |
| Cash | $32.1m | $25.1m | $27.0m | $34.3m | $33.4m | $40.8m |
Source: Company Filings
It has been a very upward trajectory for the company with its backlog escalating after it moved into its new facility in late 2017 while reaching its all-time quarterly high in revenues. We can see the falloff in Q2 of 2018 though with only $9.4m in new orders coming in as the company worked through its backlog while the semi-conductor slowdown was realized. Even with this, its backlog sits at its second highest level in its history.
The company guided that it expected to still grow YoY revenue for 2018 over greater than industry levels. This could be anywhere from 2.3% (per Gartner) to 9-20% depending on the business. Photon put up $43.8m in revenue in 2017, with $28.5m in H1 2018. With a guided revenue level of between $10 and $12m in Q3, we can guess that Q4 will sit between $8 to $10m to meet management's guidance. This gives a potential range of revenues for 2018 of between $46 and $50m. At a 35% EbITDA level, this comes out to $16.1m to $17.5m.
The company's market cap current sits at 115m shares x $1.48 = $170.2m. If we back out the $40.8m in cash, Photon's enterprise value comes to $129.4m. Looking at its forward results, its EV to EbITDA ranges between 7.4x and 8.0x. If we compare it to companies I have used historically due to similar industry and size and others that are larger but in the same industry as Photon (IPGP), Photon's relative value stands up very well: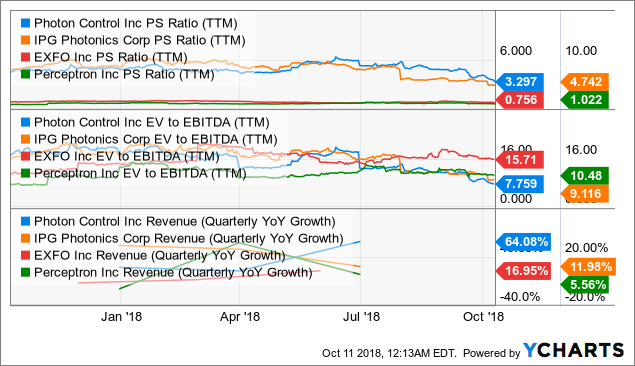 As far as an acquisition multiple, Oclaro (OCLR) was taken over by Lumentum (LITE) in March 2018 for $1.8B. This was a pretty strong multiple for Oclaro. It was done at a 3.3x sales multiple, even though sales were down roughly 10% YoY. Oclaro's gross margins (37%) and EbITDA levels (18%) are also well below Photon's. Photon's fundamentals hold up very well compared to Oclaro which has seen a definite stagnation in its business, while Photon has continued to outgrow the market while maintaining a much cheaper relative valuation.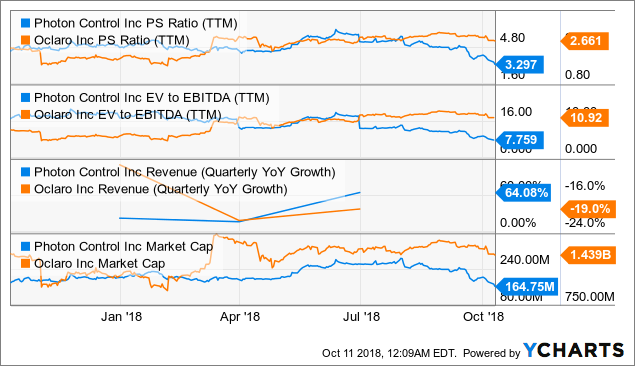 This sell-off has created a good opportunity to enter Photon Control from a value perspective. Both compared to similar type or sized companies and a recent takeover. Photon's Price to Sales value is high but compares fairly to its recent growth rates, including the lower current year guidance. Its EV to EbITDA has also cheapened substantially. If we look at a mean reversion to 11x EV/EbITDA, similar to Oclaro's takeout multiple and in the middle of Photon's historical range, we could see a bounce back in price to $1.89 to $2.02, 27 to 35% higher than current levels.
The Takeaway
Photon's shares have been caught up in a significant sell-off, first driven by a cyclical weakness in the semi-conductor industry. This is not uncommon as we can see the year-to-year growth rates throughout the industry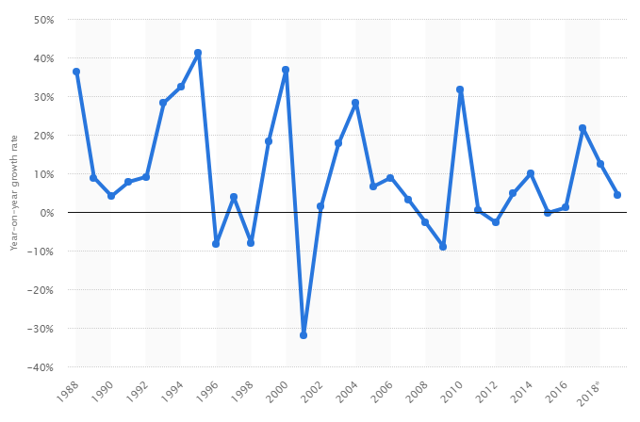 Source: Statista
Photon has been positioning itself over the last year to be more focused on this business; the margins are better and it has achieved better scale but this also puts them at risk of being the tail when the industry dog wags. Shares have also been caught up in the broad market sell-off; at the time of writing, the major indices had sold off over 3% and Photon was no exception.

Source: Yahoo Finance
The issue is whether Photon is currently a falling knife. The next six months does not look to bring many positive operating catalysts as the company has already guided to a lower growth rate than it has had historically. It should continue to have positive results but at a lower growth rate than previously, most of which is driven by its strong H1 2018. There is the chance the company could surprise on the upside, especially if the industry turns sooner than anticipated, but at this point I would count this unlikely. The company could potentially reverse this if it is able to add some new products but given that we are already in October, to get market uptake on a successful commercial product, combined with the Christmas seasonal slowdown so I don't see any new product beyond its regular development cycle coming on board in 2018. Fortunately, I believe that the current forecasted 2018 performance should be largely baked in, with the company preparing for the next market up-cycle in 2019, based on current industry expectations.
Photon's large cash balance and robust capital structure may provide a catalyst for the company. Photon's cash balance now makes up close to 24% of its market capitalization, which is reminiscent of the time period when I first invested in the company. As the market sells down, it makes potential acquisition targets for Photon cheaper. I don't see the company doing a "game-changing" type deal but more of a complementary private company that they could leverage their public company multiple benefit with a private company acquisition multiple. The company does not have a history of this but the current Board of Directors and management team have past M&A experience and it would seem an opportune time for the company to utilize its cash balance and its under-levered balance sheet to take advantage of a down-time in the market.
With the current market volatility, I would put a relatively sharp stop loss in place at $1.32, just 11% below its current price level. There isn't much support below this level until $0.70, which is too big a risk in this environment. I had been long Photon until very recently, but was stopped out at $1.65. I am looking to get back in personally but I am in a "cooling off" period before I can re-initiate a position here. Photon's valuation is getting back to the levels when I first looked at the company in 2015. The difference is it has a much strong operational structure and management team in place with a much larger runway than it had at that time.
If you see something in this article that you agree with, or even better disagree with, please take the time to comment below. This makes all of us better investors. I predominantly focus my investing in the small- and micro-cap company space but reserve the right to deviate from time to time, including short thesis. If you like what I'm doing, you can follow me by hitting the "Follow" button at the top of this article. Plus, you can follow me in real time by selecting that option.
Disclosure: I/we have no positions in any stocks mentioned, but may initiate a long position in POCEF over the next 72 hours.
I wrote this article myself, and it expresses my own opinions. I am not receiving compensation for it (other than from Seeking Alpha). I have no business relationship with any company whose stock is mentioned in this article.
Additional disclosure: If I take a position, I will do so through the more liquid TSX ticker, PHO.TO.
Editor's Note: This article discusses one or more securities that do not trade on a major U.S. exchange. Please be aware of the risks associated with these stocks.