Tullow Oil's (OTCPK:TUWLF) financial performance in FY 2017 and H1 2018 is inspiring; recuperating oil prices, cost-saving programme, reasonable capital allocation policy, and enhanced production above expectations fortified EBIT and net income. Besides, there are two key contributors to the recovered profitability and steady cash flow growth: TEN Fields and Jubilee oil fields. Despite issues related to the lawsuit and the fact that the firm is still not ready to return cash to the shareholders, the numbers became more attractive. Let's go into details.
The top line
Tullow Oil (OTCPK:TUWOY, OTCPK:TUWLF) currently operates both offshore and onshore, producing hydrocarbons offshore Ghana, Gabon, Equatorial Guinea, Cote d'Ivoire and the UK, developing oil fields in Uganda and Kenya, and exploring in Guyana, Suriname, Uruguay, Jamaica, Peru, Ghana, Gabon, Cote d'Ivoire, Kenya, Mauritania, Namibia, Zambia and Pakistan. The firm possesses 1,112.9 mmboe of reserves and resources (both 2P and contingent) with 90% of oil and 10% of gas. Commercial reserves account for a 25% of total and comprise 278.4 mmboe.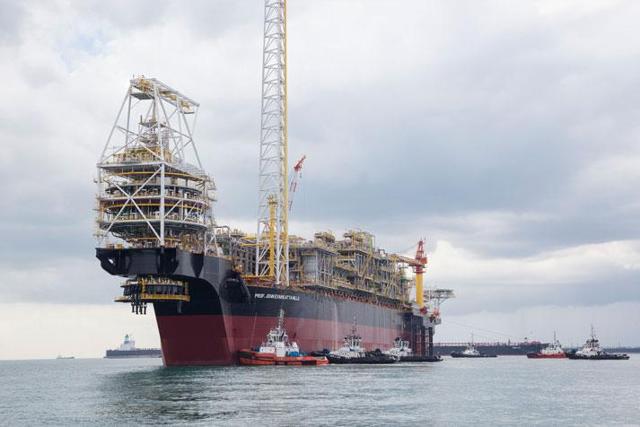 Source: Tullow Oil website
The only revenue-generating business unit is the West African segment. East Africa and New Ventures units do not contribute to the sales. A critical remark is that results from European gas production and sales are included in the West African segment. Interestingly, the UK gas production is not stellar (2.8 mboepd in H1 2018, 2 mboepd in 2018) as the firm from time to time purchases additional volumes of hydrocarbons from third parties to meet its supply obligations:
In the UK, the Group can purchase gas in order to meet sales commitments that cannot be fulfilled solely via the Group's production.
Source: 2018 Half Year Results
An important notice is that UK assets will be excluded from Tullow Oil's portfolio in Q3 2018, as decommissioning activities and abandonment operations continue. Also, the firm sold all Norwegian licenses to Equinor (EQNR), Aker BP (OTCPK:DETNF) and ConocoPhillips (COP) and terminated all operations on the NCS in 2017.
Production
In 2017, Tullow Oil's production averaged 94.7 mboepd (87.3 mboepd net of insurance). In 2018, this number will likely be 92.1 mboepd. Moreover, the firm set a target of 100 mboepd in 2019 and 150 mboepd in the medium term. In my judgment, this milestone is achievable as infill wells will increase TEN Fields output, and Lake Albert and Lokichar oilfields in East Africa will bring first oil in 2021 and 2022, respectively.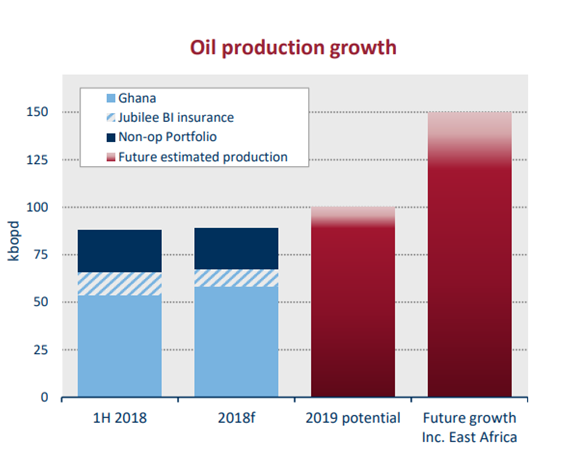 Source: Tullow Oil Overview Presentation, October 2018.
Tullow Oil is the operator of TEN (Tweneboa, Enyenra, Ntomme) Fields located around 60 kilometres offshore Western Ghana. Its partners are Kosmos Energy (KOS) with 17% working interest, Anadarko (APC), also 17%, CNPC with 15% and Petro SA with 3.825%. The firm has 47.175% working interest. It also operates Jubilee oil field. Ghanaian assets bring Tullow 54.1 thousand barrels of oil per day (according to the management guidance, 58.6 mbopd in FY 2018). Low-cost production in this area is the key revenue and EBITDAX driver for the company. In 2018, non-operated assets in West Africa (Gabon, Equatorial Guinea, Cote d'Ivoire) will produce 21.8 mbopd. An important notice is that 88.2 mboepd produced in West Africa in H1 2018 include production-equivalent insurance payments:
Tullow's West Africa first half 2018 oil production averaged 88,200 bopd, in line with expectations. This includes 11,900 bopd of production-equivalent insurance payments relating to the Jubilee field that has been realised under Tullow's Corporate Business Interruption insurance policy.
Source: 2018 Half Year Results, P. 2
What is more, there is significant upside in this region as oilfields contain not only 2P but also contingent resources, 124.2 mmbbl of oil and 392.6 bcf of gas:
I mean in Ghana what we're just trying to show here is not just the fields but the potential around the fields and kind of relate them up to the pie charts below where there is very substantial, not just 2P but 2C and upside potential across the TEN and Jubilee areas.
CEO Paul McDade during the Earnings Call
East Africa: Uganda and Kenya
Oil fields in Uganda and Kenya will sustain the level of production as TEN and Jubilee resources will deplete. Lokichar in Kenya will bring first oil in 2022, Lake Albert basin in Uganda – in 2021. East African assets, according to the firm, will deliver approximately 60 mboepd net in the 2020s. As of June 30, 2018, East African contingent resources attributable to Tullow Oil comprised 637.8 mmbbl of oil, 5x times higher than West African. Moreover, farm-down in Uganda will save Tullow $70 million of capex in 2018.
Cost-cutting strategy bears fruit
Tullow Oil's primary strategic KPI is the reduction of operating expenses. C-suite made a remarkable effort:
In June 2015 the Group set a target to remove $500 million of cash costs from the business over a three-year period. During 2017 this target was increased to $650 million. The three-year period concluded on 30 June 2018, with the Group delivering $708 million of savings. The ongoing cost of running the business has reduced significantly and will continue to be a key area of focus.
Source: 2018 Half Year Results
Administrative expenses comprised $218.5 million in 2013 (8.25% of revenue). This number shrank to $95.3 million (5.5% of revenue) in 2017 and $59.5 million (6.5% of revenue) in H1 2018. It is worth adding that 2013 reported revenue was 1.5x times higher than 2017. It might seem a radical cut, but, in fact, the management set a goal to keep G&A in line with revenue: as you see, it has been reduced proportionally as sales dropped.
Cash operating costs per barrel reduced by 8.4% from $11.9 in 2017 to $10.9 in H1 2018. This figure represents the lowest point in 5 years.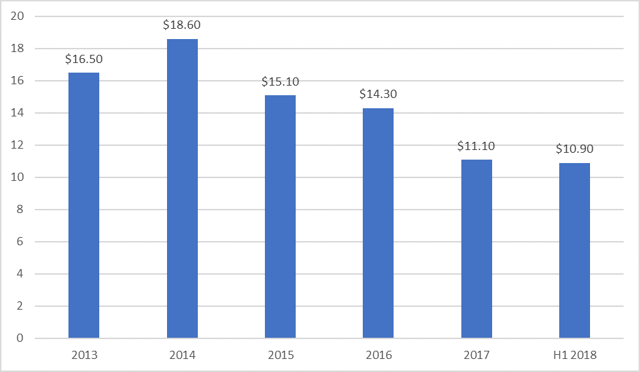 Cash operating cost per barrel. Own creation. Data source: Tullow Oil Annual report 2017, 2018 Half Year results.
Costs decreased with a CAGR of (9.4) % in 2013-2017. If the firm sustains underlying operating expenses of $10.9 per barrel in H2 2018, the CAGR in 2013-2018 will be (8) %. The rebalanced portfolio is behind these stellar figures. Tullow Oil got rid of assets with high extraction costs and favoured low-cost oil fields. For instance, all licenses on the Norwegian continental shelf were sold as the firm focused on Ghana. Also, as I previously mentioned, all expensive operations in the North Sea will be terminated in H2 2018. As CFO said during the earnings call:
About $1 per barrel, as I said earlier, down year-on-year with the full year again towards $10.4 and very much on track to get into $10 as we go forward with the overall asset base. And within that, Ghana being about $8 a barrel. And we continue to remove high-cost production from the portfolio. So, you will see, as we come to the end of the year gas production will stop in our southern North Sea base, and which again will take costs out of the system.
Profitability and margins
FY 2014-2016 were the years of horrific losses, mostly because of fallen revenue, exploration costs written off and impairment non-cash expenses. Commodities market sentiment, of course, is the main culprit.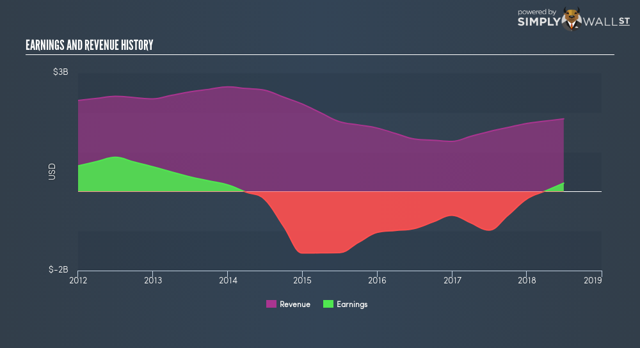 Its share price and market capitalisation expectedly suffered: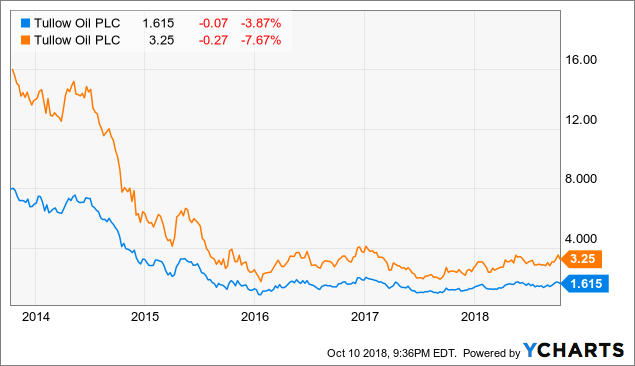 I should mention that its closest peer Kosmos Energy (KOS) is still loss-making with a net loss of $153.5 million in H1 2018 and $103.27 million in Q2 2018.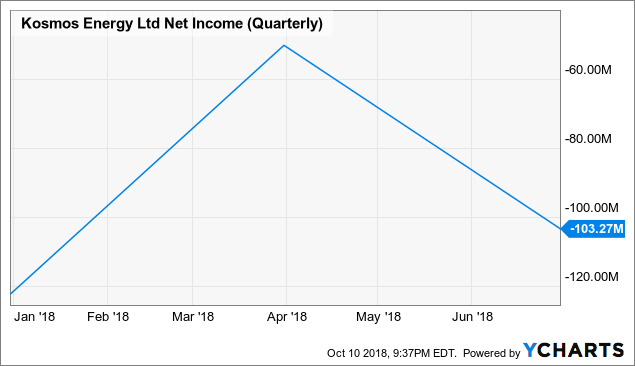 Recuperated oil prices have created the conditions for the gross profit margin of Tullow to jump up to 57% from 47% in FY 2017. EBIT Margin increased up to 33% as operating income turned positive. An attentive investor should also notice that negative EBIT in H1 2017 was a result of humongous non-cash impairment expenses, which were lowered in the annual report 2017 as oil prices significantly recovered in H2 2017. It can be assumed that without $539.1 million impairment expense the firm could show positive EBIT and even net income.
Repercussions of Seadrill and Kosmos litigation
The English Commercial Court ruled on 3 July 2018 that "Tullow was not entitled to terminate its West Leo rig contract with Seadrill on 4 December 2016 by invoking the contract's force majeure provisions."
The lawsuit ended painlessly for Kosmos Energy: "On 17 July 2018, the arbitration tribunal delivered a final and binding award in favour of Kosmos which determined that Kosmos is not liable for its share of the Seadrill liabilities."
Ultimately, Tullow had to pay $248 million plus Ghana withholding tax in the first case and $14 million in the second.
Source of quotations: 2018 Half Year Results, P. 3.
Taxes
Speaking about raw numbers, the Group's underlying tax rate increased from 18% in H1 2017 to 48% in H2 2018. Taxes have become burdensome. In fact, benefits of losses evaporate quickly as the firm generates net income. As CFO and Executive Director Les Wood said during the earnings call:
Yes, we should expect a higher rate. We've had some protection in the past, the losses, we've largely used that.
The cash flow statement
Free Cash Flow increased by 95% from $204.7 million in H1 2017 to $405 million in H1 2018. Underlying Free Cash Flow in H2 2018 is expected to be $199 million. The main reasons are improved production at TEN Fields and Jubilee and recovered oil prices. Also, taking into consideration litigation and $249 million inflows from the farm-down in Uganda, this figure will be $650 million of total free cash flow in FY 2018, a 1.19x increase from 2017 level. As repayment of debt and healing of the balance sheet are of great importance, Tullow is still not a dividend payer.
Capital expenditures: more exploratory wells are vital
Capex guidance, as declared by the management, is broad: $200-600 million per year. Capital spending in H2 2018 will probably comprise $315 million (net of the expenditure in Uganda). Currently, 95% of capital investments are made in Africa.
FY 2018 revenue as expected by S&P Global will be $2,073.14 million. Thus, capital expenditures will comprise 22.2% of revenue in 2018. I used simplywall.st as a data source. Simplywall.st, in turn, utilises data from S&P Global.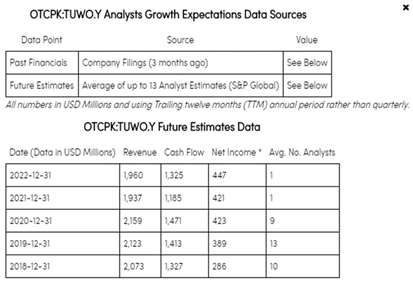 In FY 2019, according to the analysts' assumptions, the top line will be $2,122.65 million. As the management disclosed in H1 results presentation, "Quality portfolio and strong oil price will enable investment at upper end of range in 2019." It means that up to 28% of revenue will be spent on PP&E and exploration in 2019.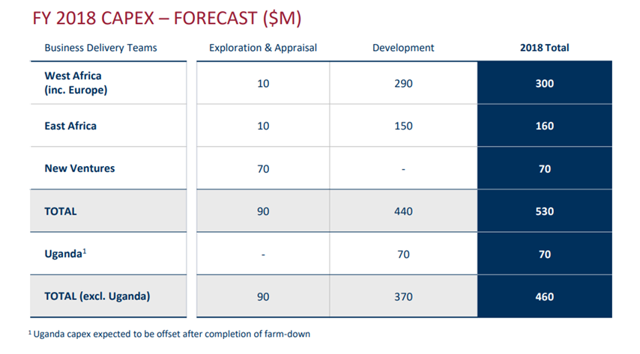 Unfortunately, costly drilling offshore Namibia has been fruitless this year. Cormorant-1 well drilled in September appeared to contain uneconomical resources. The gross cost was $32 million. Thus, it is evident that new wells are vital for new hydrocarbon discoveries. During the earnings call, CEO shared his guidance for drilling in 2019:
And as Les has said, if you're going to play the exploration game you need to play as a portfolio. So we need to be out there drilling somewhere between three and five exploration wells a year, and that's certainly the plan for 2019, '20 and beyond.
It appears that one of Q3 2019 wells will be drilled in Guyana.
Guyana: big opportunities
Hydrocarbon resources offshore Guyana are a bargaining chip for Tullow Oil, as well as for other beneficiaries of these discoveries, for instance, Exxon Mobil (XOM), Hess (HES), Total (TOT) and Eco Atlantic Oil and Gas (OTC:ECAOF). Orinduik Block offshore Guyana probably contains 2.9B barrels of hydrocarbons. Tullow Oil has a 60% interest. Moreover, the firm also has a 37.5% interest in the Kanuku license offshore Guyana together with Repsol (OTCQX:REPYF) and Total.
The balance sheet
Despite the improved operating performance, much remains to be done as the balance sheet is still imperfect.
Unfortunately, liquidity is not flawless. With $393.4 million in cash and cash equivalents and $1,639.7 million in current liabilities, the cash asset ratio is 0.24, which indicates a very fragile liquidity position.
Gearing is defined by the firm as Net debt divided by EBITDAX. Tullow Oil has done a great job compressing it to 2x. For broader context, in 2016 gearing was 5.1x.
Ultimately, it is vital to underline that no debt maturities are expected up to 2021. That partly offsets all risks associated with blemished liquidity position.
Valuation: multiples approach
In my judgment, the closest peers of Tullow Oil are as follows:
Kosmos Energy (KOS), which owns a 17% stake in TEN Fields,
Cairn Energy (OTCPK:CRNCY),
Premier Oil (OTCPK:PMOIF).
I used these criteria for selection:
Market capitalisation ($1.4B – $4.5B).
Operations: upstream companies focused on exploration and production both offshore and onshore in the frontier areas.
Country of incorporation: the UK; Kosmos Energy is incorporated in Bermuda, the British Overseas Territory.
I used Morningstar and most recent reports of the respective firms as the data source. Please take notice that improved production of KOS (from 45 mboepd to 70 mboepd) is a direct consequence of Deep Gulf Energy acquisition completed in September 2018.
EV/EBITDA, EV/Production and Price-to-Book multiples were selected for comparison: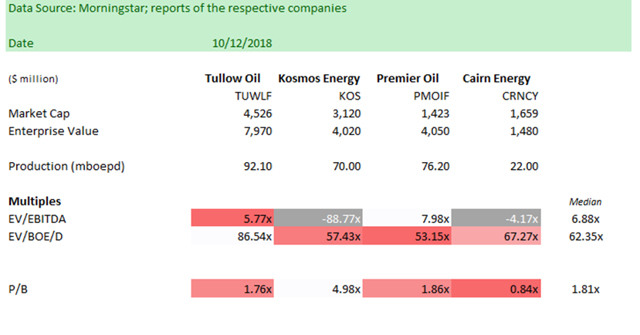 EV/EBITDA multiples of Kosmos Energy and Cairn Energy are negative. In this regard, they were excluded from calculation of the median figure.
The takeaways are as follows:
If we take into account the median EV/EBITDA multiple, the current discount could be 19%.
On the contrary, median EV/BOE/D multiple indicates overvaluation by 38%.
Price-to-Book specifies a 3% discount.
Conclusion - What to expect in H2 2018 and beyond?
In my judgement, the most critical issue that should draw investors' attention is the successful and timely execution of East African assets development plan.
In the Fact Book, Tullow promised to bring the production level up to 92.1 mboepd for FY 2018 from current level of 91 mboepd.
Also, TEN Fields will bring gas in H2 2018, 1.1 mboepd.
Investors should pay attention to the recovery of the balance sheet and restoration of robust liquidity position.
Shareholders also look forward to more details on the drilling campaign in 2019, as the management promised 3-5 new wells per year. As a reminder, the only well drilled in 2018 appeared to contain uneconomical resources.
Disclosure: I/we have no positions in any stocks mentioned, and no plans to initiate any positions within the next 72 hours.
I wrote this article myself, and it expresses my own opinions. I am not receiving compensation for it (other than from Seeking Alpha). I have no business relationship with any company whose stock is mentioned in this article.
Editor's Note: This article discusses one or more securities that do not trade on a major U.S. exchange. Please be aware of the risks associated with these stocks.