Xinyuan Real Estate (XIN) has underperformed the broader market over the last two years, and the stock has still not been able to find its footing so far in 2018.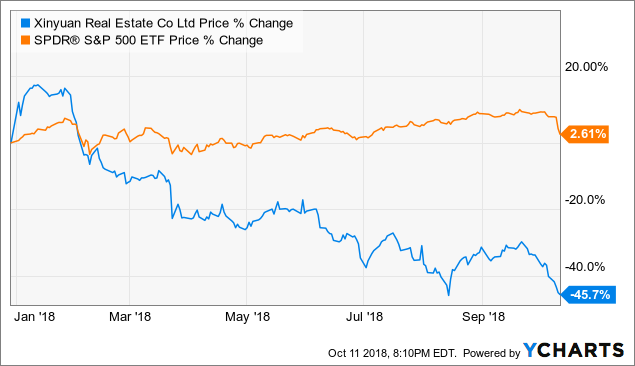 It hurts to look at this chart. Anyhow, Mr. Sven Carlin published a great article covering Xinyuan's most recent results - it should also be noted that Mr. John Sheehy's blog, Koneko Research, is a must-follow for anyone interested in Xinyuan - so instead of tackling the numbers again, I will spend a few minutes reviewing this company at higher level. To do this, I will explain the three main reasons why I believe that shareholders should seriously consider staying the course with this high risk/high reward Chinese real estate company.
1. Ignore The Noise, The Company Is Still Focusing On Its Core (And The Core Is Not Broken)
Many pundits have raised concerns about the company spending too much time and effort (and resources) on the 'other' businesses but it is important to remember that Xinyuan is first-and-foremost a real estate company, and management would tell you the same. Yes, the other businesses are getting a lot of buzz in 2018, but I do not believe that management is losing sight of the fact Xinyuan is a real estate company at its core. To this point, management dubbed their corporate strategy, "1 core + 5 auxiliary businesses".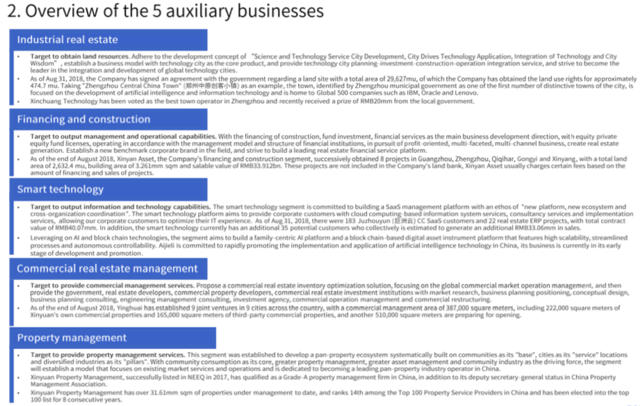 Real estate is still the number one priority. The property management and smart technology (i.e., blockchain, AI, and cloud) businesses are garnering a great deal of attention, which makes sense given the environment, but, in my opinion, Xinyuan will go as its core real estate business goes. As such, it is encouraging that Xinyuan has been able to increase its contract sales and square meters sold over the last three fiscal years, especially given the challenging operating environment (i.e., the property restrictions enacted by Chinese government).

Plus, management still anticipates for the company to grew contract sales and net income by 10% and 15%-20%, respectively, for full-year 2018. Therefore, investors should expect for a strong finish to the current year for Xinyuan. So, the other businesses are definitely components of the investment thesis, but the real estate business is still front of mind, and rightfully so.
2. There Will [Eventually] Be A New Normal
Everyone that follows Xinyuan knows what type of impact the adoption of the new accounting rule, ASC 606, had on Xinyuan's results (it's not good folks). For example, I completed the analysis below based on Xinyuan's Q1 2018 earnings results:

Source: Data from Q1 2018 Earnings Presentation; table created by W.G. Investment Research
The two takeaways, (1) Xinyuan's total revenue for 2017 would have been 20% lower if ASC 606 was in place during the prior year, and (2) if ASC 606 was adopted prior to 2017, the company's Profit Before Income Taxes and Net Profit would have been lower by 58% and 94%, respectively. Both of these factors are telling, in that, the quarterly results for 2018 appear to be terrible when compared to 2017 but the YoY results are simply not comparable. The real impact of ASC 606, which I detailed in "Xinyuan Real Estate: The Impact Of The Accounting Change", is all about timing for recognizing revenue and is not related to the company losing sales/profit.
Therefore, at the end of the day, Xinyuan's quarterly results will be hard (or should I say impossible) to model out over the next year or so but things will eventually fall into place (i.e., there will indeed be a new normal, at some point). Until then, however, the results will be all over the place so investors should prepare for a bumpy ride.
Lastly, and more importantly, management is still guiding for strong contract sales and net income growth for 2018 so the next two quarters could turn out to be catalysts for the stock.
3. The Debt Balance Is High But It's Manageable
The number one risk factor that I have for my investment thesis is the company's large (and growing) debt balance. As shown, Xinyuan was highly levered as of June 30, 2018.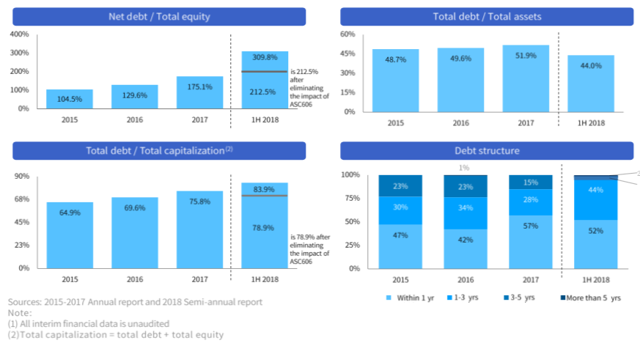 However, on a positive note, the company has been able to bring down the cost of servicing its debt.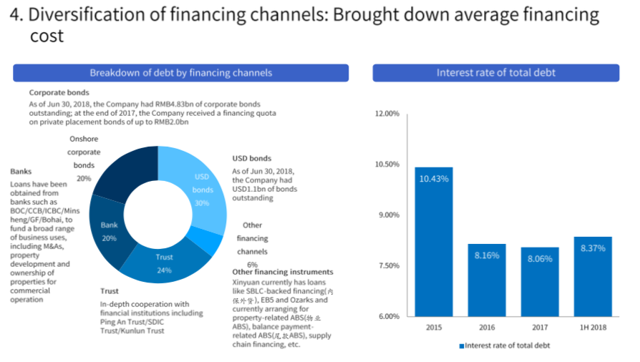 Over 2 percentage points is a big deal, especially if you consider the amount of debt that Xinyuan has on its books. I believe that Xinyuan has the ability to service its debt but, at some point, the leverage will make the company a sell. Are we there yet? No, but shareholders should closely monitor Xinyuan's debt balance over the next year because there is such a thing as too much financial leverage, especially if market conditions continue to deteriorate.
Risks
There are risks that come along with investing in a small-cap Chinese real estate company like Xinyuan, so it would be wise for investors to first familiarize yourself with the company (and its history) before deciding to purchase shares. To learn more about the company, a good starting point would be to review Xinyuan's website.
Another risk factor is its high debt balance, which has been substantially increased in the last few years. I consider debt as a necessary evil for real estate companies, including Xinyuan, but at some point this company will need to improve its balance sheet by getting a handle on its financial leverage. As such, an increasing debt balance is a risk but not [yet] a significant risk, in my opinion.
The number of C-suite changes over the last two plus years is a concern in my book. Xinyuan has had way too many changes in its management ranks (and board) over the last two years so this is a development that I plan to monitor closely. Any additional management changes may prompt me to sell a large portion of my Xinyuan position.
Bottom line
Don't over think it, Xinyuan is definitely a high risk/high reward company to own but I believe that the most recent risks are being overblown. Yes, the growing risk factors (a rising rate environment and the ongoing trade war noise) need to be considered but, as described above, there are legitimate reasons for shareholders to stay the course with Xinyuan. As such, I believe that investors with a time horizon longer than two-to-three years should treat pullbacks, especially if they are caused by a broader market selloff, as long-term buying opportunities.
Author's Note: All images were taken from Xinyuan's September 2018 Investor Presentation, unless otherwise stated. All shareholders (and prospective investors) should review the entire presentation because it contains some very insightful/useful information about the company. If only Xinyuan's Investor Relations department could help the stock (wishful thinking, right?)
Disclaimer: This article is not a recommendation to buy or sell any stock mentioned. These are only my personal opinions. Every investor must do his/her own due diligence before making any investment decision.
Disclosure: I am/we are long XIN.
I wrote this article myself, and it expresses my own opinions. I am not receiving compensation for it (other than from Seeking Alpha). I have no business relationship with any company whose stock is mentioned in this article.