I've made a couple of bullish calls on grocer Smart & Final (SFS) on this site - and to be blunt, they haven't worked out at all. SFS was over $9 the last time I recommended the stock in January of this year, it's dropped close to 50% since touching an all-time low in June before rallying and again fading to Thursday's close just below $5.
But truthfully, the story here hasn't played out much differently than I thought it would. Same-store sales in the last three quarters have been decent, particularly in the context of the brutally competitive and low-inflation supermarket space. Profits are growing and margins have expanded. That's not to say there are no concerns (and a leveraged balance sheet matters), but it does seem like SFS has been singled out in the space: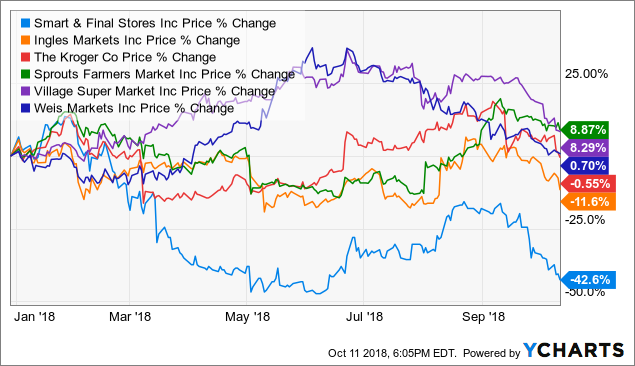 To my eye, the biggest change in the story is that the EV/EBITDA multiple has compressed from ~7x to ~5.2x at the moment (and closer to 5x at year-end, based on cash flow and debt repayment commentary). Disappointing FY18 guidance probably has had some effect but essentially the market has turned on the stock. At these levels, the sell-off has gone too far - and SFS should be able to rally at some point if it can keep its business on the current trajectory.
Earnings Aren't Terrible
As far as the last three quarters go, there doesn't seem to a be a ton of news, at least in the headline fundamentals. Smart & Final posted a very solid Q4, with comps up 3.2% and adjusted EBITDA climbing 31%. A 130 bps expansion in consolidated gross margin seemed particularly impressive given what is clearly a heightened promotional environment across the industry (both per SFS management comments and those of rivals like Kroger (KR)).
FY18 guidance was disappointing - a key reason why the stock sold off after diving into the report. Projections for a same-store sales increase of 1-2% and basically zero EBITDA growth (the $180-190 million range brackets FY17's $184.4 million) add to a concerning trend: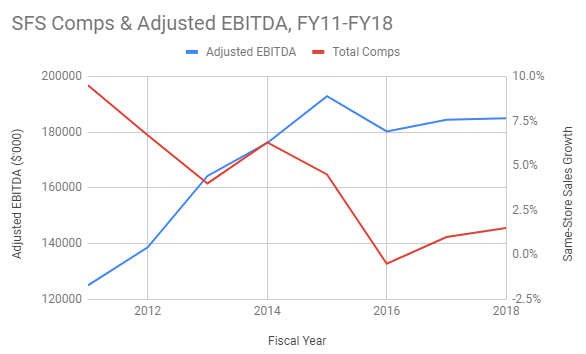 Source: author from SFS releases. FY18 figures at midpoint of company guidance
But in the context of that guidance, first-half performance has been reasonably solid. Comps rose 1.2% in Q1 and 1.3% in Q2. Traffic remains a concern, particularly in the Smart & Final banner (~78% of FY17 revenue; the more business-focused Smart Foodservice Warehouse concept drives the remainder). But EBITDA margins actually have expanded year-over-year, if only by 9 bps, with a stronger Q1 and a weaker Q2 due in part to the timing of expenses related to the company's e-commerce development. Given that margin pressure is a major concern here (dropping 108 bps from 2013 to 2017 or over 20%), the relative stabilization doesn't seem like bad news, at least.
And yet SFS is down another 15%+ from post-Q4 levels around $6, despite pretty much hitting estimates, reiterating guidance, and seeing peer multiples stay relatively stable over the interim. Fundamentally, it looks like the year - while hardly spectacular - has been better than all-time lows and a 40%+ YTD decline would suggest.
The Bear Case
So, the question is if there are reasons beyond the fundamentals to support the re-rating of SFS stock. And it's foolish to argue that there's little or no risk in SFS, even at these levels.
From a broad standpoint, the concerns are reasonably clear. Net leverage at the end of Q2 is just under 3.3x, per the Q2 call. The sector is exceedingly difficult. Competition is intense, with Germany's Aldi cited as the biggest near-term risk. Smart & Final competes on price - as management points out, its prices generally are 6-12% below those of competitors - but so does Aldi.
That chain's entry into California in 2016 seems to match up with the notable deceleration in comps under the Smart & Final banner (which have been worse than those of the wholesale business: FY16 and FY17 comps combined were essentially zero). With Aldi expanding further in S&F's home base of California, Walmart (WMT) showing signs of renewed life, and Kroger and Albertsons (NYSE:ACI) fighting for share, smaller S&F could be squeezed out. Given the leverage and ~4% EBITDA margins, it doesn't take much in the way of incremental pricing pressure and/or expense deleverage to put SFS under significant financial strain.
It's worth noting as well that SFS comps are somewhat inflated by the fact that the company keeps expanded stores in the comp base. It's hard to judge exactly, but given a 1.3% increase in the average square footage of stores last year plus 5 expansions in FY17 and 6 the year before against a base of 323, the 'pure' comp in FY17, company-wide, very well might be have been around zero - and negative in the Smart & Final banner.
Those broad concerns may have received some confirmation from first-half results in one key metric: traffic. Smart & Final banner comparable traffic dropped 1.9% in Q1 and 1.6% in Q2.
Management was peppered with questions on that front both the Q1 and Q2 conference calls. And the answer essentially is that Smart & Final isn't going to chase traffic by getting into a "race to the bottom", as CEO David Hirz put it on the first quarter call. A quarter later, the CEO pointed out that for one front-page promotion, 50% of customers came in the store, bought that single item, and left. Smart & Final, essentially, is saying that it will stay the course.
Bears would likely retort that's precisely the problem. S&F can stick to its knitting, and try to compete on price against Walmart and Aldi. That leads to more traffic erosion over time - a significant problem for a low-margin, high-leverage company in a time of wage inflation. Or it can join the race to the bottom - and potentially see more of the margin pressure that has led profits to flatten despite investment in new stores and expansions. Essentially, the business model isn't going to work - and a couple of decent quarters don't change that fact.
The Bull Case at $5
There are risks here, no doubt. But I'm not sure the news is as bad as all that. Comps remain in the range of inflation. Hirz said on the Q1 call - as he has in the past - that new Aldi locations haven't moved the needle much. And on the Q2 call, the company cited a Nielsen study that suggested, due to higher ticket, S&F actually was taking market share despite the lower traffic.
While comps have decelerated, they are mostly in line with the market. Kroger is targeting 2-2.5% this year excluding fuel. Weis Market (WMK) same-store sales rose 0.7% in the first half. Ingles Market (IMKTA) saw a 1.9% increase in the first three quarters of its FY18 (which ends September).
S&F banner comps admittedly are weaker, with much of the strength coming from the warehouse division: comps in the foodservice division are 4.5% year-to-date, against 0.4% in the larger segment. There does appear to be some impact from competition in those numbers, particularly with the company citing a 40-50 bps impact from 'cannibalization' by new stores.
Still, even the S&F banner is muddling through. Segment EBIT is down just 2% in the first half year-over-year, per the 10-Q. A lower-wage model gives some protection from wage inflation (emphasis on 'some'). Gross margin is improving (+24 bps y/y), as the company improves sourcing and shrink and continues to improve penetration of higher-margin private label brands. And S&F is investing in the e-commerce business, which will cost about $8 million this year, a 20+ bps headwind to margins. That spend may or may not moderate over time, per commentary, but it shouldn't continue to rise at the same pace going forward.
Performance isn't spectacular, by any means - but there's also been a ton of disruption in the industry more broadly. And it's worth noting that the Smart Foodservice (formerly known as Cash & Carry) business is performing well - and looks much more attractive. That segment, after a weak FY16 (-0.3% comps), rebounded to 2.4% growth last year and, as noted, 4.5% in the first half. And margins are much higher: that segment actually drives more than 50% of segment-level EBITDA and generated 56% of first-half operating income.
That's an important differentiator for SFS - and it's one that doesn't look priced in. Admittedly, performance in the restaurant space of late likely is helping growth of late - but it's also hurting the grocery store business with away-from-home spending up in the strong economy. An investor can't dismiss the value of the foodservice business without also acknowledging the headwinds in the S&F banner segment.
The case for SFS at $9 was that the company would be able to stabilize overall results - and that would be enough for upside. At $5, that case still looks reasonably intact - but the upside looks much higher.
Valuation
At the midpoint of guidance, SFS trades at 11x the midpoint of EPS guidance, and about 5.2x EV/EBITDA at the moment. Given a slowing of new store development this year - and lower capex - S&F also should be able to deleverage in the second half. On the Q4 call, CFO Richard Phegley cited a plan to get leverage down close to 3x by year-end and projected "further reduction" on the Q2 call. Given guidance, that suggests a reduction in the range of $40 million from a current $613 million to ~$570 million or so (3.08x at the midpoint of guidance). And it moves the year-end EV/EBITDA multiple to just about 5x.
That's a notable discount to peers in the 6-7x range; as noted, it's a discount to where SFS has traded for most of its time on the public market. And that guidance also suggests free cash flow in the range of $50 million this year - suggesting a 7-8x multiple in a year where capex admittedly has been paused.
Both figures are well below those applied to those space. And while competitive challenges and lower comps in the S&F banner might suggest a lower multiple, the foodservice business should offset at least some of that compression. Move SFS' multiple to a reasonable 5.5x by year-end (assuming net debt of $570 million and the midpoint of guidance) and the stock gets back over $6, about 24% upside. Get it to 6x and SFS climbs 50%. Expanding the cash flow multiple to 10x or 12x suggests similar gains. And, again, those multiples aren't reasonable; that upside doesn't come from comparing SFS to KR or WMT, but WMK and IMKTA.
Meanwhile, Smart & Final does have some options. It can pull back on new store development under the Smart & Final name - and focus more on the stronger foodservice business. On the Q1 call, an analyst actually asked why the company didn't do exactly that; management didn't seem to understand the question at first, but Hirz seemed at least to hint that S&F might follow that type of strategy next year. It can pull back on development altogether, and focus on deleveraging.
There are concerns here - and risk. But the story isn't that bad. 2018 performance hasn't been that bad. Investors will eventually figure that out - and SFS should rally as a result.
Disclosure: I/we have no positions in any stocks mentioned, but may initiate a long position in SFS over the next 72 hours.
I wrote this article myself, and it expresses my own opinions. I am not receiving compensation for it (other than from Seeking Alpha). I have no business relationship with any company whose stock is mentioned in this article.