With some pairs such as the AUDUSD(Figure 1) having approximately a 12% draw down year to date, is betting on the continued fall of the Australian dollar still viable? Or is it overdone? In my opinion, the Australian dollar still has room to head down. Supporting my thesis would be Australia internal issues, China internal issues and external issues between China and US.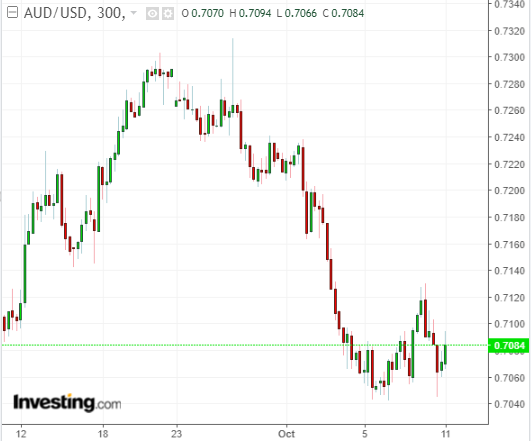 Figure 1
Source: Investing.com
1. Australia internal issues
Australia has not had a recession since June 1991, and betting on Australia's downfall has been famously dubbed the 'widow-maker' trade. However, is this time different?
Firstly, Australia banks are under pressure for numerous scandals uncovered, ranging from "charging dead people for services, lying to regulators, taking bribes, and dispensing such bad investment advice that some customers lost their homes." There is also pressure for heavier penalties on superannuation trustees.
More importantly, Australia housing market is under pressure, with a rollover in number of dwelling units approved and private sector houses approved (Figure 2).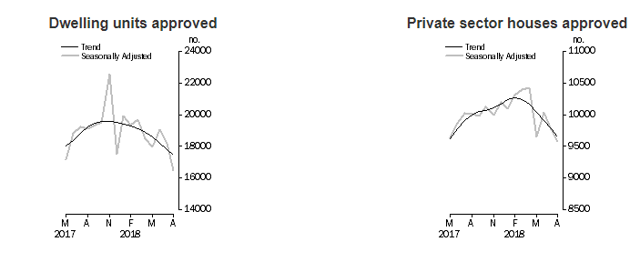 Figure 2
Source: ABS
Furthermore, the Australia house price index has sunk into negative territory(Figure 3), concurrent with stagnating money supply growth(Figure 4)- big headwinds, especially for those who rely on rising housing prices for collateral. There is also the issue of 'liars loans'-misstatements in mortgage applications. Despite improvement in the 4th quarter, "according to UBS, the improvement in lending standards was largely driven by the scrutiny placed on the industry by the Royal Commission into Misconduct in the Banking, Superannuation and Financial Services Industry, and not off the back of regulatory intervention."-implying that that despite the efforts of the regulators and banks to tighten underwriting standards from 2015, it is largely ineffective. Moreover, UBS stated that it continues to find that a "substantial number of applicants state that their mortgage consultant suggested that they misrepresent on their mortgage applications".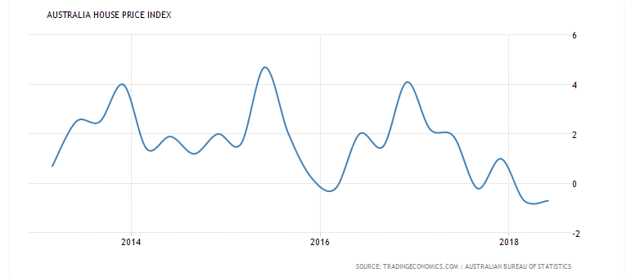 Figure 3
Source: Tradingeconomics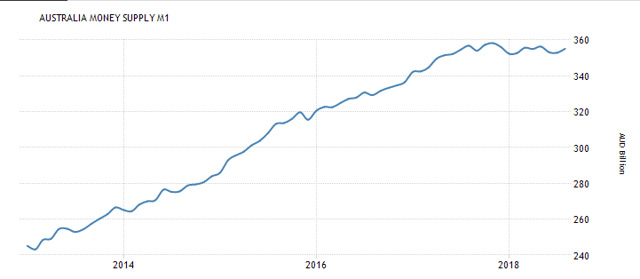 Figure 4
Source: Tradingeconomics
NAB business confidence has also fallen to 6 from 2018 highs of 12.(Figure 5)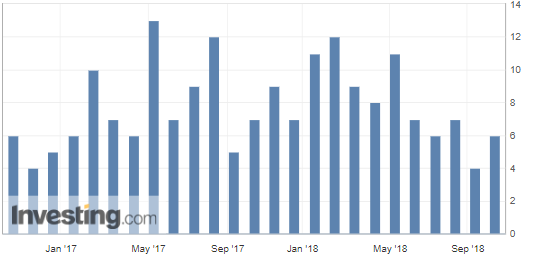 Figure 5
Source: Investing.com
Thus, the domestic situation in Australia is not favorable- banking sector issues, falling housing prices, fall in money supply, fall in business confidence and mortgage loan issues.
Inflation is also expected to remain subdued and cash rate set by the reserve bank is expected to remain at 1.5%, with big banks lowering rates and falling house prices.
This sets up a nice positive carry if you compare it against the USD, where yields are rising relative to Australia, with the spread between the Australia 10Y bond and US 10Y bond being negative for the first time since June 2000 (Figure 6).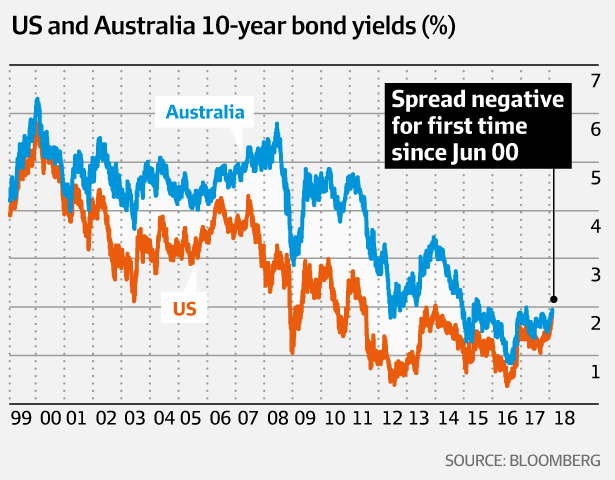 Figure 6
Source: AFR
Australia risk factors:
A risk factor is that China does not slowdown, or in spite of a China slowdown, Australia continues to expand- after all, "Australia's trade surplus widened to AUD 1.60 billion in August 2018 from a marginally revised AUD 1.55 billion in the previous month, above market consensus of a AUD 1.40 billion surplus. Exports rose 1 percent to a near record high while imports were unchanged". (Figure 7).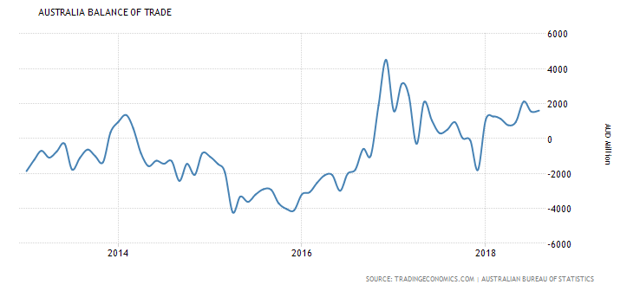 Figure 7
Source: Tradingeconomics
However, this is overshadowed by the fact that China's is Australia's main trading partner, and despite a strong tourism sector(which still only makes up 3% of GDP), majority of GDP still comes from natural resources, which China is the key driver of demand, and as I will show later, I expect Chinese demand to slow due to deleveraging and trade war issues.
2.China internal issues
China makes up around 33% of Australia export demand(Figure 8). A slowdown in China would have huge implications for Australia.

Figure 8
Source: Atlas
However is China slowing down?
China has been described as an economic miracle, and is even projected to overtake the US economy within 15 years. However, recent Caixin manufacturing PMI data has shown stagnant growth and potential rolling over to below 50 (Figure 9).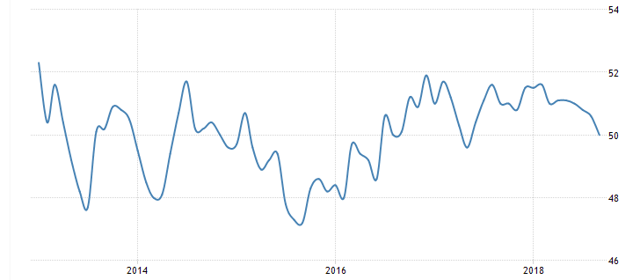 Figure 9
Source: Tradingeconomics
According to the Bank for International Settlements, China's debt to GDP ratio reached 257 per cent in 2017, higher than the United States' 152 per cent, and more than most emerging economies. The IMF anticipates that by 2020 China's domestic credit to GDP ratio will rise to 300 per cent. The dependence of credit is reflected in figure 10. Even during 2007-2008, they almost had a major crisis, but minimized damage by spending on bank credit, which has been increasing ever since. The economy is extremely reliant on credit, domestic debt creation and although they can restructure domestic based RMB debt, with regards to trading with the rest of the world, no one will take RMB as a settlement currency. China represents 18.7% of global GDP, but only 1.61% of global trade settles in RMB internationally. So debt is not only internal, they are also swimming in US denominated debt, which China accumulated, having only 1 quarter of current account deficit since 2000 (Figure 11). Thus, debt is an external issue as well- one which they cannot just restructure or write-off domestically.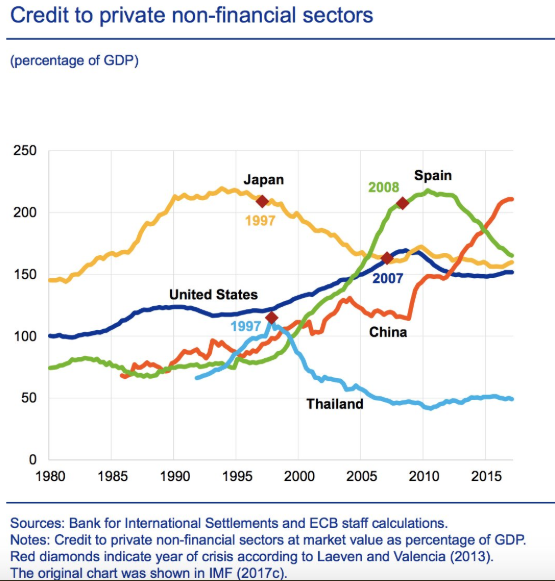 Figure 10
Source: ECB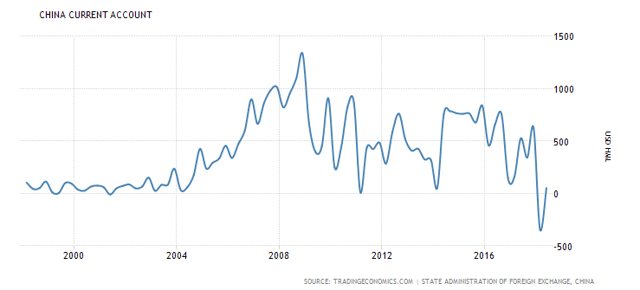 Figure 11
Source: Tradingeconomics
However, China and the exploding debt, slowing growth and deleveraging narrative has been mentioned numerous times over the past few years, what makes this time different?
The consolidation of power by President Xi Jinping.
With the scrapping of the two-term limit by the communist party, Xi Jinping now has the political capital and will to carry out deleveraging.
This is further reaffirmed by the Politburo meeting on 31 July where one of the goals was to "better combine the prevention and mitigation of financial risks and the service of the real economy, firmly do the work of deleveraging, grasp the strength and rhythm, and coordinate the timing of various policies."
Furthermore, the recent trade war spats may potentially give Xi the political cover to blame slowing growth, as a result of deleveraging, on Trump's trade policies. Growth could slow to 3 percent annually.
Slowing growth would not only affect Australia via the natural resource export market, but also via its housing market, where many foreign marginal buyers of property are from China (Figure 12). NAB's survey results has also highlighted a decline in foreign buying activity resulting from China restricting foreign investment outflows and tighter restrictions on foreign property buyers in Australia.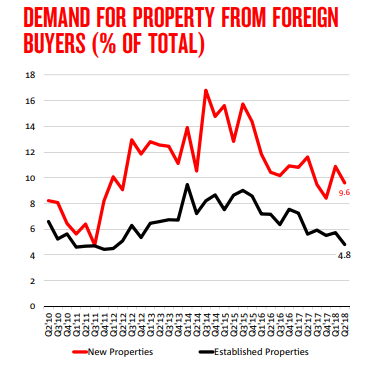 Figure 12
Source: Macrobusiness
Risk factors:
The key issue here is whether China can tolerate the pain of deleveraging which will weigh on GDP growth- going against the projected rate of 6.6% this year, and will naturally lead to economic stagnation.
Furthermore, going against the deleveraging narrative, China has recently done some easing, with the central bank moving to inject more cash into the banking system by cutting reserve requirement ratios for most commercial banks by 1 percent,"freeing up Rmb750bn ($109bn) of capital as it seeks to assuage concerns about slowing economic growth". Chinese non-financial corporate debt is also rising again as a percentage of gross domestic product in 2018 "following a year and a half of deleveraging from its mid-2016 record, according to data from the Bank for International Settlements. The ratio jumped to 164.1 percent in the first quarter from 160.3 percent in the final three months of 2017, erasing more than half of the progress Chinese companies had made in reducing debt loads since the ratio topped out at 166.9 percent in the second quarter of 2016."
Deleveraging aside, the escalating trade war with the U.S. and slowing economic growth are weighing on monetary policy decisions, with the Chinese government swaying to fiscal stimulus and monetary easing via "cutting some taxes, boosting spending, and loosening the monetary stance to ensure ample market liquidity". This is also exacerbated by the fact that China cannot match U.S. tariffs because it imports only a quarter of the goods it sends to the U.S. , hence the view that China will be the relative 'loser' in the trade war.
Lastly, being a communist country, control and stability is key in China. The almost unprecedented Chinese economic growth has become a source of national pride and affirmation of the effectiveness of their economic model, despite having a limited amount of capital flows, it still revolves around state-led control and steering. Xi Jinping, as the leader of the CCP, focuses on maintaining his grip on power, and is not exempted from sitting under the sword of damocles, which all authoritarian leaders sit under. Maintaining power and control are necessary to both his and the CCP's survival. The CCP fears social unrest more than anything else and the best way to maintain order is by banging on what has worked so far-keeping the engine of economic progress turning and never letting things regress too much.
Yet, the looming, growing debt pile still stands and if the Chinese do not want to stomach lower growth now, they're going to have to do it a year or two down the road. So it eventually has to happen, but is it now? Does the Chinese government have the wherewithal and will to stomach lower growth now? Despite the risk factors cited above- trade war and evidence of recent easing, I still believe the time is now. The trade war provides a convenient excuse to blame lower growth on the US and appeal to nationalistic sentiment, the crackdown on corruption and consolidation of power also gives president Xi the political capital to reign in on growth to deleverage, although never letting it regress too much.
Conclusion
The Australian dollar has severe headwinds in its direction, based on internal issues in Australia-bank regulation, housing market, and positive carry, and both internal and external issues in China- deleveraging and trade war. While there is definitely a relatively bigger risk factor when one considers the murkiness of China, I believe the time is now.
Disclosure: I am/we are short AUDUSD. I wrote this article myself, and it expresses my own opinions. I am not receiving compensation for it (other than from Seeking Alpha). I have no business relationship with any company whose stock is mentioned in this article.