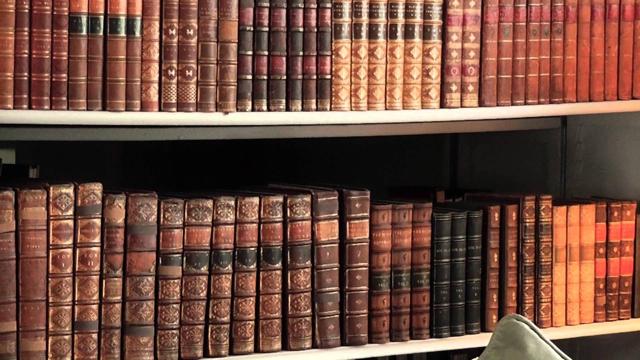 Johannes Gutenberg started the Printing Revolution in 1439 when he introduced the first printing press in Europe. His introduction of the mechanical movable type is credited with being a major catalyst for the Age of Enlightenment, Renaissance, and Reformation. However, his involvement with the modern-based economy and the spread of learning is fast approaching the end - as it relates to putting words on paper being the transfer agent for the gaining of knowledge.
With this article, I will use the status of two of the more renown educational publishers where in their now combined capacity, now known as Houghton Mifflin Harcourt (NASDAQ:HMHC), there is a cautionary tale for why investors must always pay attention to the changes in technology. From 1439 to now 2018 represents 579 years of history. And now we are apparently closing the book on Gutenberg's contribution for our history and the spreading of knowledge.
Seeking Alpha prefers their authors limiting their preamble for their articles, however, I hope they will allow me the opportunity for outlining the historical catalysts and ensuing demise for what was a prime and highly profitable industry - the publishing industry. When I became a part of this renowned industry, nearly 50 years ago, there were nearly 20 individual companies dedicated to the field of textbook publishing. What were separate companies, today the merged entity of Houghton Mifflin and Harcourt Brace Jovanovich represents the last major vestige of this once lauded area for providing our student the tools for learning how to read, learn math, and through science inspire our nation to travel beyond our home base - Earth.
On the morning of November 5, 1991, the luxury yacht, Lady Ghislaine, was off the coast of the Canary Islands. In the middle of the morning, the crew of the yacht found the naked body of one Jan Ludvik Hyman Binyamin Hoch floating in the Atlantic Ocean. However, by this time, the dead individual went by the name, Robert Maxwell, the head of one of the world's largest publishing empires. His death was the pinnacle for what had been one of the most lucrative industries in the United States - the textbook publishing companies.
It was Maxwell's hostile raid on May 20, 1987, when he offered $2.0 billion to purchase Harcourt Brace Jovanovich. At the time, William J. Jovanovich was the chairman of the company. Having been born in a tent in a small Colorado town where his father worked as a coal miner, Jovanovich built the most diversified publishing firm in the K-12 school market, college, and medical school publishing. At the same time, the company had a stable of renown trade book authors. In addition, Harcourt owned insurance companies, SeaWorld Parks, and the largest outplacement company. At one time, the Kansas City Royals conducted spring training at their Boardwalk and Baseball entertainment complex in Orlando.
When Maxwell made his hostile bid, Mr. Jovanovich said there would be no circumstance where he would allow Maxwell's takeover and destroy what he had created. He was correct about Maxwell, but trying to fend off Maxwell's bid, Jovanovich opted for the wrong solution in dealing with the crisis. The crux of his decision was taking on $3 billion in debt with current investors getting a special $40 dividend based on the shares they owned. There was a lot of joy on Main Street from these investors - but then there was the issue of making the interest payment on $3 billion of borrowed money.
After Maxwell died in 1991, under highly suspicious circumstances, his empire came crashing down when it was realized his kingdom was a house of cards filled with jokers! Maxwell's method for creating his growth was buying up companies, raid their pension plans, and cut the life-blood of what drives the industry. Publishing is built upon having the operating cash for an aggressive publishing schedule built around a stable of great authors and editors.
As 1991 approached, Harcourt could no longer service the debt associated with the $3 billion in debt. Making the debt payments left no funding for the vital mantra that drives the publishing industry - 'publish or perish'.
In January 1991, the crisis had caught the attention from potential suitors. From those who expressed an interest, a most unusual candidate emerged from the group. General Cinema made the best offer with a bid of $1.4 billion. This offer came after Harcourt had sold the SeaWorld Parks to Anheuser Busch in 1989 for $1.1 billion. Richard Smith, the Chairman of General Cinema was a savvy investor, where he, his son, and son-in-law basically grew a chain of drive-in-theaters into a multi-billion-dollar empire that included the largest PepsiCo distributor, Bloomingdale's Department Store, and the Neiman Marcus Department Stores - and now Harcourt publishing. With the purchase of Harcourt, where before the Maxwell bid, their stock was trading north of $60.00. Smith paid $0.50 for the Harcourt shares.
For one understanding the dynamics of the different kinds of buyout deals, Smith's goal was to invest the capital to turnaround the company. Venture capitalist deals are often based on buying a cheap asset, load up the company with junk debt, extract enough cash to return the money they have invested, plus a tidy profit - and leave the carcass for others to worry about. This constant flipping and more debt being added to the books eventually runs out - and this is where we are today.
Smith invested the needed cash that allowed Harcourt to create a reading program that became the #1 reading series in the US schools. This began the process for Harcourt returning to the pinnacle of textbook publishing. As for General Cinema and Mr. Smith, he sold the now known Harcourt General to Reed Elsevier, a Dutch/British corporation, in October 2000, for a whopping $4.45 billion. Remember, he had bought this asset for a mere $1.4 billion - a nice four times the value he paid for the asset only nine years before.
In 2001, Houghton Mifflin was purchased by another foreign entity wanting to take advantage of the cash flow that could be generated. They were bought by the French company, Vivendi (OTCPK:VIVHY), a company concentrated on water treatment in numerous European countries. Vivendi proved to be another Maxwell type operation with their roll-up buying of cash generating companies that offered no synergy of the combined entities. They bought Houghton for $1.7 billion and nearly immediately destroyed the integrity of the company.
In 2002, the private investment firms of Lee Partners, Bain Capital, and Blackstone Group bought Houghton from Vivendi, in what had turned out to be a horrible investment for the French company. They had paid $1.7 billion for the asset and sold it for $1.6 billion.
In 2006, these investment firms sold the Houghton asset to a Grand Cayman group, known as Riverdeep. The new owners paid $1.75 billion in cash and assumed $1.61 billion in debt. This new operation was run by a gentleman named Tony Lucki, a person with no business acumen as his background had been in the editorial department. He was lucky, due to him participating in some of the previous deals involving Harcourt's saga.
In 2007, Reed sold the Harcourt asset to the newly formed Houghton Mifflin Riverdeep for $4.0 billion. Over the next six years, things didn't work out for their marketing plans. In 2012, the newly created combined efforts went into bankruptcy where creditors holding 70% of their debt agreed to eliminate $3.1 billion in debt for ownership stakes in the company.
A year later, the new stakeholders saw a single light emerging from a dark tunnel where the light was attached to a locomotive moving at full-speed in their direction. In November 2013, Houghton Mifflin Harcourt became a stand-alone public company when they sold 18.3 million shares for $12.00 per share. On the first day of trading, the stock traded for nearly $16.00.
Where We Are Today:
Jump ahead by five years to October 2018, the blustery promises and projections by HMHC, the stock has lost a little over 50% of its IPO value, and in my opinion, the downside isn't over. In fact, with their current plight and outlook for this area of publishing, IMO, there will be no white knights swooping in and buying the company. There is no longer the leverage for such deals. One can see this by looking at the following example of financials that are the prime example of an unmitigated disaster.
The first thing one can look at and see the big picture is the 5-year trading chart. This is an ugly chart where initial investors who bought into their story of turning around the fortunes of the company, they have been highly disappointed.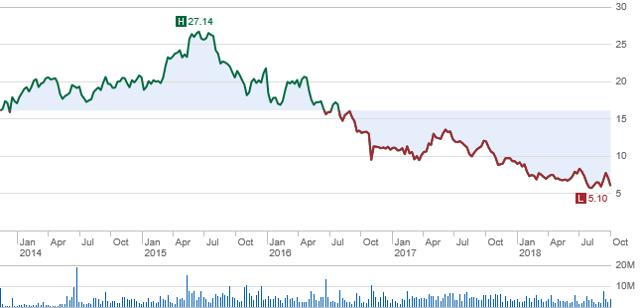 Houghton Mifflin Harcourt 5-Year Revenue Stream:

2014

$1.372 B

2015

$1.416B

2016

$1.372B

2017

$1.407B

Avg.

$1.391B
In the last four years, the revenue stream has been flat. And management has just updated their projections for 2018 where they give a range of $1.27B to $1.35B. If these lowered numbers come in between the range, they will miss the 2017 number with another year of no growth. They further project the free cash flow from continuing operatives being negative for the full year.
These lower projections are based on another clue for how dire the situation has grown. HMHC just unloaded a key asset, where the private equity firm, Alpine, bought their clinical and standardized testing portfolio for $140 million, with HMHC netting $135 million.
In closing this deal, HMHC management made the following claim:
The completion of the transaction enables HMH to sharpen its focus on developing and delivering next-generation K-12 classroom offerings rooted in learning science that seamlessly combine teacher support, data-driven instructional practices, intervention solutions and focused content architecture to accelerate growth for all learners."
The problem with this statement is that historically state contracts for standardized testing their students is a very lucrative profit center for the publisher of the test. It's obvious that Houghton needed to raise cash and the only asset where they had suitors with any interest, was the testing unit. There is a market for testing because states mandate students must be evaluated for validation of their progress. The creation of such testing instruments isn't that expensive when compared to the production and printing of a textbook series. Especially, when compared to a textbook series that requires a multitude of ancillary components using 4-color pictures and graphs. By selling this testing component, Houghton might have sold the most lucrative profit margin component in their business model.
With this sale of the testing unit and now with their admission about lowered revenues for the full year, they know the reality for what the revenues will total. Textbook publishing has a unique aspect for the accounting of their sales. Textbooks are adopted/sold to the school districts or individual schools in the spring. This allows for the books and ancillary materials being produced and delivered to the purchasing entity for the start of school in late August or September. Therefore, textbook publishers already know what the revenues will be for the full year. And this is confirming, back in the spring, Houghton obviously knew the shortfall in revenues was baked into their need to raise cash.
Houghton Mifflin Harcourt Financials:

2014

2015

2016

2017

Cash

$456.58M

$234.25M

$226.10M

$148.97M

T.Liability

$1.23B

$1.923B

$1.85B

$1.76B

Net Asset

$424.79M

($497.7M)

($588.6M)

($598.0M)
Houghton Mifflin Harcourt Financials:

As of June 30, 2018 - 2nd-Q

Cash

$30.7M

Total Liability

$1.79B

Net Asset

($626.9M)
The dismal trend started in 2014 and continues unabated as the financials continue to erode. Note the cash position at the end of 2014 - $456.58M. In the last full yearly report, 2017, the ending cash position had dropped to $148.97M, or a 67% drop in available cash. At the end of the 2nd-Q for the current year, the cash position stood at $30.7M. Considering the recent asset sale happened after the end of the 3rd-Q, it's likely their cash position has been depleted.
Management has already stated their free cash flow for 2018, will be a negative number. So the $135 million netted in the asset disposal was hardly the solution for their need for operating cash.
The following is a link to a Harvard Business Review article where the author presents the case that publishing isn't dying. It would be interesting to see what this author has to say about this issue-only 4 years later.
Recent Key Milestones:
In November 2007 - Amazon introduced the Kindle. When has anyone seen lately anyone on a flight or commuter train reading from a hardback book?
Over the last 50+ years, if one has had high school and even college classes dealing with grammar and composition, the likelihood is very high you used a book written by John Warriner. The attached is a New York Times article from 1987, with reference to Mr. Warriner's death. Note the number of copies his books sold - 30,000,000. Multiple this number by $30 per copy and you can see 'what' the revenue and profit stream from just this one author. Mr. Warriner's royalty was between 20-25%.
Harper Lee proved you only need to write one book if it's - To Kill a Mockingbird. I never meet Ms. Lee, but I am a friend of her niece. Ms. Lee hated the name Harper, and she preferred to be called Nelle. Her book was published in 1960 and it contained only 281 pages. When she died in 2016 her book was generating $1,000,000.00 in yearly royalties. Thinking of the income level, it's more amazing when you consider for the 281 pages, she was earning $3,559.00 per page. And sadly, J.B. Lippincott, the publisher of Ms. Lee's book, no longer exists as a standalone publisher. They are owned by a German firm.
Most people probably have forgotten, Jeff Bezos, launched Amazon (AMZN) on July 5, 1994. And more people probably don't remember that Amazon started out as a retailer for books. At the time there were numerous box store companies selling books. Border's being just one of them - no longer exists! Barnes & Noble (NYSE:BKS) is the only one still in business. Check their financials and the plight they currently are facing.
Amazon now has 13 active publishing imprints, each catering to its own genre market. In 2016, 7 out of the top 10 Kindle best-sellers were books published by their imprints.
The degrading of the industry continues where even now some of the more renown publishing houses are offering their services to the self-published writers.
For students, their content can be delivered directly from a computer or CD-ROM, where updates can be made quickly and without a large editorial staff.
The margins for publishers paying authors 20% royalties are gone! Jeff Bezos has won this stage of the contest. If you need further validation of Bezos' business model, do you think Sears will be able to meet their debt obligations on Monday, October 15, 2018.
Conclusion:
Houghton Mifflin Harcourt is a corporation facing dire financials and this issue will continue to grow, based on their business model. For those who follow my articles, you might know that I'm opposed to investors using margin accounts - the type account you must have to directly short the common stock of a publicly traded company. As mentioned, HMHC has lost more than 50% of their market cap since their return to the market with their shares. The only way I would play their stock is by using options. However, those who opt to play the market through options, one must be very savvy in their knowledge of how options are priced and traded. Whatever side you opt-in trading options - puts, calls, straddles, etc., you are playing in the vernacular of Las Vegas - you are playing against the house. And those who create the options - they know what they are doing. And they know the length of the game they are playing with each option! Be smart if you opt to invest in what I consider an industry that is greatly cherished by those who had the opportunity to be a part of it! For those who have a different perspective about the publishing industry, let me remind you that once upon a time, Harcourt Brace Jovanovich traded for more than $100.00 a share. In 1991, being in an executive with the company, I held company issued options and many shares of common stock. Part of the General Cinema purchase required those holding these options, we had to rescind our ownership and take the $0.50 a share for our common shares. What was a fantastic business model - things changed!
Good luck with your future investing decisions!
Disclosure: I/we have no positions in any stocks mentioned, and no plans to initiate any positions within the next 72 hours.
I wrote this article myself, and it expresses my own opinions. I am not receiving compensation for it (other than from Seeking Alpha). I have no business relationship with any company whose stock is mentioned in this article.