This article first appeared on Trend Investing on Aug. 14, 2018; therefore all data is as of that date.
For a background on the 5G boom, investors can read my article "A Look At The 5G Opportunity":
The winners will be the first to market 5G telco and infrastructure providers (the 5G transmitter manufacturers), the 5G enabled sim/chip sets (modems) and 5G device makers (5G smartphones & phablets), the data storage companies, the new app makers, and the content/entertainment providers. New industries such as autonomous cars, advanced robotics, and 5G enabled security and monitoring systems, tele-medical, advanced military (drones, monitoring etc), smart factories, and others should be the big winners. Online retailers (via 3D apps etc) and the social media giants should also benefit by an enhanced customer experience and customers spending more time online.
Given that in mind my top 7 chooses two 5G infrastructure providers (includes 5G transmitter suppliers) as that will be the first area to benefit. Next I choose two 5G enabled sim/chip sets (modems) and network connections providers, two smartphone and PC makers, and one internet entertainment video streaming company.
Top Seven 5G Stocks
5G infrastructure providers (includes 5G transmitter suppliers)
Note: The 5G network infrastructure market is expected to grow at a compounded annual growth rate (CAGR) of 70% between 2019 and 2025.
A 5G transmitter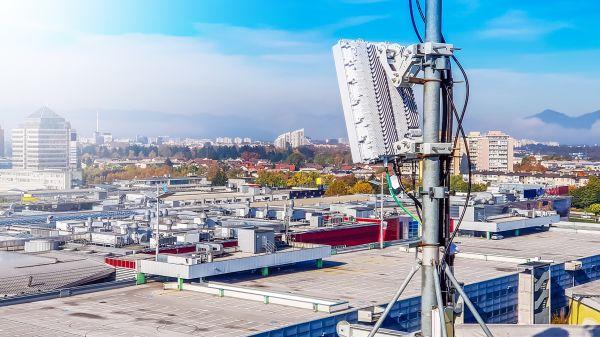 Nokia (NOK) - Price = Euro 4.58
Nokia is a Finnish multinational telecommunications, information technology, and consumer electronics company.
Nokia is regarded as one of the top 3 global providers of 5G network equipment, such as the 5G transmitters that will soon become ubiquitous. To highlight this point, Nokia recently picked up the "world's first big 5G award" - A $3.5 billion deal to supply T-Mobile with a range of 5G hardware, software and services.
This will likely be the first of many large deals to supply global telcos, or as Nokia management call it the beginning of the "5G super cycle."
Nokia currently has a market cap of euro 25.8b and enterprise value of Euro 22b, and 2019 P/E of 27.9. 2018 net profit margins are forecast to be -0.11% and in 2019 to be 4.11%. Debt is zero with about $3.8b in cash. Analyst's consensus is an outperform with a Euro 5.55 price target, representing 22% upside. A good 5G buy, noting net profit margins are quite slim.
Nokia's financials and forecast financials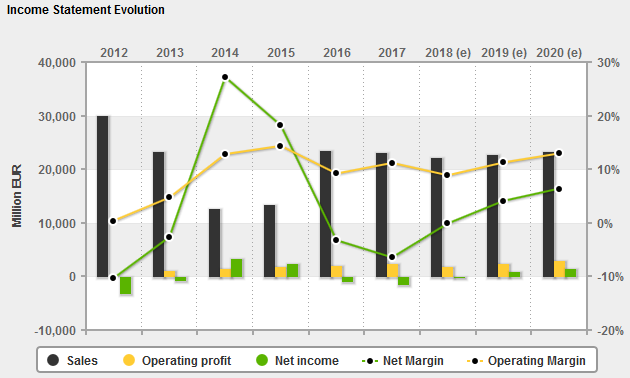 Ericsson (US ADR - ERIC) - Price = US$7.79
LM Ericsson Telefon AB is a Swedish company that engages in the provision of telecommunications equipment and related services to mobile and fixed network operators. Ericsson is regarded as one of the top 3 global providers of 5G network equipment.
On Aug. 10, Reuters reported: "Mobile telecom equipment maker Ericsson said on Friday it would add around 300 jobs in the United States to meet rising demand for next-generation 5G equipment ... Last month, the company posted an unexpected swing to a modest operating profit citing growing sales traction in North America."
Ericsson is rolling out trial 5G networks globally. Fierce Wireless report that as of March 2018 Ericsson has signed 38 operator agreements for 5G. A very recent example was the Philippines, where a 5G pilot network is scheduled to go live by early 2019.
Ericsson currently has a market cap of 238b Swedish Krona (SEK) (~US$26.1b) an enterprise value of 22b SEK (US$24.3b), and 2019 P/E of 32.1. 2018 net profit margins are forecast to be 0.09% and in 2019 to be 3.62%. Debt is zero with about 16b SEK (US$1.8b) in cash. Analyst's consensus is a hold with a 69.1 SEK price target, representing 2.9% downside. A potential 5G winner, best to buy after a pull back.
Ericsson's financials and forecast financials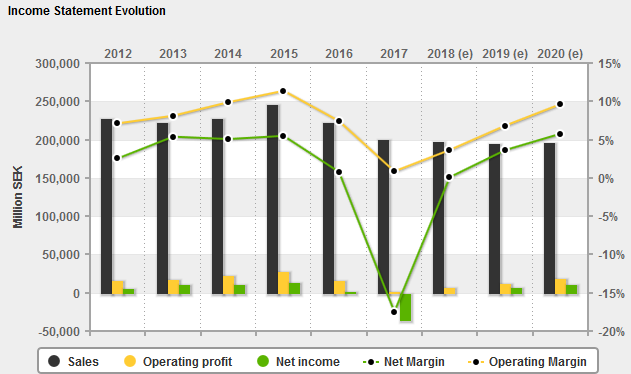 5G enabled sim/chip sets (modems) and connectivity providers
Qualcomm (QCOM) - Price = US$65.16
Qualcomm is a global leading modem Intellectual Property (IP) company. Qualcomm licenses their IP technology and sells that to the modem manufacturers.
Qualcomm are reported to have the world's fastest modem technology. Qualcomm says the Snapdragon X50 5G modem is capable of download speeds of up to 5 Gbps which is 5x faster than the fastest 4G modem. Qualcomm recently unveiled the first mmWave 5G antennas for smartphones.
Qualcomm's Snapdragon X50 5G modem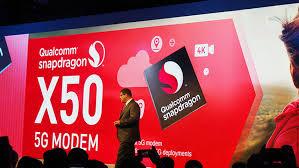 Risks for Qualcomm revolve around competitors and phone companies such as Apple developing their own in-house modems.
Qualcomm currently has a market cap of US$95.2b and enterprise value of 84.5b, and 2019 P/E of 18.2. 2018 net profit margins are forecast to be -16.66% and in 2019 to be 19.85%. Debt is zero with about US$10.7b in cash. Analyst's consensus is an outperform with price target of US$67.70, representing 4.5% upside. A solid 5G stock to buy.
Qualcomm's financials and forecast financials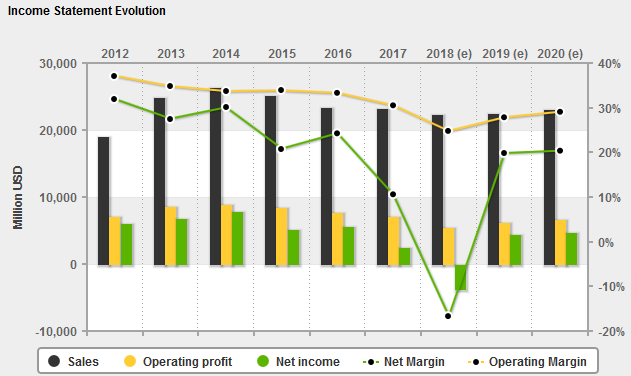 Skyworks Solutions Inc. (SWKS) - Price = US$93.62
Skyworks Solutions is an American semiconductor company with a focus on manufacturing semiconductors for use in radio frequency and mobile communications systems. Skyworks is an expert in connectivity, hence their motto is "connecting everyone and everything, all the time."
In January 2018 the Company launched their Sky5 Platform to support the 5G network. Then in July they launched their 5G antenna tuners from their Sky5 portfolio enabling 5G applications. The Sky5 platform includes products such as a 5G power amplifier module, a 5G receive module, and a cellular vehicle-to-everything (C-V2X) front-end module.
Risk revolves around the smaller number of corporate clients and in particular losing a key client such as Apple. Skyworks is addressing this problem and picking up new clients such as Huawei in China. Also current the slowdown in the smartphone market.
Skyworks currently has a market cap of US$16.7b and enterprise value of US$15.1b, a 2018 PE of 16.9 and 2019 P/E of 12.3. 2018 net profit margins are forecast to be 25.1% and in 2019 to be 30.8%. Debt is zero with about US$1.6b in cash. Analyst's consensus is an outperform with price target of US$118, representing 26% upside. Likely to do well in 5G.
Skyworks Solution's financials and forecast financials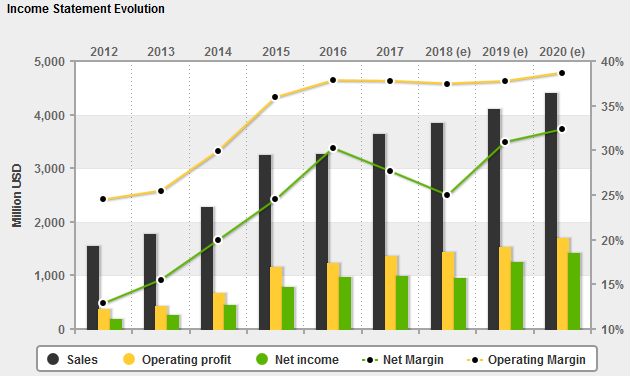 5G enabled Smartphone and PC makers - 5G enabled devices coming soon
Apple (AAPL) - Price = $208.87
I have included Apple as they are well placed to benefit from customers upgrading to 5G enabled devices. The Western world who love Apple products, also like to be leaders in the latest technology. Apple's customers will move quickly to upgrade their products to the latest 5G enabled product range (probably later in 2019, or 2020). Additionally Apple's growing services division should benefit from 5G. About 20% of Apple's net profit comes from Apple Services (App store, Apple Pay, iTunes, iCloud). Apple intends to grow their services and is planning a news subscription service next. In 2017 Apple Services brought in US$30b in revenue at a very high profit margin, and Apple says services revenue may hit $50b by 2021.
Apple Services to be the growth engine for Apple in the next 5 years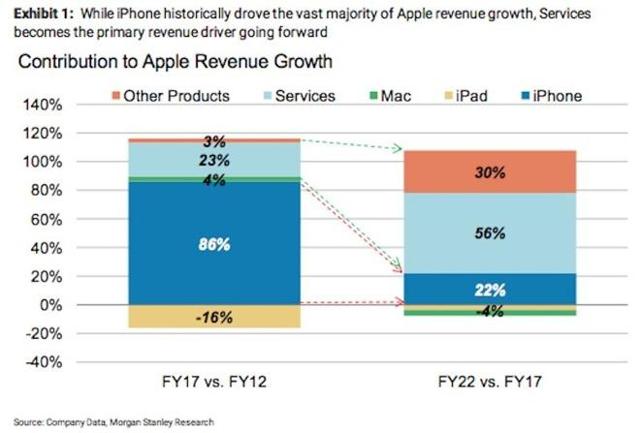 Not many companies globally have Apple's customer loyalty, high profit margins, and strong balance sheet. Given Apple already have loyal customers they will be sure to benefit from increased use of 5G enabled devices and associated services delivered increasingly via portable devices connected to the 5G network.
Apple currently has a market cap of US$1t and enterprise value of US$871b, a 2018 P/E of 17.8 and 2019 P/E of 15.5. 2018 net profit margins are forecast to be 22.2% and in 2019 to be 22.4%. Debt is zero with about $243b in cash. Analysts consensus is an outperform with a US$216 price target, representing 3.6% upside. A solid long-term accumulate stock. Some slight trade war related risk remains around China revenues, which make up about 9.55% of company revenues.
Apple's financials and forecast financials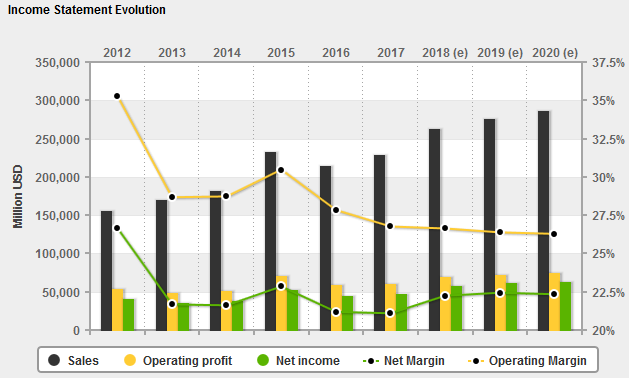 Samsung Electronics [KRX:005930] [XLON:SMSN] (OTC:SSNLF) - Price for SMSN = US$1,005
I have included Samsung in the top 7 as they are involved in almost every area of 5G, and they are very cheaply valued right now (due to their revenue and profit reliance on semiconductor memory chips). They supply 5G infrastructure, they make smartphones and PCs, and they are huge in the area of memory chips. They are also pioneers in the Internet of Things (IoTs) with smart homes/industry/cars, helped along by being an appliance manufacturer. What Samsung lacks for now is a large services revenue similar to Apple. If that comes Samsung would be re-rated to a higher P/E multiple.
On Aug. 8, Samsung announced: "Samsung Electronics: to spend over $22 billion on AI, auto tech and 5G. The Samsung conglomerate said it will invest more than $22 billion over the next three years to target areas such as artificial intelligence and auto-tech components as it hunts for new growth drivers beyond phones and memory chips. The bulk of the spending will be earmarked for Samsung Electronics Co., the conglomerate's crown jewel and the world's No. 1 maker of smartphones, semiconductors and televisions. The company said it would invest heavily in four key areas through 2020: Auto tech; artificial intelligence; and new fifth-generation, or 5G, cellular technology, all of which that fall under the firm's umbrella. Other funds will be directed to its nascent drug companies specializing in contract manufacturing and biosimilar medications."
On Aug. 13, Venture Beat reported: "Galaxy S10 won't be first Samsung 5G phone, foldables will be a family." And, "Samsung mobile chief DJ Koh told an audience of Korean journalists (via ZDNet) that the company is working with South Korean carriers to be the first to launch a 5G phone - but notably not the Galaxy S10."
Risk revolves around the company's dependence on memory chip revenue and fierce competition in the smartphone market. The large capex spend in the memory chip business can also be a minor negative, as can the historical cyclical nature of semiconductor company earnings. Also to date Samsung has not had much success in monetizing Samsung paid services.
Samsung currently has a market cap of 322t KRW (US$285b) and enterprise value of 236t KRW (US$210b), a 2018 P/E of 6.3 and 2019 P/E of 6.2. 2018 net profit margins are forecast to be 19.2% and in 2019 to be 18.6%. Debt is zero with about KRW 86t (US$76b) in cash. Analysts consensus is an outperform with a price target of 66,328 KRW, representing 47% upside.
I view Samsung as an excellent buy, due to very low valuation and 5G upside in several areas. Potential to one day significantly grow Samsung services and follow the Apple model.
Samsung's financials and forecast financials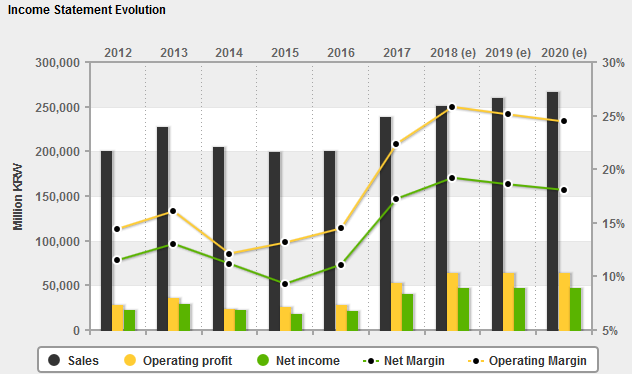 Entertainment and social media providers
Netflix (NFLX) - Price = USD 341.31
I have chosen Netflix as my number one entertainment provider due to their strong reputation and their model is based exactly on what 5G will help enable - entertainment on any connected device on the go. "Net" "flix" is exactly that. It is an internet movie/entertainment streaming service. 5G and Netflix will combine perfectly. A subscriber can pay a low monthly subscription and get their entertainment streamed online to whatever device they want in any location they want.
Of course, Netflix does this right now. The main difference is that 5G will enable the service to work better and in any location where you can get a 5G signal -- at home, in the car, on the bus, at the cafe, at the office etc. No need for a fixed location cable service anymore. Furthermore 5G globally will hep promote consumers to watch their entertainment online (no longer via a fixed cable TV service at home). This will appeal to the masses globally who like the freedom of having their entertainment always there for them no mater where they live, work or play. This should mean Netflix will massively grow their global customer base.
At end of July 2018 Netflix had 130.1m subscribers (up 25% year over year), with just over half in the U.S. (actual figure was 56m, the estimate of 57.4m shown in the graph below was slightly too high). Subscriber growth going forward is expected to come more from international customers than the U.S. The March 2018 result showed this with international streaming revenues increasing 70% to $1.78B, and domestic streaming increasing 24% to $1.82B. A slight pricing increase also helped recent results. Netflix has subscribers in 190 countries.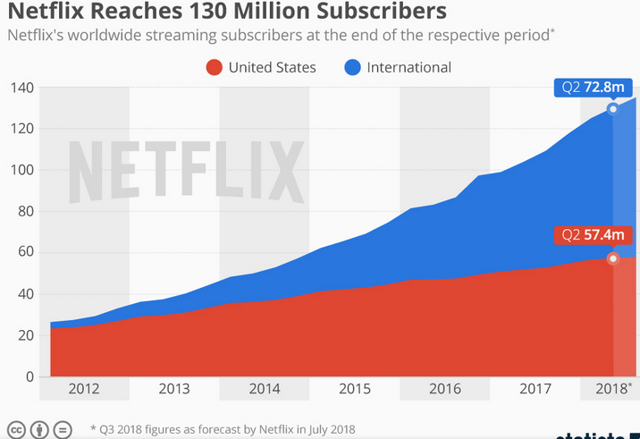 The Statista 2018 Global Consumer Survey stated:
Netflix dominates the U.S. video-on-demand (VoD) market with 77% of all VoD services subscribers. With a 21% lead on Amazon, Netflix has market momentum in the U.S. where the strategy of creating more original content is paying off with subscriber growth and a greater variety of content density than their many competitors.
The main risk revolves around competitors (Amazon Prime, Hulu, Google's You Tube, Fox/Disney, AT&T/Time Warner-HBO). Here, Netflix should retain an edge due to their first market mover advantage and original popular content of movies and series. Ultimately content and price will determine the winner. Investors also need to consider that Netflix has to continue to spend big on technology ($1.3B in 2018) and content. For example, in 2018 Netflix is spending $8B on content production to reach the goal of 1,000 original releases in 2018. Another risk revolves around Netflix's lofty P/E (valuation) and if it can continue to deliver strong revenue and earnings growth.
The fact that 5G will be a strong tailwind to the sector will also help. Investors can get a better understanding of Netflix's amazing growth by reading "10 Charts That Will Change Your Perspective Of Netflix's Massive Success In The Cloud."
Netflix currently has a market cap of US$151b, a 2018 P/E of 127 and 2019 P/E of 78. 2018 net profit margins are forecast to be 7.73% and improving to 9.97% in 2019. Debt was US$6.7b in early 2018 and rising. Analyst's consensus is an outperform with a US$377 price target, representing 10% upside. I would look to buy a smaller parcel on any price pull backs based on my view Netflix can continue to grow strongly their subscriber base (particularly international), raise subscription prices slightly, and that 5G will be a nice tailwind especially beyond 2020. Not for the faint hearted or value investor, but excellent growth potential.
Netflix's financials and forecast financials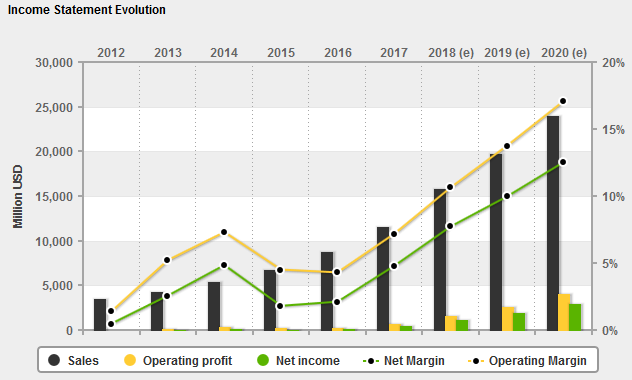 Source
Other top contenders
5G telco providers
I have not included a telco provider in my top 5 for now due to the large upfront capex expense to roll out 5G. Of the top 3 U.S. mobile phone companies AT&T (T), Verizon Communications (VZ), T Mobile (TMUS)/Sprint (S)), I would favor the one with that will have the least stranded assets of older infrastructure, as well as the one that has the best new customer growth rates and customer satisfaction. Perhaps my selection would be T Mobile/Sprint as they are the most dynamic of the three. Some other global leading telcos are Vodafone Group and China Mobile.
Entertainment and social media providers
Given most people will switch from traditional cable TV to 5G enabled streaming of their favorite content, those content providers that meet the demands of the public will do best. The current content leaders should do well provided they have not invested in the old (last mile) cable network infrastructure to the home that will no longer be required once 5G takes over. New content (and social media companies) such as Netflix, Amazon (AMZN), Alphabet Google (GOOG) (GOOGL), and Facebook (F) should do well.
Data storage/memory suppliers/cloud storage
With 5G and much more data being transmitted, it makes sense we will need much more data storage, both in our mobile devices (flash) or in data centres (solid state drives and mechanical drives).
Manufacturers in this area who will benefit include Samsung Electronics, Micron technology (MU), and SK Hynix (OTC:HXSCL).
For cloud services the leaders are Amazon (AMZN) via their Amazon Web Services division, Microsoft (MSFT), IBM (IBM), and Alphabet Google.
Other stocks that have an interest in 5G
Intel (INTC) has exposure to several areas of 5G, and their chips are integral in most PCs. Cisco Systems (CSCO) are also investing in 5G. Some others include DellEMC, Hewlett Packard Enterprise (HPE), IBM (IBM), and Lenovo (OTCPK:LNVGY).
Chinese stocks set to benefit from 5G
Telcos - China Mobile (CHL)
Network equipment supplier - Huawei
Devices - Huawei, Vivo, and Oppo
Note: According to research firm IHS Markit, video streaming in China will more than quadruple from $3.5 billion in 2015, to $17.6 billion in 2020. Given China's 5G plans are more advanced and online streaming and gaming has become highly popular, China presents many good opportunities in this sector. For example in 2018 about 229 million people in China will watch video via a subscription streaming service that bypasses traditional distribution.
Risks
The 5G rollout may be delayed and not widely available for some time.
Capex from the 5G rollout may initially impact the telcos negatively.
The early 5G winners may be Chinese companies, which may be harder to access.
Online streaming companies are struggling to make profits as membership subscription isn't always enough to cover production costs. Economies of scale will clearly play a part.
The usual stock market risks - sentiment, liquidity, timing, valuations, management etc.
Trade war and supply chain disruptions.
Further reading
Conclusion
The 5G rollout has already begun and will increase in velocity in 2019 and 2020. New devices will appear soon that are 5G enabled. This will lead to a massively improved internet experience, the Internet of Things, and a boom in online entertainment and gaming services.
The top seven stocks I have selected cover several of the main opportunity areas. The 5G infrastructure providers Nokia and Ericsson should do well early as the telcos spend big on 5G transmitters etc. Next the 5G modem and network connection developers Qualcomm and Skyworks Solutions should do well. By late 2019 or 2020 the 5G enabled Smartphone and PC makers such as Apple and Samsung should benefit from a 5G upgrade super cycle. Apple (and perhaps Samsung) will also benefit by providing online services to their huge customer bases. Finally the online entertainment (especially video streaming) companies such as Netflix should get a significant boost as consumers continue to switch out of fixed location/cable/TV to the new mobile 5G enabled entertainment world - Content on demand - Anytime, anywhere.
As usual all comments are welcome.
Disclaimer: The information in this article is general in nature and should not be relied upon as personal financial advice.
Trend Investing
Thanks for reading the article. If you want to go to the next level, sign up for Trend Investing, my Marketplace service. I share my best investing ideas, latest trends, exclusive CEO interviews, chat room access to me, and to other sophisticated investors. You can benefit from the work I've done, especially in the electric vehicle and EV metals sector. You can learn more by reading "The Trend Investing Difference," "Recent Subscriber Feedback On Trend Investing," or sign up here.
My latest Trend Investing articles are:
Disclosure: I am/we are long SAMSUNG ELECTRONICS [SMSN], ALPHABET GOOGLE (GOOG), FACEBOOK (FB), ALIBABA (BABA), MOMO (MOMO), MICRON TECHNOLOGY (MU). I wrote this article myself, and it expresses my own opinions. I am not receiving compensation for it (other than from Seeking Alpha). I have no business relationship with any company whose stock is mentioned in this article.
Editor's Note: This article discusses one or more securities that do not trade on a major U.S. exchange. Please be aware of the risks associated with these stocks.