Noble Corp. (NE) has recently published its fleet status report, and it contains some important news. Without further ado, let's dive in.
Drillship Noble Don Taylor has received a contract from Talos in the U.S. Gulf of Mexico. The rig will work from early November 2018 to mid-January 2019. The dayrate is undisclosed. Currently, the rig is on an idle rate of $420,000 that it gets from Shell (NYSE:RDS.A) (NYSE:RDS.B) until late February 2019. Any money that Noble Corp. will get from Talos will come on top of the idle rate.
Drillship Noble Globetrotter II got a contract from Total (NYSE:TOT) in Bulgaria. The rig will work from early November 2018 to early January 2019. The dayrate is undisclosed. The money that Noble will get from Total will come on top of an idle rate of $185,000 that the company gets from Shell until the end of December 2018.
As previously announced, Noble Corp. bought a newbuild jack-up from PaxOcean Group for $93.75 million. The rig is now named Noble Johnny Whitstine and will work in the Middle East for an undisclosed operator at an undisclosed dayrate from the first quarter of 2019 to the first quarter of 2022.
Jack-up Noble Tom Prosser will work for ConocoPhillips (NYSE:COP) in Timor-Leste until late November 2018 compared to the previous expectation of mid-December 2018.
Drillship Noble Tom Madden will work for Esso in Guyana from late October 2018 to late December 2018 compared to the previously expected time frame of mid-October 2018-mid-December 2018. The contract has up to three priced options.
Jack-up Noble Sam Hartley will work in UK for Total from mid-October 2018 to mid-July 2019 compared to the previously expected time frame of early October 2018-early July 2019. The dayrate remains undisclosed.
The biggest news here is of course the two drillship contracts. Based on the assumption of 75 work days for Noble Don Taylor contract and 60 work days for Noble Globetrotter II contract, I'd expect a backlog addition of about $20 million. As the rigs were in the situation where any dayrate would have come on top of the idle rate they were already receiving, I believe that Noble won on price and decided to use the dayrate of $150,000 in my calculations. Anyway, this is definitely a positive development for the company which brings real cash flow.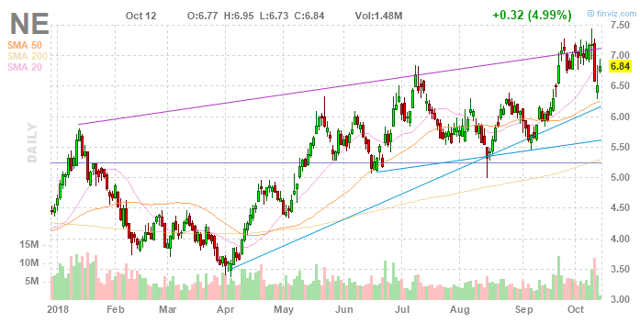 Just like other offshore drilling stocks, Noble Corp. shares have recently enjoyed upside as speculative money came into the segment. There were two positive catalysts - rising oil and the announcement of a major merger deal between Ensco (ESV) and Rowan (RDC). The news on new drillship contracts comes on top of these positive factors.
Despite this, I remain skeptical of near-term perspectives of Noble shares and, in fact, any other offshore drilling shares. My main concern is for the upcoming earnings season, where drillers will show their finances, and this time I expect that the market will actually look at them. In my opinion, the pace of offshore drilling share price appreciation is way ahead of the improvements in fundamentals, and that this (assuming oil stays at $80 per barrel without further upside) could put pressure or at least prevent further upside in offshore drilling shares in the fourth quarter of this year.
If you like my work, don't forget to click on the big orange "Follow" button at the top of the screen and hit the "Like" button at the bottom of this article.
Disclosure: I/we have no positions in any stocks mentioned, and no plans to initiate any positions within the next 72 hours.
I wrote this article myself, and it expresses my own opinions. I am not receiving compensation for it (other than from Seeking Alpha). I have no business relationship with any company whose stock is mentioned in this article.
Additional disclosure: I may trade any of the above-mentioned stocks.