(This article has been written/submitted on October 10th, before market open)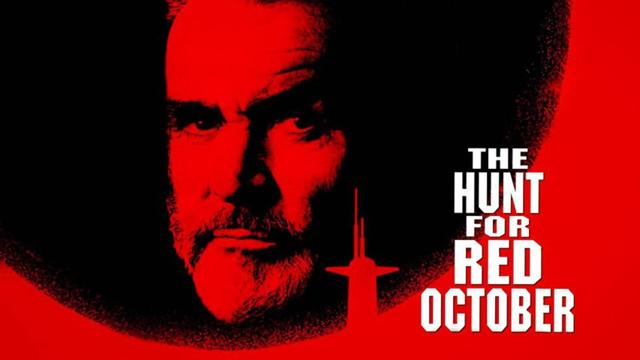 Red October
It was all great until October, with the average stock in the S&P 1500 (ITOT, VLU) was up 9.24% YTD through September.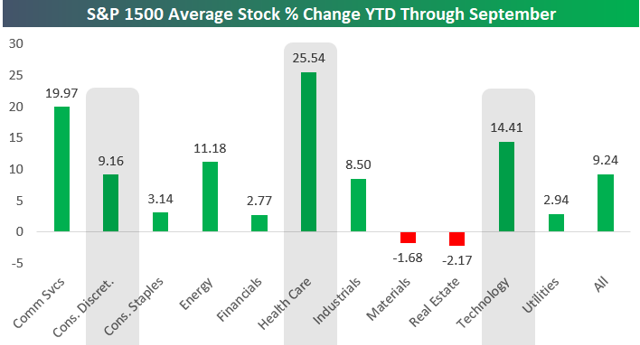 Source: Bespoke Investment Group
Then came October...
To some extent, one can't say this was unexpected. Historically, as the below chart shows, small-caps tend to lag large-caps during the 4th quarter.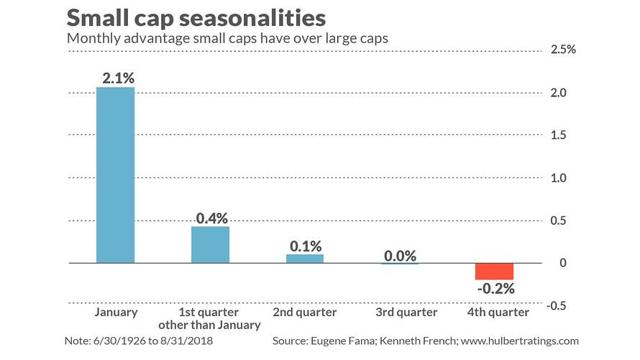 However, no one has expected such a major drop and lagging as we are seeing over the past 10 days.
Small Caps (Overall)
Small-cap stocks (that are part of Russell 2000 index) are about to rap a disastrous 6-week period, during which the iShares Russell 2000 ETF (IWM) fell from as high as 173.39 on August 31st, 2018 to as low as ~156 on October 9. That's a decline of 10% over the course of only 27 trading days!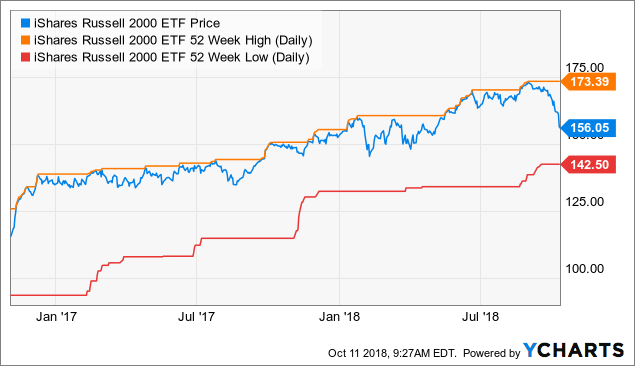 The relative weakness of small-caps (IWM) versus large-caps (SPY) is notable and actually been ongoing since the beginning of the third quarter this year.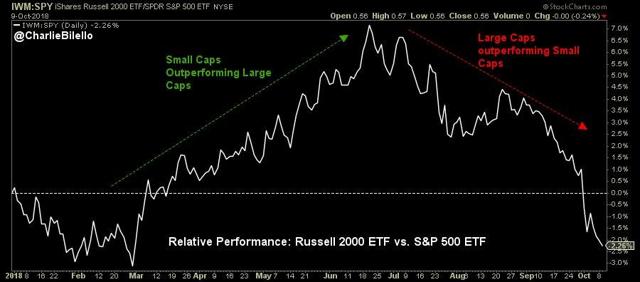 Trading at their lowest level since May this year, small-caps are in danger of closing below the 200-day moving average for the first time since August 2017.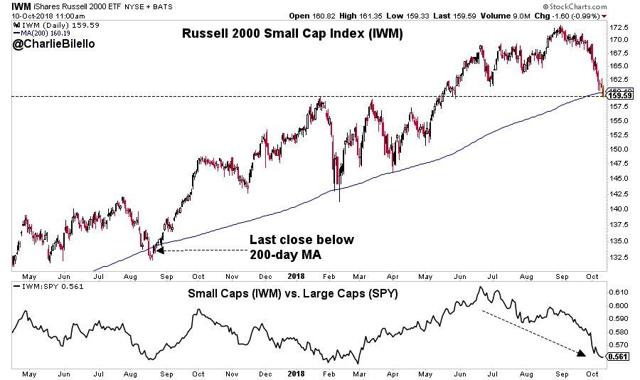 However, within the small-caps arena we have two main sub-segments: growth and income - and the former already "succeeded" doing what the overall segment hasn't done so as of yet.
Growth Small Caps
Small Cap growth stocks (IWO) have not closed below their 200-day moving average for more than two years, until yesterday... This record run, which started a bit before the US elections in November 2016, is now over.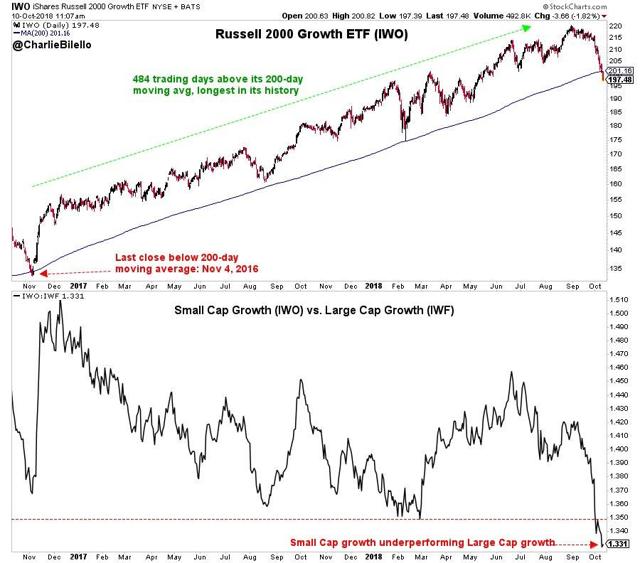 Lagging, Big Time
Per Bespoke Investment Group:
1. Stocks in the S&P 600 Small Cap index are down, on average, over 20% (including yesterday's action) from their respective highs.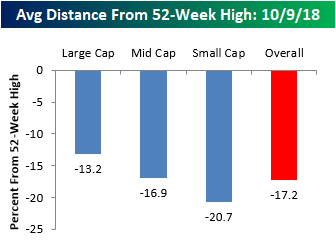 Source: Bespoke Investment Group
2. Stocks within certain sectors that are trading the most off their respective highs (including yesterday's action):
Small-cap Technology (XLK), Consumer Discretionary (XLY), and Health Care (XLV) stocks are down, on average, between 25% to 30% off their respective highs.
Large-cap Consumer Discretionary and Materials (XLB) sector are trading down down, on average, about 20% off their respective highs.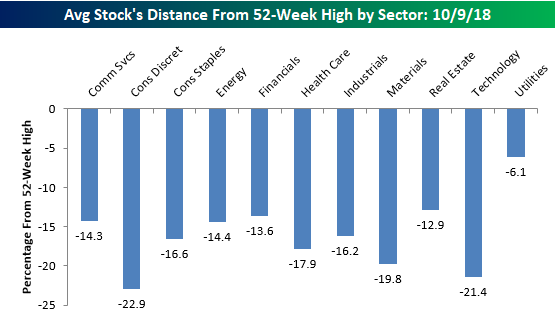 Source: Bespoke Investment Group

3. Stocks within certain sectors that are trading the closest to their respective highs (including yesterday's action):
Small-caps in the Utilities (XLU) sector are down less than 5% on average from their 52-week highs.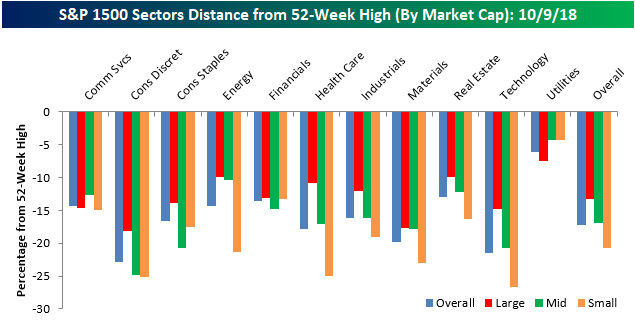 Source: Bespoke Investment Group
What's Next?
We're watching the Russell 2000 closely, as it's diverging from the S&P 500. Taking into consideration that small-caps are known to be a reliable whistle-blower for the entire market, this divergence might be suggesting (that more) trouble (might be) ahead for the broader market.
Over the long run, small-caps typically move in tandem with large-caps but that hasn't been the case for 3.5-month already.
Since June 20th, small-caps have fallen over 8% while the S&P is actually still up about half a percent. That's an over-8.5% under-performance for small-caps!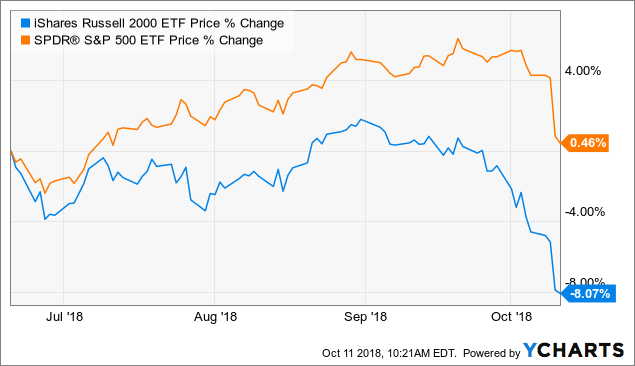 Looking back at similar divergences along history, one can't help but be reminded of 2015, when the Russell 2000 topped out two months before the S&P 500 did the same. As a friendly reminder, let me refresh your mind with what came right after - a 14% decline for the S&P 500.
Just saying... not whistle-blowing!
Author's note: Blog post notifications are only being sent to those who follow an author in real time. In order to receive notifications for both articles and blog posts, go to Author Email Alerts, which lists all the authors you follow, and turn on "get e-mail alerts" (see below).


The Wheel of FORTUNE is one of SA Marketplace's most comprehensive services. We view our service as a "supermarket of ideas" with an emphasis on risk management and risk-adjusted returns.
We cover all asset-classes: common stocks, preferred shares, public debts, baby bonds, options, currencies, and commodities.
With Trapping Value on-board, you're getting two leading authors for the price of one.
Before committing to the service on a long-term basis, take advantage of the two-week free trial.
Disclosure: I am/we are long XLU, XLP.
I wrote this article myself, and it expresses my own opinions. I am not receiving compensation for it (other than from Seeking Alpha). I have no business relationship with any company whose stock is mentioned in this article.
Additional disclosure: I'm/we're short SPY & QQQ