On Thursday, Oct. 11, amid all of the selling in the equities markets, the U.S. Department of Agriculture released its October World Agricultural Supply and Demand Estimates report. The grain, cotton, and animal protein markets typically display lots of volatility in the aftermath of the release of the monthly report. However, price action was tame in the agricultural markets in post-WASDE trading.
I reached out to my friend Sal Gilberte, the founder of the Teucrium family of agricultural ETF products for his take on the USDA report. Sal told me:
The Oct. 11, 2018, WASDE generally showed grain and oilseed production and ending stock levels that were slightly below what was expected in the marketplace, which firmed prices slightly across the grain complex.

However, the standout number, particularly given President Trump's proposal just two days before this WASDE release to expand the use of ethanol from ten percent to fifteen percent in the U.S. gasoline pool, was the continued confirmation of the decline in global corn ending stocks. The year-on-year projected decline in U.S. corn ending stocks of just over fifteen percent and in total global corn stocks of just under twenty percent will make traders and investors hyper-alert to any further decline in corn ending stock levels in the future.
The price action following the report reflected Sal's interpretation on the grain front. Despite wild market conditions in the stock market with the DJIA falling by 545 points or 2.13% in Thursday's session, corn and soybeans edged higher and wheat slipped marginally. Cotton was close to unchanged on the session while animal protein prices were mixed with a marginal gain in cattle futures and a loss in the lean hog futures market.
DBA edges higher but remains near lows
The Invesco DB Agriculture ETF product (DBA) edged higher in the aftermath of the October WASDE report and closed the session at $17.32 per share, up four cents on Thursday.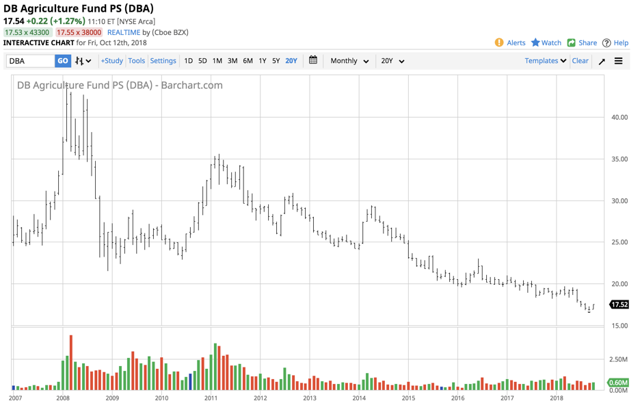 Source: Barchart
As the long-term chart dating back to 2007 highlights, DBA's range has been from highs of $43.50 in 2008 to lows of $16.81 in September 2018. At $17.54 per share on October 12, the ETF remains within striking distance of its eleven-year low. The fund summary for DBA states:
The investment seeks to track changes, whether positive or negative, in the level of the DBIQ Diversified Agriculture Index Excess Return™ (the 'index') over time, plus the excess, if any, of the sum of the fund's Treasury Income, Money Market Income and T-Bill ETF Income, over the expenses of the fund. The index, which is comprised of one or more underlying commodities ('index commodities'), is intended to reflect the agricultural sector.
As of Oct. 11, the top holdings of the ETF include: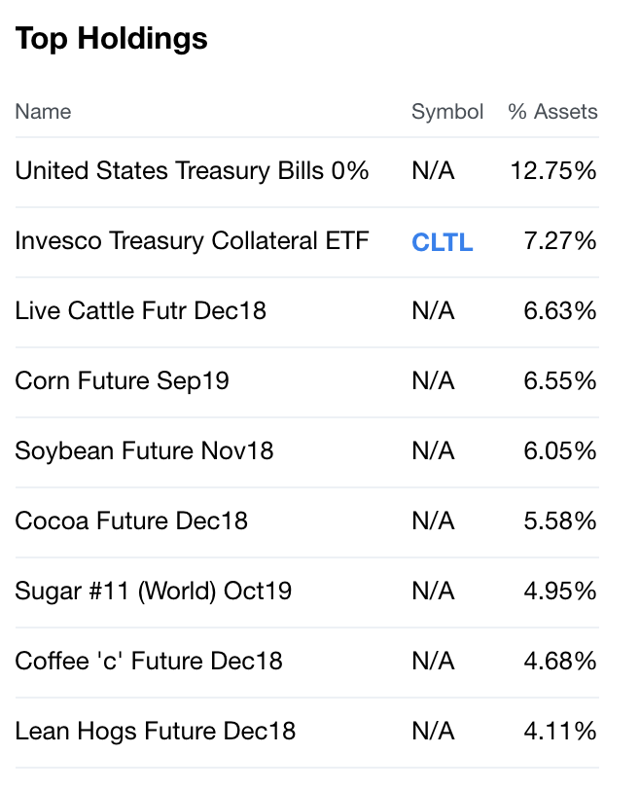 Source: Yahoo Finance
As the chart shows, DBA holds long positions in live cattle, corn, soybeans, and lean hogs which are all markets covered by the USDA's monthly WASDE report. The ETF is unleveraged, but it suffers from decay when it comes to rolling their holdings from the active month to the next contract in the futures market in contango markets. Contango is a condition where deferred prices are higher than nearby prices, so the roll results in a debit to the ETF. However, in backwardation markets where deferred prices are lower than nearby futures prices, the fund would receive a credit for the roll. These days, markets are in contango. For those holding long positions, the forward curve results in the beauty of backwardation and the curse of contango.
Global stocks of soybeans increase on trade issues with China
Soybean prices edged higher in post-WASDE trading and settled at $8.5825 per bushel on the November futures contract on Thursday, Oct. 11 up six cents on the session. On Oct. 12, the price of beans moved higher to the $8.67 level.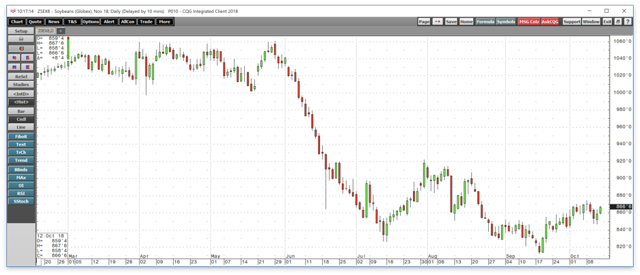 Source: CQG
As the daily chart shows, the oilseed rallied from a low of $8.1225 per bushel on Sept. 18 to a high of $8.7475 and was closer to the top end of the trading range after the USDA told the market:
U.S. oilseed production for 2018/19 is projected at 138.4 million tons, down 0.1 million from last month with lower soybean and sunflowerseed production only partly offset with higher canola production. Soybean production is forecast at 4,690 million bushels, down 3.5 million with higher yields offset by lower harvested area. The soybean yield is projected at 53.1 bushels per acre, up 0.3 bushels from the September forecast. Harvested area is reduced 0.6 million acres to 88.3 million. Increases for North Dakota, Nebraska, and Iowa are more than offset by reductions in many other states. Soybean supplies for 2018/19 are projected at a record 5,153 million bushels on higher beginning stocks. With soybean use unchanged, ending stocks are projected at 885 million bushels. The 2018/19 U.S. season-average soybean price is forecast at $7.35 to $9.85, unchanged at the midpoint from last month. Soybean meal and soybean oil price WASDE-582-3 projections are also unchanged at $290 to $330 per short ton and 28.0 to 32.0 cents per pound, respectively. Global oilseed production for 2018/19 is projected at 603.9 million tons, down 0.7 million from last month as lower peanut production is partly offset by higher soybean and rapeseed production. Global soybean output is projected at a record 369.5 million tons, up 0.2 million with higher production for Canada partly offset by lower projections for India, the United States, and Mexico. The soybean and peanut crops for India are reduced on lower area harvested based on government reports. India's peanut yield is also reduced due to below-normal and inconsistent rainfall in Gujarat where nearly half of the peanuts are produced. Despite lower global oilseed production, increased beginning stocks, mainly in the United States, results in a 2.0 million-ton increase to global oilseed ending stocks to 123.8 million. Global soybean ending stocks are increased 1.8 million tons to 110.0 million.
The USDA lowered U.S. production slightly from the September report but increased global ending stocks. The most significant news for the oilseed, which is in the crosshairs of the trade dispute between the U.S. and China, came from another source on Thursday. News that Presidents Trump and Xi will meet in November at the G20 meeting in Argentina could boost the price of soybean futures over the coming sessions. China canceled all shipments of beans for 2018 and 2019 because of the trade dispute, and if expectations increase for a deal between the two leaders that result in a new trade agreement, we could see a significant recovery in the soybean futures market.
Energy keeps a bid under corn
On a percentage basis, corn was the best performing grain in the wake of the WASDE report. December corn futures settled at $3.6925 per bushel on Oct. 11 up 6.5 cents on the session. On Friday, the price moved above the $3.71 level. Corn's strength in the face of a risk-off scenario in markets caused by selling in equities is another example of its low correlation with moves in the stock market. As Sal mentioned, the potential of an increase in the ethanol mandate from ten to fifteen percent is a supportive factor for the corn market as President Trump appeals to his political base of farmers in the lead up to the midterm elections in the United States.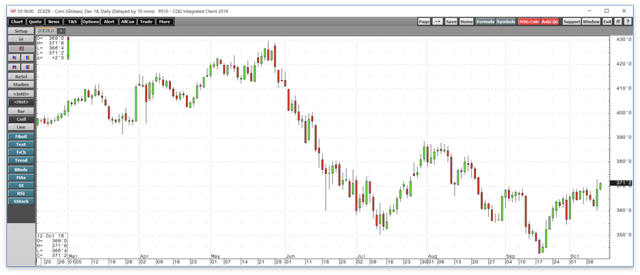 Source: CQG
As the daily chart of December corn futures illustrates, corn put in a bullish key reversal trading pattern on Oct. 11, which could lead to further gains in the coming days and weeks. The USDA told the corn market:
This month's 2018/19 U.S. corn outlook is for lower production, increased exports, reduced feed and residual use and larger ending stocks. Corn production is forecast at 14.778 billion bushels, down 49 million on a reduced yield forecast. Harvested area is virtually unchanged from last month. Corn supplies are forecast record high, as a smaller crop is more than offset by an increase in beginning stocks based on the September 28 Grain Stocks report. Exports are raised 75 million bushels reflecting U.S. price competitiveness and reduced exports for Russia. Projected feed and residual use is lowered 25 million bushels based on a lower crop and indicated disappearance during 2017/18. Corn ending stocks for 2018/19 are raised 39 million bushels. The projected midpoint for the season-average corn price received by producers is unchanged at a range of $3.00 to $4.00 per bushel. WASDE-582-2 Grain sorghum production is forecast higher from last month, as a 3.9-bushel per acre increase in yield to 75.0 bushels per acre is partially offset by a reduction in harvested area. Barley and oat production estimates are updated based on the September 28 Small Grains Summary report. Global coarse grain production for 2018/19 is forecast down 3.8 million tons to 1,343.4 million. The 2018/19 foreign coarse grain outlook is for lower production and consumption, and higher stocks relative to last month. Foreign corn production is forecast modestly higher reflecting projected increases for Egypt, Mali, Kenya, Canada, the EU, and Serbia that are partly offset by reductions for Russia and Malawi. The projected corn yield for Russia is lowered based on reported harvest results to date. Corn exports are reduced for Russia, with more than offsetting increases for the United States, Serbia, and Canada. Corn imports are raised for Mexico and Israel, with the former based on lowered expected imports of sorghum. Foreign corn ending stocks are higher, mostly reflecting increases for Mexico, Egypt, and Iran that are partly offset by reductions for South Africa and Turkey. Global corn stocks, at 159.4 million tons, are up 2.3 million from last month.
The USDA cut production forecasts for 2018/2019 and increased their export expectations, but they increased ending stocks on both a domestic and global basis. However, corn is an energy sensitive commodity and strength in oil and gas prices over recent weeks are supportive of the price. The price of crude oil declined on the back of inventory increases and selling in the stock market, but the price remains in a bull market and over the $70 per barrel level. Higher energy prices are a bullish factor for the price of the grain that is the main ingredient in ethanol in the United States.
Ample wheat supplies
The price of wheat fell marginally in the aftermath of the WASDE report as December wheat futures settled at $5.08 per bushel, down 2.5 cents on Oct. 11. Wheat moved higher on Friday to the $5.16 per bushel level.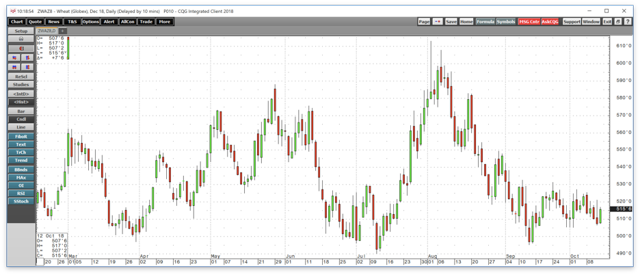 Source: CQG
As the daily chart shows, support for December CBOT wheat is at the mid-September low at $4.9525 per bushel level with resistance at $5.3125, the September 24 high. The USDA told the wheat market:
The outlook for 2018/19 U.S. wheat this month is larger supplies, reduced domestic use, unchanged exports, and higher ending stocks. Wheat production is raised 7 million bushels to 1,884 million from the NASS Small Grains Summary, issued on Sept. 28. Projected imports increased 5 million bushels to 140 million on higher than-expected imports of spring wheat and Durum in the first quarter (June-August). The NASS Grain Stocks report indicated a 21 percent year-to-year increase in implied disappearance for first quarter feed and residual. But record-large 2018/19 U.S. corn supplies are expected to restrain feed and residual use for the remainder of the year with the annual estimate reduced by 10 million bushels to 110 million. Wheat exports are unchanged at 1,025 million bushels but there are offsetting by-class changes with White higher and Hard Red Winter lower. Projected ending stocks are higher at 956 million bushels but still 13 percent below last year's revised 1,099 million. The season-average farm price range is unchanged at the midpoint of $5.10 per bushel and the range is narrowed to $4.80 to $5.40. Global 2018/19 wheat supplies are reduced, primarily on lower production forecasts for Australia and Russia. Australia's production is decreased 1.5 million tons to 18.5 million on continued dry conditions and possible frost damage. This would be Australia's smallest production since 2007/08. Russia's wheat production is reduced 1.0 million tons to 70.0 million on lower-than-expected yields in some spring wheat areas. Projected global 2018/19 trade is lower, almost all on reduced Australian exports, which are down 1.0 million tons to 13.0 million. Global imports are decreased with Bangladesh, Azerbaijan, and Nigeria accounting for most of the reduction. Projected 2018/19 world consumption is fractionally lower, primarily on less use in Azerbaijan, Bangladesh, Nigeria, and the United States. Global ending stocks are reduced 1.1 million tons to 260.2 million, down 5 percent from last year's record.
The USDA increased U.S. ending stocks for 2018/2019 but reduced global stocks by 1.1 million tons in the October WASDE report.
The December KCBT-CBOT spread closed at a 5.75 cents premium for the KCBT wheat on October 11 and was trading at the same level on Friday. While the norm is a 20-30 cents premium for the KCBT wheat, the spread has been firm over recent sessions which could mean that wheat prices will remain stable above the technical support level.
Cotton quiet while meats move in opposite directions post-WASDE trading
The price of cotton spiked higher and lower following the release of the October WASDE report but came back to the unchanged level by the close of business on Oct. 11. Cotton did not violate its technical support level at 75.11 cents per pound, but it traded in a range from lows of 76.15 to highs of 77.76 in the three minutes following the report.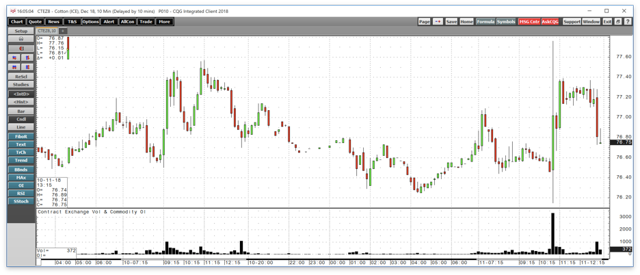 Source: CQG
As the three-minute chart shows, cotton became very active as over 2900 contracts traded in three minutes when the fiber covered the entire trading range of the day. Cotton futures in December settled at 76.81 cents per pound up just one tick on Thursday's session. Meanwhile, on Friday, Oct. 12, December cotton futures blasted to the upside and were trading at the 78.56 level up 1.75 cents on the final trading session of last week. The USDA told the cotton market:
The 2018/19 U.S. cotton supply and demand estimates show higher ending stocks, based on slightly larger production and lower exports relative to last month. Production is raised 81,000 bales, with higher production in Texas and Georgia largely offset by lower production in the Carolinas. Domestic mill use is unchanged from last month, but the export forecast is reduced 200,000 bales to 15.5 million, due to reduced WASDE-582-5 world trade and consumption. Ending stocks are forecast at 5.0 million bales, and the resulting stocks-to-use ratio of 26 percent is slightly higher than the previous month's forecast, and the highest since 2015/16. The forecast range for the marketing year average farm price is 69.0 to 77.0 cents per pound; the midpoint of 73.0 cents is down 2 cents from the previous month's projection. The 2018/19 global ending stocks forecast is lowered 4 percent this month as lower production and sharply lower beginning stocks offset marginally smaller consumption. Stocks are lowered mainly in India, as revisions are made to production, consumption, and loss over 2002/03-2013/14 to better reflect Indian government data (consumption) and the impact of shifting producers' marketing patterns (see the October 2018 issue of the FAS Cotton: World Markets and Trade publication). Production forecasts are lowered for Australia, and raised for Greece and the United States. Consumption and imports are lowered for Turkey. Global beginning stocks are lowered 2.9 million bales and ending stocks are lowered 3.0 million bales. Ending stocks in 2018/19 are down 6.4 million bales from last year, largely reflecting an expected 8.2-million-bale decline in China.
The USDA increased ending stocks in the U.S. because of higher production and lower exports compared to their
September report. However, they lowered ending stocks reflecting a dip in inventories in China. There was a little of everything for the bulls and the bears in the October WASDE for the cotton market. However, Hurricane Michael could impact cotton data in the November report.
When it comes to meats, cattle posted a marginal gain after the release of the WASDE report while lean hog futures went the other way.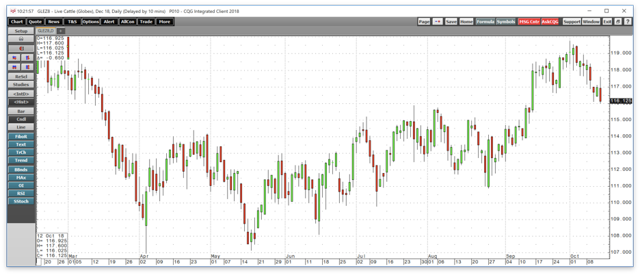 Source: CQG
As the chart of December live cattle futures shows, the beef market had gone into the WASDE on a bearish note and only managed a 0.300 cents rally on Oct. 11 to settle at $1.16775 per pound, down from the Oct. 1 high at $1.1975. On Friday, December live cattle futures edged a bit lower.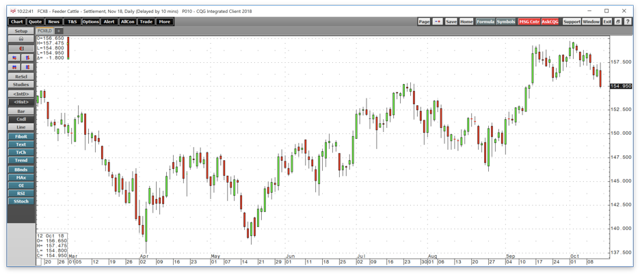 Source: CQG
Meanwhile, the November feeder cattle futures contract settled on Oct. 11 at $1.5675 per pound after trading at a high of $1.59725 on Oct. 1. Feeder cattle futures continue to move lower last Friday.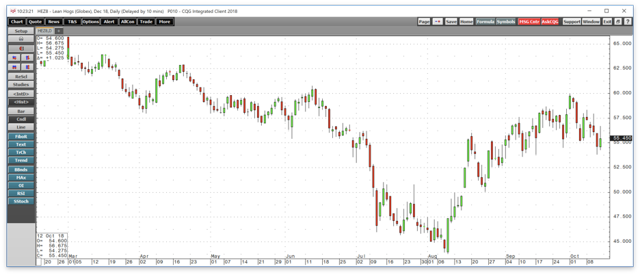 Source: CQG
December lean hog futures slumped on Oct. 11 and settled at 54.425 cents per pound, down 1.525 cents on the session. December hogs edged higher on the final session of last week. The USDA told the animal protein markets:
The forecast for 2018 total red meat and poultry production is lowered from last month. Beef production is reduced from the previous month largely due to lower expected fourth-quarter fed cattle slaughter. Carcass weights are forecast lower on a higher expected proportion of cows in the slaughter mix. The pork production forecast is lowered on smaller second-half commercial hog slaughter and lighter carcass weights. For 2019, the total red meat and poultry production forecast is raised from the previous month as higher expected beef production more than offsets lowered forecasts for pork and broiler production. Beef production is raised from last month as larger placements in late 2018 and early 2019 are marketed during 2019. However, carcass weights are lowered for the early part of the year. Pork production is forecast slightly lower from last month. Both hog slaughter and carcass weight forecasts are reduced. Beef import forecasts are lowered for 2018 and 2019 while beef export forecasts remain unchanged. Pork import forecasts for 2018 and 2019 are reduced from last month. No change is made to the 2018 pork export forecast, but the 2019 export forecast is raised on strong global demand for competitively priced U.S. pork products. The 2018 cattle price for the fourth quarter is raised from last month, but no change is made to the 2019 price forecast. The hog price forecast is raised for the last quarter of 2018 and into 2019 on expected demand strength. Broiler and turkey price forecasts are unchanged at the midpoint for 2018 and 2019.
The USDA increased its price forecasts for both pork and beef and the overall tone of the report was supportive for prices. However, cattle and hog markets are now in the offseason for demand.
The October WASDE report is now in the books, and the most significant factor facing the agricultural markets will be the trade dispute between the U.S. and China over the coming days and weeks. Meanwhile, the planting and growing season in the southern hemisphere is getting underway as the harvest comes to an end in the United States and other producing nations in the northern hemisphere. The ever-increasing global population will continue to provide support for agricultural commodities prices which means that the world has become addicted to bumper crops. DBA edged higher in the aftermath of the October WASDE report, and at its current price which is near the lowest level in over a decade, the risk-reward profile favors the upside in the ETF.
Moreover, a trade agreement that emerges from the meeting between President Trump and President Xi when they meet in Argentina in November could be highly supportive of agricultural commodities prices. Protectionism hit the soybean futures market the hardest. Therefore, the oilseed could experience the most substantial recovery in the event of a deal between the two leaders next month.
The Hecht Commodity Report is one of the most comprehensive commodities reports available today from the #2 ranked author in both commodities and precious metals. My weekly report covers the market movements of 20 different commodities and provides bullish, bearish and neutral calls; directional trading recommendations, and actionable ideas for traders. More than 120 subscribers are deriving real value from the Hecht Commodity Report.
Disclosure: I/we have no positions in any stocks mentioned, and no plans to initiate any positions within the next 72 hours. I wrote this article myself, and it expresses my own opinions. I am not receiving compensation for it (other than from Seeking Alpha). I have no business relationship with any company whose stock is mentioned in this article.
Additional disclosure: The author always has positions in commodities markets in futures, options, ETF/ETN products, and commodity equities. These long and short positions tend to change on an intraday basis.