Welcome to the weekly natural gas storage edition of Natural Gas Daily!
EIA reported a storage build of 90 Bcf for the week ending October 5. This compares to the +92 Bcf we projected and consensus average of +91 Bcf. The +90 Bcf was in line with the five-year average of +90 Bcf and 3 Bcf higher than last year's.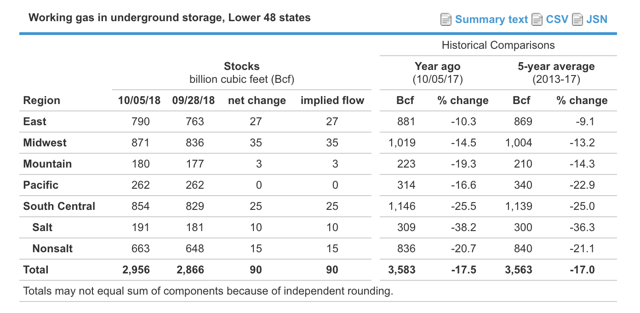 Source: EIA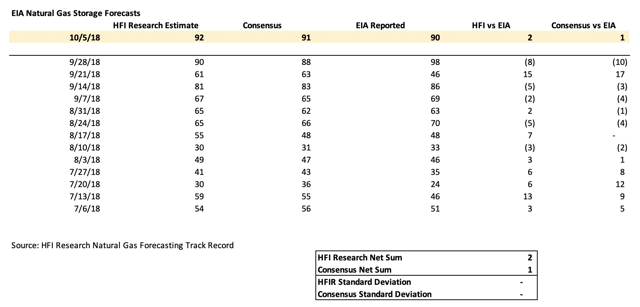 Next Week's Estimate
For the week ending 10/12, we currently have a forecast of +85 Bcf.
EOS has now decreased to 3.177 Tcf.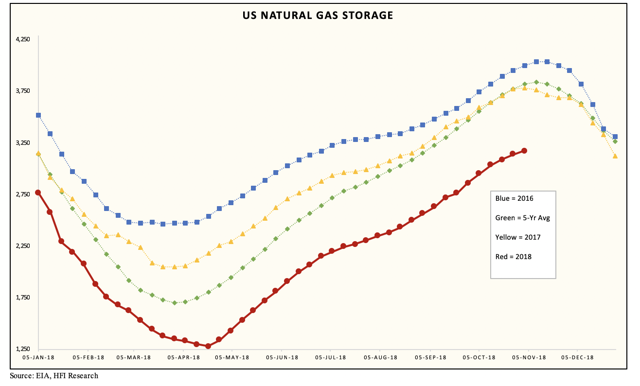 Early November Weather Outlook Expected to be Neutral to Bearish
Natural gas prices are falling today as the latest ECMWF-EPS long-range weather outlook shows neutral to bearish weather in the first week of November: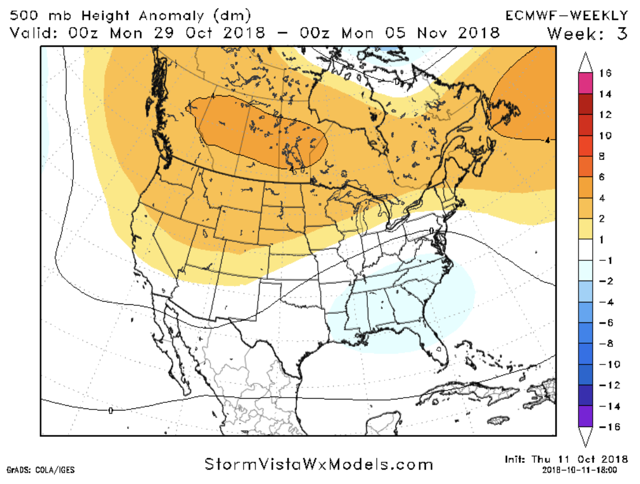 Source: StormVistaWxModels.com
We wrote in our exclusive long-range weather report that such an outlook could easily push natural gas prices back to $3/MMBtu. In addition, along with the start-up of NEXUS, Lower 48 production is expected to trend higher again putting more near-term pressure on natural gas prices.
What's interesting about today's natural gas move is that ECMWF-EPS 00z showed much higher TDDs this morning, so the bearish price action we are seeing today confirms that natural gas prices have likely topped out in the near-term.
But this week's natural gas balance got an uplift, thanks to a pipeline outage in Northwest Canada. The Enbridge (ENB) line outage reduced natural gas flows into the US by ~1 Bcf/d, which has supported balances a bit.
Looking ahead, with natural gas storage balances so low, natural gas prices will become even more susceptible to weather model fluctuations. We believe given where storage is - the natural gas volatility could be biased to the bull side if the weather outlook is supportive over the heating demand season.
As a result, we will likely be trading with a bullish bias over the winter.
For now, our next trade is likely to be a bearish one. We currently do not have a trading position on. We will alert subscribers on a real-time basis when we do initiate a new position.
Note - ECMWF-EPS 00z finishes updating at 4 AM EST, and ECMWF-EPS 12z finishes at 4 PM EST. When daylight savings end, ECMWF-EPS finishes updating at 3 AM EST and ECMWF-EPS 12z finishes at 3 PM EST.
Author's Note: Thank you for reading this article. If you found this article insightful, please leave a "Like" below.