Summary
Living on dividends has required taking greater risk in the market to earn an adequate return.
I'm attempting to make my portfolio recession proof but at the same time earn enough income to maintain my lifestyle. Several helpful stocks are suggested.
The next year or two will likely require patience and discipline; my gut says that the bear is knocking at the door.
Trying to earn an adequate stream of dividends and interest has been difficult for the last few years because of very low interest rates. However, it has been a great time to take out a mortgage or a car loan. (Would you believe we took out a mortgage at 9.25% in 1974 and had trouble finding a bank that had the funds to loan?) So many retired folks, like myself, have found that in order to stay ahead of the sheriff, it has been necessary to invest in high-yield securities that, unfortunately, carry more risk than may be prudent for this time of life.
Since retirement my portfolio has become a mix of REITs, (20%), BDC's (10%), baby bonds (20%) and preferred stocks (15%) with the remainder being growth stocks like Royal Dutch Shell (RDS.A) and TD Bank (TD) that have been paying more than 4% for years. But gone are Apple (NASDAQ:AAPL), Microsoft (NASDAQ:MSFT), Amazon (NASDAQ:AMZN) and others in that genre. Not enough income. For a long time trader, it has required discipline.
While dividend growth stocks are the best for younger, still-working folks, the typical yield for most of these is 2-3% - possibly not enough for a comfortable lifestyle. Alternates like reverse mortgages and moving to lower cost-of-living states come with trade offs that may not be acceptable for everyone. Over the course of the last year I have attempted to concentrate on some high income securities that are safer than some of my previous investments. Main Street Capital (MAIN), probably the top BDC currently, and STAG Industrial (STAG), an excellent REIT, are two examples. MAIN has dropped from $41 to $36, and at that price yields a solid 7.5%. It pays monthly to boot. I consider it a buy, but for me at 5.4% of my total portfolio it is a hold. (See my previous article here for my portfolio management philosophy.) STAG, another monthly payer, has dropped from an August high of $29 to yesterday's close of $25.44; it is now a compelling buy with a 5.5% yield. Read Brad Thomas' recent article here for a detailed analysis. Also, Duke (DUK) has been panned by most professional analysts for the past year, but this utility's price fell from the $90s to the low $70s last year and I was tempted by the low price and the 4.77% yield, not to mention Dividend Sensei's positive June article here. It is a solid company that has a strong prospect of holding up well in the next recession. So far it has fulfilled my expectations; it has earned a total return of nearly 10%. It still is in a buy range IMO, it is not too late to add this stock to help recession-proof your portfolio.
Some of the growth stocks may not fit into a recession proof portfolio. Although they have done very well, I keep a sharp eye on TD Bank (TD) and Royal Dutch Shell (RDS.A). But both were purchased at low prices that should weather all but a full blown bear market.
Most of the baby bonds and preferred stocks have been in my portfolio for several years. These comprise 35% of the portfolio. Practically all are earning low 5% interest/dividends. They will not help grow my capital, they are there strictly for the income. And though they have all dropped in price as a result of the rising interest rates, they will continue to provide solid income through the next few years. These tend to drop in price as interest rates rise, but when rates stabilize they will slowly increase in price as more dividend seeking buyers add to their portfolios. Or so goes the theory.
And speaking of discipline, what the future market holds in store will also require a lot of it. My gut tells me that the market characteristics are changing, and in fact we may be seeing the end of the bull's life right now. I have already shifted from harvesting dividends by trading; that is, buying close to the ex-dividend date and selling as soon as a capital gain can be made. My current portfolio is expected to yield about $20,000 annually, but by trading high dividend stocks, I earned $23,284 for 9 months. Now, holding has been the order of the day. Ford (F) and Extended Stay (STAY) were bought to harvest a quick dividend but both caught me unaware of likely lower prices and do not form a part of my method today. I probably ought to bite the bullet and sell, but I plan to wait for at least one more dividend cycle. I keep thinking they are both at yearly lows, but then they drop some more. Discipline needed!
So what's next? I have been through two major bear markets, and both times I did not sell anything. Although I had paper losses of 35-40% each time, I held everything throughout. Trying to time the market is a sure way to lose. Even if you go to all cash today and wait out the next bear, you may possibly lose the end of the bull market increase and since no one rings a bell at the bottom, you will also lose at the beginning of the next bull. Often, tops and bottoms happen very quickly and occur with major percentage moves in a few days. The only wise move, IMO, is to hold what you have and collect what dividends come your way. Even if a stock cuts a dividend that will have less impact on your portfolio than selling for a loss. But double digit drops in a few days can make the most experienced investor lose sleep at night. It may not be the best thing to do, but in bear markets I quit checking stock prices to avoid panic. If you have bought wisely in better times, you will come out ahead in the long run.
My high income portfolio (late September):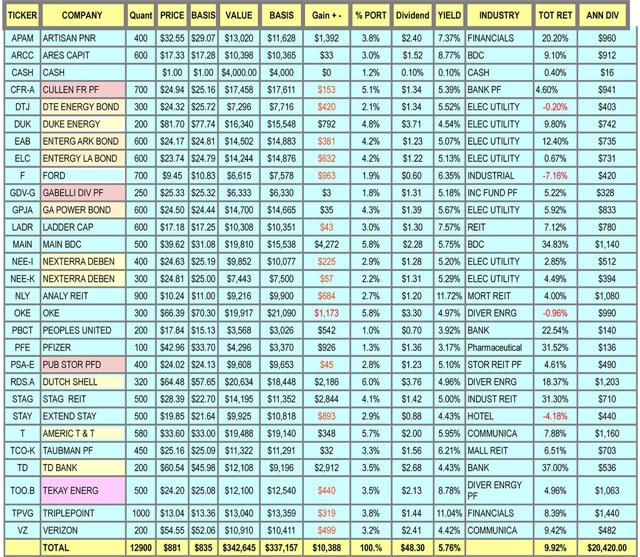 A number of these stocks have been held for years, including Cullen-Frost Bank Preferred (CFR-A), Duke, MAIN, Annaly REIT (NLY), AT&T (T), STAG, People's United Bank (PBCT), and Verizon (VZ). I'm also quite happy with TD Bank, Royal Dutch Shell, Pfizer (PFE), and Artisan Partners (APAM).
I'm not a market timer by any stretch of the imagination, but I can tell that the characteristics of this market have changed significantly in the last two months and with the big drop on Wednesday, we may be seeing a bear rising from hibernation. Putting that in print will probably mean the market will go up by another 7% before Christmas.
Disclosure: I am/we are long ALL STOCKS IN THE TABLE ABOVE. I wrote this article myself, and it expresses my own opinions. I am not receiving compensation for it (other than from Seeking Alpha). I have no business relationship with any company whose stock is mentioned in this article.
Additional disclosure: The issues in the table above are not a recommendation to buy; most have been held for a long time and are not necessarily a buy at this time. Do your own due diligence.