After the first round of bank earnings this morning, Bank of America (BAC) will be the next big financial company to report, scheduled for before market open on Monday, Oct. 15.
For the third quarter, BAC is expected to report adjusted EPS of $0.62 on revenue of $22.67 billion, according to third-party consensus analyst estimates. Last year's results came in at $0.64 for adjusted EPS on $22.08 billion in revenue.
Lately, interest rates have been front and center for the banks. While a rising interest rate environment for banks can be beneficial, there are challenges if rates climb too fast.
One concern many analysts have expressed is that it could dampen demand for new loans and refinancing, both from a consumer and a commercial perspective. In Q2, BAC reported total loans and leases of $935 billion, up 2% year over year. Net interest income increased to $11.8 billion, up from $11.2 billion the prior year, according to the company.
Outside of interest rates, trading divisions have been another common focus in recent reports thanks to the variability in performance since 2017. BAC saw a comeback in its trading revenue in the first half of the year after subdued performance in 2017, but most analysts aren't expecting that to continue in the third quarter. Thanks to summer vacations, lighter volumes, and so on, this is typically a slower time for the banks, particularly when it comes to investment banking and trading.
Finally, the global trade situation has been another topic that investors are likely to hone in on this earnings season. There's still a lot of uncertainty around how the situation could evolve and what the impacts will be to business growth and lending. Consider listening in to BAC's earnings call to get an idea of what management is seeing across regions.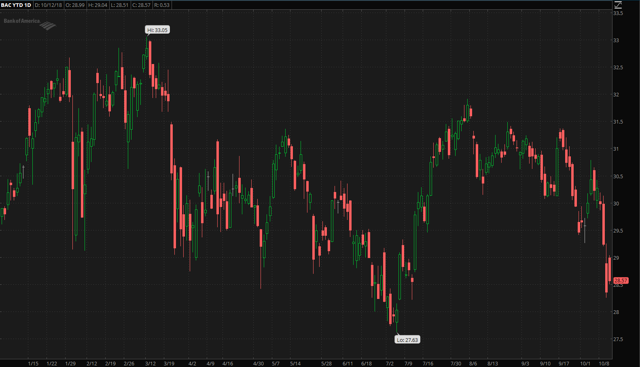 Bank of America 2018 Stock Chart. Financial stocks are having another down day today after hovering in positive territory briefly. After the recent selloff, BAC is now back into negative territory for the year. In recent trading, it has seen some support around the low-$28 range and has yet to retest its 2018 low of $27.63. Chart source: thinkorswim® by TD Ameritrade. Not a recommendation. For illustrative purposes only. Past performance does not guarantee future results.
Bank of America Options Trading Activity
BAC started Friday in the green after several down days in a row, but financials started to roll not too long into the day and it's been bouncing around in the low-$28 range.
Around the upcoming report, options traders have priced in about a 3% stock move in either direction, according to options data on the thinkorswim® platform. As of this morning, implied volatility was at the 51st percentile, down slightly from where it was at the past few days.
In short-term trading at the Oct. 19 monthly expiration, calls have been active at the 30 strike price. On the put side, activity has been a lot lighter than calls, with most of the trading concentrated at the 28.5 and 29 strikes.
Looking at next month's Nov. 16 monthly expiration, again the 30-strike call has been more actively traded. Again, volume has been lighter on the put side and spread out across a range of strikes around the money.
30 minutes into Friday's session, there had been about 101,000 calls traded compared to only 12,500 on the put side, putting the put/call ratio at 0.124.
Note: Call options represent the right, but not the obligation, to buy the underlying security at a predetermined price over a set period of time. Put options represent the right, but not the obligation to sell the underlying security at a predetermined price over a set period of time.
TD Ameritrade® commentary for educational purposes only. Member SIPC. Options involve risks and are not suitable for all investors. Please read Characteristics and Risks of Standardized Options.
Disclosure: I/we have no positions in any stocks mentioned, and no plans to initiate any positions within the next 72 hours.
I wrote this article myself, and it expresses my own opinions. I am not receiving compensation for it. I have no business relationship with any company whose stock is mentioned in this article.