Quick Take
Valtech (VTEC) intends to raise gross proceeds of $100 million from a U.S. IPO, according to an F-1/A registration statement.
The firm provides data-driven IT consulting and digital transformation services to enterprises worldwide.
VTEC has a promising growth trajectory and favorable long-term market prospects.
Company & Business
Paris, France-based Valtech was founded in 1993 to assist medium and large organizations with the adoption of new digital technologies through IT and digital transformation consulting.
Management is headed by Chairman of the Board and CEO Sebastian Lombardo, who has been with the firm since 2010 and is also the Co-Founder and Chairman at Jop.
Valtech provides clients with a streamlined portfolio of data-driven solutions, including integrated offerings, such as business strategy, design, technology, and marketing.
Below is a brief overview video of Valtech's Lab Innovation:
(Source: Valtech Canada)
The company has expertise across select industry verticals, including retail, automotive, government, media, financial services, travel and hospitality, and healthcare.
Customer Acquisition
As of June 30, 2018, Valtech has multidisciplinary teams of engineers, programmers, business consultants, creative designers and marketers located in 39 offices based in 16 countries on five continents.
Sales and marketing expenses as a percentage of revenue have been fluctuating with no discernible trend, per the table below:
| | |
| --- | --- |
| Sales & Marketing Expenses vs. Revenue | |
| Period | Percentage |
| 1H 2018 | 6.58% |
| 2017 | 7.07% |
| 2016 | 6.69% |
(Source: Company Prospectus and IPO Edge)
The firm focuses its customer acquisition efforts on medium and large enterprises in Europe, North America, South America, Asia, and Australia.
Market & Competition
According to a 2016 market research report by HTF Market Report, the global IT consulting services market is projected to grow at a CAGR of 3.6% during the period between 2016 and 2020.
According to another market research report by Technavio, the top five emerging trends that impact the global IT consulting services market until 2020 will be:
Adoption of environment-friendly technology
Growing preference for remote working environments
Increase in service offshoring
Increase in market consolidation
Rise in use of cloud-based IT infrastructure
Major competitors that provide IT consulting services include:
Financial Performance
VTEC's recent financial results can be summarized as follows:
Increasing top-line revenue at an accelerating rate
Increased gross profit
Stable gross margin
Decreasing cash flow from operations
Below are the company's financial results for the past three and a half years (Audited IFRS for full years):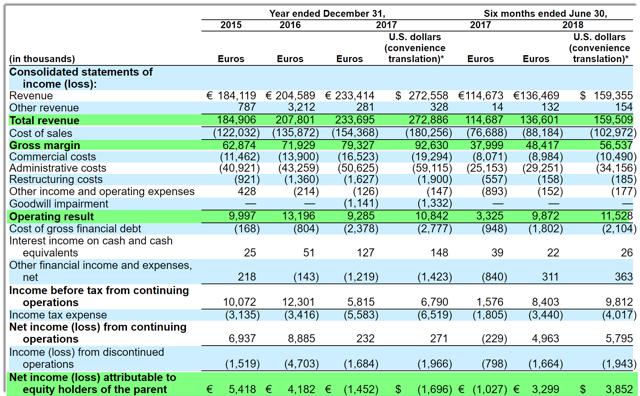 (Source: VTEC F-1/A)
Total Revenue
1H 2018: $159.5 million, 19% increase vs. prior
2017: $272.9 million, 12.5% increase vs. prior
2016: $239 million
Gross Profit
1H 2018: $56.5 million
2017: $92.6 million
2016: $82.7 million
Gross Margin
1H 2018: 35.4%
2017: 33.9%
2016: 34.6%
Cash Flow from Operations
1H 2018: $2.2 million cash flow from operations
2017: $8.3 million
2016: $17.1 million
As of June 30, 2018, the company had $59.2 million in cash and $187.9 million in total liabilities (Unaudited, interim).
Free cash flow during the six months ended June 30, 2018, was a negative ($146,000).
IPO Details
VTEC intends to raise $100 million in gross proceeds in an IPO from the sale of 6.67 million of its Class A shares at a midpoint price of $15.00 per share, not including customary underwriter options.
Class A shareholders will be entitled to one vote per share and Class B shareholders, which will be held by controlling shareholder SiegCo SA, will be entitled to 10 votes per share.
Multiple share classes are a way for management or existing shareholders to retain voting control of the company even after losing economic control. The S&P 500 index no longer admits firms with multiple share classes into its index.
Assuming a successful IPO, the company's enterprise value at IPO would approximate $648 million.
Management says it will use the net proceeds from the IPO as follows:
We currently expect to use the net proceeds from this offering for general corporate purposes, such as for working capital, potential strategic acquisitions of, or investments in, other businesses or technologies that we believe will complement our current business and expansion strategies, opening new offices and hiring additional employees.
So, the firm didn't provide any meaningful information on how it intends to use the proceeds.
Management's presentation of the company roadshow is available here.
Listed underwriters of the IPO are J.P. Morgan, Morgan Stanley, Cowen, Oddo BHF, and William Blair.
Valuation Metrics
Below is a table of relevant capitalization and valuation metrics for the firm:
| | |
| --- | --- |
| Measure [TTM] | Amount |
| Market Capitalization at IPO | $608,100,975 |
| Enterprise Value | $647,656,375 |
| Price/Sales | 2.02 |
| EV / Revenue | 2.16 |
| EV / EBITDA | 34.92 |
| Earnings Per Share | $0.08 |
| Total Debt To Equity | 2.23 |
| Float To Outstanding Shares Ratio | 16.44% |
| Proposed IPO Midpoint Price per Share | $15.00 |
| Net Free Cash Flow | $14,233,550 |
(Source: Company Prospectus and IPO Edge)
As a reference, VTEC's clearest public comparable would be Globant; below is a comparison of their primary valuation metrics:
| | | | |
| --- | --- | --- | --- |
| Metric | Globant | Valtech | Variance |
| Price/Sales | 3.87 | 2.02 | -47.7% |
| EV / Revenue | 4.11 | 2.16 | -47.6% |
| EV / EBITDA | 27.04 | 34.92 | 29.1% |
| Earnings Per Share | 1.21 | $0.08 | -93.4% |
(Source: Company Prospectus and IPO Edge)
Expected IPO Pricing Date: October 17, 2018.
An enhanced version of this article on my Seeking Alpha Marketplace research service IPO Edge includes:
Commentary
Underwriter data
Opinion on the IPO
Members of IPO Edge get the latest IPO research, news, market trends and industry analysis. Get started with a free trial.
Disclosure: I/we have no positions in any stocks mentioned, and no plans to initiate any positions within the next 72 hours.
I wrote this article myself, and it expresses my own opinions. I am not receiving compensation for it (other than from Seeking Alpha). I have no business relationship with any company whose stock is mentioned in this article.
Editor's Note: This article covers one or more stocks trading at less than $1 per share and/or with less than a $100 million market cap. Please be aware of the risks associated with these stocks.