Productivity is a key variable in the formulation of a trend GDP growth path. Indeed, an economy's underlying growth rate is considered as the sum of productivity growth and population growth. Population growth has been slowing across the developed world. In the U.S. the civilian population rose about 1.3% per year in the 1990s and slowed to about 0.7% per year in the last ten years. It is fairly straightforward to forecast population trends from underlying demographics, although any country's population growth can be influenced by such things as immigration, external shocks, and even government mandates to affect birth rates.
In the U.S., business sector labor productivity growth averaged about 2.3% from 1960 to 2000; it averaged 3.4% yearly in the recession racked 2000-2004 period; then 1.9% from 2005 through 2009; and finally, 0.7% yearly in the 2011-2017 period. This has led many to downwardly adjust the economy's underlying growth rate from about 3% in the last part of the last century to about 2% currently and in the foreseeable future. In contrast, the Trump administration has a much stronger trend forecast for economic growth of about 3% based in part on its forecast of a strengthening productivity growth trend.
Productivity has two components namely the productivity of labor and the productivity of capital. Labor productivity as measured by the Bureau of Labor Statistics is output per hours worked. Another measurement of labor productivity used in operations management is revenue divided by the cost of labor. Capital productivity used in operations management is revenue divided by the cost of capital used to produce the output. A related term is marginal revenue product, which is the additional revenue resulting from the addition of one unit of capital.
The Trump administration is essentially betting on a revival of both labor and capital productivity. Labor productivity is assumed to improve by a process of deregulation that will hasten business decision making and utilize labor more efficiently. Capital productivity is assumed to accelerate as capital investment picks up in reaction to the immediate expensing of capital equipment. In the first half of this year productivity growth has indeed picked up to about a 2% annual rate. Business equipment investment in the national income accounts accelerated at about a 9.6% annual rate. Whether or not this reflects the beginning of a sustained improvement or is just a blip on the radar screen remains to be seen.
On the labor side it is curious that productivity growth has accelerated in the first half of this year as labor markets have tightened amid accelerating economic growth. Traditional theory would suggest this should be associated with a drop in productivity as labor tightness brings lower skilled workers into the workforce. But there is also the case that labor tightness could spur productivity as companies find innovative ways to substitute capital for labor. Newer technologies may in fact now be coming to the forefront to facilitate this process just at the time that many have given up on the expectation that this would occur.
On the capital side, under the 2017 Tax Cut and Jobs Act (TCJA) 100% of the purchase price of qualified assets may be expensed for property placed in service after September 27, 2017 and before January 1, 2023. As opposed to depreciating a capital investment over a number of years, immediate expensing increases the net present value and the internal rate of return for potential new projects, ignoring any changes in the cost of capital. Immediate expensing will reduce the negative cash flow from the initial cost of a project since 100% of the cost will be taken as an expense in the first year of the investment. This will result in higher taxes in later years however.
Under this analysis some projects would occur that would not have occurred at all if the tax benefits of depreciation had to be incurred over a number of years. Further, under this analysis some projects very likely would be brought forward from future periods because of the expiration of immediate expensing after 2022. This would enhance economic activity in the short run. A further boost might be gotten from speeding up long duration projects like an oil refinery. To beat the five year deadline some firms might spend more on labor or shipping components etc. to speed up a project.
Of course, not all capital investment has the same impact on productivity per dollar spent. Indeed, the mix between goods and service producing industries is instrumental in affecting productivity. The consumption of goods versus services has been pretty stable over time but employment in goods producing industries has declined dramatically relative to the growth of service producing industry payrolls. Thus, productivity in the goods producing sector has far outpaced productivity in the service sector.
A key question is whether or not this is about to change. Many have argued that recent technological breakthroughs like the internet, the smart phone, robotics, and artificial intelligence and virtual reality should provide a productivity dividend. So far this has been hard to discern in the data as evidenced by the slowing productivity trend of the last few decades. The recent up tick in productivity may suggest this is about to change but it will take much more data confirmation to convince the skeptics. Of course, by then they will have missed the boat.
In conjunction with the possible effect of new technologies newer markets have opened up and old ones have expanded. According to industry statistics it now requires about thirty times as much capital to generate one barrel of oil, for example, as it did before the introduction of enhanced recovery techniques. But before the introduction of enhanced recovery techniques the oil being produced was not deemed to be recoverable. In some service sectors new technology has boosted productivity. In retail stores and even some restaurants customers have been using self checkout kiosks and screens without involving a human cashier. Now the self checkout kiosks and self ordering screens are being replaced by apps on the customer's smart phones.
Before immediate expensing, suspicions would invariably arise within the Internal Revenue Service and among financial analysts if a company reported a much faster depreciation schedule for tax purposes than it did in financial reports. But with immediate expensing the IRS would have no interest in what a company reports as to the useful life of a capital expenditure. This could cause companies to overstate earnings and book values. Perhaps this is why equity analysts sometimes prefer dividends and share buybacks to capital investment that overstate returns.
While immediate expensing clearly has the positive theoretical effect of boosting investment, a negative indirect effect may thus be a misallocation of capital. Superfluous commercial real estate built in the period leading to the 2007-2009 financial crisis did not increase productivity. And indeed, one after effect is that the mall vacancy rate is currently at its highest level since the depths of the financial crisis.
To capture the history of capital allocation Chart I attached shows the ratio of depreciation to Gross Private Domestic Investment. This series has a strong cyclical component, rising during recession periods and falling during economic expansions. In the 2007-2009 period as domestic investment slumped, the ratio actually exceeded unity, meaning depreciation exceeded investment. The implication is an actual decline in the nation's capital stock.
Beyond this cyclical component there seems to be an underlying trend that suggests new investment has been replacing a smaller amount of capital consumption over time. As the second attached chart shows, in the spring quarter of this year new investment was only about 5% above depreciation whereas at similar points in past cyclical expansions new investment was close to double capital consumption.
This could be construed as a long-term negative for productivity and economic growth. But it may also be reflecting a shift in capital formation toward shorter lived assets associated with newer technologies. A computer system is far less expensive than a new plant and its estimated useful life is much shorter. Yet the benefit of installing that system or a fleet of autonomous vehicles for example, has a greater payoff than the new production facility.
It will be years before answers to these questions can be definitive. But in the meanwhile it is encouraging that productivity growth is picking up as policy is changing to encourage a faster productivity growth rate.
Chart I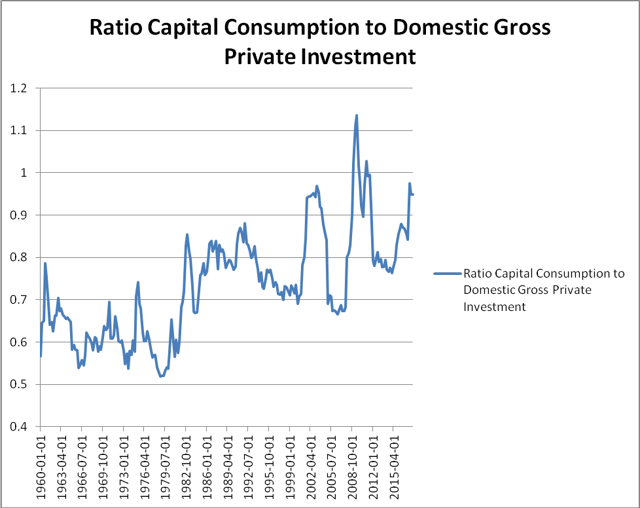 Chart II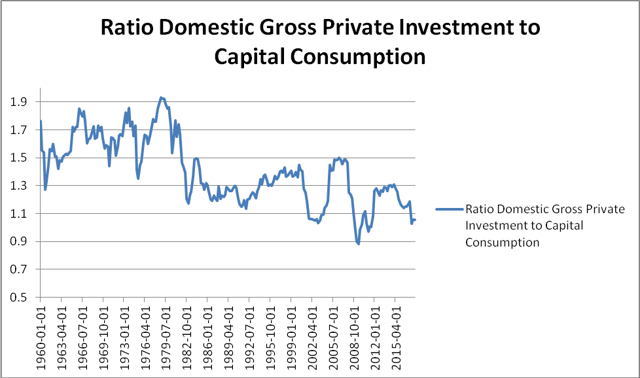 Disclosure: I/we have no positions in any stocks mentioned, and no plans to initiate any positions within the next 72 hours.
I wrote this article myself, and it expresses my own opinions. I am not receiving compensation for it (other than from Seeking Alpha). I have no business relationship with any company whose stock is mentioned in this article.
Additional disclosure: Please note that this article was written by Dr. Vincent J. Malanga and Dr. Lance Brofman with sponsorship by BEACH INVESTMENT COUNSEL, INC. and is used with the permission of both.