'If There's Something Weird, And It Don't Look Good, Who You Gonna Call? Ghostbusters!'
Includes:
AGG, AWF, BND, C, DDM, DIA, DOG, DXD, EEH, EPS, EQL, FEX, FWDD, FXI, HUSV, HYG, IEF, IVV, IWL, IWM, JHML, JKD, JNK, LQD, MCHI, OTPIX, PSQ, QID, QLD, QQEW, QQQ, QQQE, QQXT, RSP, RWM, RYARX, RYRSX, SCHX, SDOW, SDS, SFLA, SH, SHV, SHY, SMLL, SPDN, SPLX, SPUU, SPXE, SPXL, SPXN, SPXS, SPXT, SPXU, SPXV, SPY, SQQQ, SRTY, SSO, SYE, TLT, TNA, TQQQ, TWM, TWTR, TZA, UDOW, UDPIX, UPRO, URTH, URTY, UWM, VFINX, VOO, VTWO, VV, VXX, XLK
by: The Fortune Teller
Summary
It's a doom and gloom week and month, wherever you look, with prices of both stocks and bonds moving down in tandem.
Back to normality for equities? It may happen sooner than you think.
This is your Fortune Teller, turning into a Ghostbuster, trying to inject a small doze of optimism into your hearts.
Whether we are preparing for landing or for a takeoff, whichever comes first, it's time to buckle up.
It is during our darkest moments that we must focus to see the light. - Aristotle
(This article has been written/submitted on October 10th, after market close)
Doom and Gloom All Around?
As if the October 9th rout wasn't enough, the S&P 500 (SPY) fell the next day by another 2.1% to its lowest level since July.
This is the longest streak of declines for the index since November 2016.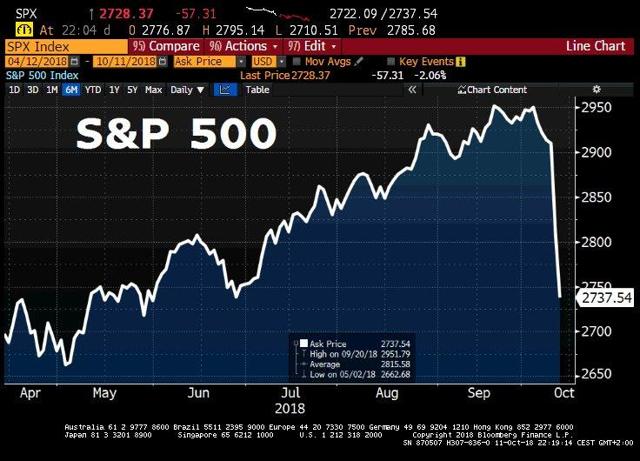 There wasn't any specific news causing the decline on 10/10, but markets are still in the midst of a vicious correction that doesn't seem as if it has yet run its course.
At some point during afternoon trading, investors rushed to unload US stocks in such a pace that sell orders briefly hit the highest level (or lowest level for the Tick index, if you'd like) since the liquidity-driven selloff in May 2010.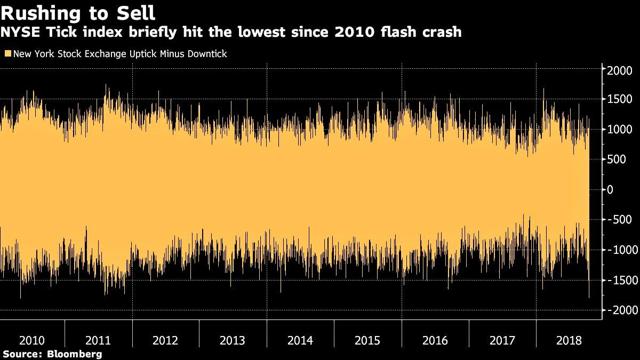 Do you remember the theme song of that lovely "GhostBusters" movie from 1984?
If there's something strange,
In your neighborhood
Who you gonna call?
Ghostbusters!
If there's something weird,
And it don't look good
Who you gonna call?
Ghostbusters!
When it all looks bleak and dark, perhaps it's time for me to try injecting a bit of optimism (all relative, yes?...) into investors' hearts.
How about that? - a Fortune Teller and a Ghostbuster!...
Records are Meant to be Broken
The S&P 500 ETF (SPY) has not closed below its 200-day moving average for 577 straight trading days, the longest run in history.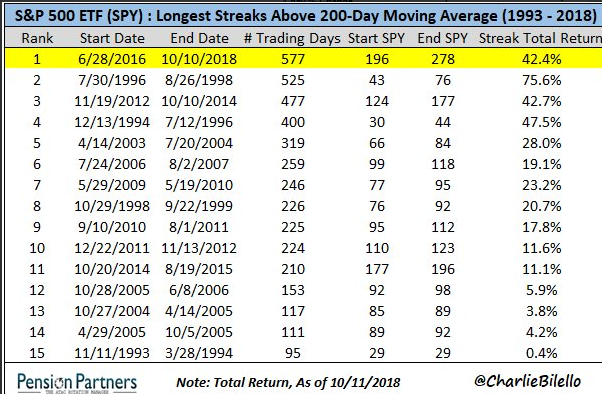 That record streak has just ended.
The decline of over 2% was more than enough to put the index below the important technical mark.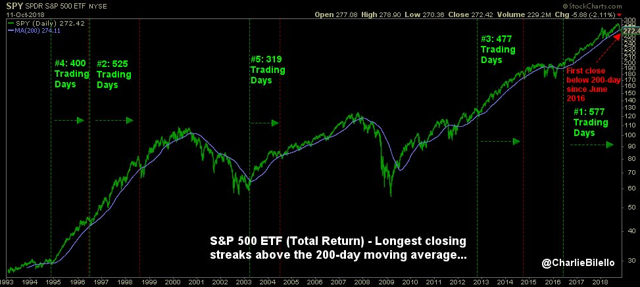 Same goes for the Nasdaq 100 ETF (QQQ) with a tiny difference.
The tech (XLK) oriented QQQ closed below its 200-day moving average for the first time in 575 trading days, ending one of the longest runs in history.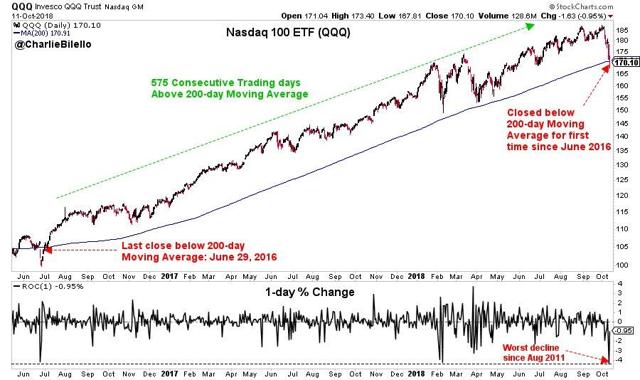 The Dow ETF (NYSEARCA:DIA) is now the last man standing above the 200-day moving average. 655 consecutive trading days are already under its belt and counting.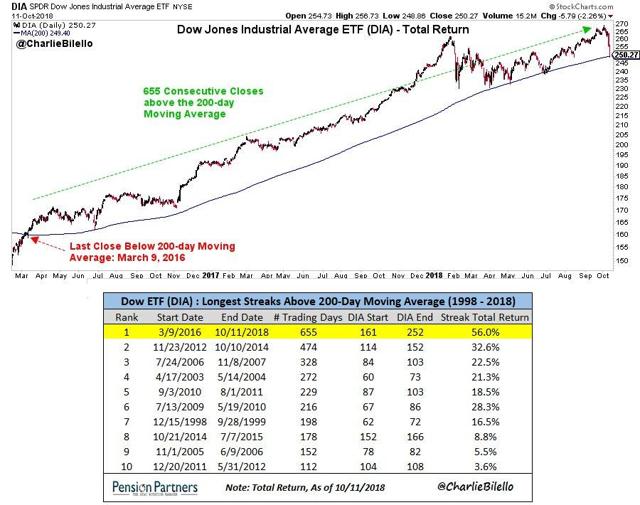 Is the End of the Trade War at Sight?
In case you've missed it, the VIX (VXX), aka "fear index", more than doubled over the past week, to reach its highest level since the February market correction.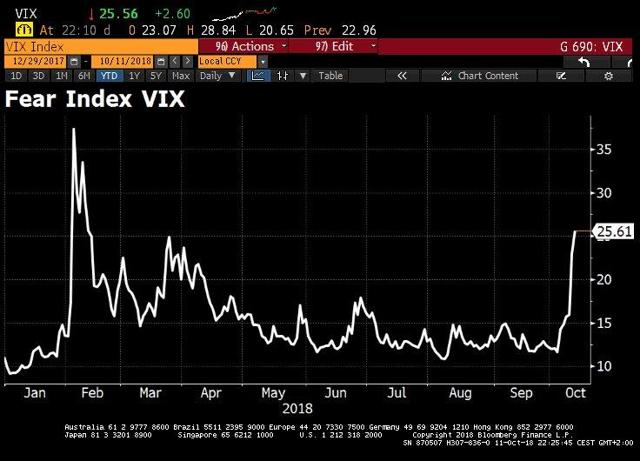 Look at the below chart. After many years, it looks like the VIX and S&P 500 (SPY) are "reuniting", i.e. heading each other way - volatility up, equities down - as if they are about to meet in the middle of the way, chart.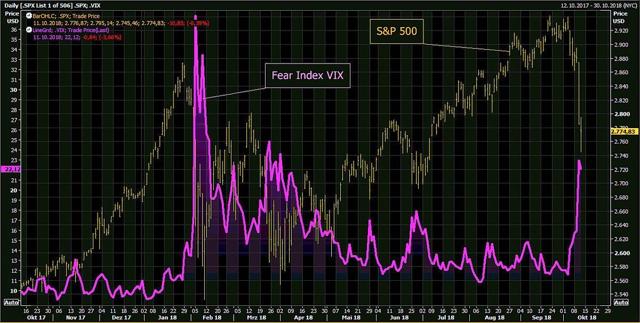 Well, perhaps another pair of "rejecting magnets" is about to reunite soon.
Headlines around China (FXI, MCHI) out of US were incredibly negative on 10/9. Following the sharp increase in volatility risk (VXX), Trump recognizing that he needs to react quickly or risk a further sell-off. So, in a not-so-coincidental development, it has been announced that president Trump will meet with the Chinese leader Xi Jinping during the G-20 summit in Buenos Aires, scheduled for the end of November.
Btw, Citi (C) is calling it a "Trump put"...
Allow me to make a not-so-wild guess and assume that should the markets don't recover till that meeting - Trump will do everything in his power to ease the trade tensions between the two nations.
Now, make your mind what do you prefer to see? Markets recovering miraculously before the summit, allowing for the trade war to continues, or seeing more of the same (as we did on October 9-10), thus increasing the odds of easing the tension?
Truth is, it's time for the two leaders/nations to sort things out as this trade-war isn't benefiting anyone (economically), regardless who is right or wrong (politically).
This isn't about being right anymore, rather about being smart.
Have We Already Started Landing?
The US headline inflation fell to 2.3%, slightly below expectations, yet still above the Fed's 2% long-term target.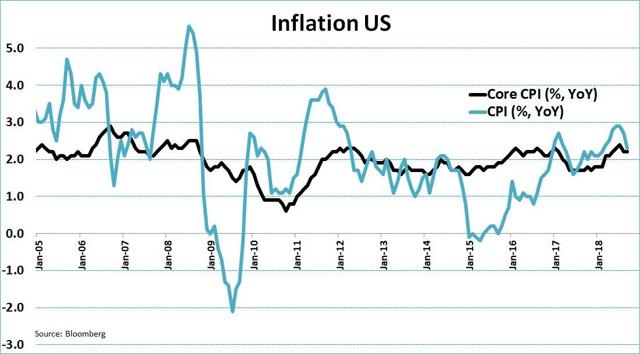 The combination of lower-than-expected inflation numbers and tumbling equity markets is apparently enough to shift the tone. Amid the slide in global stocks, traders are now cutting back predictions for how much the Fed will raise rates over the next year.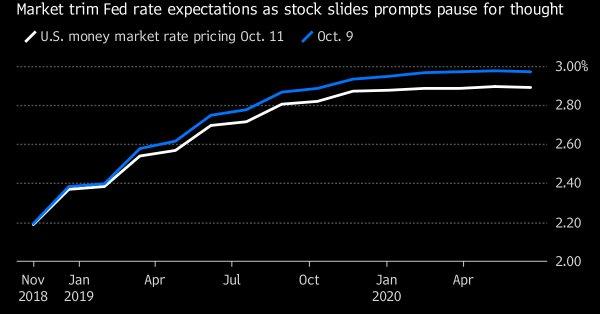 Even The King is Chickening Out?
Even Jeffrey Gundlach seems like he is softening/chickening out.
But before we explain why (we're saying so), credit must be given where it's deserved, and when it comes to credit markets - there's no one who deserves credit more than the "Bond King".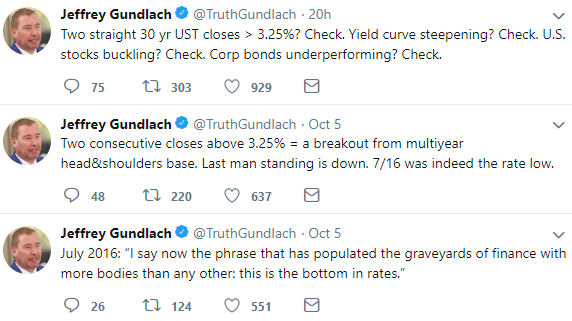 Source: Twitter
On 10/10, Mr. Gundlach was on BBC and, once again, he is predicting much higher yields before the current move-up in rates is over.
Nonetheless, unlike his past projections - he sounded much more down to earth, talking about just like... me!
If you look at the charts and you look at the way the market's behaving and you think about the trends that are underneath the bond market, it wouldn't be surprising at all to see the 30-year [yield] go to 4 percent before this move of the breakout above 3.25 percent is over
Why am I surprised? Because of the use of (only) 4%.
It was only four months ago when the DoubleLine's CIO - who has been, spot on, prescient on Treasuries (SHV, SHY, IEF, TLT) for two years now - was talking about UST10Y at 6% in 3 years.
Now, he is talking about 4% "before this move... is over".
Has he softened his views, or perhaps - in light of the recent data/expectations - simply chickening out, as many other do?...
We were very consistent in our prediction all along, expecting 3% in 2017 and around 3.5% in 2018. As a matter of fact, no matter if and when the UST10Y is going to hit 3.5% in 2018 or 2019 - we believe that it's not going much higher than this. 4% would be a real stretch and we strongly doubt the yield will get there.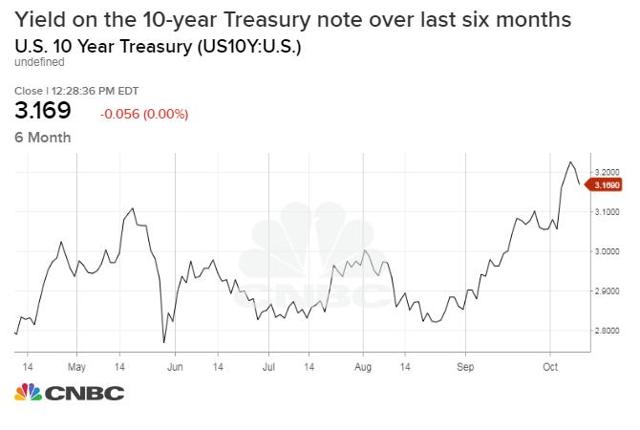 It's All Relative
The P/E ratio of the S&P 500 index is down 15% from its peak earlier this year at about 23.4. Slightly below 20, the ratio is now just a whisker above the average of the past 30 years.
At least from that aspect, equities don't look that bad after all...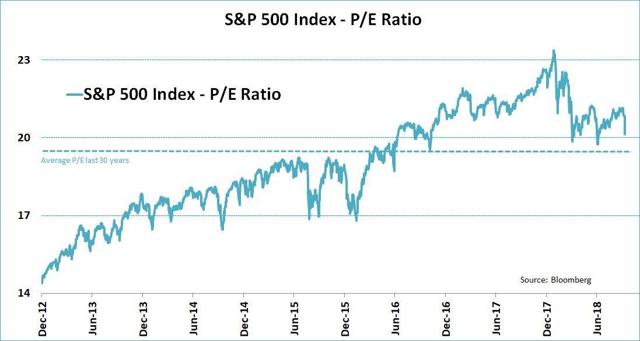 Unless one expects the Fed to keep tightening for a long period, and/or the trade-war to intensifies - any of these may derail the (global) economy - there's nothing "big" investors should worry about in the short term.
The P/E ratio of the MSCI World Index (URTH) has hit a 2.5-year low and has fallen to 16% below its long-term P/E average (measured since 1995).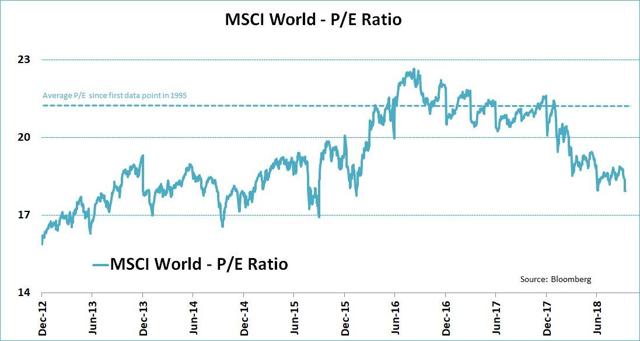 Back to Normality?
Perhaps the strongest signs of them all, that we are somehow heading back to normality, can be found at the correlation between stocks and bond (LQD, AGG, BND, HYG, JNK, AWF) yields.
After few years (!), we are now seeing both asset-classes falling quickly in tandem, a situation in which they're negatively correlated, which has historically signaled further market pressure.
Some see it as bad news. To wit:
The indicator is the correlation between stocks and bonds. Conventional wisdom would suggest that the prices of either asset should trade inversely to the other. If someone exits a stock position, there's a high likelihood that the person is rotating into bonds, and vice versa.

But this historical relationship has broken down. Prices of both stocks and bonds have been in free fall in recent days. And to make matters even worse, it is spiking yields - which reflect declining bond prices - that have helped stoke so much anxiety in the equity market.

As indicated by this chart, stocks and bonds have been negatively correlated on just a few occasions in the past 20 years. And each prior instance has been accompanied by widespread stock selling, according to an analysis run by Bloomberg.

The implications of this breakdown are perhaps more worrisome than the price action itself - and could be setting the table for a more vicious sell-off in the future.

That's because when negative correlation has struck in the past, it's been indicative of a highly inflationary environment - the kind that suggests the economy is growing too quickly for current market conditions.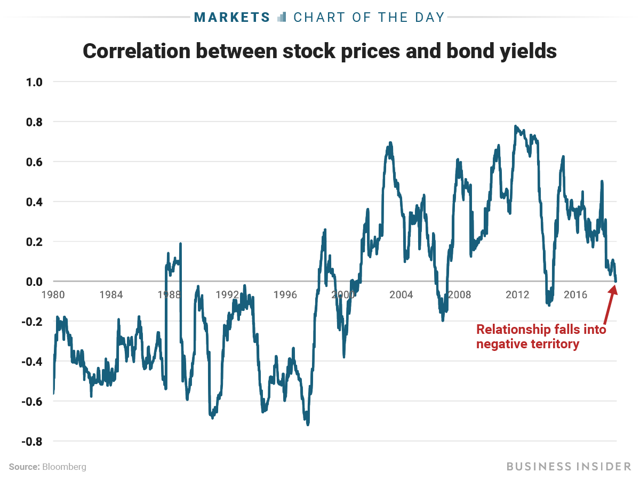 We, however, see the half-full of the glass here.
Since this negative correlation makes perfect sense - logically, economically, and historically - we see no reason to fear of it.
Moreover, during the 1990s, this negative correlation existed and, if you recall, it wasn't such a bad time for equities back then, to say the least.

In a recent client note, Jim Paulsen, the chief investment strategist at The Leuthold Group, wrote the following:
A negative correlation reflects investor concern with overheat and inflation risks... Financial markets are very close to a toggle switch which has historically magnified the negative impact of overheat pressure.
All true, except if the "overheating" phase is already over.
Prepare for landing!... or departing!... whichever comes first...
Author's note: Blog post notifications are only being sent to those who follow an author in real time. In order to receive notifications for both articles and blog posts, go to Author Email Alerts, which lists all the authors you follow, and turn on "get e-mail alerts" (see below).


The Wheel of FORTUNE is one of SA Marketplace's most comprehensive services. We view our service as a "supermarket of ideas" with an emphasis on risk management and risk-adjusted returns.
We cover all asset-classes: common stocks, preferred shares, public debts, baby bonds, options, currencies, and commodities.
With Trapping Value on-board, you're getting two leading authors for the price of one.
Before committing to the service on a long-term basis, take advantage of the two-week free trial.
Disclosure: I am/we are long C. I wrote this article myself, and it expresses my own opinions. I am not receiving compensation for it (other than from Seeking Alpha). I have no business relationship with any company whose stock is mentioned in this article.