The recent jump in interest rates presented bond investors with another round of losses. The 10-year Treasury yield surged to 3.23% last week before retreating to 3.17% today. As bond prices move opposite to rates, year-to-date total returns (including interest) on longer-term bonds are now firmly in the red: -2.3% on U.S. Aggregate bonds (AGG) (see chart), -3.5% on 7-10y Treasuries (IEF), and -4.3% in Corporates (LQD) (see chart).
Popular Bond ETF, Year-To-Date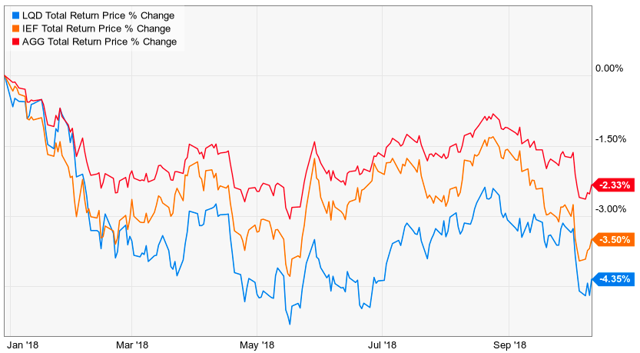 What's next? Should bond investors continue to avoid long-term bonds, or are they becoming attractive at these higher yields? I try to address these questions below.
Inflation Is Key
U.S. Inflation, 5 Years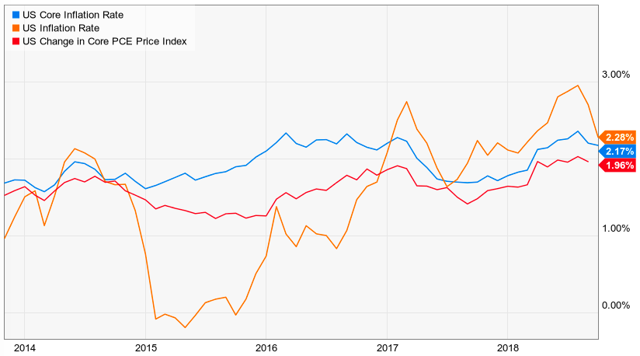 Source: BLS
The Fed's preferred measure of inflation, core personal consumption expenditures (PCE) deflator, has reached the 2% target in July, and has been bumping just under that level for several months now (the red line on the chart). The consumer price index, or CPI inflation, which is more timely but more volatile, now dropped to 2.3% from a peak of 2.9% two months ago (the yellow line). Core CPI, excluding food and energy, also eased slightly to 2.2%.
The moderation in CPI inflation in the past two months is largely driven by the significant drop in industrial and agricultural commodity prices. While the rise in WTI crude oil above $70 drove the CRB commodity index up 11% in 12 months, it's down 6.5% excluding energy.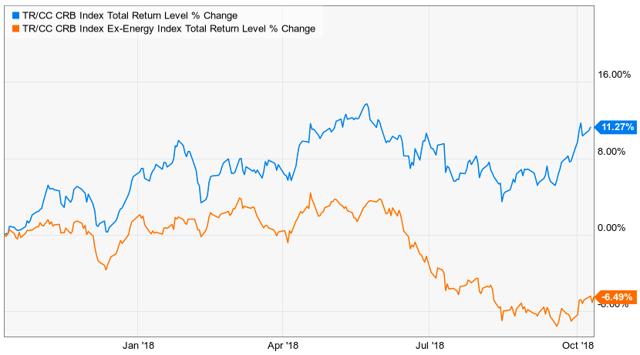 All this suggests that inflation is stabilizing around 2%, with no impending upward pressures.
The Fed: Not As Fast?
The other key to market yields is of course the future path of the Fed's tightening. The Fed sets its funds rate, which controls the short end of the Treasury curve, but also "pulls" longer-term yields. The market fully expects another 0.25% hike in December and another one or two hikes by June of 2019, according to futures positions compiled by the CME Exchange: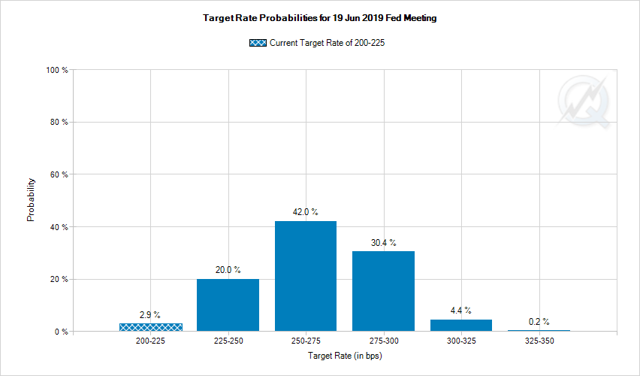 Source: The CME
The Fed was raising its funds rate quickly in both 1999-2000 and 2004-2006 (see chart below). Most analysts agree that higher rates contributed to the subsequent recessions by hitting the brakes on the economy too hard. Fed officials are probably aware of this.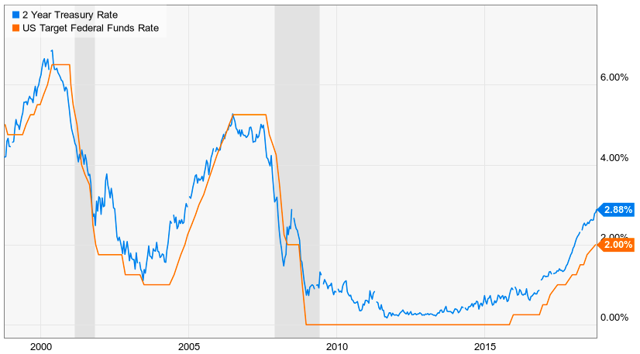 Source: Market data
In fact, we know that Fed Chairman Jerome Powell is concerned about the potential mistake of tightening too quickly. Here are the excerpts from his recent 8/24 speech - Monetary Policy in a Changing Economy - at the annual Fed symposium in Jackson Hole (full text is available at the Fed's web site - an informative read):
"In mid-1996... Sentiment was building on the FOMC to raise the federal funds rate to head off the risk of rising inflation...

Over the next two years, thanks to his considerable fortitude, Greenspan prevailed, and the FOMC raised the federal funds rate only once from mid-1996 through late 1998. Starting in 1996, the economy boomed and the unemployment rate fell, but, contrary to conventional wisdom at the time, inflation fell.

Under Chairman Greenspan's leadership, the Committee converged on a risk-management strategy that can be distilled into a simple request: Let's wait one more meeting; if there are clearer signs of inflation, we will commence tightening...

[And finally, THIS at the end:]
While inflation has recently moved up near 2 percent, we have seen no clear sign of an acceleration above 2 percent, and there does not seem to be an elevated risk of overheating."
So, it is pretty clear where Powell stands. Why risk stifling the economy with rate hikes while inflation is near the 2% target with no risk of overheating? This tells me that he's leaning toward Greenspan-style strategy: let's wait until we see clear signs of inflation.
In the last meeting on Sept. 26, the FOMC eliminated important language from its statement that the policy was "accommodative" - a change that clears the way for reducing the pace of future tightening, in my view.
Another factor is the stock market rout this week. It started as soon as global yields jumped, and arguably reflects tighter monetary conditions. The MSCI ACWI ex-U.S. Index (ACWX) entered the correction territory, down 10% YTD, and the S&P 500 (SPY, IVV) barely positive, +5% YTD, at the time of writing.
And then, there's President Trump's concern about the Fed "making a mistake by being too aggressive," which is somewhat ironic considering that it's Fed Chair Powell's concern too.
In my view, all this points to a more gradual pace of Fed tightening in the coming quarters. How exactly it pays out is hard to predict. It's quite possible that the Fed hikes again in December (it almost never goes against expectations), but it says that it would hold and wait for clear signs of inflation going forward.
All this tells me that yields will likely stabilize for now. In my view, the 10-year Treasury might stay in a trading range between 3.1% and 3.25% until the end of the year. Economic growth significantly above 4% in Q4 would extend the upward pressure on yields. Short-term yields, on the other hand, might ease if the Fed signals slower tightening.
Portfolio Positioning
Our Tactical Income portfolio (see its objectives and strategy described here) is currently invested in short-term TIPS (STIP) and short-term corporate bonds (VCSH). Our fixed-income models drive the portfolio allocations. The current model signals are as follows: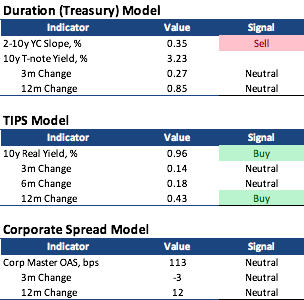 The Credit model shifted from Buy to Neutral in late September, indicating that the spread tightening has run its course. Accordingly, we sold our high-yield bond (HYG, JNK) and duration-hedged corporate bonds (LQDH), and bought VCSH, as I described in my Sept. 24 article. The move turned out being very timely as credit products dipped amid risk-off sentiment so far in October: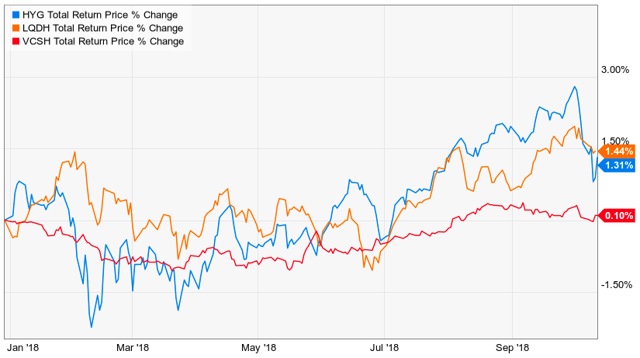 Our Duration model continues to give a Sell signal based on the Treasury yield curve slope, indicating that long-term bonds are still dangerous. The recent jump in yields didn't steepen the curve that much. It steepened slightly to 35 basis points, but this is still historically very flat. So, it still doesn't pay to extend portfolio duration. We are keeping our Tactical Income portfolio duration short, around 2.7, compared to 5.9 for its benchmark, the Barclays US Aggregate Index.
Disclosure: I am/we are long VCSH, STIP.
I wrote this article myself, and it expresses my own opinions. I am not receiving compensation for it (other than from Seeking Alpha). I have no business relationship with any company whose stock is mentioned in this article.
Additional disclosure: Roman Chuyan is the president and general partner of Model Capital Management LLC ("MCM"), an SEC-registered Investment Adviser. This article is for informational purposes only. There are risks involved in investing, including loss of principal. Roman Chuyan makes no explicit or implicit guarantee with respect to performance or the outcome of any investment or projections made by him or MCM. There is no guarantee that the goals of the strategies discussed in this article will be met. Information or opinions expressed may change without notice, and should not be considered recommendations to buy or sell any security.