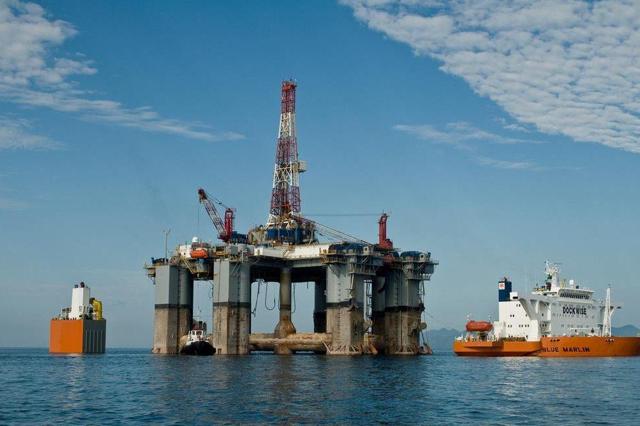 Image: Drillship Ocean Endeavor
Investment Thesis
Diamond Offshore (DO) is a particularly tricky offshore drilling company to analyze. While it has managed to survive years of a depressing market environment and kept, at the same time, a solid balance sheet with room to maneuver, the company's rig fleet presents many fundamental weaknesses that haven't been addressed adequately.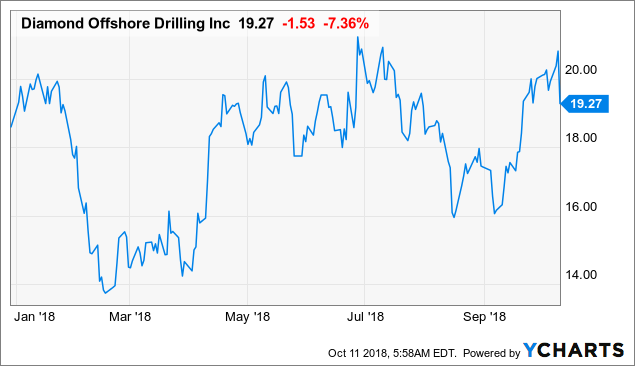 Diamond Offshore should be considered as a long-term investment principally due to its solid balance sheet. However, the company must first solve urgently a vital weakness: its aging rig fleet. One possible solution would involve some consolidation through an acquisition or a merger in an all-stock deal.
Company Analysis
As I said in my preceding article about Diamond Offshore second-quarter earnings results, the CEO Marc Edwards has been hesitating and refused to act when it comes to fixing the company's aging rig fleet. The reason that he provided is that the offshore drilling industry will offer better "distressed" deals "later this year" as he said again last quarter.
It seems that this attitude is turning out to be a significant strategic mistake. Perhaps one obstacle that tends to slow down the crucial process of the company's rejuvenation is that Diamond Offshore is owned 53% by Loews Corp. (L), which complicates the decision process greatly.
As I have demonstrated in a few other articles in this industry, we are witnessing a nascent offshore drilling recovery that is still very slow to evolve despite multi-year high oil prices.
Unfortunately, it is not a "full-blown" recovery, and it is more restrained to the jack-ups portion of the offshore drilling (shallow water) and specific floaters in the North Sea (Semisubmersible HE). However, the recent oil bull run has motivated analysts and investors to bet again in this struggling industry. The argument is that higher oil prices will push for a significant increase in contracting activity going forward and, subsequently, revamp revenues and profit.
Until now, the recovery that has triggered this wave of investors' optimism has not produced the financial effects anticipated and will not contribute to any positive outcomes for well over a year at the least.
The result of this phenomenon that I call "trading expectation" is that DO has increased over 40% since March 2018, even including the few recent bruising sessions.
A majority of the offshore drillers that I follow regularly are still experiencing a strong backlog erosion, and it's clear that the jack-ups' recovery has not been trailed by a floaters' recovery yet. It is a particularly sensitive issue for Diamond Offshore, which has no jack-ups at the moment.

Industry Discussion
The news about Ensco (ESV) acquiring Rowan Companies (RDC) in a deal valued at $2.38 billion is another critical step forward.
As I said before when investigating Noble (NE), the crucial element presented by WoodMac in its study can be described by this simple sentence:
[C]onsolidation among drillers is paramount to a recovery.
Since early 2017, the Offshore Drilling Industry has experienced a tepid recovery (mostly confined in the jack-ups segment and a couple of distinct locations such as the North Sea harsh environment region and the Middle East).
However, the floaters segment is still lagging, and only the Semisubmersibles Harsh-Environment in the North Sea has shown some encouraging signs.
The fundamental issue for the offshore drillers is that this nascent recovery generally comes with low contract durations negotiated at dismal daily rates barely above the break-even threshold. The main reason is that the industry is suffering from an endemic rig oversupply that seems impossible to solve without taking drastic measures.
Furthermore, with higher oil prices and a significant increase in tendering activity, many offshore drillers are increasingly more reticent to retire older rigs and beginning to re-activate them instead, aggravating the situation even further.
Thus, consolidation in this sector is seen as a sophisticated solution. By creating fewer strong players, the rig oversupply will be easier to manage, and we will see an acceleration of the rig attrition that has slowed down lately. Furthermore, daily rates will eventually rise faster due to a significant reduction of potential "players" in the field, reducing the competition significantly. As we can see below, the recent mergers have formed bigger companies.
Consolidation: I expect Diamond Offshore to make a move very soon
Diamond Offshore presents an atypical rig fleet that seems not entirely adapted to the market, with a backlog of ~2 billion as of October 12, 2018, and no more jack-ups figuring in the fleet status.


On a side note, the SemiSubmersible Ocean GreatWhite has been terminated early by BP Plc. (BP) with $135 million paid in early termination fee.
Marc Edwards, the CEO, noted in the conference call, positive comments about a potential long-term contract for the Ocean GreatWhite in the North Sea. However, we are still waiting for the news.
We are in advanced negotiations with a client to put the rig to work possibly at the end of Q1 next year. And as I said in my prepared remarks, having just returned myself from client visits to the North Sea, I believe that this rig will have opportunities for work for many years to come.
InfieldRigs has classified Ocean GreatWhite as "Enroute," which means that the rig is heading to the North Sea now for a possible new gig. The semisubmersible Ocean GreatWhite potential contract in the North Sea is a critical component and could make a significant addition to the backlog.
One potential logical move: Diamond could merge with Noble
1 - Diamond Offshore Fleet Snapshot
| | | | |
| --- | --- | --- | --- |
| Diamond Offshore | Total | Drill-ships | Semi-subs |
| Active rigs | 17 | 4 | 10 |
| Idle or stacked or Repair or Enroute | 3 | 0 | 3 |
| Total | 17 | 4 | 13 |
We can see that Diamond Offshore has no more jack-ups in its fleet.
Let's compare the DO fleet to Noble (NE), which is the company that I believe is the best suited for Diamond Offshore and see why a combined company DO/NE makes sense at the fleet level.
2 - Noble Fleet Snapshot
| | | | | |
| --- | --- | --- | --- | --- |
| Noble Corp. | Total | Drill-ships | Semi-subs | Jack-ups |
| Active rigs | 21 | 6 | 1 | 14 |
| Idle or stacked | 5 | 2 | 3 | 0 |
| Total | 26 | 8 | 4 | 14 |
We see immediately that the combined company will own 43 Rigs with a much better overall balance between floaters and jack-ups.
Another positive element that could facilitate a merger of equal based on an all-stock deal is that Diamond's net debt is very low.

Net debt was $1.554 billion with a net debt-to-EBITDA ratio of 3.51 at the end of the second quarter of 2018. This ratio means that the company can repay its net debt in about three and one-half years based on its EBITDA ("TTM").
It is one of the best ratios in the offshore drilling industry and a sign of financial strength that should provide a key advantage for Diamond Offshore in this consolidation phase.
Technical Analysis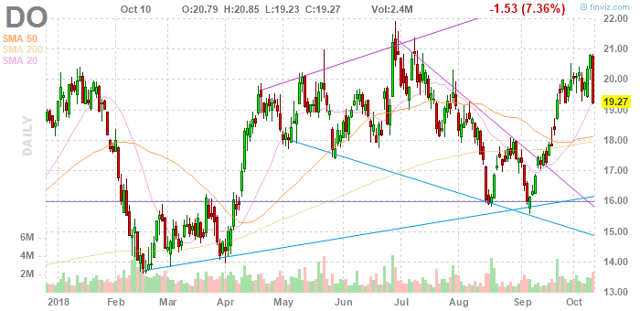 DO is forming a descending channel pattern (not indicated in the chart above) with line support around $15-$16 (I recommend buying at this level) and line resistance at $20.50 (I recommend selling at least 30% at this level). Depending on the future oil prices, the first resistance that I see is $17 (cautious buying possible). On the upside, DO could eventually re-test the $21 level (double top).
Conclusion
We are entering a new phase called a consolidation phase. Transocean (NYSE:RIG) and Ensco have already merged twice, and it is just a matter of time before Diamond Offshore will have to follow the same path. Diamond Offshore's fleet status is getting smaller and unbalanced.
The result is that the company shows insufficient future revenues and worse, no apparent way out. To be able to compete in this tight market, at the same level than Transocean or Ensco, Diamond Offshore will have to proceed through a merger to strengthen its ailing rig fleet. I am sure Marc Edwards, the CEO, is aware of the situation and is working hard right now to solve this situation.
Author's note: Do not forget to follow me on the oil sector. Thank you for your support, I appreciate it. If you find value in this article and would like to encourage such continued efforts, please click the "Like" button below as a vote of support. Thanks!
Disclosure: I/we have no positions in any stocks mentioned, and no plans to initiate any positions within the next 72 hours.
I wrote this article myself, and it expresses my own opinions. I am not receiving compensation for it (other than from Seeking Alpha). I have no business relationship with any company whose stock is mentioned in this article.
Additional disclosure: I trade often the offshore drilling sector.