Simply put, that impactful Rate Spike I called Sept 2nd has done serious financial and psychological damage to markets across the globe. After breaking up (not down) from a widely telegraphed head and shoulders pattern, the 10-year rose from 2.8% to 3.25% - a Gundlach Maginot line. Bonds experienced a trillion-dollar worth of losses in a week.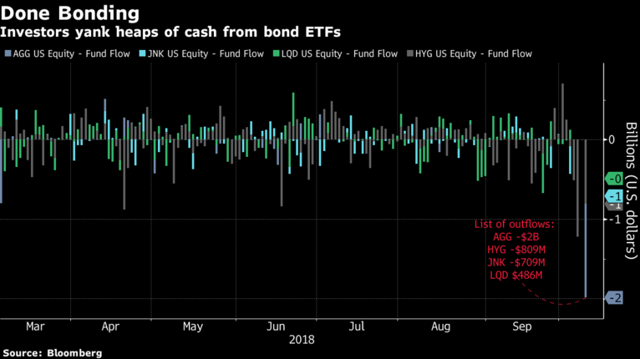 Technically, I was confident 2.8% represented a launching pad higher. The Fed Chair had also intonated he was raising. Global yields were quietly rising - even Japan had gone beyond it's neutral/zero level to positive .159%! In fact, the Bank of Japan's not-so-stealth tapering is about cutting bond purchases both in short and long ends of the curve. That'll continue to push yields up, at least that was my thinking.
The following Bond gurus I follow further justified my continuation Rate Spike call in what looked to be a 'catch-up trade' with inflation.
September 28: German CPI trending higher, at 2.3% is back to 2011 levels. But German 10 Year Bund yield is about 180 bp lower now than back in 2011. Jeffrey Gundlach

September 12: Bullard says the economy's feedback to inflation isn't very strong. I must be looking at wrong numbers as I see inflation went from 0.2% 3 yrs ago, to 0.8% 2 yrs ago, to 1.7% a year ago to 2.9% today. The Fed has the funds rate, 10 yrs into a cycle, 100 bps below this level! David Rosenberg
But Charlie Bilello shows the correlation best between the 10-year and Oil and how both travel very closely together:
The crash in crude oil on the left side of this chart led to a crash in inflation expectations and allowed for extreme monetary policies in Europe/Japan (neg rates) and the continuation of 0% rates in the US under the guise of "deflation." That game is slowly changing...
Resistance Becomes Support
Then Wednesday October 3rd it happened: Prior high of 3.115% in the 10-year - a level many fund managers said it would not puncture - was taken out and I wrote about it being a level that likely becomes support. My level of alarm was loud - in my live trading room and on twitter.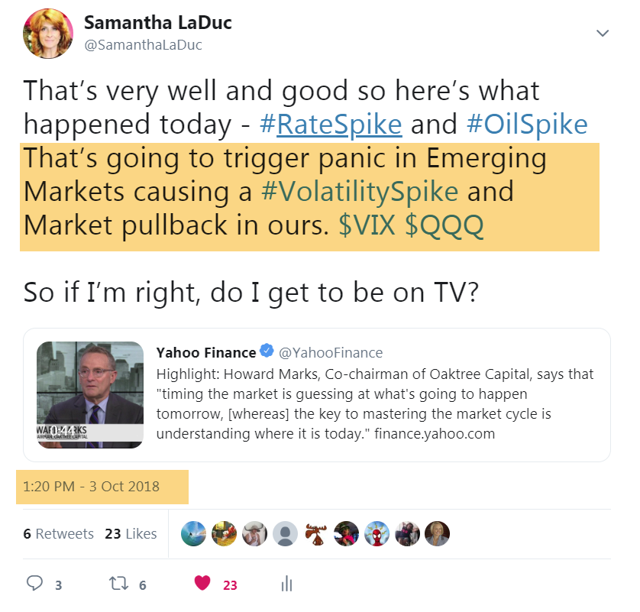 Let's just say I wouldn't normally take on Howard Marks if I wasn't really, really feeling it. And it was that 3.16 close in TNX that made both stock and bond holders - which are practically every institutional holding - freak out.
My loudest morning call came last Thursday in the form of a simple question:
If they sell AMD, AAPL and AMZN, why buy anything else?

Samantha LaDuc
So here we sit one week later after a timely rollover from Thursday the 4th into a cascading selloff yesterday the 10th, culminating in a down 3.7% day for the S&P and a continuation sell-off from Asia to Europe and back to the USA. And for a change, not because rates continued higher but because confidence was definitely lower.
Definition of "Impactful":
The SPY closed below its 200-day moving average today for the first time since June 2016, ending the longest run in its history.
Wednesday's Dow drop was the third worst day in market history, down 831 points and closing on the lows, not to mention another 350 points today.
NASDAQ had its biggest drop in ten years yesterday.
AGG, the world's largest bond ETF, suffered its biggest-ever outflow.
Volatility jumped 120% in a week.
I posted a client newsletter Monday with short position price targets given monthly candles as I was quite comfortable that these targets would be hit at some point the month of October, not that I expected they would be hit by Oct 10th! Many were 'taken out' yesterday and my suspicion is that those that were not… Will be.
---
Safety, Where? Stocks and Bonds Sold Off Together!
Not since February have we seen such wealth destruction as both stocks and bonds sold off together. The rotation into safety - whether Gold, Staples/Defensive stocks, US Dollar/Yen or Bonds - didn't rotate. Nothing was safe and that is the biggest worry of all moving forward. When FOMO turns into "There Is No Alternative but Cash", the selling can escalate quickly. And it did.
We have an eye on credit quality globally (AAA rated corporates / sovereign credits are off 30-40% in terms of the amount of high-quality paper last 10 years). Next, shift your eyes on the debt to GDP in the G20, up from 70% to near 100% (maybe 110%). Then look at the EM dollar-denominated debt issued 2007-2017, in the trillions, there's a new player at the table trying to sell / refinance a large debt load. All this speaks to a regime change, we're in the 1-2 inning we believe, more to come.

Lawrence McDonald
Lots of factors conspired against the bond markets last week:
And the fear is that neither the Rate Spikes or Inflation Spikes are over. So what is the collateral damage should this trend of higher rates pervail? One Fixed Income/Corp Credit swears by the following formula:
A bond fund with 10-year duration will decrease in value by 10 percent if interest rates rise one percent.
World Trade Slows
If Rate Spikes weren't enough, we still have continuing trade war tension between the U.S. and China, falling margins and reduced profits for U.S. corporations, in addition to the end of central bank accommodative policies. If all that wasn't enough reason for the current sell-off, then there was the IMF downgraded global GDP growth and the KOSPI rolling over.
Following Charts are courtesy John Kemp, Reuters.
SOUTH KOREA's export-oriented KOSPI-100 share index was pointing to a significant slowdown in global trade growth.

SOUTH KOREA's KOSPI-100 index peaked at the end of Oct 2017 and has been trending lower for the last 12 months, which mirrors the gradual deceleration in world trade growth from a peak in the fourth quarter of 2017:

WORLD TRADE growth peaked in the fourth quarter of 2017 and early first quarter of 2018 and has been steadily losing momentum all year.

So Where To From Here?
Big Picture, there is an argument for Commodities and Value coming into favor. I'll let the charts explain: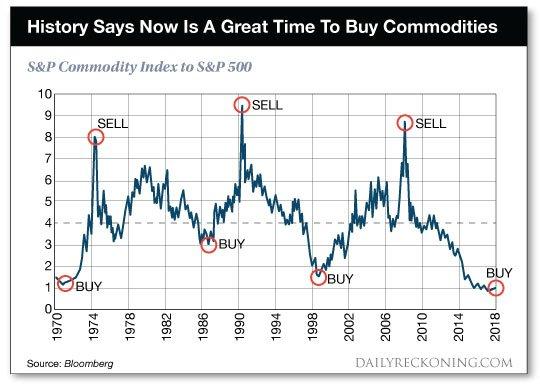 Value is experiencing its worst 10-year annualized under-performance vs growth since 1945...
And of course, CASH IS STILL A POSITION!
Disclosure: I/we have no positions in any stocks mentioned, and no plans to initiate any positions within the next 72 hours. I wrote this article myself, and it expresses my own opinions. I am not receiving compensation for it (other than from Seeking Alpha). I have no business relationship with any company whose stock is mentioned in this article.