This week's announcement by President Donald Trump that his administration is moving forward with a rule change that will allow E15 (15 vol% blends of ethanol with gasoline) to be sold year-round in the U.S. has sparked an impressive bout of volatility among independent ethanol producers Green Plains, Inc. (GPRE), Pacific Ethanol (PEIX), and REX American Resources (REX) (see figure). Pacific Ethanol's share price has been especially hyperactive, at one point climbing by 60% before shedding most of its gain on unusually high trading volumes.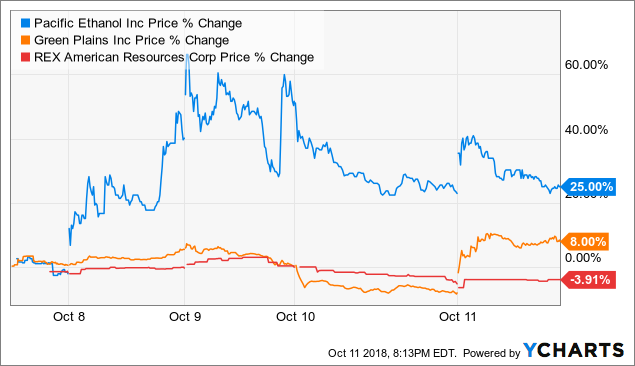 Mr. Trump's announcement paved the way for this week's excitement by supposedly making it possible for U.S. fuel ethanol consumption, which is currently around 15 billion gallons per year, to increase by 50%. The vast majority of U.S. fuel ethanol is sold as E10, or a 10 vol% blend with gasoline. This so-called "E10 blend wall" was more or less a regulatory limit for most drivers until the U.S. Environmental Protection Agency [EPA] cleared E15 for use in newer vehicles earlier this decade. Pollutant formation concerns caused E15's sale to be limited to eight months out of the year, however, and ethanol boosters have attributed a lack of E15 consumption in the several years that have passed since its EPA approval to this restriction. By allowing E15 to be sold throughout the year, they argue, domestic ethanol consumption could increase by up to 6 billion gallons or more if producers are able to meet this new demand. The CEO of industry group Growth Energy, for example, stated that "[n]ationwide E15 sales promise to drive demand for two billion bushels of American corn" in response to President Trump's announcement, a number that equates to almost 6 billion gallons of additional fuel ethanol (assuming 2.8 gallons of ethanol per bushel of corn). South Dakota's governor welcomed the White House's announcement by quoting a similar demand growth figure. Expectations regarding E15 are clearly high in the corn ethanol sector.
I outlined earlier this week why Pacific Ethanol's status as the ethanol sector's lower-margin producer resulted in its share price's extreme volatility in response to Mr. Trump's announcement. An increase to annual U.S. ethanol demand of 6-7 billion gallons would have major investment implications, though, and not just to ethanol producers. Diversified agricultural companies ranging from Archer Daniels Midland (ADM) to The Andersons (ANDE) would experience rising demand across their operations as annual U.S. corn production increased by 2 billion bushels. Merchant refiners such as CVR Refining (CVRR), Delek US Holdings (DK), HollyFrontier (HFC), and Marathon Petroleum (MPC), on the other hand, would experience weaker demand for gasoline as this was displaced by increased ethanol consumption. Biodiesel producers such as Renewable Energy Group (REGI) and FutureFuel (FF) would incur higher feedstock costs if the new corn production displaced existing soybean production, much as it did in the 2000s. The Trump administration's decision was therefore notable for investors in several energy and agricultural sectors of the market.
It is unlikely that U.S. ethanol demand will increase by anything close to the volumes that were quoted above. There are several reasons for this skepticism. First, several legal and regulatory hurdles must be overcome before the Trump administration's proposed rule can go into effect. The EPA must formally propose the rule change, at which point it will engage in a lengthy public hearing process before releasing a final rule allowing E15 to be sold year-round. The final rule will then be subjected to numerous lawsuits that environmentalists and the refining lobby have both threatened to launch. It could take several years for these lawsuits to be resolved: a previous legal challenge to a circa-2013 rule change on fuel ethanol consumption by the EPA was not resolved until August 2017, for example. The legislative branch could intervene in the meantime, and a bipartisan group of 20 U.S. senators has already expressed its concern with the rule change.
Second, even if the E15 rule survives the regulatory process and legal challenges, full adoption of the higher ethanol blend will necessitate cooperation from refiners, many of which continue to license and/or own the C-stores at which the blending and sales will actually need to occur. Such cooperation is extremely unlikely. While refiners did not oppose the creation of the Renewable Fuel Standard a decade ago, paving the way for today's fuel ethanol consumption levels, that was a time when U.S. gasoline consumption was believed to be in a period of long-term growth. That outlook has changed drastically. U.S. gasoline consumption is now expected by the U.S. Energy Information Administration to peak in 2019 and then steadily decline over the subsequent two decades (see figure) as vehicle electrification gains speed. Any future increases to ethanol consumption will come at the expense of gasoline consumption as a result. Moreover, refiners are only required to blend 15 billion gallons of corn ethanol* per year by the U.S. biofuels mandate and that quota is already being met, so no regulatory mechanism exists that would require refiners to make the additional ethanol volumes permitted by E15 available through their distribution infrastructure.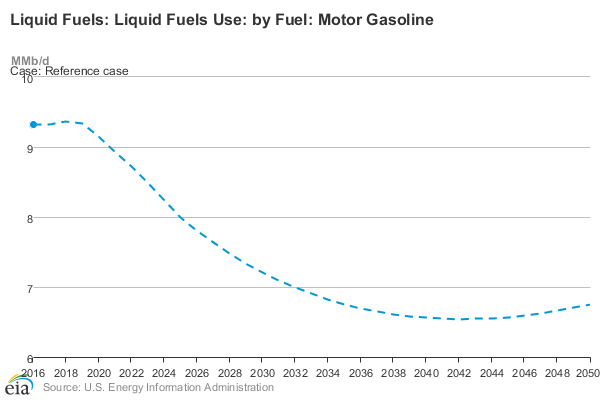 The response of Pacific Ethanol's and, to a lesser extent, Green Plains's share prices aside, the market is showing no signs of such an imminent large increase to corn ethanol production. Start with corn prices. An increase to the annual amount of corn consumed by the ethanol sector by 2 billion bushels would be a notable source of new demand, yet corn prices continue to trade near multi-year lows. Similarly, although the E15 rule change only impacts ethanol and not biodiesel, the prices of corn and soybeans failed to respond to the announcement by diverging (see figure). Corn prices, in other words, have not behaved as one would expect to the news that America's primary consumer of corn is about to increase its demand of the crop by up to 50%.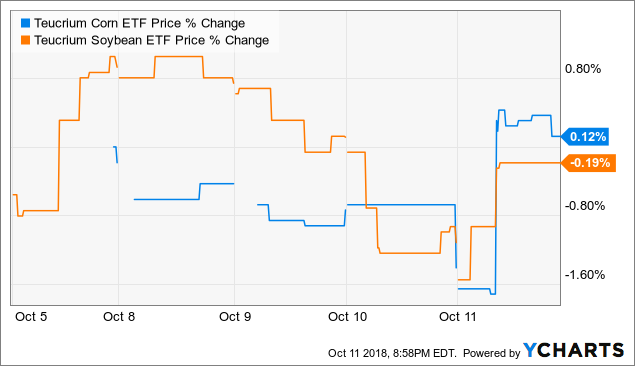 Green Plains Partners (GPP) is the logistics MLP for Green Plains. It utilizes a fee-based system that exposes its earnings to ethanol throughput volumes rather than prices. It could therefore expect to be a major beneficiary from a large increase to U.S. ethanol demand. Its unit price only climbed slightly in response to Mr. Trump's announcement, however, and it remains down by 4% over the last month as well as near a two-year low. This is despite it offering a forward yield of almost 13%.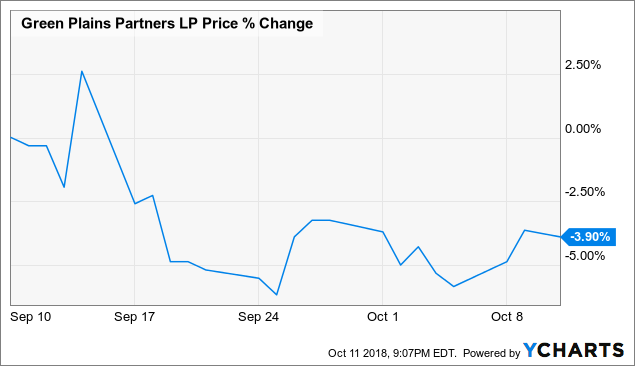 On the topic of Green Plains, Inc., the ethanol producer announced on Thursday that it is selling three of its ethanol facilities with a combined nameplate capacity of 280 million gallons for a little over $1/gallon to Valero Energy (VLO). The move is part of the producer's previously-announced strategic shift away from ethanol in response to low production margins. For one of the country's largest corn ethanol producers to sell roughly 20% of its production capacity for a relatively modest price is hardly a sign that ethanol demand is about to move strongly higher. Investors certainly did not view the sale as a missed opportunity given that the company's share price rallied by almost 20% in response to the sale of the facilities (see figure).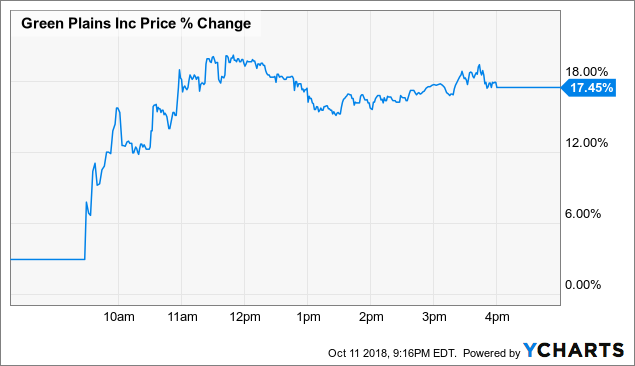 This is not to say that ethanol demand cannot move higher in response to the Trump administration's announcement. Corn prices are at multi-year lows and ethanol would become very attractive relative to gasoline in the event that crude prices returned to the highs seen in 2007 and early 2008. Such a scenario seems unlikely barring an unexpected major geopolitical event, however. A great deal needs to happen before the E15 rule change can even go into effect, let alone result in several billion gallons of new ethanol demand. Investors should not place a high probability on this happening.
*Technically the 15 billion gallon figure is a cap on the amount of corn ethanol that can be blended under the mandate, but it has served as a de facto quota as well since corn ethanol is the primary form of fuel ethanol in the U.S.
Disclosure: I/we have no positions in any stocks mentioned, and no plans to initiate any positions within the next 72 hours. I wrote this article myself, and it expresses my own opinions. I am not receiving compensation for it (other than from Seeking Alpha). I have no business relationship with any company whose stock is mentioned in this article.