On June 7, 2018, I wrote a Seeking Alpha article entitled "Memory Chips: The Interplay Of Equipment Spend, Process Migration, Capacity And Stock Prices."
In the 4 months since that article, the stock prices of Micron Technology (MU) dropped from $59.63 on June 7 to $41.97 at the close on October 11 (-29.6%). Applied Materials (AMAT) dropped from $51.25 to $32.79 (-36.0%), and Lam Research (LRCX) dropped from $188.83 to $137.62 (-27.1%).
While current stock market conditions are being impacted by macroeconomic factors such as tariffs and interest rate increases, expectations of oversupply in DRAMs and push-outs in fab equipment are adding to the malaise of the above stocks.
While stock prices are one indicator of the interplay of chips and equipment discussed in my SA article, stock performance of the three companies is similar. However, these are lagging indicators, and my intention is to update my article in light of projected memory, specifically DRAM, and equipment revenues for CY Q4 2018. Part 1 presents an update of my analysis of memory chips. Part 2 will present an update of my analysis of semiconductor equipment for memory chips production.
DRAM Forecast and Analysis
According to DRAMeXchange, DRAM products have begun to see a weak price trend, expecting the quotations of DRAM products to decline by 5% or more QoQ in 4Q18 and terminating the super-cycle of price growth for nine consecutive quarters.
I've published several Seeking Alpha articles over the past several months forecasting this imminent drop in DRAM prices. However, DRAMeXchange also noted in the same press release that:
"First, the smartphone market this year may not see remarkable shipments, since the replacement demand for smartphones has been sluggish due to the lack of differentiation among products in terms of hardware specifications.
Second, the server shipments are uncertain.
Third, the notebook and PC shipments may be impacted by the shortage of Intel CPUs."
In an October 9, 2018, news release, SA News Editor Brandy Betz wrote that,
"DRAM and NAND players closed down today after a TrendForce report predicted Q4 and 2019 price declines due to a supply/demand imbalance."
This raises an important question: Is DRAMeXchange (a division of TrendForce) correct in its assessment of the Q4 drop in DRAM prices by 5%, which is based on its three observations listed above? Let's look at each.
First, the smartphone market this year may not see remarkable shipments
Since Q3 smartphone shipments have not yet been announced, we have two indicators of the market based on Samsung Electronics' (OTC:SSNLF) Q3 preannouncement on October 5, 2018. Namely, the company's display and smartphone, as shown in Table 1.
SSNLF dominates the flexible OLED smartphone market. The company uses its own OLEDs for its smartphones but also supplies displays to Apple (AAPL) and Chinese manufacturers. While its LCD display sales were flat in Q3, as well as its own handset sales, OLED sales revenue increased 116.3% QoQ. Remember that sales of OLED displays in Q3 will equate to smartphone sales in Q4.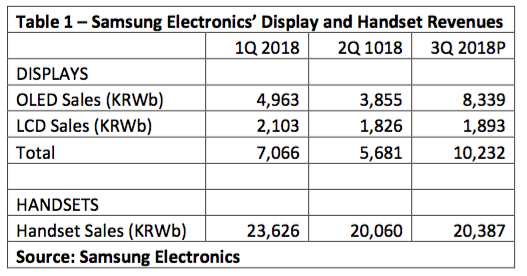 I previously reported in a September 24, 2018, Seeking Alpha article entitled "Chinese Smartphone Vendors Are The Key To Strong Mobile Memory Sales," that DRAM content was increasing, as shown in Chart 1.
Thus, data in Table 1 and Chart 1 suggest that the smartphone market is strong for Q4 2018, and the DRAM market is stronger.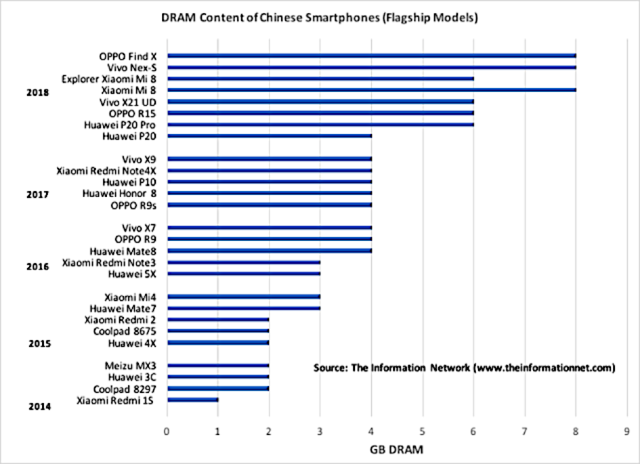 Chart 1
I've also compiled DRAM and NAND sales, profits, margins, bit growth, and ASP change for SSNLF. DRAM sales grew 32.2% QoQ in Q3. More importantly, margins increased 70.4% as bit growth increased 17%, and ASPs showed no drop.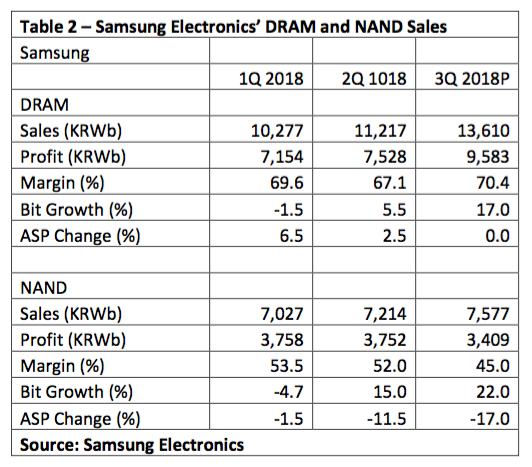 Data in Table 2 and prior quarters are illustrated in Chart 2.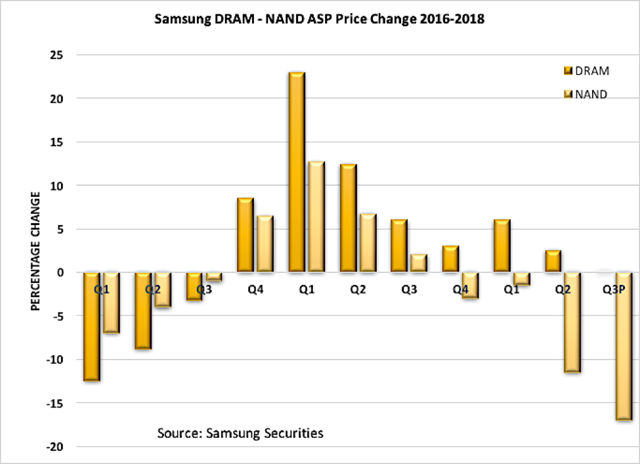 Chart 2
Second, the server shipments are uncertain.
Table 3, shows that vendor revenue in the worldwide server market increased 20.5% YoY to 2.9 million units during 2Q 2018. Revenue increased nearly 48%, making it the fourth consecutive quarter of double-digit revenue growth and its highest total revenue ever.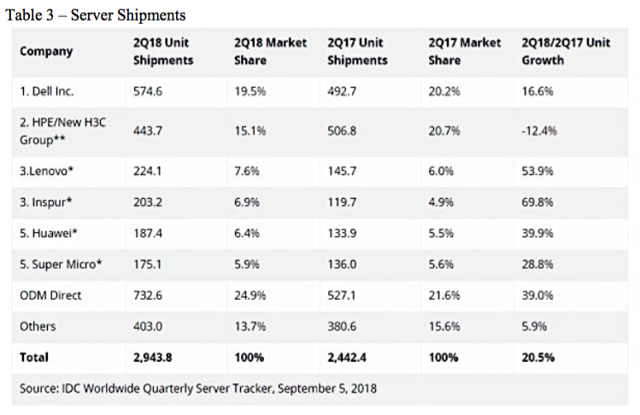 In addition, I noted in a May 14, 2018, Seeking Alpha article entitled "Can Demand For Server DRAMs Be Met After Years Of Limited Production Capacity Increases?" that server DRAM demand is forecast to increase from 17,789 million Gb to 98,218 million Gb - a 452% growth between 2017 and 2021.
Third, the notebook and PC shipments may be impacted by the shortage of Intel CPUs.
Indeed, there is a shortage of Intel (INTC) CPUs, which I discussed in an October 2, 2018, Seeking Alpha article entitled "Intel: Poor Business And Technology Direction, But No Real Damage."
There are two key points. First, AMD (AMD) is gaining share in the CPU market vacuum created by INTC and may be able to triple its market share to 30% of the processor market from 10% today.
Second, PC/Consumer DRAM bit demand has dropped from about 50% of Micron's business in 2013 to about 25% in 2017 and is projected to drop to about 20% in 2021. Thus, if PC shipments are influenced by a shortage of Intel CPUs, it will make less of an impact today than five years ago, as shown in Chart 3.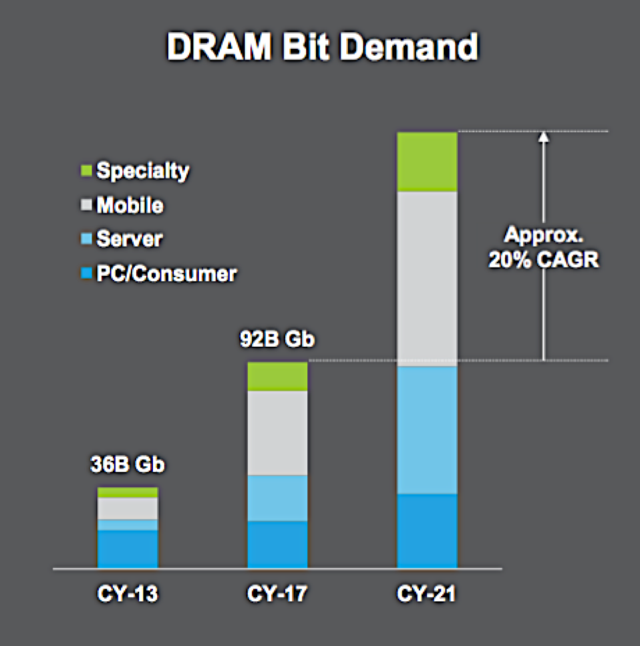 Chart 3
Investor Takeaway
While NAND memory chip prices have been dropping for the past several months, memory consulting company DRAMeXchange projecting DRAM memory chip prices will drop as much as 5% in Q4 2018. The company presented three reasons for the drop in DRAM prices. However, I have attempted to refute each of these three reasons in this article.
Some of the data I used was from Samsung Electronics' preliminary Q3 earnings announcement, and positive revenue growth announced by the SSNLF was extrapolated to Q4.
One important fact that overrides any empirical analysis is the fact that the DRAM market is comprised of three companies: Samsung Electronics, Micron Technology, and SK Hynix (OTC:HXSCL). These companies have become an oligarchy and can adjust output to impact prices at any time. I discussed how these companies are manipulating the market in a June 2, 2018, Seeking Alpha article entitled "Micron: First Price Fixing, Now Antitrust Allegations By The Chinese Government."
To illustrate, SSNLF reported the addition of 20,000-30,000 wafers/month of DRAM capacity at the Pyeongtaek plant's 2nd floor will be postponed to 2020 in order to maintain profitability along with strategic inventory controls.
Disclosure: I/we have no positions in any stocks mentioned, and no plans to initiate any positions within the next 72 hours.
I wrote this article myself, and it expresses my own opinions. I am not receiving compensation for it (other than from Seeking Alpha). I have no business relationship with any company whose stock is mentioned in this article.
Editor's Note: This article discusses one or more securities that do not trade on a major U.S. exchange. Please be aware of the risks associated with these stocks.