Laredo Petroleum (LPI) has been one of the worst performing oil stocks but it's not a terrible company. On the contrary, I believe the Permian Basin focused oil producer is well positioned to meaningfully grow earnings in the future, led by double-digit production growth and improvement in oil prices.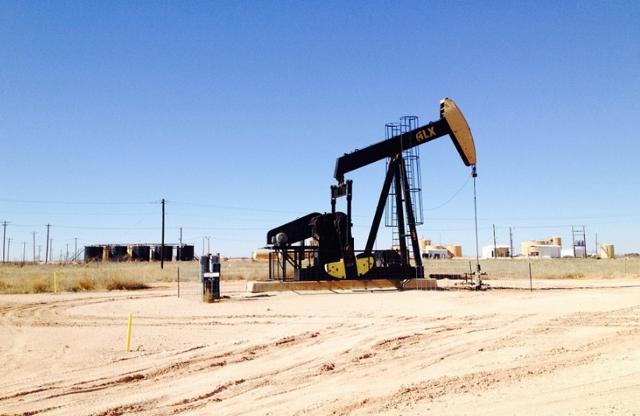 This has turned out to be a great year for oil stocks. The price of the US benchmark WTI crude has risen by 25% in 2018 to $75.40 a barrel at the time of this writing. In this backdrop, a number of oil stocks have posted double-digit gains. But Laredo Petroleum is among the handful of oil producers that have fallen by double digits this year. That has made Laredo one of the cheapest oil stocks around and I believe it is worth a closer look.
Laredo's woes started after it released its first-quarter results around five months ago. The company not only missed the analysts' earnings estimates but also announced that Royal Dutch Shell (RDS.A)(RDS.B) has terminated its contract to sell and purchase crude oil. That came as a blow to Laredo since its agreement with Shell allowed it to capture superior prices. That raised concerns about the company's future earnings and cash flows. To exacerbate Laredo's problems, oil prices started to weaken in the Permian Basin due to the supply bottlenecks. The region's oil prices (the Midland WTI) plunged to as low as $17 a barrel below the US benchmark in August.
Laredo, however, has some downside protection. The company has hedged 10,000 barrels per day through basis swaps and will transport 10,000 bpd through the BridgeTex pipeline which will get the Gulf Coast oil prices. However, the remainder, which I believe could be 30% to 40% of its crude oil production for the third and fourth quarter, will be exposed to the weak Midland Basin prices. The company itself has also estimated that its crude oil realization, as a percentage of WTI, will decline. At the start of the year, Laredo said that its oil price realization will be 97% of WTI in the first quarter. But for the third quarter, it is expecting to realize an oil price of 86% of WTI which shows the impact of the dip in regional oil prices and the termination of contract from Shell.
That being said, it is also important to remember that Laredo isn't the only Permian Basin oil producer with exposure to the weak prices in the region. A number of companies, such as Cimarex Energy (XEC), will also be selling some of their oil at a discount in the Permian Basin. In fact, most of the oil producers have up to 60% of their products hedged with Midland-Cushing basis swaps. Those who lack significant coverage, such as Occidental Petroleum (OXY), have gained access to the Gulf Coast prices by securing ample space on key crude oil pipelines.
Additionally, the gap between the Permian Basin and the US benchmark oil prices has been narrowing. The differential has already improved to ($8.04) a barrel and the data from the CME Group shows futures price shrinking to ($2.38) a barrel in the next twelve months. The improvement in prices will be driven by the startup of some major new crude oil pipelines from the second half of the year. The pipeline operators such as Phillips 66 Partners (PSXP), Plains All American (PAA), and EPIC Midstream will bring around two to three million barrels per day on new pipelines to service in late-2019/early-2020, as per my estimate. That should substantially ease the takeaway constraints and push the region's prices higher. Mr. Market has already anticipated this, which is why the Midland-WTI futures price has started to improve. As the oil prices in the region increase, Laredo's realizations will also move back up to more than 90% of WTI.
What I like about Laredo is that despite facing an uncomfortable pricing environment, the company has focused on growing its production at a double-digit pace. In the first six months of this year, Laredo produced 65,270 boepd, showing an increase of 17.5% from the same period last year. Its oil sales increased by 7.6% in the same period. The company is increasing drilling activity by adding a new horizontal drilling rig in H2-2018. Its oil production will likely climb to more than 31,000 bpd in the second half of the year, as per my estimate. For the full year, Laredo expects to increase its total production by more than 15% and its oil production by more than 10% from 2017. The double-digit growth rate should offset the negative impact associated with weak prices in the Permian Basin and drive earnings growth.
Laredo has already delivered strong earnings growth, led by improvement in oil prices on a year-over-year basis and production growth. In fact, the company's profits (as adjusted) for the first six months of this year more than doubled to $116.5 million or $0.50 per share, from the corresponding period last year. Its operating cash flows have also grown from $156.9 million in the first six months of last year to $262.6 million this year. The company will continue to benefit from the double-digit production growth and higher oil prices which will fuel earnings and cash flow growth. Note that the discounted price of oil at the Permian Basin is $66 a barrel which is still higher than last year when the same price was around $49 a barrel.
Laredo also has a decent financial health. The company carries $902 million of long-term debt which translates into a net debt ratio of 47.4%. That's just slightly higher than a number of its peers whose net debt ratio is in the 30% to 40% range, such as Diamondback Energy (FANG), Jagged Peak Energy (JAG), and Occidental Petroleum. Laredo also doesn't have any near-term maturities on its long-term debt. The earliest maturity is in January 2022 which is $450 million of 5.625% notes. On top of this, it has ample liquidity of $1.1 billion to meet any short-term funding requirements. The liquidity consists of $34 million of cash reserves and $1.07 billion available under the revolving credit facility.
Conclusion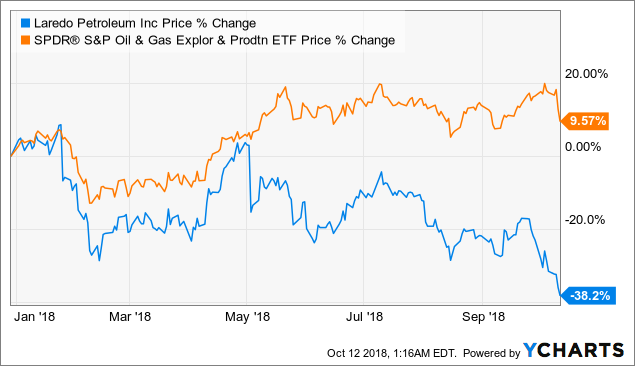 Laredo Petroleum has been one of the worst performing Permian Basin oil stocks, but I believe it is actually a decent company. It's not a high-quality oil stock like Pioneer Natural Resources (NYSE:PXD) which has a great asset base and a rock solid balance sheet, but it's not Chesapeake Energy (CHK) either. I believe Laredo's future outlook is looking bright. The company's shares have tumbled by 38% this year to $6.61, which was its 52-week low at the time of this writing. This has made Laredo one of the cheapest oil stocks, priced just 4.7 times next year's Thomson Reuters consensus earnings estimate. I believe that the stock will likely bounce back in the near future as the pricing environment improves in the Permian Basin and the company posts double-digit production growth. Laredo can easily climb back to last year's levels of more than $10, when its profits, cash flows, and production levels were much lower. Even at $10, Laredo will remain one of the cheapest oil stocks, trading just 7.1 times future earnings and will likely have meaningful room for further growth. I suggest investors consider buying Laredo while it is still hovering in the 52-week low range.
Note from author: Thank you for reading. Please share your comments below. If you like this article, then please follow me by clicking " Follow" at the top of this page.
Disclosure: I/we have no positions in any stocks mentioned, and no plans to initiate any positions within the next 72 hours.
I wrote this article myself, and it expresses my own opinions. I am not receiving compensation for it (other than from Seeking Alpha). I have no business relationship with any company whose stock is mentioned in this article.