Seeking Alpha posted an alert on Friday morning stating that UBS (UBS) may set a Chinese ownership milestone. Allow me to explain what this all means, why it's important, and the domino effect this will have on the likes of JPMorgan (JPM), Morgan Stanley (MS), Credit Suisse (CS), and others.
What happened?
UBS has for many years had an investment bank joint venture in China. In fact, it's always been the best one because it has many more licenses than other Sino-foreign peers. By entering the market early, it got as many business licenses as it could before regulators effectively restricted these joint ventures to the underwriting business.
Despite the joint venture's name - UBS Securities - the Swiss bank has always been a minority player in the business, only holding a 24.99% stake. Earlier this year, China began to loosen its restrictions on foreign ownership in the Chinese financial industry, first allowing foreign firms to hold 51% equity stakes in joint ventures, which will be progressively increased to 100% by 2020. As a result, foreign minority shareholders have begun the process of getting the domestic partners to sell.
Two domestic shareholders in UBS Securities have put equity stakes up for public auction:
China Guodian Capital is selling its whole 14% stake at a minimum price of RMB462m, with the auction ending on 7th November.
COFCO is selling 12.01% of its 14% stake at a minimum price of RMB396m, with the auction also ending on 7th November.
As such, the total stake in UBS Securities up for sale is 26.01%. Now, the mathematically-minded readers will have spotted that this number is significant: if these stakes are purchased by UBS, it would take its ownership to 51%.
So, will UBS buy these stakes? Absolutely. These public auctions are a formality; UBS will buy the stakes and become the majority shareholder of UBS Securities.
Why is expansion in the Chinese investment banking business important?
I'll spare you the "second-biggest economy in the world" rhetoric and highlight key features of the Chinese investment banking industry. In the first half of 2018, industry revenues were $19.1bn, and profits were $5bn. This equates to a net profit margin in the industry of 26%, which is roughly the same as the net margin for bulge-bracket banks' investment banking businesses. In addition, the vast majority of firms in the industry are profitable. Now, a caveat has to be made here because of the few firms that aren't profitable, most are the Sino-foreign joint ventures.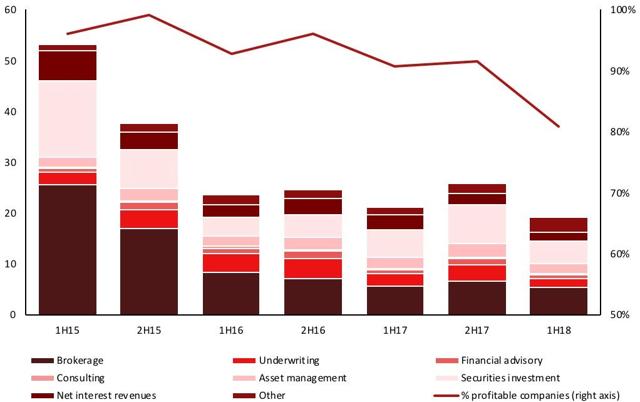 Industry revenues for the Chinese investment banking industry, and the proportion of companies to post a profit during the period. Units: $ billions. Source: Securities Association of China
So why would global banks want to increase their stake in an unprofitable business? Well, most of these firms are limited to the underwriting business, meaning that they can't access between 85% and 90% of industry revenues and profits. They are limited to underwriting because of regulation - that wouldn't be applicable once the foreign firm gets majority ownership - and because the domestic majority shareholder typically has its own investment banking business, so it doesn't want the joint venture to be a rival. Again, something that wouldn't be applicable once the foreign firm has majority ownership.
Therefore, global investment banks could see a significant increase in revenue coming from their China business as a result of getting the majority equity stake. In addition, don't be mistaken in thinking that UBS will stay at 51% ownership. With full ownership being allowed by 2020, UBS will buy the rest of the company over the next two years.
What does this mean for other global bulge-bracket investment banks?
In early May, UBS became the first global investment bank to apply for 51% ownership under the new ownership laws. It was swiftly followed by four peers. It's important to define what is actually happening with these majority ownership applications. Let's split them into two groups:
Existing minority shareholders wanting to increase to 51%: UBS, Credit Suisse and Morgan Stanley.
New investment bank joint ventures with the foreign shareholder owning 51% of the company: Nomura (NMR) and JPMorgan.
Let's focus on the former. What these three firms have done is effectively get approval from Chinese regulators to move ahead with the acquisition of the additional equity stake needed to give it 51% ownership. In UBS's case, it is now free to bid for the 26.01% stake up for auction.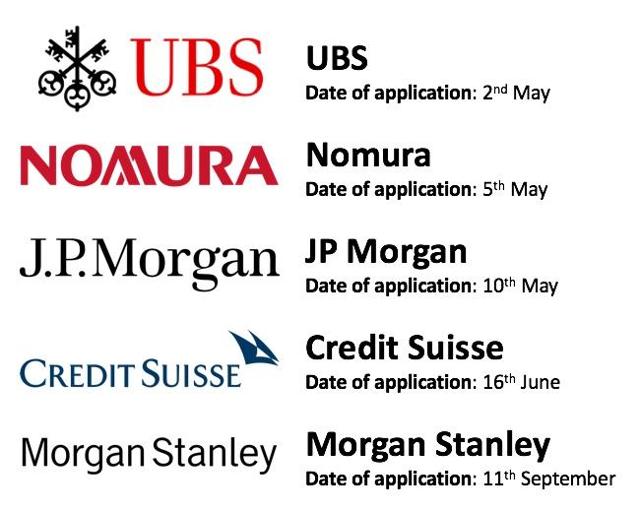 Majority-foreign ownership moves by foreign investment banks: UBS, Nomura, JPMorgan, Credit Suisse, and Morgan Stanley. Source: China Securities Regulatory Commission
As for which firm sets the foreign ownership milestone, I believe it will be Morgan Stanley. You see, what is happening to UBS happened to Morgan Stanley a few weeks earlier. The domestic shareholder puts an equity stake up for public auction, which coincidentally would equate to 51% if the foreign shareholder were to buy it.
The process of getting the first foreign-majority-owned investment bank will be slow because it's never been done before. But once that bureaucratic path has been trodden, it will become quicker for others to do. As such, whether it's Morgan Stanley or UBS first, the rest will follow in quick succession. 2019 will really begin to see the effect of Chinese investment banking revenues bulge-bracket banks' financials.
Disclosure: I/we have no positions in any stocks mentioned, and no plans to initiate any positions within the next 72 hours.
I wrote this article myself, and it expresses my own opinions. I am not receiving compensation for it (other than from Seeking Alpha). I have no business relationship with any company whose stock is mentioned in this article.