Market Intro

CNBC, 10:34AM EST
US stocks (SPY, DIA, QQQ, IWM) seesawed on Friday, dipping significantly as the morning session drew to a close, only to wrap up near the S&P's high point of the day. Friday should serve as an important reminder that intraday volatility is still very much with us, even if markets close on a positive note.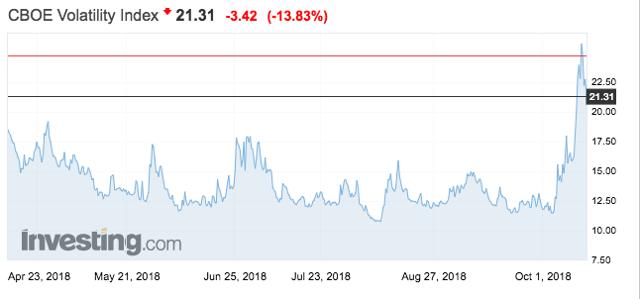 Spot VIX is trading at a six-month high. Indeed, the readings of the last week have been some of the highest of the last five years. Reasonable people can disagree on where the VIX should be, but it is difficult to imagine us returning to the levels we had just a couple weeks ago anytime soon.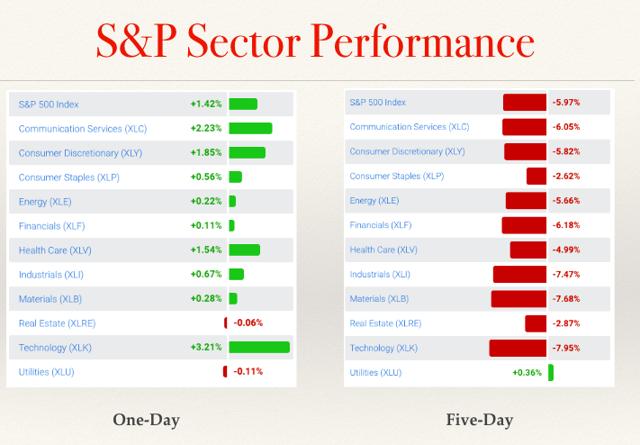 Friday was quite green across the board, which may in fact highlight that realized (and implied) correlations are high. It is funny that so much of the current state of affairs gets chalked up to rates, and yet utilities (XLU) is the only sector that managed to print green for the week! The pain was quite widespread over the last five days, with tech (XLK) getting the worst of it.

Econoday
US Consumer Sentiment is still quite strong, though down a touch from the last print. If the stock market (and perhaps more importantly, the real estate market) were to give up some gains, that might change. Essentially, there may be a chicken-and-egg relationship here between consumer sentiment and asset values.
Thoughts on Volatility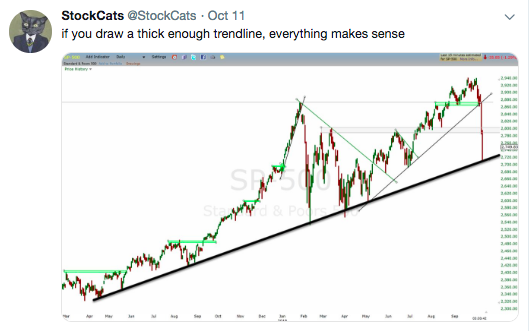 As a general rule, you can pretty much find any relationship you decided you want to find. That's true of politics, life, and markets. Through the lens of the last year, the last week appears to have met up with a rather bizarre trend line. From the vantage point of the past few months, the past week was truly spectacular.
It is my opinion that where the VIX goes from here will be mostly dictated by intraday volatility and not so much by close-close measures, as they can mask meaningful risk (as they did the week ended Oct 5).

I like how succinct this opinion and step-by-step map to recovery are, but it perhaps ignores just how good we've had in the US as it concerns volatility over the past several years… remember spot VIX 19.5 is close to the since-inception average, which includes thousands of data points.
The "most hated bull" was a bull market built on low volatility. That is to say that I truly do not believe this bull market can forge new highs with VIX at average, or even near-average, levels.
That isn't to say the bull is over as such, only that it may take a while before we get this past week out of our system.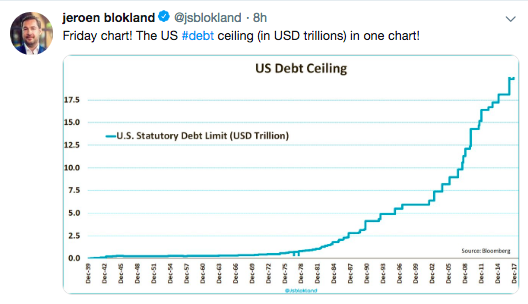 Beware interest rate arguments: they are ubiquitous these days ("markets do well in rising rate environments"). The reality is that the response to the GFC was largely about taking debt off the private sector and reassigning it through various channels to the public sector: the National Debt is very high… and as such our economy will likely not be as receptive to rising rates.
Term Structure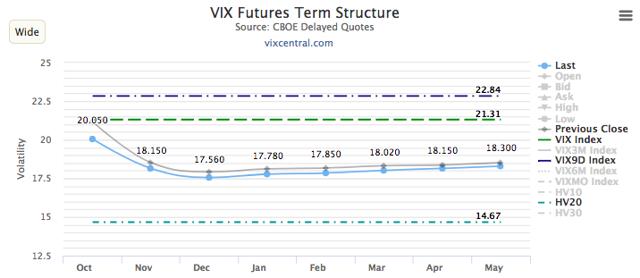 Welcome to the party, HV20! Only a week ago, the index sulked around 5.5. I believed erroneously that a four-handle may well be in the cards.
It may be a while at this point before we see HV20 carrying a mid-single-digit handle. Still, if February is any guide (and it very well may not be), we should start to see some calming in equities that translates to lower realized vols as compared to what last week threw our way. That is not to say that implied vols will be too ready to follow: tread lightly on the short-vol reaction play (SVXY).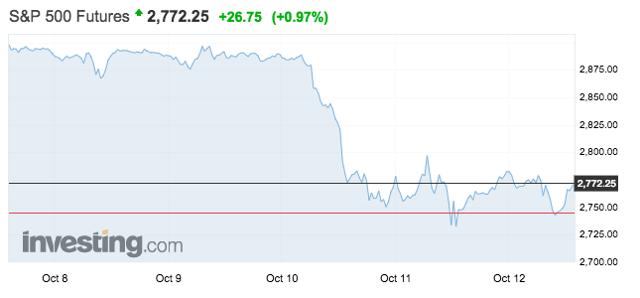 ES futures traded with a fifty-point range on Friday. A lot of the action took place after hours. We're back in a situation where the market can open significantly higher or lower than where it closed the prior session. That means that you won't necessarily get the chance to take the action you hoped to take in the morning.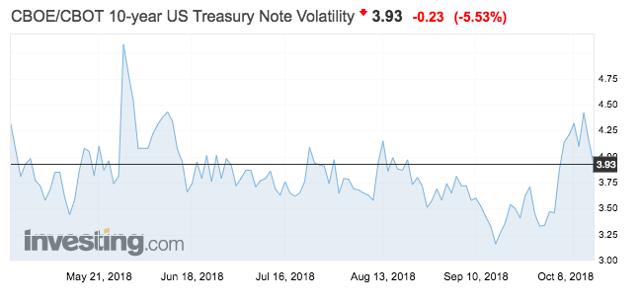 Recall that the VIX of the 10YR Treasury (IEF, TLT, AGG) closed at an all-time low in mid-September! Memories can be short. It looks as though bond vol is trying to settle some, which would be immensely helpful for stocks around the globe.
Conclusion
If this is your first time reading Market Volatility Bulletin, thanks for giving it a try. If you're a regular, we thank you for your ongoing contributions in the comments section.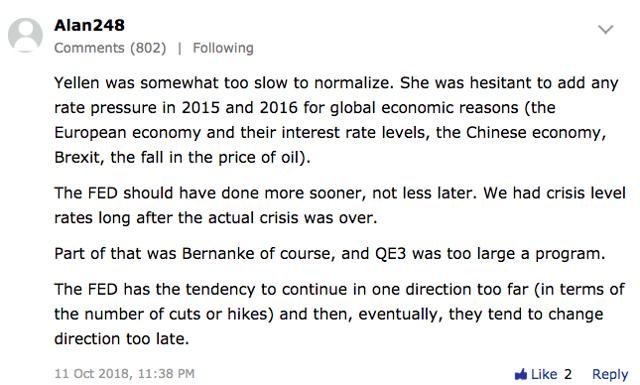 Alan offered his view on Yellen as a monetary chair, QE3, and policymakers' tendency to overdo policy in both directions. There was some strong dialogue that I recommend readers take the time to review. Where I agree the most with Alan is that QE3 was too large.
In fact, I think QE3 sent markets, fiscal policy makers, and other monetary bodies the wrong message. I think that whoever followed Dr. Bernanke was going to have to manage the aftermath of that decision.
Thank you for reading.
Please consider following.
Disclosure: I/we have no positions in any stocks mentioned, and no plans to initiate any positions within the next 72 hours. I wrote this article myself, and it expresses my own opinions. I am not receiving compensation for it (other than from Seeking Alpha). I have no business relationship with any company whose stock is mentioned in this article.
Additional disclosure: I actively trade the futures and options markets, potentially taking multiple positions on any given day, both long and short. I also hold a more traditional portfolio of stocks and bonds that I do not "trade". I do believe the S&P 500 is priced for poor forward-looking returns over a long timeframe, and so my trading activity centers around a negative delta for hedging purposes.