Like most high-growth technology stocks, Spotify (SPOT) has been suffering from an October scare, as investors indiscriminately sold off technology stocks and pushed the NASDAQ down 8% from recent highs. Spotify has had it worse - relative to a high point near $200 that the company notched in June, the stock is now hovering in the $150s, down 20% from highs (technically marking the stock in a "bear market") and returning it to levels not seen since immediately post-IPO: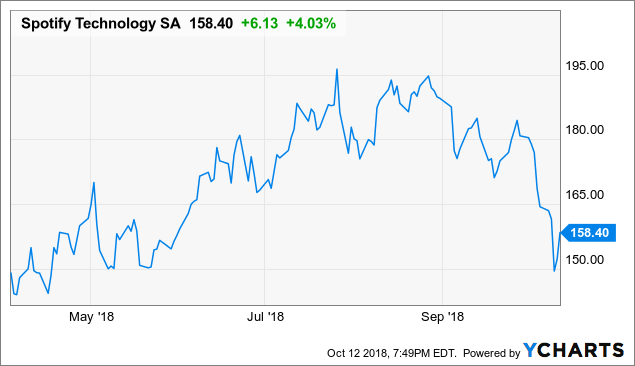 The question on investors' minds now is this: has Spotify fallen enough to merit a rebound investment? This is a perennially expensive stock that is commonly associated with turning the music industry on its head, and a venerable brand that has amassed more than 200 million users. Is it time to catch the falling knife?
In my view, investors should still stay on the sidelines for Spotify. The company is not yet cheap enough (we'll discuss valuation shortly), and risks to earnings and growth still abound. Margins are low - especially compared to its Chinese counterpart, Tencent Music (TME), despite the latter having introduced limited monetization into its product.
I wrote that Tencent Music's IPO is a very attractive deal to invest in. At 92% y/y revenue growth, Tencent Music is growing much faster than Spotify due to being in the earlier stages of monetization. The company is also producing positive profits thanks to lower royalty charges as a percentage of revenues, something that has eluded Spotify throughout its lifetime. Market turmoil has put the Tencent Music IPO on hold at the moment, but in my view, this is the far better and faster-growing streaming company to invest in, with a much larger TAM thanks to its roots in China.
Deceleration risks for Spotify, meanwhile, abound. The company has struggled with maintaining ~25% y/y revenue growth, while last quarter, premium subscriber growth slowed down to 40% y/y (ad-supported user growth was even weaker). The company's upcoming earnings release, on November 1, could send Spotify into a fresh leg lower.
In my view, Spotify's dip into the $150s was a much-needed correction, from which it won't be able to rebound quickly. Keep a close eye on the stock in case it dips to the $130s (at which point a bullish case could be made), but don't buy the stock just yet.
Valuation
With Spotify shares now down 20% from peak (and back to the approximate level that it was trading in April, after its non-conventional "direct listing"), it's a good time to revisit the company's valuation.
At present, Spotify carries a market cap of $28.2 billion, not far off from the ~$25 billion valuation it carried as a private company and the $26.5 billion valuation it notched on the day of its IPO.
Spotify also holds €2.66 billion in cash and which at today's exchange rate of $1.16 to the euro equates to $3.08 billion in cash. This puts Spotify's enterprise value at $25.1 billion.
Here's how that stacks up against the company's forward-looking guidance: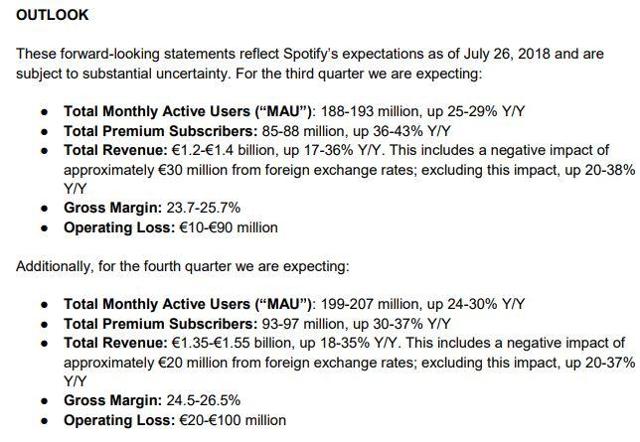 Source: Spotify investor relations
The midpoint of the company's revenue guidance ranges for the third and fourth quarters FY18 is €2.65 billion, which equates to $3.08 billion. If we similarly assume 20% y/y growth in 1H19 on Spotify's 1H18 revenues of $2.80 billion, we arrive at a forward twelve-month revenue estimate of $6.44 billion ($3.08 billion in 2H18 and $3.36 billion in 1H19). This puts Spotify's current valuation at ~3.9x EV/FTM revenues.
At first blush, this appears cheap among internet stocks, especially as Spotify is frequently comped against Netflix (NFLX) due to the two companies' similarities in media streaming. Even after its recent fall from grace, Netflix still trades at a ~9x forward revenue multiple: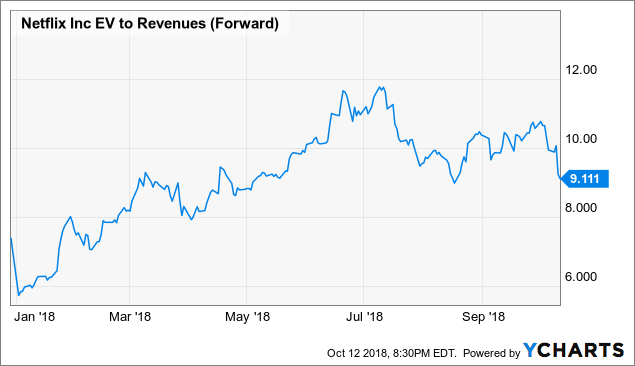 So it appears, to many investors, that Spotify is a much cheaper streaming business. There are inherent risks in this valuation, however, that prevent me from being able to call it outright cheap. Deceleration and margin risks come into play here, which we'll discuss next. I would consider the buy point for Spotify to be at $135, a price target that implies 3.2x EV/FTM revenues and 15% downside from current levels.
A frayed growth picture
Thus far, investors haven't been particularly impressed with Spotify's earnings releases, and with heated competition in the music streaming industry (Sirius XM's (SIRI) takeover proposal for Pandora (P) is one under-discussed risk), the deceleration fears are likely to intensify.
Here's a look at Spotify's results in the first half of 2018:
Figure 2. Spotify 1H18 earnings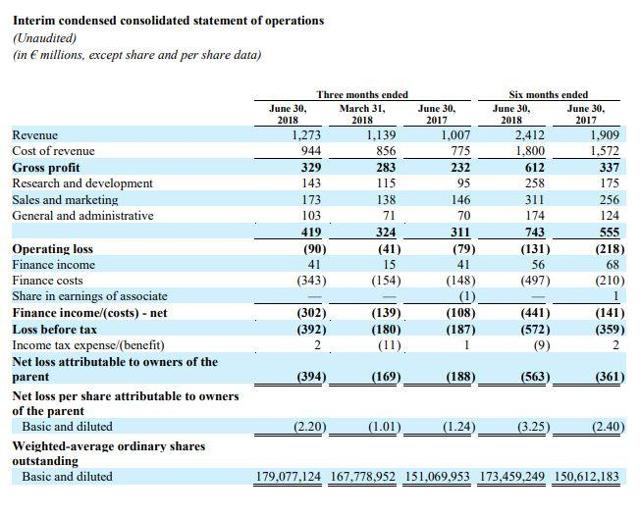 Source: Spotify investor relations
Revenues grew 26% y/y in the first half of 2018 to €2.41 billion. While this is still a respectable growth rate, it's far from being enough to qualify Spotify for the "high-growth" label. Note that Netflix, despite its most recent quarterly subscriber miss, is still growing revenues in the ~40% neighborhood - which justifies its premium valuation relative to Spotify.
There's a general fear that Spotify has reached a saturation point and that its user growth, similar to Netflix, will begin to scare off investors with disappointing numbers. As we've seen from the MAU growth trend this year, Spotify saw a kick in user growth earlier in 2018, but MAUs have more or less leveled off since then:
Figure 3. Spotify MAUs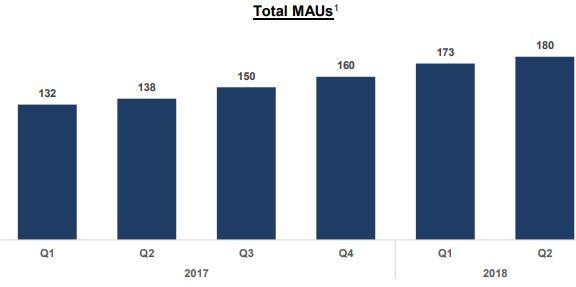 Source: Spotify investor relations
Also of note is the fact that Spotify's ad-supported MAUs slowed down to 23% y/y growth in Q2, and flat quarter over quarter. While Spotify leans substantially more heavily on paid subscribers (which generate more than 90% of its revenues), the flattening of free users does represent a cooling-off of the Spotify brand.
Margins and free cash flow also at risk
Then there's the issue of Spotify's margin profile. The company is a behemoth valued at nearly $30 billion, but has yet to turn an actual profit. The promise of a technology company that is valued at a high multiple of revenues is that it will someday capitalize on its economies of scale and begin to improve margins - but for Spotify, its bottom-line picture is actually deteriorating.
High music royalty costs are, obviously, to blame. And Spotify can hardly raise its prices to pass these costs on to its subscribers. Last quarter, Spotify's gross margin contracted by a frightening 280 bps, to a low of 23.0%:
Figure 4. Spotify key metrics
Source: Spotify investor relations
Yes, Spotify's ~4x revenue multiple might appear cheap against fellow internet stocks (Facebook (FB) has often traded at a double-digit revenue multiple), but these internet companies aren't paying out a huge percentage of their revenue bases as royalties. Spotify's 23% gross margin is among the weakest in the internet sector.
Margin contraction has also contributed to a souring of free cash flows, as seen in the chart above. Free cash flow declined by 69% y/y in 2Q18 to just €18.0 million, threatening to tip over into negative territory. For the first two quarters of 2018 combined, FCF was €92.0 million, down -25% y/y.
Luckily, Spotify is still cash-rich, with nearly €3 billion of cash and investments on its balance sheet, to keep it afloat even if cash flow turns negative. The fact that there's no line of sight to improved profits, however, has investors rightfully spooked.
Final thoughts
Six months into its IPO, investors are still playing a game of price discovery with Spotify, many of whom are still undecided on what this giant, popular consumer brand with a massive revenue base but poor margins should be worth. In my view, Spotify's ~20% correction has vaulted the stock closer to its proper value, but the company is still not yet at a buy point. Near-term earnings risks, both to top-line/user growth and to Spotify's margin profile, prevent me from being too enthusiastic on the stock.
Disclosure: I/we have no positions in any stocks mentioned, and no plans to initiate any positions within the next 72 hours.
I wrote this article myself, and it expresses my own opinions. I am not receiving compensation for it (other than from Seeking Alpha). I have no business relationship with any company whose stock is mentioned in this article.