Real Estate Weekly Review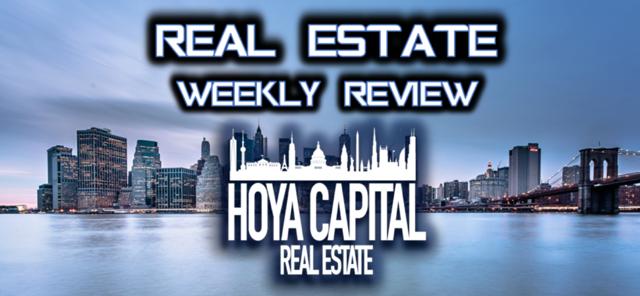 After a surprisingly tranquil summer in financial markets, volatility is back. Seemingly a delayed response to the surge in interest rates last week, the S&P 500 (SPY) dipped more than 5% on the week in a return of the "risk-on/risk-off" pattern that saw small-cap and growth-oriented equities significantly underperform the broader market. The 10-year yield retreated from recent 2018 highs as pressure increased on the Fed to reevaluate their path of interest rate hikes following cooler-than-expected inflation data.
Housing markets have become a central focus in recent weeks as mortgage rates surged to the highest level since 2011. Homebuilders (XHB and ITB) have felt the brunt of the negative sentiment, dipping another 6% this week, bringing the YTD losses to more than 30%. The more defensive REIT sector (VNQ and IYR) fared better, dropping a more modest 3%.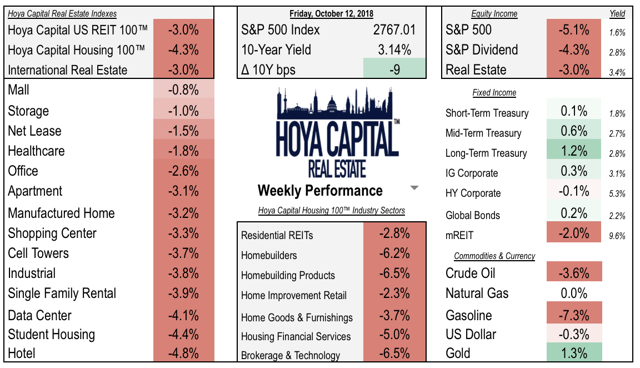 (Hoya Capital Real Estate, Performance as of 2 pm Friday)
The Housing 100, a broad measure of the US housing market, finished down more than 4% on the week as six of the seven sub-sectors were down more than 3%. The housing financial services category dipped more than 6% as the first of this quarter's bank earnings, including PNC (PNC), showed indications of a slowdown in mortgage lending, a trend that we've been observing for several months. Earnings season in the real estate sector ramps up next week with several REITs and regional banks reporting results. In other areas of the real estate sector, mortgage REITs (REM) finished the week lower by 2% while international real estate (VNQI) finished lower by 3%.
Real Estate Economic Data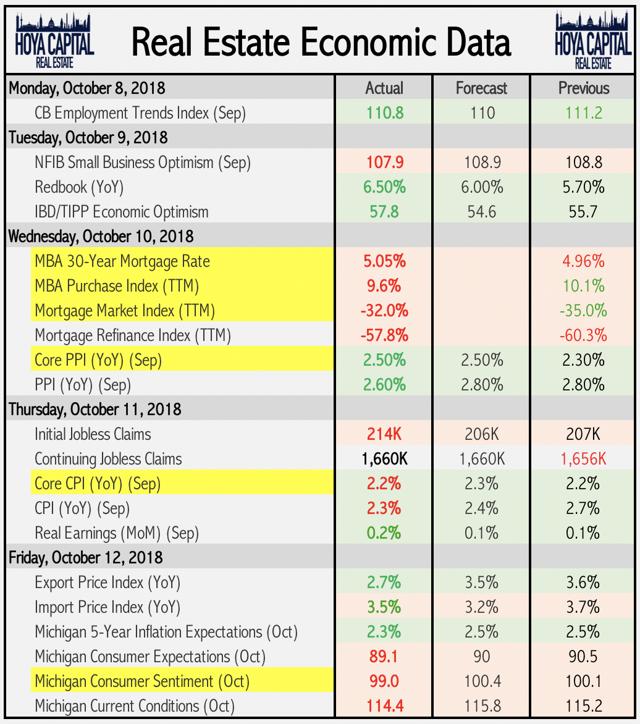 (Hoya Capital Real Estate, HousingWire)
All Eyes on The Housing Market
Broadly seen as the primary culprit of the financial crisis, the US housing market has again taken center-stage amid a period of heightened financial market volatility, rising interest rates, and a moderation in housing data over the summer months. We think that it's still far too early to call for an end to the housing recovery, which is still catching its breath following the massively disruptive housing crisis. Across most metrics, there remain clear indications of a broad housing shortage that is likely to linger well into the next decade at the current rate of new home production.
Since the start of the decade, on a per-capita basis, the US is producing new homes at a rate that is 50% below the average of the prior four or five decades dating back to the 1960s. Vacancy rates of both rental and owned homes are at or below thirty-year lows while home prices and rents continue to outpace broader inflation. The implications of this lingering shortage are that, absent a significant drop in household formation characteristic of a recession, home prices and rents will continue to be supported by a lack of overall inventory.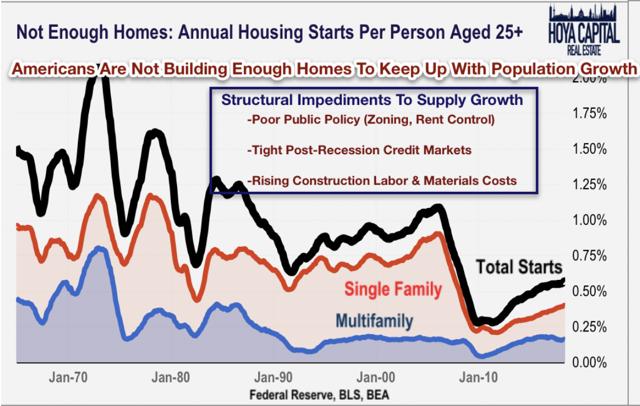 Some analysts have been sounding the alarm bells on the housing markets based on scattered reports of layoffs and weak earnings reports in mortgage lending divisions at large and regional banks, which had experienced several years of boom-times from refinancing activity after mortgage rates dipped to record-low territory. Applications for new purchase mortgages are still up 5-10% year over year across the metrics that we track, which, while strong, are lower than the 30-35% rate we were seeing in 2016. As the MBA New Purchase Index tracks mortgage applications rather than closings, the 5-10% growth rate in the new purchase mortgage index implies roughly a 3-5% growth rate in new home sales. The negative effect of rising mortgage rates, higher prices, and lack of supply on homeownership demand has clashed with the positive tailwinds of reaccelerating economic growth.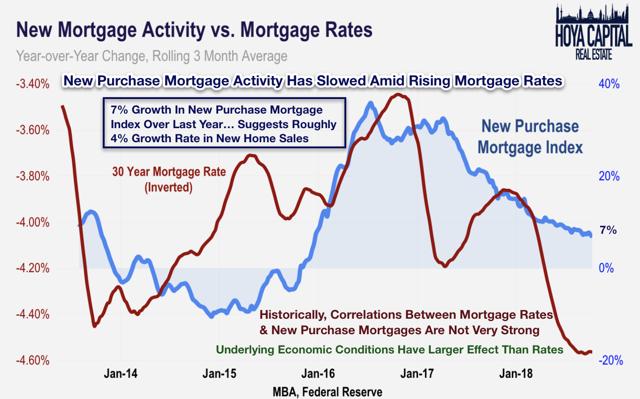 The culprit behind the slowdown in overall lending activity has been in the refinancing divisions of financial institutions. Refinancing activity has slowed to a halt in recent quarters and is down as much as 50-60% year over year in the metrics we track. That said, refinancing activity is a fairly weak predictor of the overall health of the housing market, so to the extent that these layoffs are refinancing related, we don't think they are necessarily useful leading indicators of the health of the overall single family housing market.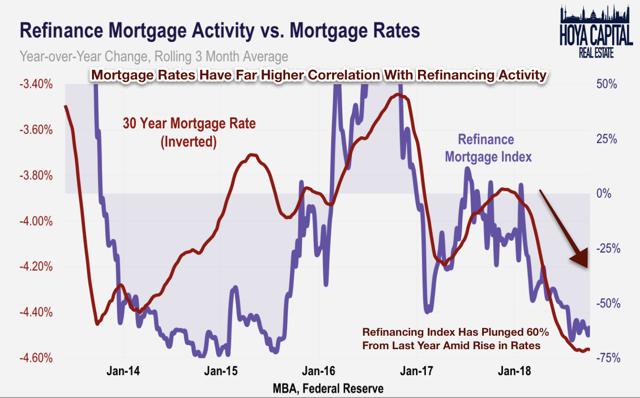 That's certainly not to say that there are no pockets of temporary weakness and disequilibrium in certain categories in the housing markets along the way. Segments of the single family housing market, particularly in high-tax coastal Northeast cities facing negative demographic pressures have been particularly weak in recent years, a negative trend that has been compounded by tax reform. Single family housing markets in New York City suburban markets, for example, including Westchester County, NY, and Fairfield County, CT, have been among the weakest in the nation over the last several years, seeing near-zero home price appreciation compared to the nearly 50% rise in the national average since 2012. Higher mortgage rates don't decrease demand for housing as a whole, but they do change the economic equation for buying versus renting. So far, the moderation that we're seeing in single family markets is being offset by strength in rental markets.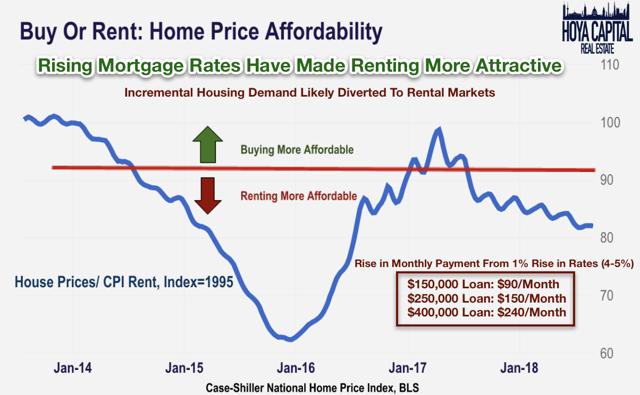 It's important to keep this recent moderation in context. Single family starts have risen by 6.5% over the last twelve months compared to the prior year while new home sales are growing at a similarly strong 9.4% rate. While indeed existing home sales have dipped into negative territory year over year, it's important to not put too much weight on what is essentially simply a measure of turnover. While existing home sales do matter for residential brokers and lenders, it is the new home sales, household formation, and housing starts metrics that are more important to watch as gauges of the overall housing market, and until these metrics really start to inflect lower, we think it's premature to say that the housing market as a whole is in trouble.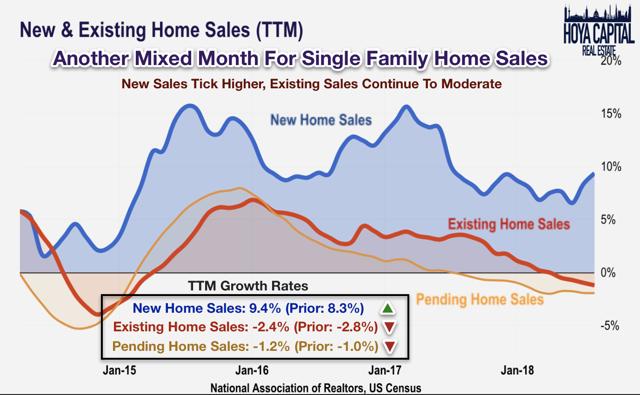 That said, we do worry about the implications on the housing market of an overly-aggressive Federal Reserve. We think the Fed didn't get enough blame as the culprit for the last recession, as it was perhaps more expedient to blame the crisis on "big banks," mortgage fraud, and "speculators." It's easy to forget that the Federal Reserve hiked rates a whopping 425 basis points in just two years between July 2004 and July 2006, an extreme pace of interest rate hikes that would seem unfathomable by today's standards where it has taken nearly a decade to hike rates 200 basis points. One would hope that there is enough understanding of the culpability of the Fed in aggravating (or perhaps inciting) the past housing crisis. If so, we think that signs of significant weakness in housing data would be quickly addressed by a slowdown or reversal in the path of interest rate hikes.
Inflation Remains Tame
Since the passage of tax reform in December, inflation has become a central focus for investors. There is concern that we may be entering a new "economic regime" of faster growth and higher inflation, a departure from the "Goldilocks" environment of moderate growth and low inflation that was seen as favorable to asset valuations. A tighter labor market, a significant rise in oil prices, and the effects of proposed tariffs also add to inflationary concerns.
September inflation data, however, was cooler than expected for the second straight month. Core CPI ticked down slightly to 2.2%, down from the recent high of 2.4% in July. The Fed's preferred inflation metric, Core PCE, ticked back below the critical 2% level to 1.96%. Core PPI rose to 2.5%, pulled higher by the highest rate of PPI Goods inflation since 2012. Interestingly, while goods inflation has heated up, services inflation has cooled in recent months across most metrics.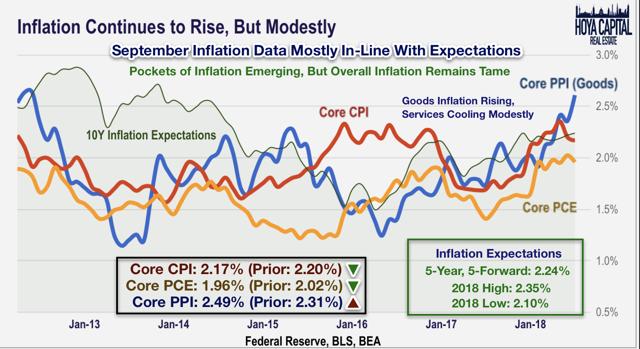 Shelter accounts for 34% of the CPI weight, and since 2013, it has been significantly above the overall inflation rate. From 2015 through late 2016, shelter inflation was one of the only components keeping Core CPI out of deflationary territory. We have discussed for several quarters that we expect shelter inflation to moderate as the lagging CPI data "catches up" with current market conditions in the rental and housing markets. Core CPI excluding shelter is approaching its fastest rate since 2012, fueled by the bleed-through from rising oil and gasoline prices. Core CPI ex-shelter, however, barely budged this month to 1.36% from 1.34% last month.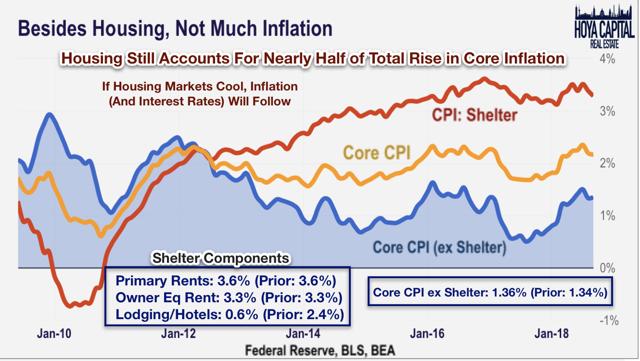 The importance of housing costs on the overall price index cannot be overstated. Since 1995, shelter inflation has outpaced the broader rate of inflation by more than 1% per year, fueled by a persistent supply shortage in the US housing markets. Over the last three decades, structural impediments to supply growth, aggravated by the dramatic dislocations during the housing crisis, have dramatically slowed the rate of housing starts per capita. The implications of this housing shortage, we believe, will be a continued persistence of "real" housing cost inflation and a long runway for growth in residential housing construction.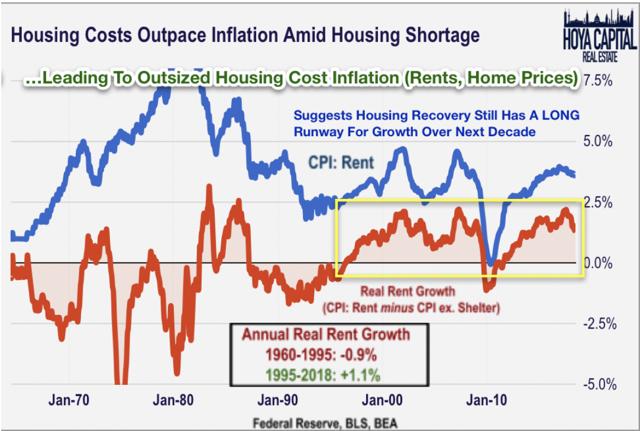 Earnings Season Preview
Earnings season begins next week in the real estate sector highlighted by REITs Prologis (PLD), SL Green (SLG), and EastGroup (EGP). Housing 100 components reporting earnings next week include building supplier PPG (PPG), and regional financials, including U.S. Bancorp (USB), M&T Bank (MTB), BB&T (BBT), KeyCorp (KEY). For building suppliers, materials costs will be a major focus after the profit warning from PPG earlier this month. For regional banks, mortgage lending volume will be the focus. After a disappointing 2017 beset by earnings misses and downward revision, REITs have delivered strong results through first two quarters of 2018, beating expectations and raising guidance across most sectors.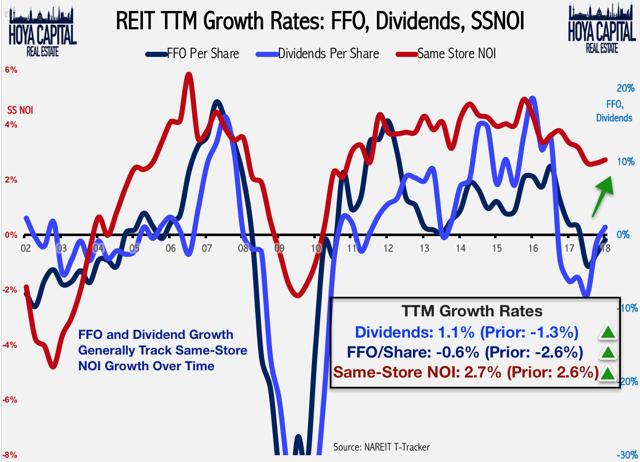 This week, we published our quarterly report on the office sector: Office REITs: WeWork To The Rescue. Given the backdrop of 94 consecutive months of job growth, office REITs should be having their time in the sun. Instead, fundamentals remain disappointing as supply growth negates solid demand. Supply growth will significantly outpace net absorption over the next two years, further pressuring occupancy and leasing spreads. Positively, supply growth is poised to drop tail off significantly after 2019. Second-quarter earnings were broadly in line with expectations as occupancy and rent growth held firm. West Coast REITs continue to be the bright spot for the sector.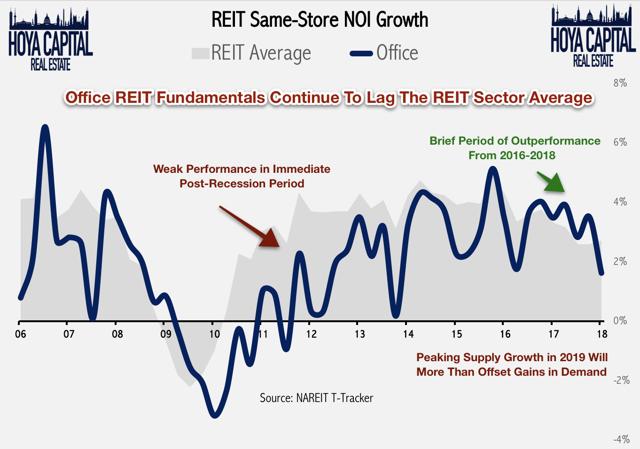 Last week, we discussed trends in the shopping center sector: Shopping Centers: One Step Forward, One Step Back. Retail sales are on-pace for their best year since 2012, but shopping center REITs haven't gotten the notice. Despite strong recent performance, the sector is still down 9% in 2018. While ground-level fundamentals have inflected higher in recent quarters, the headwinds of rising interest rates and big-box bankruptcies have largely negated the positive economic tailwinds. The long-term outlook for well-located retail centers, however, remains very solid. Amazon (AMZN) is reportedly planning to open as many as 3,000 brick-and-mortar stores over the next four years.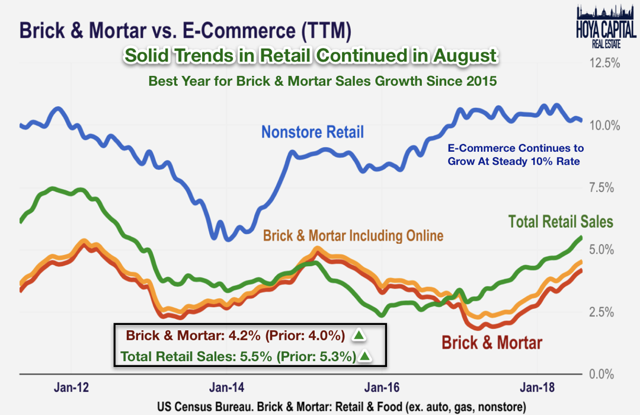 We also recently discussed the lodging sector in: Hotel REITs: Another Record Year for Hotel Demand. Powered by resurgent corporate travel, hotel demand set yet another record in the first half of 2018. The hospitality sector has seen more than 100 consecutive months of RevPar growth. Hotel REITs finally have their time in the sun. The sector has outperformed in 2018 and delivered solid results in 2Q18. Supply growth continues to hang over the sector and is most acute in the business travel segments and urban markets. REITs hold a disproportionate amount of hotels in this segment. Business tax reform and the accompanying economic resurgence of 2018 has led to a jump in corporate and luxury hotel demand, more than offsetting the negative impact of supply growth.

2018 Performance
REITs are now lower by nearly 8% YTD on a price-basis, underperforming the S&P 500 which has gained 3%. Homebuilders are off by more than 30% after rising more than 50% last year. The 10-year yield has climbed 74 basis points since the start of the year, aided by the 26% climb in the price of crude oil and 7% rise in gasoline prices.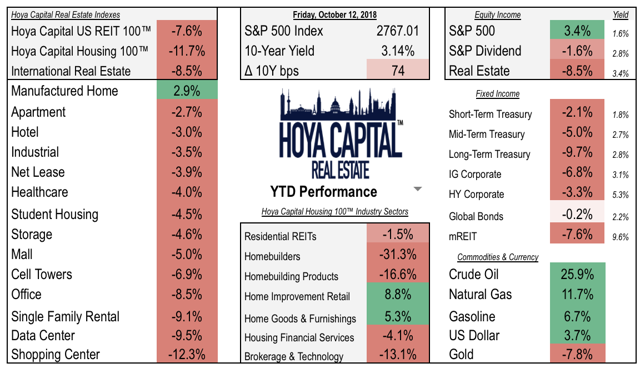 REITs and housing-related equities have outperformed the broader US stock market over the last 25 years. The NAREIT All-Equity REIT Index has delivered a 12.1% average annual return while the Fidelity Select Construction & Housing Portfolio (FSHOX) has delivered a 10.8% annual return since 1994. The S&P 500, meanwhile, delivered a 9.9% annualized rate of return during this period.

Bottom Line
Homebuilders and REITs dipped for the third consecutive week as financial volatility returned with a vengeance. The S&P 500 dipped more than 5% on the week despite a pullback in rates. Housing markets have become a central focus in recent weeks as mortgage rates surged to the highest level since 2011. Refinancing activity has plunged in 2018 after several strong years.
New purchase mortgage activity remains solid despite rising rates. The positive tailwinds from the economic reacceleration of 2018 has clashed with the negative headwinds from rising housing costs. While housing data has indeed softened over the summer, the underlying backdrop of pent-up housing demand and an overall housing shortage remain positive for long-term housing fundamentals. While pockets of inflation are emerging, broad inflation data has yet to inflect higher to any significant degree, adding fuel to the criticism of potential over-tightening by the Federal Reserve.
With earnings season beginning next week, be sure to check out all of our quarterly updates: Single Family Rentals, Data Center, Apartments, Cell Towers, Manufactured Housing, Net Lease, Malls, Industrial, Shopping Center, Hotel, Office, Healthcare, Industrial, Storage, Homebuilders, and Student Housing.
Please add your comments if you have additional insight or opinions. We encourage readers to follow our Seeking Alpha page (click "Follow" at the top) to continue to stay up to date on our REIT rankings, weekly recaps, and analysis on the real estate and income sectors.
Disclosure: I am/we are long VNQ, XHB, PLD.
I wrote this article myself, and it expresses my own opinions. I am not receiving compensation for it (other than from Seeking Alpha). I have no business relationship with any company whose stock is mentioned in this article.
Additional disclosure: All of our research is for informational purposes only, always provided free of charge exclusively on Seeking Alpha. Recommendations and commentary are purely theoretical and not intended as investment advice. Information presented is believed to be factual and up-to-date, but we do not guarantee its accuracy and it should not be regarded as a complete analysis of the subjects discussed. For investment advice, consult your financial advisor.