Thesis
Trex's (TREX) stock price had gotten ahead of itself the last 45 days. The stock hit a high of $90 in mid-September before falling back down into the low $80s. After the recent market selloff, we're at $64.
As I wrote in a previous article, the performance of Trex's Residential (88% of corp revenue) business unit has largely traced the consumer sentiment index. Consumer sentiment remains high today. Though Trex has guided for an aggressive 18% Residential growth going into Q3-18, the company is likely to meet it. The company is firing on all cylinders at the moment. Residential revenue grew 20% in Q2-18 and 23% in Q3-17.
The recent price plunge has presented a new buying opportunity for long-term investors, even after the Federal Reserve's interest rate increase and its impact on stock valuations.
Going Into Q3-18
Trex reports Q3-18 earnings on October 29. The company has guided for 24% revenue growth, the lion's share of that growth coming from the Trex Residential business unit, which comprises 88% of company revenue.
As CEO Jim Cline stated on the Q2-18 earnings call, 83% of Trex's business is dependent on home repair and remodeling. Just 5% of company revenue is attributable to new home construction. The remaining 12% comes from selling metal railings in its Commercial business unit. When the economy is strong, people spend more on their homes and Trex benefits.
"... We think the trends are clear. Our Residential business continues to benefit from high consumer confidence levels and increasing repair and remodeling spend." - CEO Jim Cline, Trex, Q2-18 earnings call.
The October consumer confidence survey by the University of Michigan has reaffirmed that consumer confidence remains strong.

The company is expecting strong Residential growth to continue into Q3, guiding for 18% revenue growth.
The table below provides a snapshot of recent Q3 revenue growth history. Trex has had strong Q3s the last two years, growing revenue at 13% and 23%. Company guidance of 18% growth is ambitious, but not unreasonable considering current market conditions and company performance the last couple of years.
| | | |
| --- | --- | --- |
| Trex Q3 Revenue Growth History | Q3 Revenue (millions) | YOY Revenue Growth |
| Q3-18 | $154 (Guidance) | 18% |
| | $131 | 23% |
| | $106.2 | 13% |
| | $94 | -2% |
| | $95.5 | 32% |
| | $72.2 | 2% |
| | $70.8 | 4% |
| | $67.9 | 12% |
| | $60.6 | -2.% |
| Q3-09 | $61.9 | -28% |
Trex's CEO says the residential repair and remodeling market is expected to grow in the high single digits in 2018. In Trex's June 2018 investor presentation, the company cited remodeling market data from Harvard University's Joint Center for Housing Studies (JCHS) that called for 2018 remodeling market growth of 7.1%. A 2017 study published by JCHS predicted that remodeling growth would remain strong into 2025, as homeowners are predicted to spend approximately 50% more on their homes per year than they did in the 1990s. Below is a graphic illustrating this point from the 2017 study: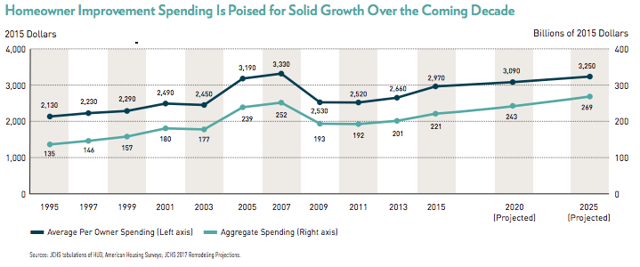 Over the long term, the trends appear to be working in Trex's favor. Strong consumer demand will likely lead to years of revenue growth.
Valuation Update
The Fed recently raised interest rates. This news, combined with some other negative market sentiment, has sent stocks tumbling. Trex is no exception. The stock has fallen from $90 to $64 as of this writing. In early September, the stock traded in the low $80s. At that time, my free cash flow valuation model gave Trex a fair value of $81. This was based on a FCF growth rate of 14% (avg. of last 10 years) over the next 10 years (3% perpetuity growth rate after that) and a discount rate of 3% (US Treasury rate).
However, the US Treasury rate has jumped from 3% to 3.32% since early September. Applying a new discount rate of 3.32% decreases the fair value of Trex to $71. At $64, Trex is a better deal today relative to the discount rate than it was a month ago at $81.
Conclusion
Though Trex is a better value today than a month ago, I am still not a buyer. Given the recent Fed rate increase, and the likelihood that the Fed will raise rates again soon, I will wait for a greater margin of safety before establishing a position in Trex. The company is benefiting from strong consumer sentiment. But this won't last forever, and I would like to see a greater margin of safety before I establish a position.
Disclosure: I/we have no positions in any stocks mentioned, and no plans to initiate any positions within the next 72 hours.
I wrote this article myself, and it expresses my own opinions. I am not receiving compensation for it (other than from Seeking Alpha). I have no business relationship with any company whose stock is mentioned in this article.