Investment Thesis: Preferred stocks have got beaten up in the rising rate environment. Buying a closed-end fund at one of the widest discounts to NAV represents a good way of buying the dip.
Nuveen Preferred & Income Securities Fund (JPS) has been one of the hardest hit closed-end funds in the recent selloff, falling alongside bond ETFs Vanguard Extended Duration Treasury ETF (EDV) and iShares 20+ Year Treasury Bond ETF (TLT).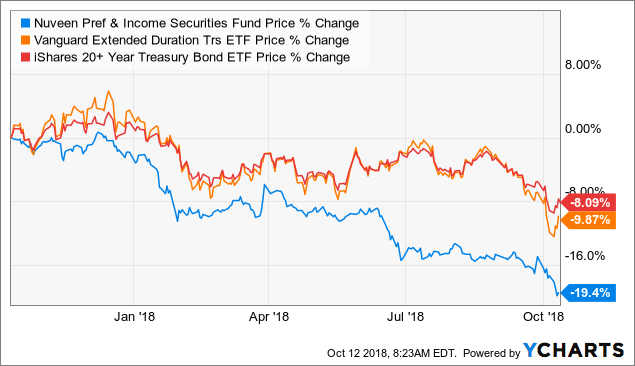 While the price performance has been awful, the total returns, on account of the significantly higher yield from JPS, has bridged the performance gap slightly.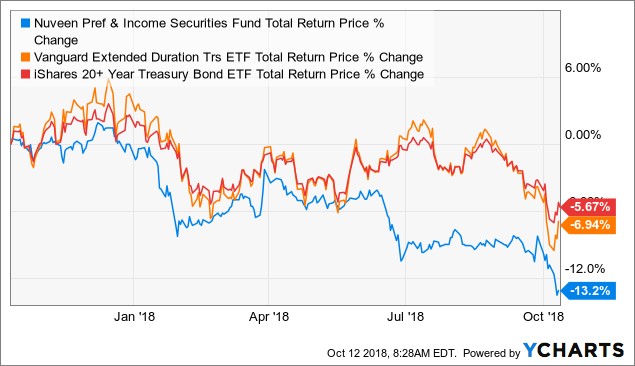 Preferred share closed-end funds have long durations as the underlying securities in many cases are perpetual with zero redemption clauses. Even when they can be redeemed, they are least likely to be redeemed in a rising rate environment. So as such, the pounding due to long duration seems rather obvious. However, here the price action is a bit far from the fundamentals.
While the selloff has been bad, it has come mainly due to a widening discount to NAV rather than a falling NAV.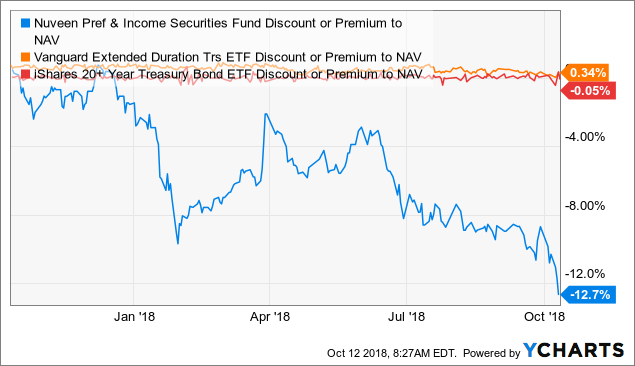 The shares traded at NAV one year back and now the discount has widened to 12.7%. Had the shares continued to trade at NAV, JPS would have outperformed EDV and TLT by about the same margin that it is currently underperforming.
The current discount has widened to one-year highs.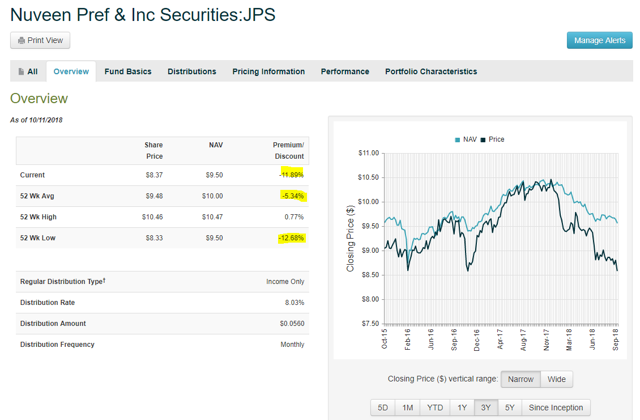 Source: Cefconnect.com
The discount is particularly steep and has been seen just a couple of times previously.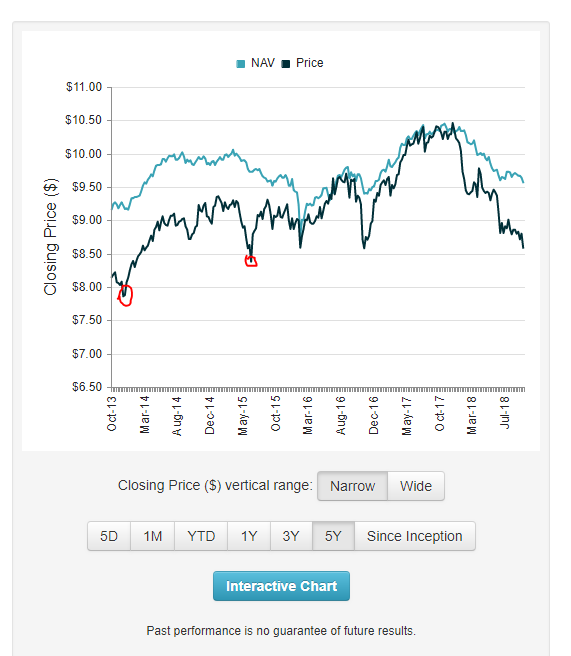 On both those occasions, the forward 1-year returns were quite impressive.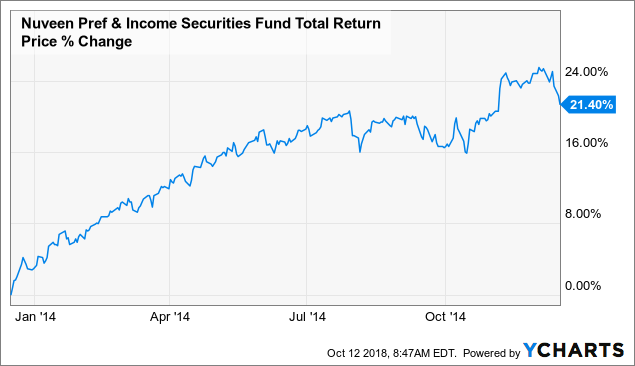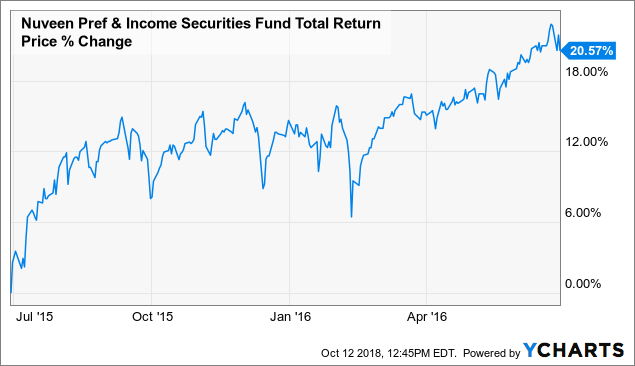 The portfolio
JPS, like many other preferred funds, leans heavily towards the banking sector.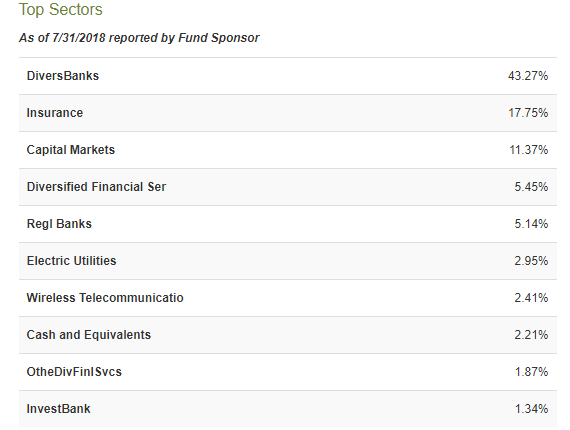 But unlike most of other closed-end funds in this category, it has some international exposure making it a great diversified preferred share holding.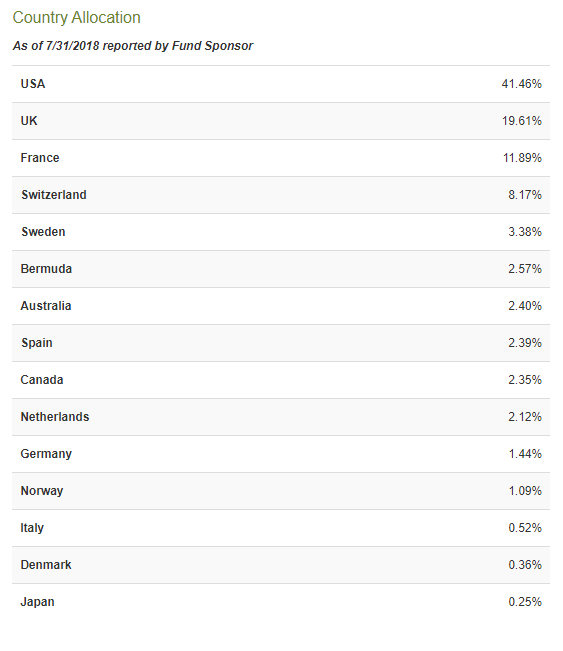 JPS functions to generate its yield from underlying holdings. Notice that the sum of net investment income and realized gains in both 2017 and 2018 is within a few percent of actual distributions.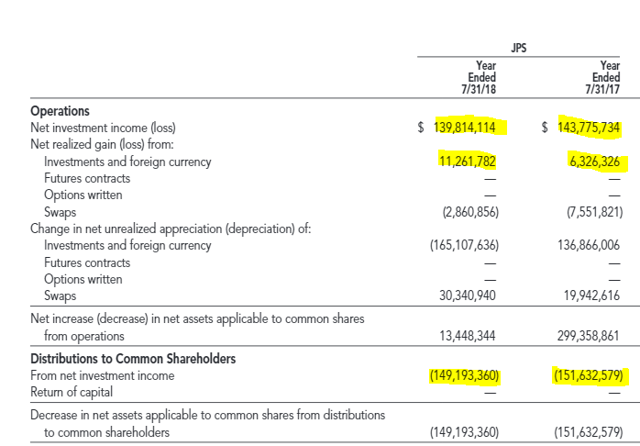 Source: JPS annual report
To generate this nice yield, JPS does use up to 30% leverage, but the end returns are indeed a "real yield" and don't include much return of principal. In the current environment with valuations stretched, this return may not be the worst thing in the world. On the current price, the yield is a rather tantalizing 8.1% and we think a weaker US dollar will provide tailwinds to total returns.
We are also highly confident that an 8.1% return will handily beat the major indices over the next decade. Of course, preferred shares could lose principal as well, and most investors still retain disturbing memories of the 2008-2009 recession. However, in most run of the mill recessions, preferred shares do okay. During 1990-1991 recession, preferred shares did quite well and outperformed the S&P 500 marginally. During the 2000-2001 recession, preferred shares trounced the S&P 500, returning 23.50% compared to a loss of 23% for the S&P 500.
Conclusion
We recently wrote about looking for yield in all the wrong places where we chastised investors for buying EDV. Is buying JPS not the same yield chasing exercise? Not from our perspective. There is big difference in getting paid an 8% yield versus a 3.1% yield. With JPS, you are also taking significantly smaller duration risk, thanks to overweighting floating rate preferreds.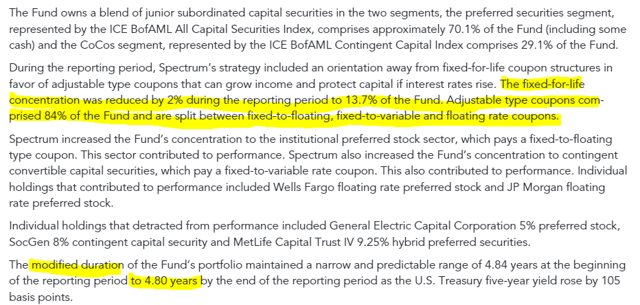 Compare that to the rather massive 17.20-year duration for TLT and 24.5 years for EDV. Additionally, the (almost 2.6X) larger payouts from JPS allow you to reinvest if needed in higher yielding securities as interest rates rise, creating a much better internal rate of return than you would have with EDV. The global exposure also adds a lot of extra juice to this in our opinion as we think the US dollar is likely to get weaker here. This is a good buy point for those believing that the next recession will not be the end of the world.
For more analysis such as this, along with real-time alerts on income stocks on both sides of the border along with option income ideas, please consider subscribing to our marketplace service Wheel of Fortune.
Disclaimer: Please note that this is not financial advice. It may seem like it, sound like it, but surprisingly, it is not. Investors are expected to do their own due diligence and consult with a professional who knows their objectives and constraints.
Seeking Alpha has changed its policies. Previously "following" someone required a ritualistic commitment and an offering of not less than 4 oxen or 3 breeding horses. Now, all it takes is one click! If you enjoyed this article, please scroll up and click on the "Follow" button next to my name to not miss my future articles. If you did not like this article, please read it again, change your mind and then click on the "Follow" button next to my name to not miss my future articles.
Disclosure: I am/we are long JPS.
I wrote this article myself, and it expresses my own opinions. I am not receiving compensation for it (other than from Seeking Alpha). I have no business relationship with any company whose stock is mentioned in this article.