Cheap can get cheaper. That's a fact that I'm coming to terms with as technology stocks, and Chinese stocks in particular, continue to get hammered day in and day out. I'm not a good market timer, thus I don't try to time the market - for this reason, I'm very bullish the stock of Tencent (OTCPK:TCEHY) due to their strong business model and strong financials, regardless of the apparent fragility of the market. TECHY is a conviction buy which is made more apparent once you understand the real growth drivers.
It Just Can't Stop… Falling
I started recommending TCEHY the moment I first took a close look at it, and clearly, I've been early: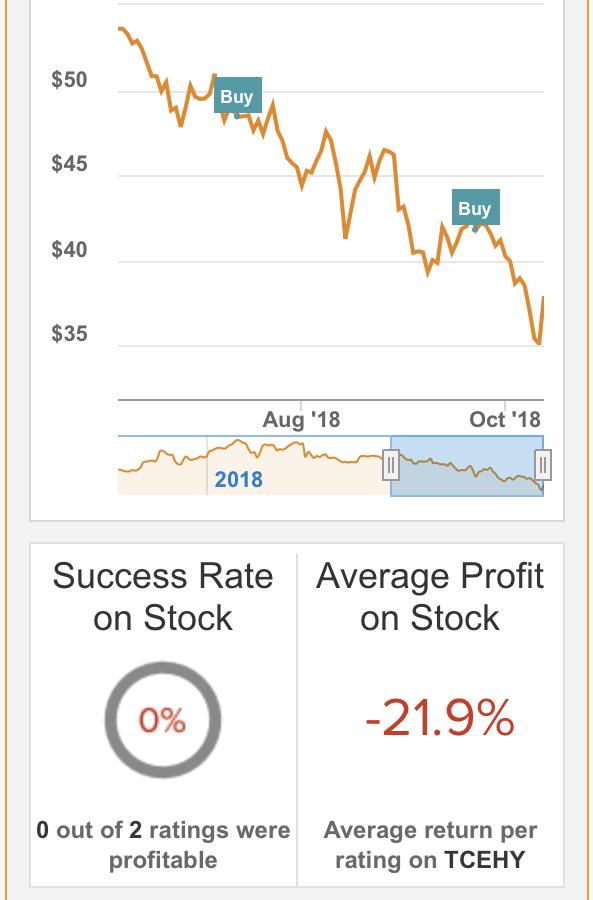 (Tipranks)
While TCEHY did hit some troubles with regulators which affected the speed at which they can monetize their online games, it is hard to believe that this reason alone would be enough to stop the growth train so abruptly. In addition to the ongoing trade war, the Chinese currency Renminbi ('RMB') continues to slide, which could be blamed for a significant portion of TCEHY's fall: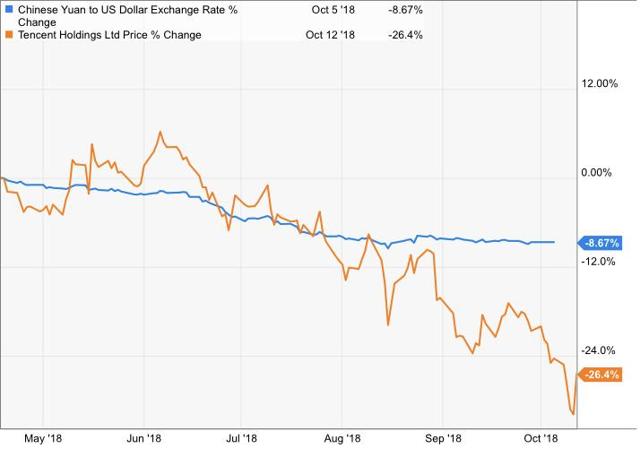 Some may be trying to wait for a "bottom" to settle in, which would perhaps happen if the trade war could end. The trade war, however, does not appear to be ending anytime soon, as some believe that the recent constructive developments with Canada and Mexico might make President Trump likely to impose even more tariffs and demand more out of China. Alibaba's (BABA) Jack Ma also stated that he believes this would be a long-term rivalry that can last even 20 years. I think that this kind of uncertainty is very typical when there is "blood on the streets." That is, pessimism has reached a point where investors seem to believe that the potential ramifications of the trade war would make it hard for even the highest of quality businesses like TCEHY to keep growing. It is times like this that I dream about (seriously, doesn't every investor dream about stocks?) because we are able to buy into high quality businesses at bargain basement prices.
This Train Is Hard To Stop
TCEHY continues to fire on all cylinders as it moves away from its dependence on gaming revenues: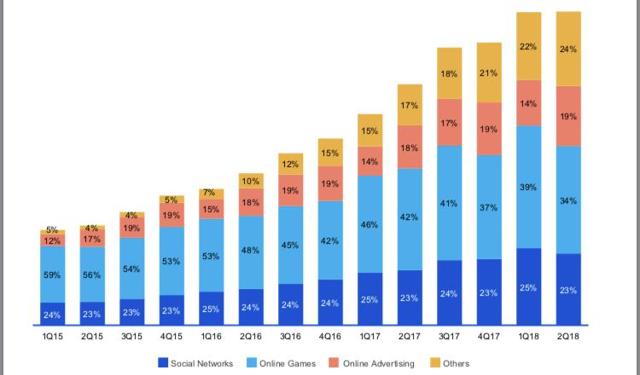 (Tencent 2018 Q2 Presentation)
In looking at each segment, growth appears to remain very strong.
"Social networks" does not include online advertising as seen above, but does include social networking gaming revenues, WeiXin Pay, and WeiShi, their video streaming platform.
WeiXin Pay continues to see strong growth, reaching 800 million monthly active users ('MAUs') and average daily transaction volume growing 40% year over year ('YOY'):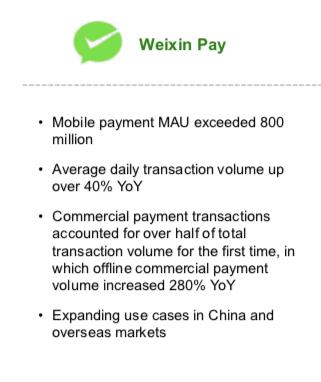 (Tencent 2018 Q2 Presentation)
A quick note: "WeiXin and Wechat" are synonymous for the same app, they merely denote whether the Wechat app is downloaded in China or elsewhere. WeiXin Pay should be thought of very similarly to PayPal (PYPL) or Apple Pay (AAPL), as mobile payments are very prevalent in China, and arguably much more so than here in the States. CNBC recently declared cash to be dead in China due to the proliferation of WeiXin Pay and Alipay, the rival controlled by Alibaba (BABA). We can see below that these two have dominated the Chinese mobile payment processing market, and WeiXin Pay has gained tremendous market share versus Alipay: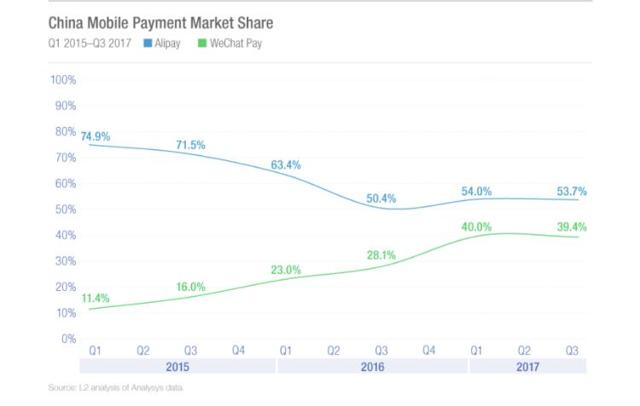 (L2 inc)
Their digital video segment also is very strong, with 121% YOY growth to 74 million subscribers. A key driver is their strength in original content:

(Tencent 2018 Q2 Presentation)
This is a good moment to remind readers that China, unlike the U.S., does not have just one Netflix (NFLX) or one YouTube. TCEHY owns a leading competitor in the video streaming space - this, however, seems to be a lesser known fact due to them not being a pure play video streaming company like peer iQIYI (IQ).
As for their gaming business, their recent regulatory struggles are well documented and thus I won't repeat them here, but I'll simply remind readers that TCEHY is a global leader in gaming, most well known for their smash hit League of Legends as well as their stakes in recently popular games Fortnite and Rocket League:

(Tencent 2018 Q2 Presentation)
The segment I do want the reader to focus on is their online advertising business. As we can see below, online advertising has continued to see very strong growth:

(Tencent 2018 Q2 Presentation)
While there are clear distinctions between TCEHY's WeChat and and the Facebook (FB) platform, it is the similarities which have given TCEHY the nickname "the Facebook of China." Like FB, TCEHY has a very engaged user base, which as of 2016 spent on average of 66 minutes per day (For reference, FB in 2016 had an average of 55 minutes). At over 1 billion MAUs as of June this year, WeChat also has similar network size. Unlike FB, TCEHY has been much more successful in driving non-advertising related revenues such as the mobile payments and gaming discussed above. Online advertisements look to be the next natural growth lever as it seems to make sense that the largest social network in China should be a strong place to run advertisements, like Facebook in the States. FB is projected to have around $60 billion in advertising revenue this year; this dwarfs the $5.5 billion that I project TCEHY to earn through social network-related advertising. That number suggests that TCEHY is only getting about $5.23 in advertising revenue per user, as compared to the $8-$26 that FB is able to get from Europe, Canada, and the States. While I do not anticipate TCEHY to be able to monetize WeChat as fully as Facebook or Instagram due to the geographic concentration to China, I, however, still believe that they have a large growth runway due to being located in a country with a rapidly rising GDP: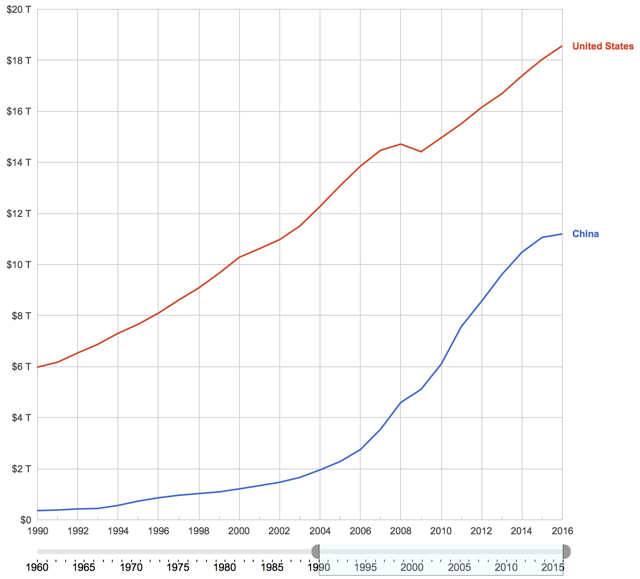 I think FB for their own part still has a lot of room to run, and I should point out that TCEHY had $9.4 billion in net income last year. Applying a rough 40% net margin on future advertising revenue, that suggests that TCEHY could more than double total net income moving forward simply from online advertising revenue growth alone.
Valuation and Price Target
TCEHY trades at $360 billion market cap or 38 times last year's earnings. This year I project TCEHY to earn around $1.30 per share, or 23% higher than 2017. This means TCEHY trades at 30 times earnings which is very cheap considering their high growth runway. My long-term 12-month price target for TCEHY is still $80, which represents a higher multiple that better values such highly growing businesses.
Risks
The biggest risk is definitely the continued devaluation of the Chinese currency. Downward moves in the currency would make their earnings less valuable which potentially would counteract any growth and earnings.

While I applaud the fact that they do pay a small dividend, I, however, want to see more commitment to return cash to shareholders. Like BABA, TCEHY has historically executed on a lot of M&A every year. I want to see a meaningful share repurchase program (in the billions) while shares are this cheap.

If the regulatory environment becomes even worse for their gaming business, they may see even more difficulties monetizing some of their greatest hits. I do not think that this is a high risk; however, the fact that they have seen regulatory setbacks this year is definitely not a positive sign.
Conclusion
TCEHY has become even cheaper due to market volatility. Their businesses are still very strong and investors get their gaming business, payment processing, video streaming, and social network all under one roof. I view this as a very attractive entry point and rate shares a very strong buy.
(Tipranks: TCEHY: Buy)
If you are an income investor looking for the best high dividend ideas, check out our Marketplace Service High Dividend Opportunities. We are largest community of income investors and retirees with over 1,600 members. For more info, click here.
If you liked this article, please scroll up and click "Follow" next to my name to not miss any of my future articles. I have a reputation for replying to every comment, leave a comment below!
Disclosure: I am/we are long TCEHY, FB, BABA.
I wrote this article myself, and it expresses my own opinions. I am not receiving compensation for it (other than from Seeking Alpha). I have no business relationship with any company whose stock is mentioned in this article.
Editor's Note: This article discusses one or more securities that do not trade on a major U.S. exchange. Please be aware of the risks associated with these stocks.