A little over three months ago, a little-known startup called HyreCar (HYRE) went public in one of the smallest IPOs in the U.S. markets this year. HyreCar went public at $5 a share, selling about half of the equity in the company in the IPO (versus a typical IPO that sells ~10-15% of itself into the public markets). At no point in its short life as a public company, however, has HyreCar been appreciated by investors. The recent rout in growth stocks and recent technology IPOs has hammered HyreCar even further to new all-time lows, and the stock is now carrying less than half of its initial market value at IPO: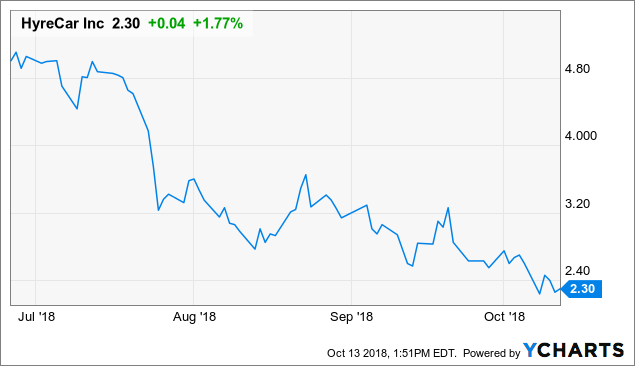 At present, HyreCar only has a market cap of $26 million, making it a micro-cap stock and one of the smallest public companies in the market. Needless to say, that puts plenty of risk on the stock. HyreCar's current situation calls to mind issues faced by Tintri (OTCPK:TNTRQ), a flash storage vendor that folded about one year after its IPO (going from a market cap of ~$200 million to zero in an extremely swift downfall), and Blue Apron (APRN), the well-known meal kit startup that is facing both operational and customer attrition issues, causing the stock to be worth a fraction of its prior private valuation of ~$2 billion.
The era of super risky, experimental startups is reaching an end, in my view. The recent rout in high-growth technology stocks has shown that investors are even losing confidence in the more venerable names of the growth world, stocks like DocuSign (DOCU) and Dropbox (DBX). HyreCar's pullback has even further to go.
Stay away from this stock - HyreCar may be the next recent IPO to pull off a vanishing act.
Is this business model viable?
There's no doubt that HyreCar has achieved a considerable level of growth, albeit from a small base. In the company's second quarter, HyreCar recruited 1,837 new drivers to its rental platform, which is 2x the number of driver additions as in the year-ago quarter. It also managed to increase its daily active rentals by 181% to 1,001, versus just 356 daily active rentals in the year-ago period.
But is this pace of growth enough to reach a true critical mass?
Recall that HyreCar operates a strict marketplace model. It doesn't own the cars used by the renting drivers on its platform. It has to source enough people on both the supply and demand sides of its marketplace - renters and owners of vehicles - in order to grow. The transaction economics for a driver aren't particularly attractive, in my view. As per HyreCar's latest 10-Q notes, a typical weekly rental sets a driver back $200 in strict rental fees, plus approximately another $100 for insurance and administrative fees:
Figure 1. HyreCar revenue split model

Source: HyreCar 10-Q filing
A driver who is working 40 hours a week for roughly $20 per hour pays out between one-quarter to one-half of his or her earnings to HyreCar. Owners aren't getting such a sweet deal either, with about half of these revenues accruing to HyreCar. In my view, the transaction economics for the HyreCar platform aren't significantly attractive for either a renter or a car owner to drive the explosive revenue growth attributed to revolutionary technology platforms.
Liquidity will become an issue
In HyreCar's second-quarter earnings release (also the company's first earnings results since going public in June), the CEO reiterated a goal of reaching cash flow positive by 2Q19 - four quarters out. This presupposes, however, that HyreCar will achieve the growth necessary to hit economies of scale. The company relies on huge driver/rental expansion in order to drive down its insurance costs as a percentage of rental billings, which is one of its largest categories of expenses.
Here's a look at HyreCar's most recent financial results:
Figure 2. HyreCar 2Q18 results

Source: HyreCar 10-Q filing
HyreCar's financial profile is typical of most tech startups - tremendous growth to "record" revenues of $2.27 million, but equally staggering losses. The company is simply too small to achieve efficiencies on overhead. Operating expenses tallied up to $4.25 million (a ~5x increase over the year-ago quarter), and combined with insurance costs, drove the company into staggering losses.
In the first six months of the year, HyreCar burned through $1.94 million in operating cash flow losses:

Source: HyreCar 10-Q filing
Fortunately, the company has $11.87 million of cash on its balance sheet (all of which was earned through the IPO, which also doubled as a liquidity lifeline). In my view, however, this cash stash isn't sufficient to tide HyreCar through until 2Q19. HyreCar's cash burn rate will likely balloon - as is typical for a company producing 3-4x revenue growth.
Raising additional capital will be a thorny issue for HyreCar. The company already sold ~1/2 of its equity in the IPO, and shares have plummeted to less than half of their original value. There's not much trust in this name in the equity markets, and even if HyreCar were able to pull off a secondary offering, it would be extremely dilutive to existing investors. From a debt financing perspective, even risky venture debt lenders aren't likely to want to touch a micro-cap company with steep losses and cash burn.
HyreCar's growth depends in large part on its ability to expand to new metro markets in the U.S. It's most popular in Los Angeles, where HyreCar is headquartered, but its presence outside of that market is still emerging. Expansion is an expensive game, and HyreCar is somewhat caught in a Catch-22: it needs to expand to hit profitability, but it also needs cash it doesn't have to further its growth push.
Final thoughts
HyreCar is a terrific example of a company that went public too early. Experimental models like these are able to thrive in a VC-backed environment, but public scrutiny on HyreCar's financials and the daily vacillations in its extremely volatile stock can be extremely damaging to this company.
In my view, HyreCar will find it difficult to finance its expansion, and without rapid growth, it can't achieve the efficiency needed for cash flow breakeven either. Don't try to catch the falling knife here - HyreCar still has further to fall.
Disclosure: I/we have no positions in any stocks mentioned, and no plans to initiate any positions within the next 72 hours.
I wrote this article myself, and it expresses my own opinions. I am not receiving compensation for it (other than from Seeking Alpha). I have no business relationship with any company whose stock is mentioned in this article.