Summary
With a few days to go to Thursday's auction, this TIPS is trading on the secondary market with a real yield of 1.19%, a two-year high.
Investors will get this TIPS at a discount, because the after-inflation yield will be higher than the coupon rate of 1.0%.
Buyers beware: Any 30-year Treasury will be a very volatile investment, especially in a time of rising interest rates and rising federal deficits.
The U.S. Treasury announced last week that it will offer $5 billion in an October 18 auction of a reopened 30-year TIPS, CUSIP 912810SB5. The resulting Treasury Inflation-Protected Security will have a term of 29 years, 4 months.
This TIPS originally auctioned on February 15 with a real yield to maturity of 1.003%, which set the coupon rate at 1.0% It then was reopened on June 21, when the after-inflation yield dipped to 0.934% and buyers had to pay a premium - about $103.31 for about $101.57 of value, after accrued inflation was added in (The unadjusted price, stripping out inflation, was $101.70 for $100 of value).
But buyers won't be paying a premium at Thursday's auction - which closes at noon for noncompetitive bids. Yields across all TIPS maturities have risen steadily since early summer, with the 30-year real yield rising from 0.94% on June 1 to 1.18% at the market close on Friday.
That's 24 basis points, which doesn't sound like much. But a move even that insignificant dramatically skews the price of a 30-year Treasury. CUSIP 912810SB5 is currently trading on the secondary market with a real yield of 1.19% and a price of $95.27 for $100 of value. That's a drop of about 6.3% in price from the June 21 reopening, just four months ago.
Here is the trend in 30-year real yields over the last two years, showing the recent rise to a 2-year high heading toward Thursday's auction: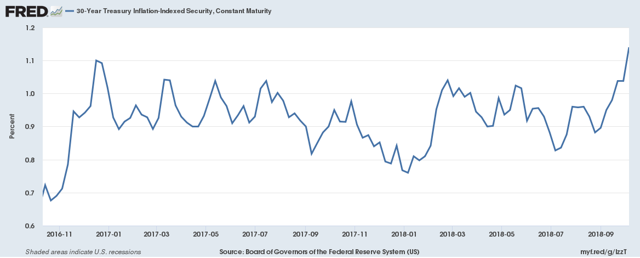 If you are planning to invest in this TIPS reopening, you can track the current yield and price on the secondary market on Bloomberg's Current Yields page, which tracks CUSIP 912810SB5, the most recent 30-year TIPS. As of Friday, the after-inflation yield was 1.19% and the unadjusted price was $95.27 for $100 of value.
Also, please note that this TIPS will carry an inflation index of 1.02249 on the settlement date of October 31. That means buyers will be paying about 2.2% above par and receiving the same amount of additional principal. In other words, a $10,000 investment will result in the buyer purchasing $10,224.90 of principal.
30-year TIPS are risky investments
Although TIPS have no credit risk, any Treasury with a 30-year term is going to be a very volatile investment. How much risk are we talking about? A swing in market yield of 50 basis points in the 30-year real yield will result in the value of a TIPS rising or falling nearly 15%. These swings can happen quickly - in just months - as the yield chart clearly shows.
If you are buying a 30-year TIPS to hold to maturity, then you may not care about the price swings. That's a reasonable plan for people 50 or younger, but not so good for retirees heading toward 70.
The other option is a buy-and-trade strategy, and I'd say the current trend of rising interest rates makes that strategy highly risky. Another factor is 2018's flat yield curve, which has recently begun expanding. Longer-term yields could end up dramatically higher if the yield curve heads back to normal.
In my opinion, a "more normalized" 30-year real yield would be around 1.75%, which is where yields were back in June 2011, just before bond yields began plummeting under the Federal Reserve's quantitative easing programs. Consider this scenario from 2011:
On January 3, 2011, the 30-year real yield was 1.90%.
On March 1, 2011, it was 1.94%.
On June 1, 2011, it was 1.75%.
On September 1, 2011, it was 1.07%.
On December 19, 2011, it was 0.68%.
If the economy continues growing, 30-year Treasury yields - both nominal and real - are likely to continue climbing. If the economy tanks and the Federal Reserve is forced to stop rate increases and begin monetary accommodation, yields are likely to start falling. At this point, the Fed is on course to increase rates, not lower them, and that makes a 30-year Treasury investment risky.
Also, another risk factor is the Treasury's need to raise larger amounts of debt to cover a surging federal deficit, at the same time the Federal Reserve is reducing its bond inventory. These factors are likely to push long-term interest rates higher.
30-year inflation breakeven rate
With a nominal 30-year Treasury closing Friday at 3.33%, CUSIP 912810SB5 currently has an inflation breakeven rate of 2.14%. This means the TIPS would outperform a nominal Treasury if inflation averages 2.14% over the next 30 years.
The 2.14% rate is slightly higher than those generated by recent auctions, but it seems very reasonable as a bet against future inflation over the next 30 years. The inflation breakeven rate is the one reason this auction could see good demand from big-money investors like foreign central banks and pension funds.
For the average small-money investor, however, TIPS with maturities of 10 years or less look like a lot more attractive, and less risky, investment.
I'll be posting the results soon after the auction closes at 1 p.m. Thursday. Here is the history for all 29- to 30-year TIPS auctions dating back to 2010: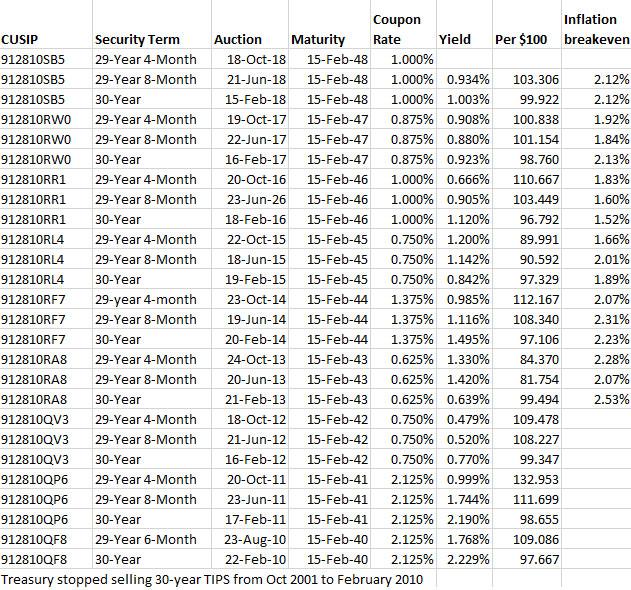 Disclosure: I/we have no positions in any stocks mentioned, and no plans to initiate any positions within the next 72 hours. I wrote this article myself, and it expresses my own opinions. I am not receiving compensation for it (other than from Seeking Alpha). I have no business relationship with any company whose stock is mentioned in this article.