The Housing Market Is Yet Another Reason Why Several Interest Rate Hikes Are Unlikely
Includes:
BIL, CLTL, DFVL, DFVS, DLBL-OLD, DLBS, DTUL, DTUS, DTYL, DTYS, EDV, EGF, FIBR, FTT, GBIL, GOVT, GSY, HYDD, IEF, IEI, OPER, PLW, PST, RINF, RISE, SCHO, SCHR, SHV, SHY, SPTI, SPTL, SPTS, TAPR, TBF, TBT, TBX, TLH, TLT, TMF, TMV, TTT, TUZ, TYBS, TYD, TYNS, TYO, UBT, UST, USTB, VGIT, VGLT, VGSH, VUSTX, ZROZ
by: Bang For The Buck
Summary
The general household leverage is certainly better than during the financial crisis, but still at a very elevated level.
Long-term treasury rates are pushing up mortgage yields, but we are also seeing mortgage spreads increase which compounds the problem.
Selected markets show extreme real estate price levels and inventories are increasing.
Overview
About a month ago I discussed several reasons why I think the Fed is unlikely to continue to raise rates until the end of 2019. The main reason is the overall leverage which is most prevalent in the non-financial corporate sector and government debt, but there are also some signs of stress primarily among lower income households. This was discussed in The Fed Dilemma and Looking Closer At The Deficit And Growing Interest Expenses articles.
In those articles, I discussed concerns about auto loans, credit card delinquency rates and student loan defaults on the household side. One aspect I left out was the real estate market which I will discuss in more details here.
Household Leverage & General Real Estate Market
The overall household debt-to-income ratio and household debt-to-GDP are down from the peak during the last financial. It is worth to highlight that this is for a period with record low unemployment rates. If we see a general slowdown in the economy with higher unemployment rates, the ratios will likely increase.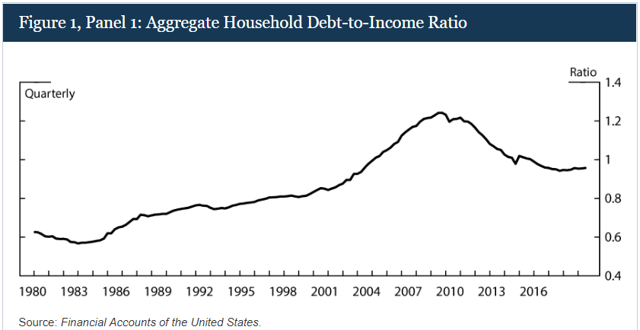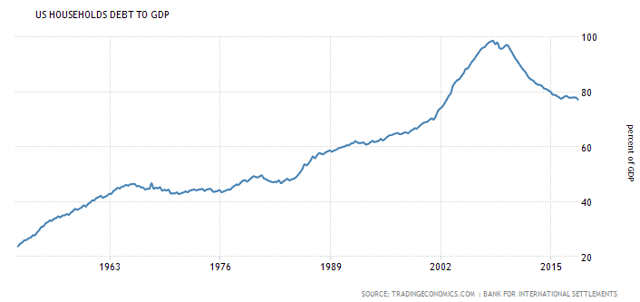 Figure 1 & 2 Source: federalreserve.gov and tradingeconomics.com
When we look at the National Case-Shiller Home Price Index, we can see we are well above what we saw before the financial crisis. However, because of inflation and lower interest rates, it might not be a concern by itself.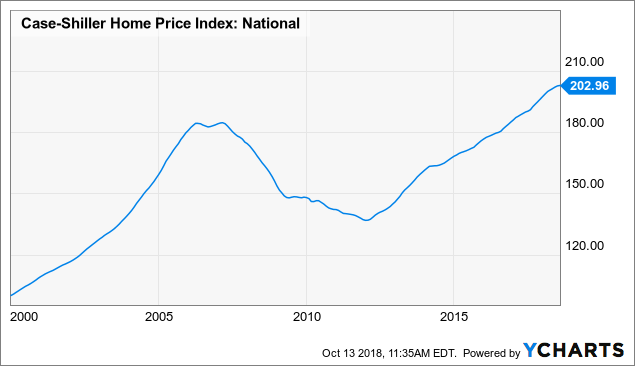 Figure 3 - Source: YCharts
While long-term mortgage rates are well below what we saw before the last financial crisis, they have climbed from the bottom around 3% a few years ago. At the same time, we have also seen the aggregated mortgage debt continue to build.
Figure 4 - Source: YCharts
As the long-term treasury rates have increased, mortgage rates have gone up as well. However, we have also seen the 30Y mortgage spread go up, compounding the effect for the real estate market. One potential reason for the higher mortgage spread is the high issuance of both treasury and corporate debt.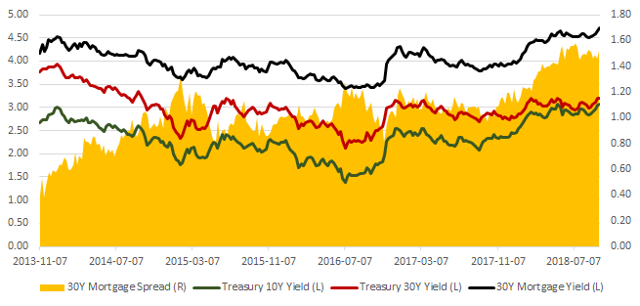 Figure 5- Source: fred.stlouisfed.org
While the equity percentage has improved since the bottom of the market, it is no better than what we saw before the financial crisis.

Figure 6 - Source: fred.stlouisfed.org
Selected Real Estate Markets
The below graph shows the inflation adjusted Case-Shiller Price Index for Denver, San Francisco and Seattle. Denver and Seattle are well above inflation adjusted price levels we saw before the financial crisis, while San Francisco is back at similar levels. We have seen real estate prices rebound in many cities and regions across the U.S.; the below cities are simply some of the more extreme examples.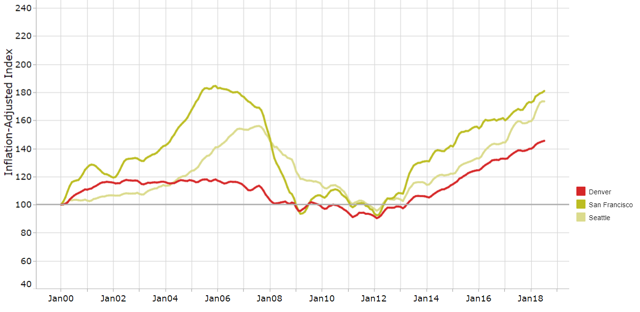 Figure 7 - Source: realestatedecoded.com
There have been signs that could be interpreted as some of the markets are topping, with number of listings going up and number of sales coming down. The below chart from Redfin highlights the data in cities on the west coast.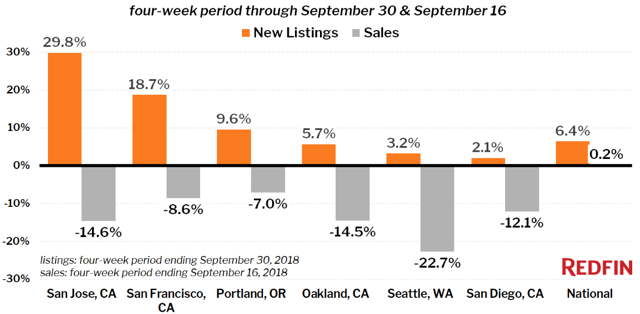 Figure 8 - Source: redfin.com
Conclusion
While the above data could be used to debate in which direction real estate prices are likely to go, my main takeaway from high real estate prices, climbing mortgage rates and spreads is that it is unlikely that that the Fed is going be able to raise rates until the end of 2019 as planned and continue with QT. Especially combined with extreme leverage for the government, non-financial corporations and some financial stress from low-income households.
The long-term effect of the Fed halting or reversing interest rate hikes is likely a lower U.S. Dollar, at least in comparison to non-cyclical commodities.
Disclosure: I am/we are long GLD, PSLV. I wrote this article myself, and it expresses my own opinions. I am not receiving compensation for it (other than from Seeking Alpha). I have no business relationship with any company whose stock is mentioned in this article.