Summary
The Canadian cannabis market has experienced more than 500% growth in share price over the past year while the US market has gained only 25%.
Attention has been centered on Canadian cannabis companies due to federal legalization despite numerous US states looking to legalize in the near future if the federal government does not.
The lack of attention on the US has led to attractive valuations for companies actively growing revenues and operations.
Introduction
October 17th is fast approaching and excitement in Canada and therefore the world continues to grow around the first federal legalization of cannabis by a G-7 nation. The excitement and anticipation of legal cannabis in Canada has spurred robust growth for Canadian Licensed Producer's stocks in a short period of time. The growth they have exhibited has made them a significant talking point of many investment communities. An example of the rapid growth in Canadian cannabis companies can be exemplified by Tilray (TLRY), which with less than half of Canopy Growth's (CGC) revenue became the largest cannabis company in Canada by market capitalization. At one point in the bubble-esqe rise of Tilray, the company had a larger market cap than American Airlines (AAL), Clorox (CLX) and CBS (CBS). Though the market has fallen from its peak value, Tilray and other producers in Canada have had an astronomical rise in value, that seems to negate a concern for fundamentals. This has also resulted in US cannabis companies being somewhat neglected by the general market. As can be seen below, the 1-year growth in share price for the US cannabis market vs the Canadian cannabis market can be examined comparatively in Market Cap Weighted Index values.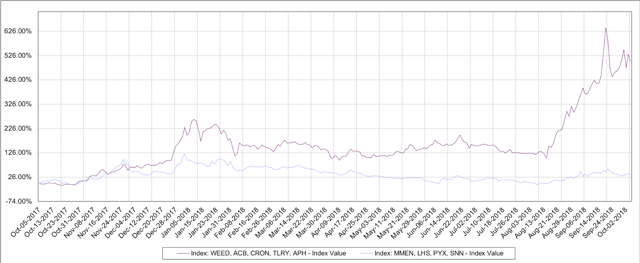 Source: Capital IQ
While the value of Canadian cannabis firms has been running away, the US market has seen minimal impact from the cannabis mania affecting firms operating in the Great North. As deep value investors, we believe that there is a promising opportunity yet to be fully realized in the US cannabis market. Although it is still federally illegal, more regulated, complex, and carries a significant amount of risk, we feel the US cannabis market may still be less risky than the Canadian market at their respective valuations. Moreover, if you observe below, there are US cannabis production firms available at a significantly cheaper price for the revenue produced compared to Canadian companies.

Source: Author's Calculations
Regulatory State: State Regulations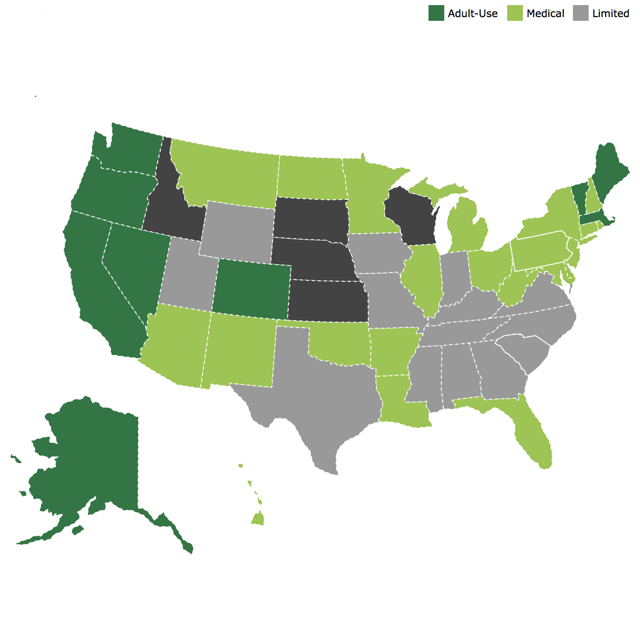 Source: National Cannabis Industry Association
There are several states in the US where cannabis is viewed as a product similar to alcohol. For 9 states across the country, being 21 years old is the only requirement to buy legal cannabis in a storefront. Moreover, as November approaches, we may see the number of recreationally legal states grow as Michigan's cannabis legalization amendments are offered alongside the congressional midterms. Michigan would be the tenth adult 21+ recreational state in the country, making recreational cannabis legal in one-fifth of the US. While the rise of recreational cannabis has been slow in the United States, there are even more states that have begun to recognize the medicinal qualities of cannabis and legalized it for medical use, with varying degrees of freedom. The number of states with legalized cannabis may also grow during the midterms as Missouri and Utah have added referendums for medical cannabis legalization to ballots. Although the number of states with legal cannabis is growing, think tanks and cannabis advocacy groups across the country continually dispute the number of medical states we currently have depending on the definition you agree with it. This is because the United States has no set framework for dealing with cannabis and therefore each state has the ability to make their own unique laws and regulations. By doing so, states have created a patchwork of differing regulations, that make it extremely hard to holistically analyze the US cannabis industry. We believe that the complex differing sets of regulations and uncertainty of federal legalization are limiting investment exposure in US operating firms and thereby keeping valuations low, in a high growth opportunity.
Regulatory State: Federal Regulations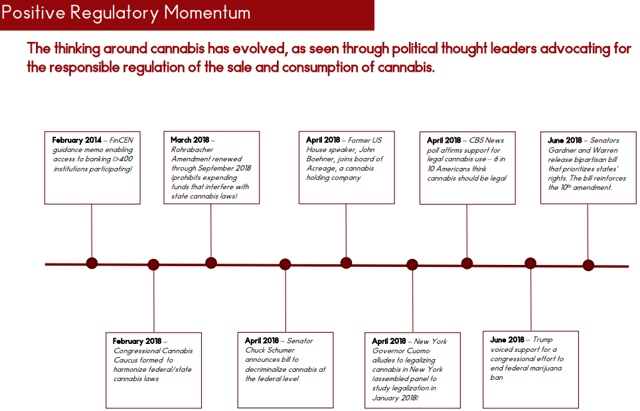 Source: MedMen
The recent advances in federal legalization efforts by influential politicians and news organizations can be viewed above. The change in politicians opinions to cannabis could be for a overwhelming amount of different reasons but the only consistent trend for any politician is the pressures from their constituents, which we believe is most likely driving the shift in their outlook on cannabis. Below, one can see the changes in populous opinion in the United States over the past 4+ decades.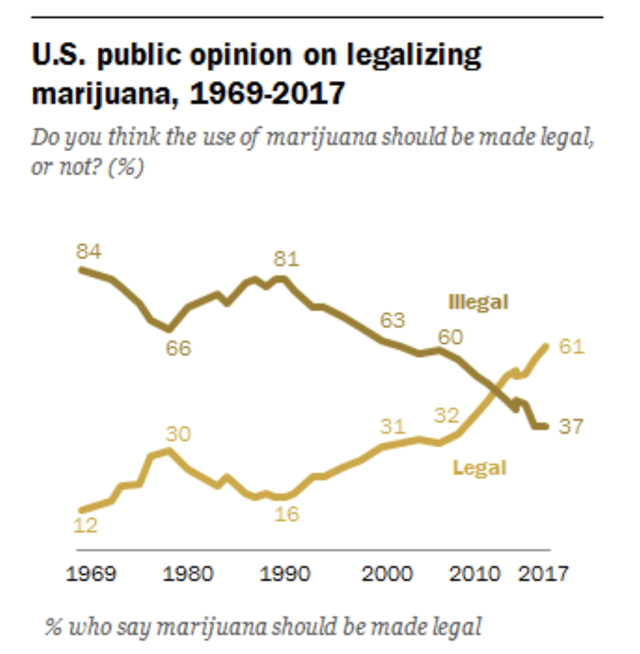 Source: Pew Research
At this point in time US citizens are more in support of legal cannabis then they are against it and that's a big step forward for the industry. As support continues to grow, the likelihood of making significant headway towards legalization does as well. Currently, we have seen a bipartisan group of politicians supporting legalization, including Bernie Sanders and Donald Trump. Under the assumption that we are headed towards legalization, it is important to note that the firms discussed in this article will have established strong first-mover advantages and will be better equipped to capitalize on developments in legalization across all levels of the US government.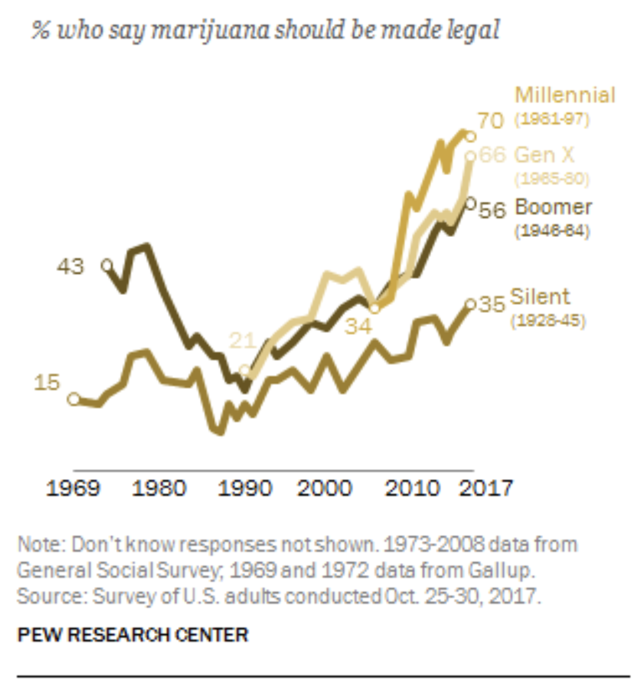 US Companies
MedMen

Source: GoopWellness
MedMen Enterprises (OTCQB:MMNFF) is a fully-integrated cannabis company that is licensed for the cultivation, production, and sale of cannabis products in California, Nevada, and New York with a pending license application in Massachusetts and a pending dispensary/related assets acquisition in Florida. Currently, MedMen owns the licenses for or has management contracts for The company operates 8 stores in southern California, 3 in Nevada, and 4 in New York with cultivation facilities operating or under construction in all aforementioned states.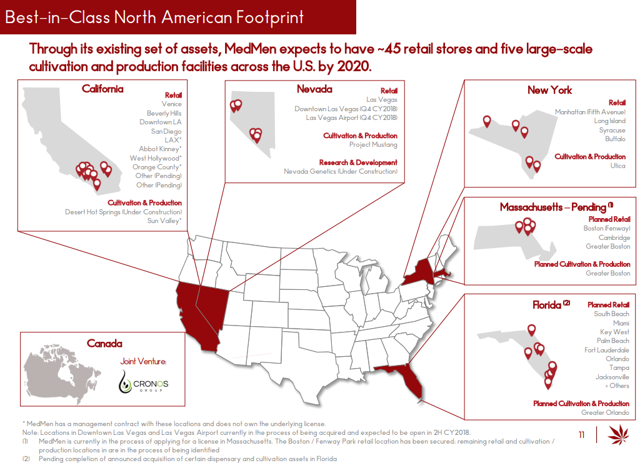 Source: MedMen Investor Presentation
The company is anticipating having 45 storefronts and over 300,000 square feet in cultivation space across 5 facilities by 2020 (assuming their Florida acquisition plans go through). MedMen believes strongly in the first mover advantages for the cannabis industry and aims to leverage that advantage through their highly-regarded retail locations.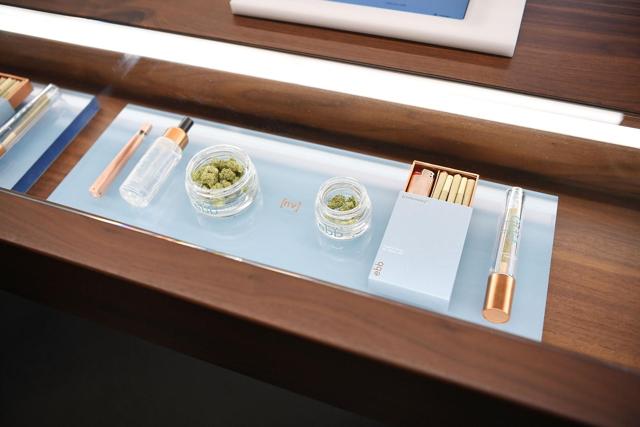 In addition to their US operations, MedMen has secured exposure to the Canadian cannabis market through their MedMen Canada joint venture with Cronos Group (CRON), a Canadian Licensed Producer with over C$2BB in market cap, to open and operate MedMen retail locations throughout the country. While Cronos benefits from MedMen's expertise and experience in cannabis retailing, MedMen obtains direct distribution channels into Canada without struggling with many of the regulatory issues that scrutinize any cross-border operations.

Source: Barrons
MedMen IPO'd in late May 2018 at a price $3.38 per share, has reached highs and lows of $5.12 and $2.78 respectively, and currently sits around $4.45 per share. They are trading at a market cap around $1.9BB making them one of the largest public US cannabis companies in operation today. MedMen has pulled in C$15.6MM in LTM revenues but still remain heavily in the red due to their expansion efforts.
They stand to benefit from the developing US cannabis landscape primarily through their dispensary operations. MedMen dispensaries are among the most well-known, reported on, and visited dispensaries in the US. They are commonly referred to as the Apple Stores of Weed due to their striking similarity to the layout of Apple retail locations. While MedMen is still limited by the same regulatory compliance standards as their competition, they are poised to capitalize on the budding industry by establishing themselves as the consumers first choice even before cannabis sales begin.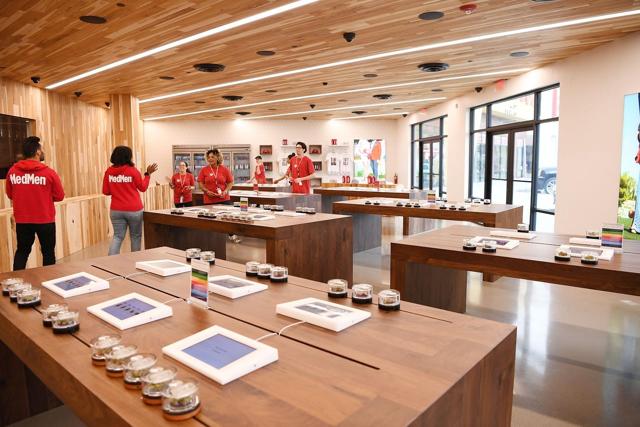 Photo Sources: MedMen Las Vegas Opening Media Kit
Liberty Health Sciences

Source: CashColorCannabis
Liberty Health Sciences (OTCQX:LHSIF) is a Canadian cannabis company, specializing in the production and distribution of medical cannabis in the US. Their current market focus is the medical patients in Florida. The company prides itself on its approach to the cannabis market which is founded on the principle of reducing investor risk. They achieve this principle through their unique state selection strategy which identifies states with the safest criteria for investment. Their criteria for a safe state includes robust state legislation, no canopy restrictions, a large population of users and a long list of qualifying medical conditions.
While the industry is exploding with growth overall, we believe that LHS is one of the better plays in the American cannabis market. As can be seen below the legal market internationally is growing constantly and forecasts estimate the industry will achieve a 330% increase in value between 2016 and 2020. That's an attractive growth proposition, but its also a proposition that could leave many investors burned when the leaders of the industry are established and others fail completely. With this risk in mind, we are confident that the Liberty Health Sciences Management Team, as well as Board of Directors, are determined to grow this company at a sustainable rate with proper growth and cost management.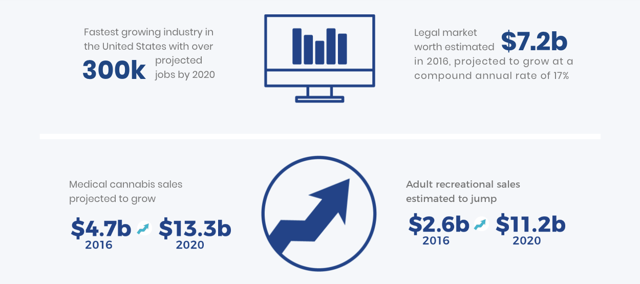 Source: Liberty Health Sciences Investor Presentation
Liberty Health Science's current growth strategy for the rapidly growing cannabis market is wide-reaching and comprehensive in nature. Currently, they retain a license to sell medical cannabis in Massachusetts and Florida with the potential upside from a first-mover advantage assuming an expansive recreational market is adopted in Massachusetts. Moreover, they also have a dispensary in Ohio which is pending approval for extraction, and two license applications currently under review in New Jersey and Michigan. To put the size of Florida's medical market in perspective, LHS compares it against the Canadian market.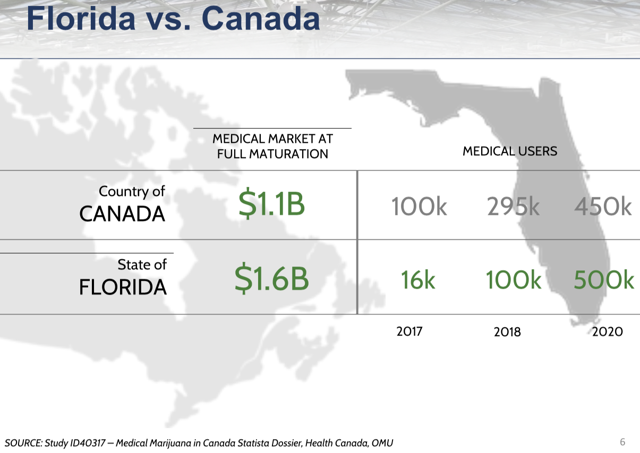 Source: Liberty Health Sciences Investor Presentation
As can be seen above, Florida's medicinal cannabis market will be larger than Canada's in just over two years. This is only one of their many states of operation, and assuming continual opportunity for new legislation in favor of cannabis in the US, the market size will eventually outpace Canada in size. Yet, these companies trade at significantly lower multiples than the Canadian operators, indicating a value proposition.
Liberty Health Sciences current Florida operations are run through a 25,000 sqft facility which has a current capacity of 1,600kg of cannabis per year. For distribution, they own and operate four medical dispensaries across Florida, with three additional delivery hubs. The map below shows all the current locations of operations as well as the expansion plans they are pursuing.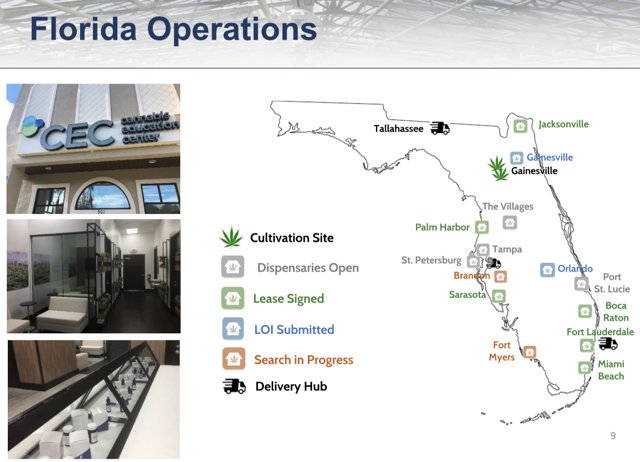 Source: Liberty Health Sciences Investor Presentation
Since Aphria invested in Liberty Health Sciences, things have been looking up. LHS has expanded its production capacity by 20% which is almost wholly attributable to the expertise Aphria provides in cannabis cultivation operations. Moving forward LHS plans to achieve substantial growth through capacity expansion. By December 2018, LHS plans to have a 225,000 sqft facility with a capacity of 14,600kg of cannabis. This significant increase in cannabis production should allow the company to move forward with its aggressive expansion and sales approach. They plan to split operations into two distribution strategies, the first a vertical approach that utilizes their network of dispensaries and the other through wholesale distribution. With the expectation that wholesale will become legal in 2019, the company plans to generate a 60%+ margin on sales accomplished through wholesaling. Furthermore, the company projects that vertical sales through dispensaries will gross a 70% margin, with only 30% of the costs being applied below the top line. Both strategies provide highly profitable approaches to the market, which we are very excited to see them utilize for earnings growth going forward.

Source: Barrons
The market has taken notice of the promising developments and LHS has experienced over 100% growth in their share price since mid-August and currently sits around $1 per share at a $300MM market cap. While the substantial appreciation in share price has begun to cool slightly this past week, LHS remains a promising cannabis company that is looking to secure their spot among the top US cannabis producers.
Note: Aphria has been forced to relinquish their shares in Liberty Health Sciences which will be held in escrow with a Promissory Note Due in 2023. Although they were forced out of the American market because it is still federally illegal to grow cannabis, Vic Neufeld the CEO of Aphria has said that Aphria's departure from the American market is only temporary and they plan to return once federally legal.

Sunniva

Source: Sunniva
Sunniva (OTCQX:SNNVF) is one of the few cross-border cannabis producers with cultivation operations in both British Columbia and California. The company is in the process of building out their California operations to produce 87,000kgs of cannabis annually throughout their 589,000 square foot facility and is expecting their first harvest to come in their first quarter of 2019.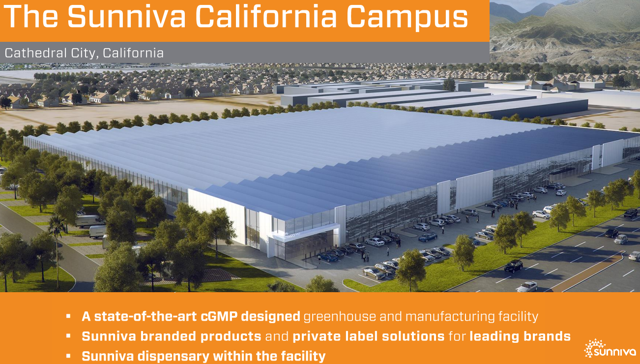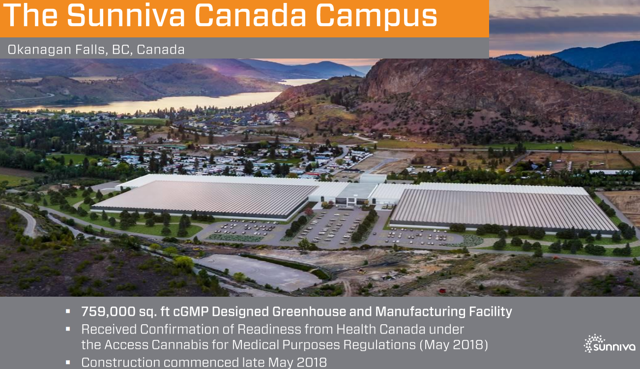 Source: Sunniva Investor Presentation
Construction on the British Columbia location began in May of this year and upon completion, Sunniva will be cultivating 100,000kgs in their 759,000 square foot facility, bringing their total annual production capacity up to 187,000kgs. Sunniva has also been pursuing developments in the vaporizer sector through their Vapor Connoisseur division. Vapor Connoisseur offers over 80 various vape brands but all 80 are private label. While this does not completely confirm that Sunniva is producing the products for Vapor Connoisseur, it is something worth mentioning and could be a substantial driver assuming vape products continue growing at their rapid recent rates.
Despite their main locations of operation still under construction, Sunniva reported C$4.5MM in revenues for Q2 2018 at a gross margin of 62%. While their SG&A was 100% of their quarterly sales, quickly pushing them into the red overall, they are most likely spending to build brand awareness for the start of recreational sales; and their ability to grow and sell C$4.5MM of cannabis at such a strong gross margin is a strong indicator that their $130MM market cap is not reflective of the strength of the company's outlook.
Sunniva offers investors a unique ability to gain exposure to both the US and Canadian cannabis markets. The company currently has a supply agreement to provide Canopy Growth (CGC) with 90,000kgs cannabis over the next 2 years and acquired Natural Health Services, which owns 8 clinics across Canada and has a patient base of around 100,000 patients. While the Natural Health currently connects patients to cannabis producers and collects a referral fee, it can be inferred that Sunniva intends to utilize Natural Health's patient base to push their own products, drastically increasing their reach for Canadian medical sales.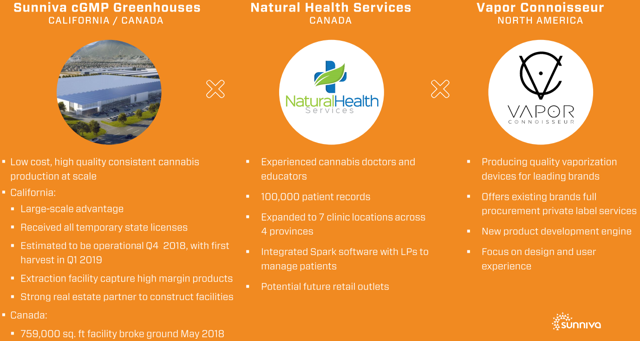 Source: Sunniva Investor Presentation
While their cross-border strategy currently has them in an advantageous position relative to many of their similarly valued peers, Sunniva does hold additional regulatory risks that could materially impact their operations and investors should strongly consider their tolerance for additional risk in an already risky investment in cannabis.

Source: Barrons
Sunniva is currently trading close to the bottom of their 52-week range and has lost nearly half of their value since they IPO'd in early January and has been steadily trending downward since an initial rise following their IPO. Despite the poor share performance, we believe Sunniva is undervalued relative to their expected production capacity alone. With established and funded construction plans already underway, Sunniva is actively approaching an annual production capacity of 187,000kgs. This capacity rivals some of the mid-scale Canadian producers that currently hold near-billion dollar valuations. At the least, we see Sunniva as a promising takeover target for a larger Licensed Producer looking to acquire their land and cultivation assets.
Conclusion
The US cannabis market is often overlooked with all the attention being focused on Canada. While this is understandable given the monumental step the nation made by federally legalizing the recreational use and sale of cannabis, it has led to the market becoming relatively over-inflated and expensive for investors to enter into right now. Though the regulatory environment for the US is far less certain and stable than Canada, there are still numerous state-specific markets and a majority demand for legalization across the populous. To many investors, this may present an unstable and speculative industry; which it is. But so is the entire cannabis industry right now. The uncertainty in the future landscape has led to valuations that would be considered cheap in the cannabis industry despite being ripe with opportunity. The past 2 years have shown us what happens to cannabis stocks when legalization efforts progress and the general consensus is that the US will eventually legalize as well. The aforementioned companies are currently generating revenues, expanding their footprints, and should be expected to follow a similar share price trajectory as their Canadian counterparts as either individual state continue to legalize, or as federal legalization efforts begin to make substantial progress.
Disclosure: I am/we are long LHSIF. I wrote this article myself, and it expresses my own opinions. I am not receiving compensation for it (other than from Seeking Alpha). I have no business relationship with any company whose stock is mentioned in this article.
Editor's Note: This article discusses one or more securities that do not trade on a major U.S. exchange. Please be aware of the risks associated with these stocks.