It's rare we see opportunities that provide for a 5x-10x increase - or greater - in capital within 12-18 months, but that's precisely what's setting up right now in the precious metals mining sector. In this article, I'll focus primarily on the VanEck Vectors Gold Mining ETF (NYSEARCA:GDX) and discuss a low-risk approach to entering into individual mining stocks by showing examples of how we recently entered positions into Barrick Gold (ABX), Alamos Gold (AGI), and Hecla Mining Company (HL), and lastly, I will refer to how one can use a leveraged approach for a portion of capital in the next move up by using the Direxion Daily Gold Miners Index Bull 3X Shares ETF (NUGT).
First, allow me to discuss why this is high-confidence. In viewing the weekly chart, note that between January and August 2016 GDX formed an Elliott Wave picture perfect 5-wave move up from $12.40 to $32.01. From an Elliott Wave perspective, after a retrace, 5-wave moves are virtually always accompanied by another 5-wave move in the same direction. Another layer of confidence comes in the form of the consolidation that's occurred since the since the August 2016 high. The A-wave is another clear 5-wave move down, followed by what can best be described as a year-long choppy pattern that is classic of a B wave. This ABC pattern defines the entire retrace of the move up in 2016, which is what we do know. What we don't know is if this retracement is a wave 2 of a B wave. If it's a B-wave, once complete into the $15.19-15.51 region, it'll then target a move up to $39.83-67. If it's a 3rd wave, it'll target much higher. Since the A-wave took 8 months to complete, I would assume the C-wave would take a similar amount of time, or slightly longer, depending on whether it extends to the upper side of our target region. That's a 2.6x-4x expected increase in GDX.
To add further support, note that the Hurst cycles suggest a 20-month cycle trough will occur between now and March 2019. In order to substantiate that the cycle low is in place, we will need to see the price of GDX break up through the 20- and 40-week FLDs, as shown on the weekly chart. What makes this high-confidence is that we are viewing a classic Elliott Wave-style (A)(B)(C) retracement against a measurable 5-wave structure that occurred in 2016.
Looking closer at the Hurst Cycles Analysis shown at the bottom of the weekly chart, we are expecting a cycle trough of at least the 18-month cycle low between now and mid-March 2019, with the ideal timing into mid-December 2018. The 18-month cycle is running long and has averaged 20.5 months in the last 9 years, and the 40-week cycle has been running long, averaging 44.1 weeks. From a Hurst cycles perspective, once price levels take out the descending orange and blue FLD lines on the weekly chart, GDX will have a confirmed low in place and many months of upside thereafter.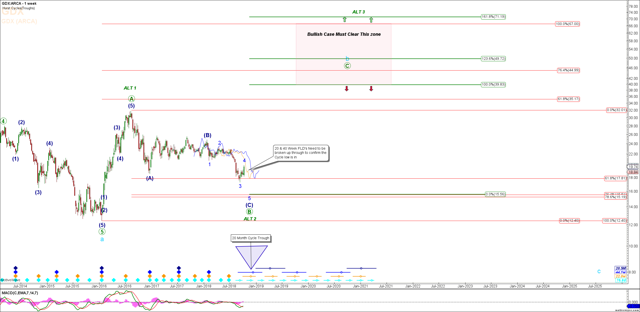 Now, how can one achieve a 5x-8x increase in capital if GDX only increases 2.6x? In viewing the individual mining stock positions in our Strategic Miners Portfolio during the move up that occurred in 2016, the average increase was closer to 7-fold. The reason is that by choosing the correct individual mining stocks, as I've written about many times here on Seeking Alpha, an investor can achieve much better overall performance.
Note on the daily chart that GDX bounced strongly off the lows seen back in early September of this year. The low spiked just beneath the .618 retrace of the move up into August 2016. This begs the obvious question: was that the low? We don't believe so. Thus far, the drop from the (B) wave high has hit the 1.618 extension down, which is consistently the Fibonacci level expected for a 3rd, which further supports that this move up is a 4th of the final (C) of B or two. Put into English, this means we should see one more low in GDX before the massive move higher.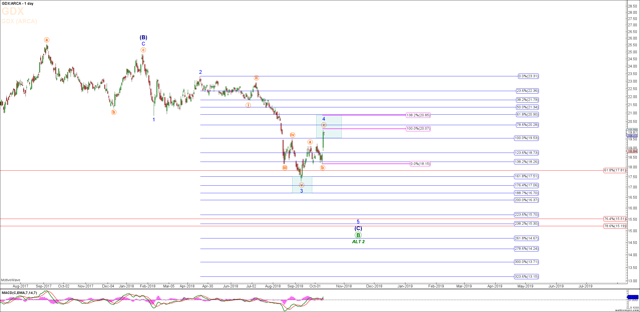 When evaluating the opportunity, don't naturally assume that every individual mining stock will bottom at exactly the same time as GDX. Each stock has its own pattern. Some stocks may have already bottomed while GDX is bouncing in a 4th, only to experience a retrace when GDX concludes its final move down. It is for this reason that we buy each stock on the merits of its own chart. As an example, in our Strategic Miners Portfolio, we've already taken positions as follows in ABX, AGI, and HL, and now have hard stop orders at breakeven on each of these positions. If and when GDX makes another low and one or more of these stocks are stopped out, we'll simply re-enter a long position on the next Fibonacci leg lower, thus allowing us to minimize the drawdown associated with forming a miner's portfolio.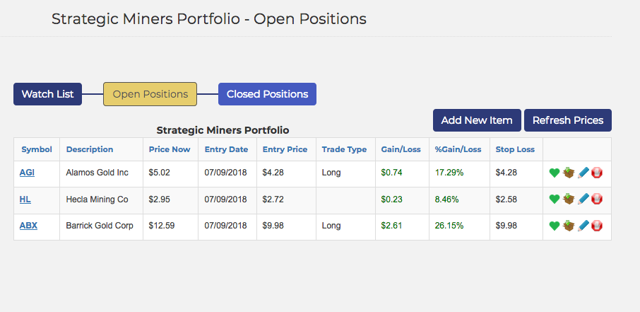 For those that seek to introduce a leveraged approach to this next move up, note that shares of NUGT rose from $13.62 to $143, a 10.5x increase. We would expect a similar rise or greater during this next move up in miners. With so many undervalued and well-managed miners to choose from, using leverage is not necessary for great performance. As such, our suggestion is to use leverage sparingly.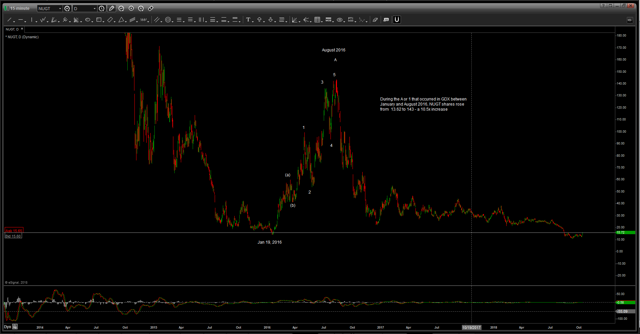 In conclusion, at long last both precious metals and miners are setting up for an enormous move up. The setup is high-confidence, and all the pillars have now aligned - fundamentals, timing, chart pattern, and technical indicators. If you participate in this sector, brush off your list of mining stocks and do your research quickly, as the low can occur by December 2018.