From a revenue perspective, hotels have been great. RevPAR continues to set record highs and the outlook remains strong. However, hotel owners have not done as well as they should have, largely due to being at the most disadvantaged part of the industry structure. Specifically, Online Travel Agencies (OTAs) and Brands are financially bullying hotel owners and capturing the lion's share of the profits.
This article will discuss the underlying structural forces that created this imbalance and look at what this means for hotel REIT investors.
Origin of OTA dominance
3 major forces are giving undue power to OTAs,
Duopolistic market share

Price parity clauses

Dominance in ad spend
The OTA industry uses a bunch of differently named branches to make it appear as though there is legitimate competition. Shown below are the market shares of the various OTA websites.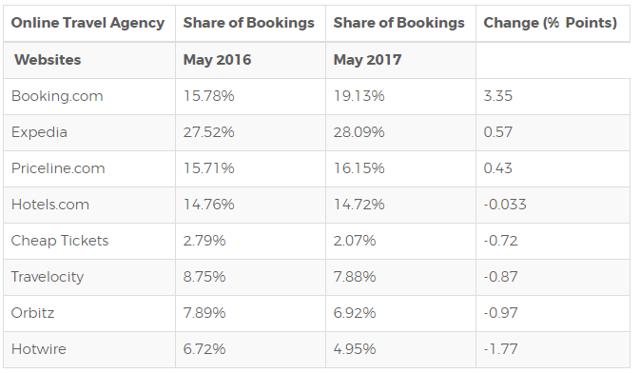 Source
However, many of these are the same company. Priceline is the same as Booking.com for a combined market share of 35.28% as of May 2017. Both are owned by Booking Holdings (BKNG). Worse still is Expedia (EXPE) which owns Hotels.com, Travelocity, Orbitz, Trivago and Hotwire for a total market share of 62.56%. That is about as close to a duopoly as it gets. Expedia meets the legal disclosures, openly owning each of the websites as evinced in the image from their website below.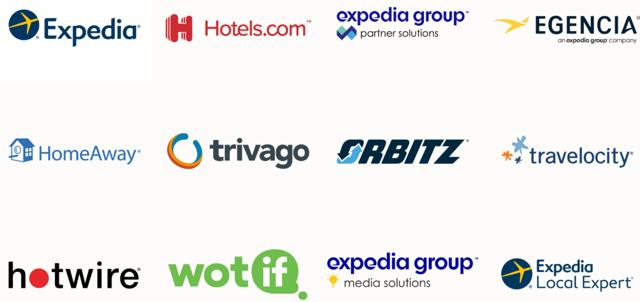 Source: Expedia
However, that does not mean it does not trick the end user. There are many hotel shoppers who look on a variety of sites to make sure they are getting a good price, and I would bet they are not aware that when they check Travelocity, hotels.com and Expedia that they are all owned by the same entity. It is a false illusion of competition.
The anti-competitive nature of OTAs is made more egregious through price parity clauses which restrict hotel owners from selling hotel rooms for cheaper anywhere else. This is how OTAs can run those commercials guaranteeing the lowest price. These price parity laws have been fully or partially banned throughout Europe.
Over the past 5 years, various European countries have stopped wide parity clauses and some have even stopped narrow parity clauses.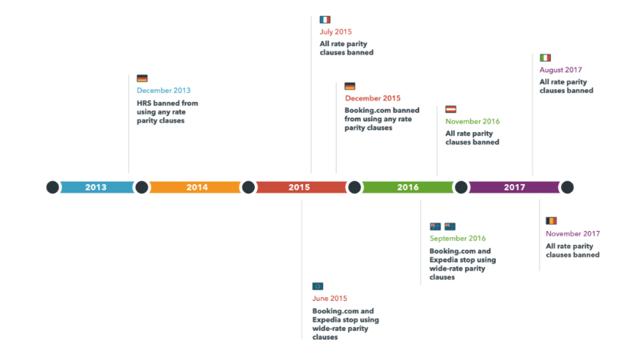 Source
Overall this legislation aggregates to a majority of Europe.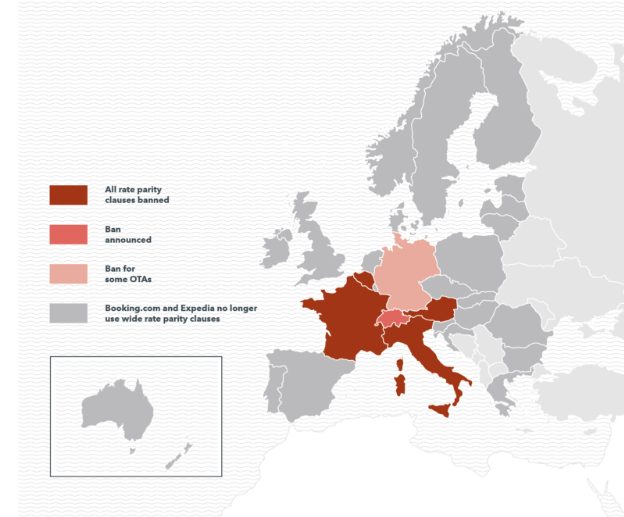 Source
The USA is behind the curve with no regulations preventing rate parity clauses. The OTAs were given extra breathing room when a 2014 antitrust case was dismissed. The only real regulation has been new accounting standards in January of 2018 which require hotel owners to transparently record costs associated with OTA bookings.
OTAs were further emboldened in 2015 when the DOJ's antitrust division ruled in favor of Expedia by allowing its acquisition of Orbitz.
Advertising spend
OTAs have spent tremendous capital on advertising with $7.31B spent in 2016 and a Statista estimated $10.7B in 2018.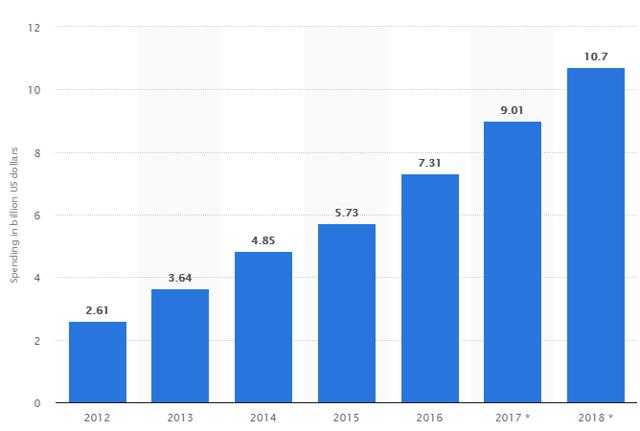 Source: Statista
With a duopolistic market structure locked in by the passiveness of the US in OTA antitrust and anticompetition regulation relative to Europe, the OTAs have been running roughshod over the hotel industry for the last few years. With a truly massive advertising budget, combined with price parity clauses, OTAs have convinced a large portion of consumers to book through them where they take a cut of as much as 20% of the room night revenue while the hotel owners have all the capital at risk.
Brand dominance
Brands are not in as powerful of a position as the OTAs, but they still have structural advantages over the hotel owners. Most of the brand's advantage comes from being significantly more consolidated relative to the highly fragmented owners.
Presently, the largest hotel REIT is Host Hotels and Resorts (HST) with a total capitalization of $19.4B and 116 hotels. This represents just a tiny fragment of the hotel industry and is dwarfed by the major brands.
Each hotel owner has almost no bargaining power against the brands because they are not large enough customers. On the flip side, there are only a handful of good brands to choose from and there are sizable switching costs once a flag is locked in.
The size and fragmentation disparity is growing worse as hotel REITs have failed to consolidate while the brands have been merging.
Marriott purchased Starwood for ~$13B in 2016

Choice Hotels purchased Woodspring Suites in 2018

Wyndham Worldwide purchased La Quinta's franchise business for nearly $2B in January of 2018,

.

Hyatt is buying Two Roads Hospitality for an

estimated

$480mm-600mm
Beyond the M&A, brands are busy launching new brands under the same umbrella and expanding brands with additional locations
Implications for hotel REITs
This disadvantageous industry structure has resulted in hotels capturing far less profits than they should given the excellent hotel demand backdrop.
June of 2018 represented the 100 th month of RevPAR growth this cycle and the 98 th consecutive month of YoY ADR growth. Yet this impressive fundamental backdrop led to a mere mediocre performance for hotel REITs.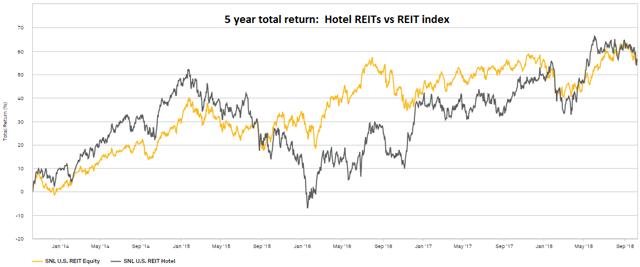 Source: SNL Financial
Highly cyclical industries such as hotels should do far better than average during times of healthy demand growth and the hotel industry overall did; it just didn't make it to the REITs.
The brands cleaned up and the OTAs cleaned up.
So does this make hotel REITs bad investments going forward?
No.
I think hotel REITs are opportunistically positioned. The industry structure is about as bad as it can get and it is in this terrible structure that current FFO is being generated. This means that if hotel owners can make any headway into improving the industry structure, there is potential for sizable margin expansion and FFO growth beyond that from RevPAR growth.
The key to unlocking this value is pitting the brands against the OTAs and this is already happening to some extent. Brands and OTAs essentially serve the same function: filling rooms. Brand loyalty programs are getting stronger and the brands are increasingly offering incentives to book through the brand rather than through an OTA. In fact, Hilton just introduced a price match guarantee.

Source: Hilton
This is the more honest version of a price parity clause in which it puts the burden on Hilton rather than restricting free market forces.
As the loyalty programs and brand direct booking get stronger, hotel owners will be able to rely more on their flags for booking and will be able to reduce reliance on OTAs.
There are risks, however, in that If hotel REITs remain as fragmented as they are, I fear the brands will begin to throw their weight around and flagging fees could go up. Presently the brands charge roughly 3%-5% of revenue, but as a larger portion of bookings are done directly through the brand they may be able to either increase the base fee or charge additional booking fees.
Going forward, the success of hotel REITs will hinge upon their ability to consolidate. The current disparity between market prices of hotel REITs and the value of their assets provides fertile ground for M&A. The more fully valued hotel REITs can scoop up their cheaper peers and begin the process of consolidation. Pebblebrook (PEB) started the ball rolling with its pending purchase of LaSalle (LHO), but there is a long way to go for hotel owners to gain significant market share.
We are playing this opportunity by owning the deeper value hotel REITs which are more likely to be acquired in the M&A wave.
RLJ Lodging (RLJ) trades at an 11% discount to Capital IQ consensus NAV and under 12X EBITDA. It has been proving the value discrepancy between its market price and its asset value by selling large portions of its assets at over 16X EBITDA.
Sotherly Hotels (SOHO) trades at a whopping 39% discount to Capital IQ consensus NAV. It is positioning in a way that allows it to circumvent some of the industry structure problems. Through transitioning a majority of its assets to an independent SOHO flag, it avoids the flagging fees, and it is using a boutique and heavily local marketing angle that pulls in traffic directly, thereby reducing reliance on OTAs.
Disclosure: 2nd Market Capital and its affiliated accounts are long SOHO and RLJ. I am personally long SOHO and RLJ. This article is provided for informational purposes only. It is not a recommendation to buy or sell any security and is strictly the opinion of the writer. Information contained in this article is impersonal and not tailored to the investment needs of any particular person. It does not constitute a recommendation that any particular security or strategy is suitable for a specific person. Investing in publicly held securities is speculative and involves risk, including the possible loss of principal. The reader must determine whether any investment is suitable and accepts responsibility for their investment decisions. Dane Bowler is an investment advisor representative of 2MCAC, a Wisconsin registered investment advisor. Commentary may contain forward looking statements which are by definition uncertain. Actual results may differ materially from our forecasts or estimations, and 2MCAC and its affiliates cannot be held liable for the use of and reliance upon the opinions, estimates, forecasts and findings in this article.Positive comments made by others should not be construed as an endorsement of the writer's abilities as an investment advisor representative.
Conflicts of Interest. We routinely own and trade the same securities purchased or sold for advisory clients of 2MCAC. This circumstance is communicated to clients on an ongoing basis. As fiduciaries, we prioritize our clients' interests above those of our corporate and personal accounts to avoid conflict and adverse selection in trading these commonly held interests.
Disclosure: I am/we are long RLJ, SOHO. I wrote this article myself, and it expresses my own opinions. I am not receiving compensation for it (other than from Seeking Alpha). I have no business relationship with any company whose stock is mentioned in this article.