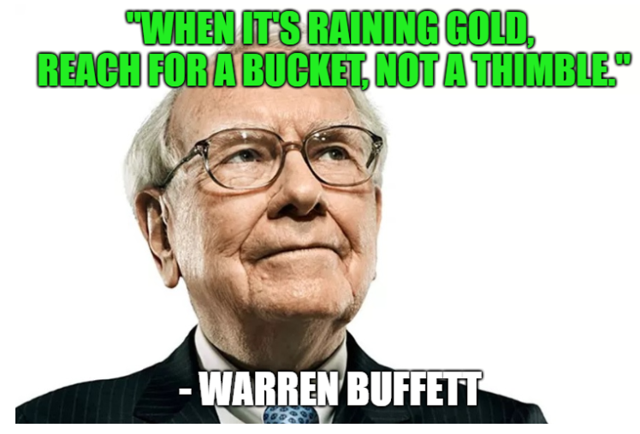 (Source: imgflip)
I've been investing for 23 years (since the age of nine), and over those decades I've tried every get-rich-quick scheme under the sun. I've also actively invested through three 50+% market/industry crashes, which has taught me that even quality stocks can fall or remain undervalued for several years.
More importantly, four years as a professional investment writer/analyst have taught me several time-tested, long-term strategies that ultimately allow income investors to generate excellent returns. This is why the core strategies of my high-yield income growth retirement portfolio are focused on:
maximum safe yield (good balance sheets, dividend coverage, and recession resistant cash flow)
solid long-term growth potential (visible growth runways)
value focus (high margin of safety, contrarian approach)
When it comes to undervalued high-yield stocks, REITs in general, and retail REITs in particular, have been some of the most out-of-favor investments of the last few years.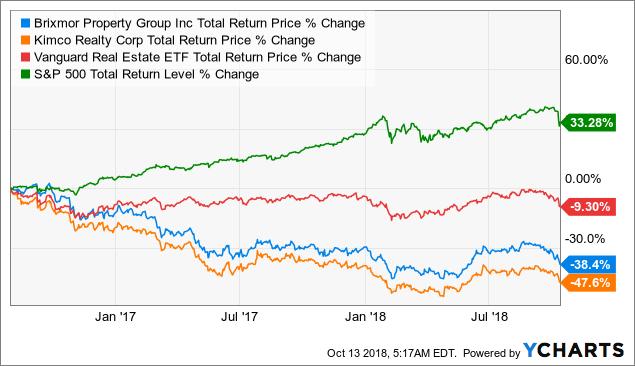 BRX Total Return Price data by YCharts
That's thanks to a perfect storm of negative factors including:
long-term interest rates rising off their all-time lows
strong investor preference for red hot "growth" stocks over value
fears of a "retail apocalypse" thanks to the rise of e-commerce
That has resulted in REITs underperforming the market by one of the largest extents in nearly 50 years. And even quality retail REITs like Brixmor Property Group (BRX) and Kimco Realty (KIM) have been absolutely gutted.
As a result, pessimism about retail REITs is at some of its largest levels ever, and many income investors have sworn off the industry entirely. However, due to both my experience and training, I know that such times are historically the best times to "be greedy when others are fearful."
That's why I used the most recent REIT rout, combined with the impending news of Sears' likely bankruptcy, to open positions in both Brixmor and Kimco. What's more I've set limit orders to increase my position substantially, should Sears' bankruptcy send retail REITs tumbling even further into outrageously undervalued territory. Let's take a look at the four reasons why I am pounding the table on Brixmor and Kimco, and consider today to be the perfect time to either initiate new positions, or add more to lower your cost basis.
Specifically, we'll see why the market's obsession with the "retail apocalypse" in general, and the Sears bankruptcy in particular, is greatly overblown. More importantly, both REITs have solid turnaround plans for adapting to changing industry conditions that should allow both to return to strong long-term growth. All while paying mouth-watering and safe dividends that make it well worth patiently waiting out the market's irrational hatred of the stocks.
Finally, I'll show why, from today's fire sale prices, both Brixmor and Kimco are likely to generate exceptional total returns, about 18% CAGR over the coming decade. Those kinds of market beating returns would make BRX and KIM not just some of the best quality high-yield REITs you can buy today, but some of the best income stocks to own over the next 10 years, period.
1. Sears' Inevitable Bankruptcy Creates The Mother Of All Buying Opportunities
On October 10, the Wall Street Journal reported that Sears (SHLD) was potentially preparing to finally file for chapter 11 bankruptcy, potentially as early as Sunday night (October 14). This is because of a $134 million loan maturing on Monday that the company doesn't have the ability to pay.
The Sears bankruptcy saga has been a slow motion train wreck that the media has used as the posture child of the "retail apocalypse" that has decimated retail REIT prices. That's no surprise given that Sears has gone from the largest retailer in the world to a zombie company kept alive by hedge fund financial engineering. In fact, here are some of the grim stats that makes Sears' bankruptcy inevitable, whether or not it comes on Sunday, Monday or later.
Cumulative net losses of $11.2 billion since 2011
Store count shrank from peak of 3,500 to 900, with another 150 store closures just announced (and 250 more potentially coming)
Negative annual same-store comps since 2005
Hedge fund manager-CEO Eddie Lampert has driven Sears into the ground, thanks to slow adaptation to online sales, and an unwillingness to reinvest in store upgrades to improve the consumer experience.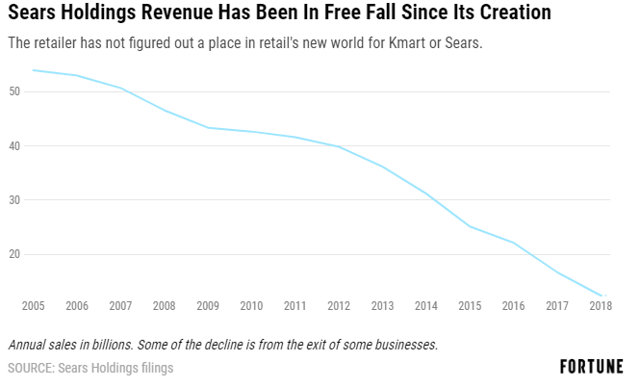 The result has been a massive collapse of the company's sales. And despite massive cost cutting efforts, such as closing thousands of weaker stores, the company's same-store sales have continued to decline year after year.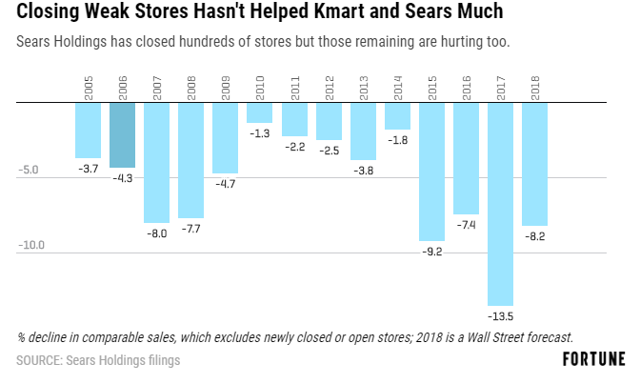 This is why Sears' biggest bankers are pushing not for Ch 11 bankruptcy (reorganization), but Ch 7 bankruptcy. That means an outright liquidation of Sears, which would mean the 125-year-old company would cease to exist. Or to put another way, Sears' financiers are saying it's time for this obsolete zombie company to finally die.
The reason I bring up Sears' inevitable bankruptcy (and likely liquidation) is because the media has fixated on the fall of this once venerable retail institution. Which is why the stock market has reacted so bearishly on retail REITs, even ones with almost no exposure to Sears or distressed malls, like Brixmor and Kimco. In fact, as I've been pointing out for years on Seeking Alpha, the "retail apocalypse" is largely a figment of the media's sensationalistic imagination.
According to Statista, in 2017 there were 14,248 new retail stores opened and 10,168 stores closures, meaning a net gain of 4,080 stores.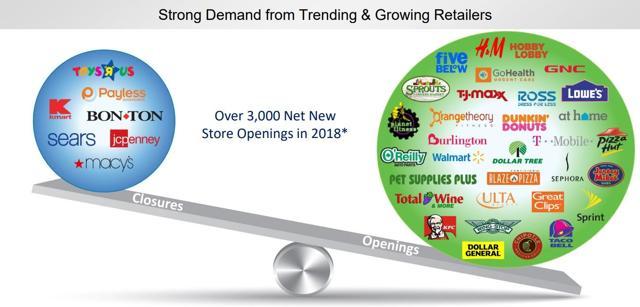 (Source: Kimco investor presentation)
Meanwhile, analysts expect another 3,000 net store openings in 2018, thanks to thriving retailers more than offsetting failing ones like Sears. In fact, for the past 7 years annual total retail sales growth, including omni-channel, have never fallen below 2.5%, despite stronger growth in e-commerce.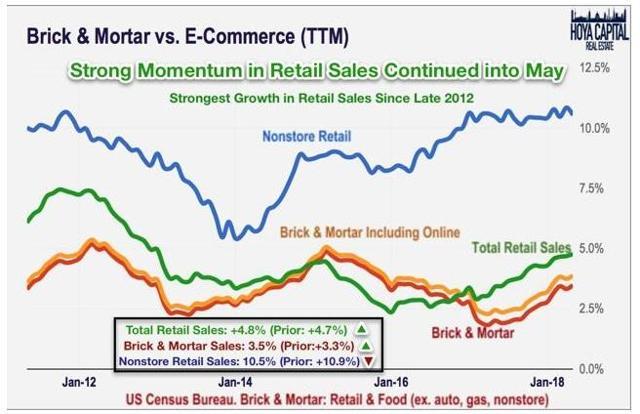 (Source: Hoya Capital Real Estate)
This explains why retailers who have been fast to adapt to changing consumer tastes have thrived. And retail REITs, who are the landlords for these growing businesses, have similarly been adapting their property portfolios. It hasn't always been easy, and has required sometimes painful capital recycling and deleveraging. But ultimately I'm confident that retail REITs like Brixmor and Kimco have what it takes to make long-term high-yield investors rich.
2. Brixmor Property Group: Quality REIT With A Bright Future
Brixmor owns 471 properties, focusing almost exclusively on open air shopping centers, including 70% that are anchored by recession resistant grocery stores. It is not a mall REIT and of the approximately 5,000 leases Brixmor has with retailers just 11 are with Sears. That accounts for 0.6% of annual rent. So a Sears liquidation would have no significant impact on Brixmor's funds from operation or FFO. That's the equivalent of its operating cash flow and what it uses to reinvest in growth and pay the dividend.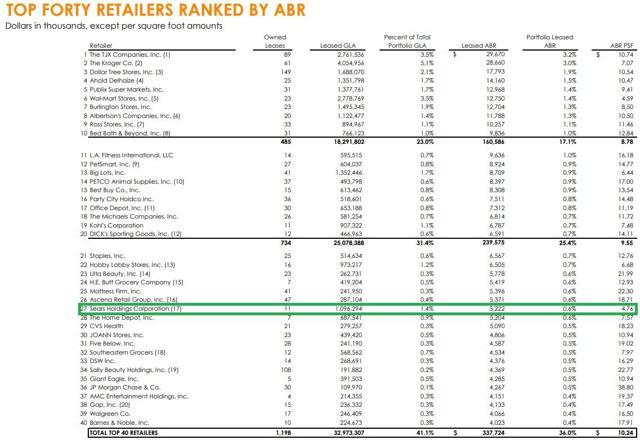 (Source: Brixmor earnings supplement)
Actually, a Sears liquidation would slightly help the REIT, because currently Sears is paying less than $5 per square foot in annual rent, less than half the REIT's average for its top 40 tenants. Or to put another way, when struggling retailers fail, Brixmor is able to replace them with stronger ones that pay significantly higher rent.

(Source: Brixmor Fact Sheet)
What about other struggling retailers? Well, BRX's exposure is among the lowest in the shopping center REIT industry at just 5.8% of gross leasable space. Note that even the shopping center REITs with the highest exposure to troubled retailers are still looking at only modest risks of store closures.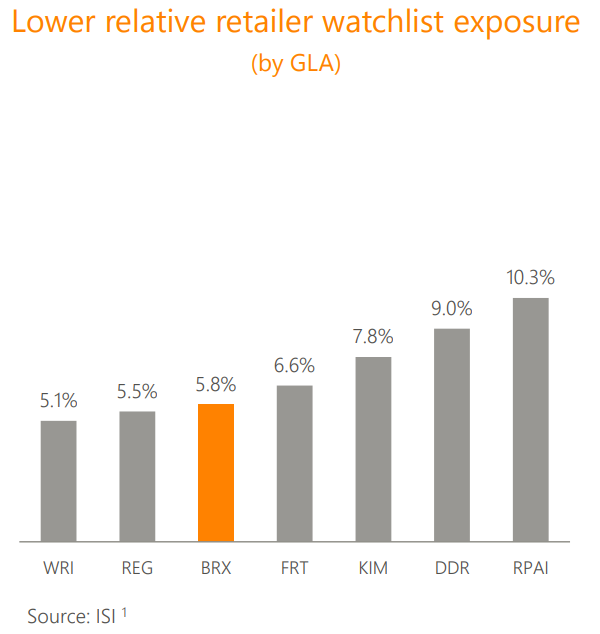 (Source: Brixmor investor presentation)
Across its entire property portfolio, lease spreads in Q2 were 14.3%, including for expiring leases with strong retailers. Lease spreads are one of the key metrics to watch with retail REITs because they show the quality of the portfolio and are a proxy for pricing power. For context, the industry average total lease spread is about 8%. BRX's far superior figure shows the quality nature of its properties, which is steadily improving over time.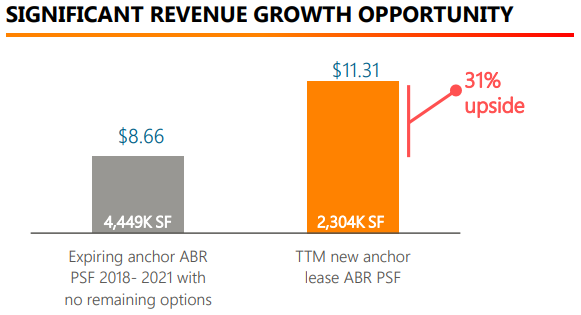 (Source: Brixmor Fact Sheet)
Management is optimistic about much stronger SS NOI and FFO/share growth in the future because over the next few years expiring anchor store rents are likely to rise significantly.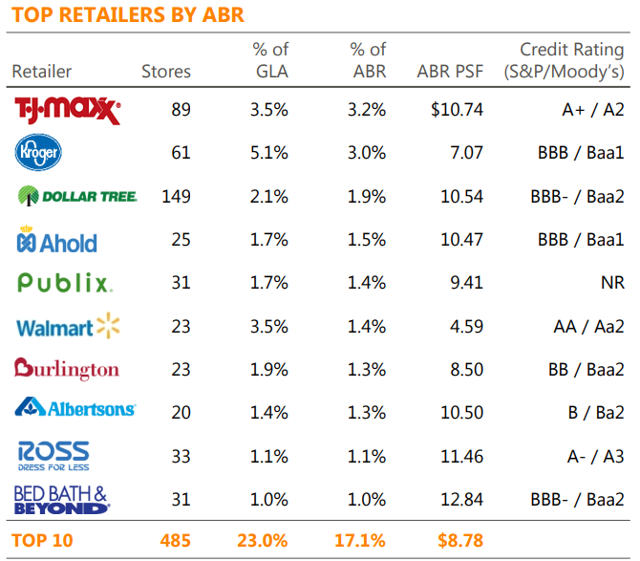 (Source: Brixmor investor presentation)
That's thanks to thriving retailers like TJX Companies (TJX), Ross Stores (ROST), and Kroger being able to pay higher rents thanks to rising consumer spending. So when existing long-term leases (average duration 9.6 years) expire they reset at higher market rates.
Other important retail REIT metrics to watch include:
occupancy: 92.5% (up from 92.0% in Q2 2017)
same-store net operating income or SS NOI: +1.4% in Q2 and 1.1% YTD
Brixmor is guiding for 1% to 1.5% growth in SS NOI in 2018, which combined with its strong lease spreads and rising occupancy, shows the REIT is actually doing well. That's opposed to the market's treatment of the share price which might make you think BRX was a low grade distressed retail REIT and a value/yield trap. But if Brixmor's properties are high grade, then why is the market pricing it as if were in terminal decline?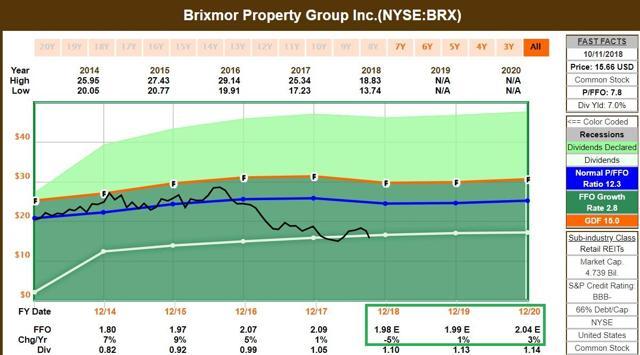 (Source: F.A.S.T. Graphs)
That would be because Brixmor is in the middle of a turnaround, which even quality retail REITs must periodically undergo to adapt to changing industry conditions. That includes over $900 million in asset sales this year, which is expected to result in about a 5% decline in FFO/share. But there is a very good reason that BRX is selling so many assets, and it's expected to return to positive growth next year (with growth accelerating in 2020 and beyond).
The skilled management team is led by James Taylor. Taylor has over 20 years of industry experience, including serving for four years as CFO for Federal Realty Investment Trust (FRT), the only dividend king in all of REITdom. Management's plan calls for selling the weakest properties, which are usually located in lower density and less affluent areas. For example, here's the stats of the REIT's asset sales over the past 18 months:
average five mile population: 35% below portfolio average
average household income (within 5 miles of properties): 15% below portfolio average
average base rent per property: 16% below portfolio average

(Source: Brixmor Fact Sheet)
Brixmor plans to trim its weakest positions to focus nearly entirely on thriving, highly populated and rich cities.
Which is why the proceeds from its asset sales are being used for two main purposes. The first is paying down debt, including a $135 million term loan in Q2 of 2018. Over time, management says that deleveraging is a top priority. That will improve its credit rating, lower its borrowing costs, and improve the safety of the already secure dividend.
But by far the most important use of asset sales is reinvesting to improve its properties (what Sears didn't do and what ultimately killed it).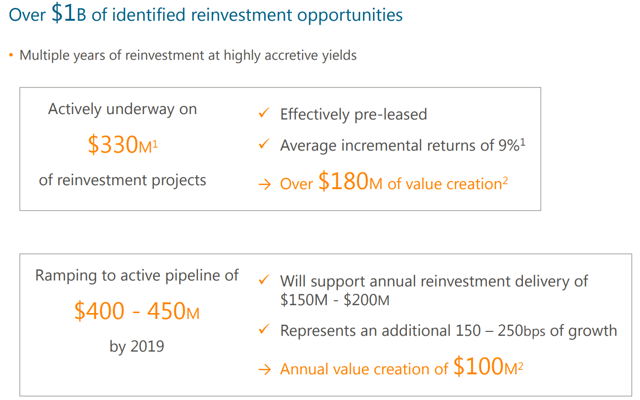 (Source: Brixmor investor presentation)
Brixmor currently has $330 million in redevelopment projects underway, with another $425 million scheduled to get started next year. The important thing to know about this investment strategy is that it can achieve the same revenue growth for 2/3 less capital spending (compared to building new malls). That means much more profitable uses of the REIT's capital. One that has on average, helped boost small store occupancy rates by 7% where BRX has tried it.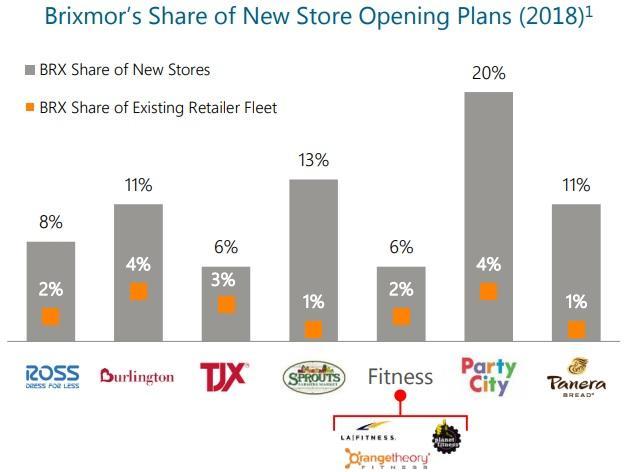 (Source: Brixmor investor presentation)
Thanks to the success of improving its strongest properties, BRX has been able to capture a significant amount of new store openings from its best retailers. This indicates that Brixmor's turnaround plan is working well, despite what the share price might imply.
But the best part about Brixmor's turnaround efforts, and why I bought the stock, is due to management's disciplined and conservative financing strategy. 57% of its investments are funded with retained cash flow, with the rest coming from decreasing amounts of low cost debt. Today BRX has $1.35 billion in liquidity available, mostly from its revolving credit facilities. But thanks to the industry's lowest payout ratio, BRX doesn't have to use excessive debt to fund its redevelopment pipeline.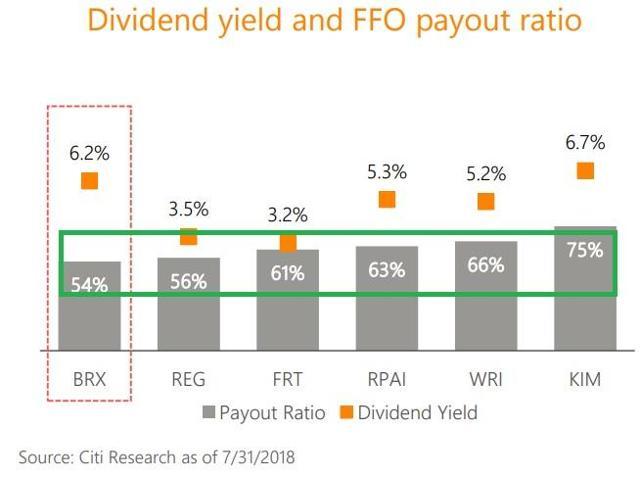 (Source: Brixmor investor presentation)
Best of all, BRX doesn't rely on equity growth financing. In fact, it is actually buying back its super cheap shares ($39 million so far). Each share repurchased represents a 12.8% FFO yield, which means significant accretion to the REIT's investors. This basically means that even if BRX's share price were cut in half, or remained at current levels forever (it won't), it wouldn't hurt management's growth plans. That's because being able to buy back cheap shares would actually boost the REIT's long-term FFO/share growth rate.
Going forward, the smaller use of debt means that BRX's leverage ratio will fall steadily, likely earning it credit upgrades and reducing future borrowing costs. That will allow it to lock in the profitability on new investments and reduce its business model's exposure to rising interest rates.
And of course we can't forget that the biggest upside to income investors is that BRX's low payout ratio has allowed it to continue raising its dividend steadily, even during its turnaround.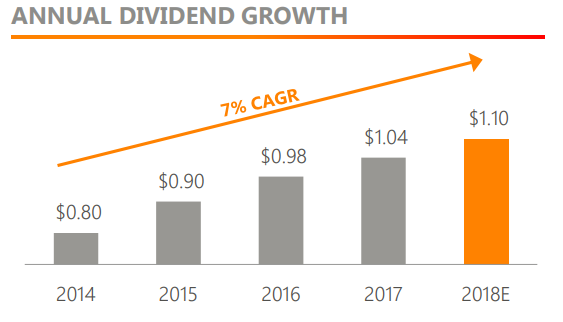 (Source: Brixmor Fact Sheet)
I don't necessarily expect that growth rate to continue in the future, but over the long-term 4% dividend growth is a reasonable estimate. Given Brixmor's mouth-watering and safe 7.2% yield, that's more than enough to earn a "very strong buy" from me, and a spot in my portfolio.
2. Kimco Realty: An Industry Blue Chip Whose Turnaround Is Nearly Complete
Kimco was founded 60 years ago and is one of America's largest and most diversified shopping center REITs. It owns 437 centers, with 8,200 stores leased to 3,800 tenants. Just like Brixmor, Kimco is not a mall REIT, and its exposure to Sears/Kmart is just 14 leases representing 0.6% of annual rent.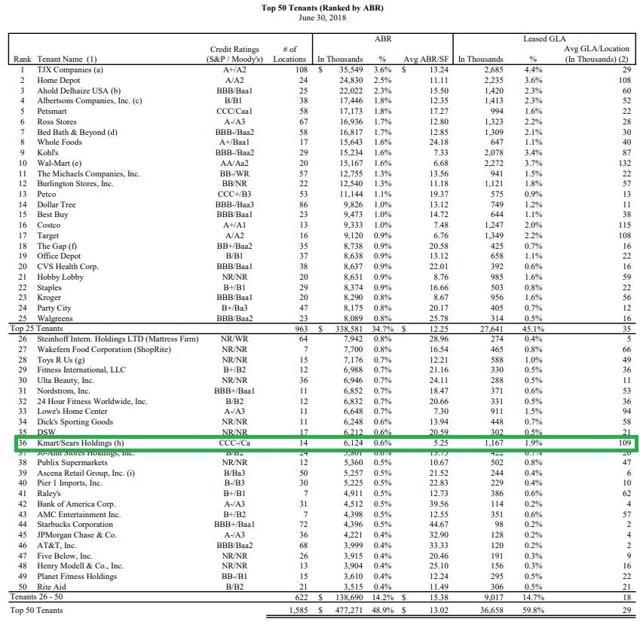 (Source: Kimco earnings supplement)
And in terms of other distressed retailers? Management estimates its total annual rent affected by store closures is just 1.2%.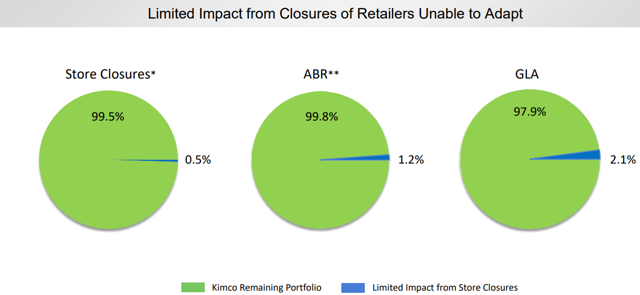 (Source: Kimco investor presentation)
This means that Kimco will not suffer when Sears finally dies, but will also benefit from being able to release that space to thriving tenants at far higher prices.
Kimco is led by CEO Conor Flynn, who has been with the REIT since 2003. He has been CEO since 2016, but over the past 15 years has served as both Chief Investment Officer and Chief Operations Officer. He has also been the President for the West Coast, which is a key growth focus for the REIT going forward.
Now I'm the first to admit that Kimco has a troubled past, which understandably makes investors nervous. Prior to 2010 Kimco was known for its empire building, including over expanding into weaker markets, and even overseas (into Canada, Brazil, Mexico, Chile, and Peru). This led to their leverage ratio being a dangerous 8.8 during the financial crisis, and forcing management to slash the dividend when credit markets slammed shut.
However, since 2010 the REIT has learned the error of its ways, and focused like a laser on quality over quantity. It has sold off about 400 properties in less dense and affluent markets, as well as international locations. In total, over the last eight years Kimco has over $6 billion in asset sales to its name.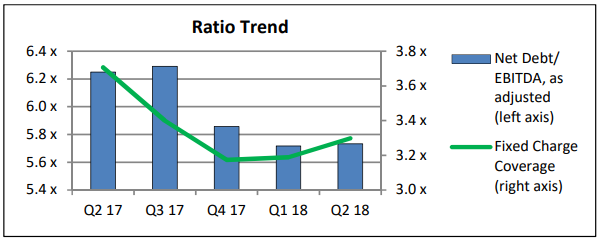 (Source: Kimco earnings supplement)
Those assets sales have transformed its balance sheet into one of the best in the industry, and sets it on the path to a "A-" credit rating in a year or so.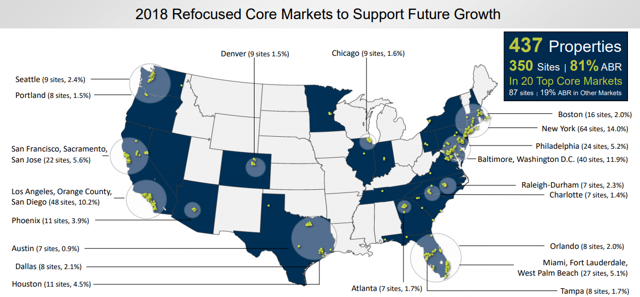 (Source: Kimco investor presentation)
Today the REIT is focused on the coasts, and sunbelt, in prosperous and densely-packed urban areas. Its top 20 markets generate 81% of its rent and that figure is set to rise in the future.
Like Brixmor, Kimco is in a turnaround focusing not on new store openings or acquisitions, but on adapting to the modern retail environment. That means a focus on thriving retailers who are relatively e-commerce-resistant.

(Source: Kimco investor presentation)
Thus, the strong focus on grocery store-anchored centers, and service and experiential small shops. It's also targeting retailers with strong omni-channel exposure like Walmart (WMT), Home Depot (HD), and Target (TGT). These retailers are proving they can leverage their physical locations to help drive online sales and thus compete with the likes of Amazon (AMZN).
This focus on strong, e-commerce adapted retailers can be seen in the REIT's strong occupancy of 96%, which is up 0.5% in the past year. The REIT's other core metrics are similarly excellent:
new lease spreads: 11.5% (17th consecutive quarter above 10%)
total lease spreads 9.2% (industry average 8%)
Same Property Net Operating Income (NOI) up 3.9% in Q2 and 3.2% YTD 2018 (up 1.7% in 2017)
Full Year 2018 SS NOI Guidance: +2.25% (despite Toys "R" Us liquidation drag of as much as 0.8%)
Kimco's lease spreads are lower than BRX's, due to that REIT's superior releasing prowess. However, Kimco is further along in its turnaround (started earlier) and thus enjoying stronger SS NOI growth. Even accounting for the liquidation of Toys "R" US, management is expecting 2.25% SS NOI, which should rise higher in the future once the negative comps roll off.
Most importantly of all, Kimco's strong core metrics have been improving steadily over the past five years. This is what ultimately debunks the myth of the "retail apocalypse" and allows me to invest with confidence.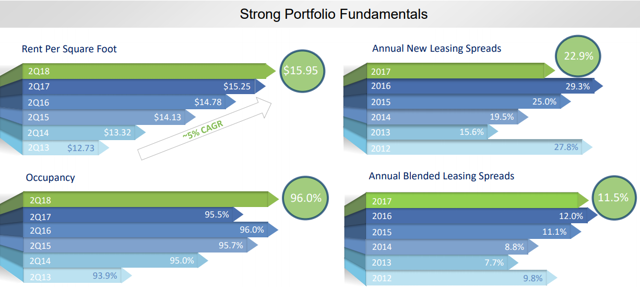 (Source: Kimco investor presentation)
Kimco's long-term growth thesis is similar to Brixmor in that it's focused on using retained cash flow (self-funding model, no equity issuances) to reinvest and improve its properties. And like Brixmor, Kimco is buying back stock ($75 million so far, $225 million left on current authorization). For REITs a self-funding business model, that is 100% non-reliant on share price, is as low risk as you can get. Kimco's share price could fall to $1 and it wouldn't dent its long-term growth plans.
Those plans calls for mixed use properties. That means Kimco is adding offices, hotels, and apartments to increase foot traffic and make its properties more valuable.

(Source: earnings supplement)
Today Kimco's fortress-like balance sheet can support an additional $3.7 billion of borrowing before breaching its debt covenants. However, when it comes to the REIT's $2.8 billion of growth projects, on which it expects to earn 8% to 13% returns on investment, Kimco doesn't have to resort to excessive borrowing as it did in the past.

(Source: Kimco investor presentation)
That's thanks to a safe payout ratio that allows Kimco to retain $117 million per year in cash flow after paying it dividend. So if Kimco's assets are so great, and its fundamental metrics are strong and rising, why does Wall Street hate it?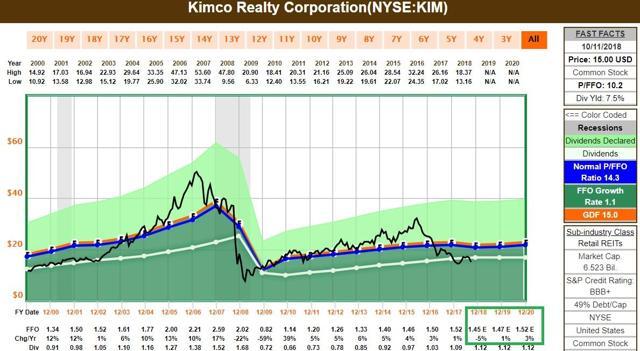 (Source: F.A.S.T. Graphs)
Well like Brixmor, Kimco's major asset sales this year ($700 million to $900 million), to improve its portfolio, means a 5% decrease in FFO/share in 2018. In Q3 Kimco sold another $153 million worth of assets, meaning it's at about $700 million in dispositions YTD. And according to Ross Cooper, the REIT's CIO,
The disposition environment remains very active given the ample capital and financing readily available to third-party buyers, and we expect a strong finish to the year."
Wall Street isn't known for its patience, and combined with the market's obsession with the "retail apocalypse" and fears of rising long-term rates, have pounded Kimco shares into the ground. However, Connor Flynn told analysts at the most recent conference call that he's confident that modest growth will return next year, and accelerate in 2020 and beyond.
Given the REIT's much-improved property portfolio going into 2019, combined with a massive and well-funded redevelopment pipeline, I'm optimistic that Kimco can eventually return to strong growth. Today analyst estimates of its 10-year FFO/share and dividend growth are running about 4%. That's about the same long-term consensus forecast as Brixmor, which is what ultimately underpins the long-term investment thesis of both stocks.
Ok, so both Brixmor and Kimco are high-quality REITs, with bright futures ahead of them. But what does that actually mean for long-term high-yield investors? Try two of the best dividend profiles you can find today, not just among REITs, but any dividend stock in America.
3. Dividend Profiles: Mouth-watering, Safe Yields, Decent Long-Term Growth, And Market Crushing Return Potential
I'm not interested in chasing yield, so I try to avoid "yield traps" (unsafe dividends) like the plague. This is why the biggest factor in whether or not I recommend a stock, or add it to my portfolio, is the dividend profile. This is made up of three parts: yield, dividend safety, and long-term growth potential. Combined with valuation, it's what determines long-term total return potential, which is what I and many investors are trying to maximize.
| | | | | | |
| --- | --- | --- | --- | --- | --- |
| REIT | Yield | 2018 FFO Payout Ratio | Analyst Projected 10 Year AFFO/share Growth Rate | Expected 10 Year Annualized Total Return (From Fair Value) | Valuation Adjusted Annualized Total Return Potential |
| Brixmor Property | 7.2% | 55% | 3.8% | 11.0% | 17.6% |
| Kimco Realty | 7.6% | 77% | 3.8% | 11.4% | 17.8% |
| S&P 500 | 1.9% | 38% | 6.4% | 8.3% | 0% to 5% |
(Sources: Morningstar, F.A.S.T. Graphs, Gurufocus, Management Guidance, Yardeni Research, Multpl.com, Gordon Dividend Growth Model, Dividend Yield Theory, Simply Safe Dividends)
Both Brixmor and Kimco offer mouth-watering yields, that are nearly 3.5X higher than the S&P 500. They also pay far more than the median REIT's 5.3%.
More importantly, those dividends are low risk. That's thanks to low payout ratios, and long-term, recurring cash flow (average lease about 10 years) from thriving retailers. Brixmor's payout ratio isn't just low, it's literally the lowest of any of its peers. That means the REIT has a huge safety buffer on the current dividend and might continue raising it as the turnaround wraps up.
But of course, as we saw in the Financial Crisis, low payout ratios are not enough to ensure a safe dividend. The balance sheet is also critically important, because too much debt can put a dividend at risk should credit markets tighten.
| | | | | |
| --- | --- | --- | --- | --- |
| REIT | Debt/Adjusted EBITDA | Interest Coverage Ratio | S&P Credit Rating | Average Interest Rate |
| Brixmor Property | 6.7 | 3.9 | BBB- | 3.8% |
| Kimco Realty | 5.7 | 4.7 | BBB+ | 3.9% |
| Sector Average | 5.8 | 3.4 | NA | NA |
(Sources: earnings supplements, Morningstar, Gurufocus, F.A.S.T. Graphs)
Looking at each REIT's balance sheet, Kimco is far better off. While its leverage ratio is high on an absolute basis (as is the case with all REITs), the interest coverage ratio is far above the sector average. That's why it enjoys a strong BBB+ credit rating that will probably be upgraded to A- in the next year or two.
In contrast, Brixmor's leverage ratio remains far above that of most REITs. Fortunately, it still enjoys an investment grade credit rating, though just one level above junk bond status. This is why it's been able to borrow at such low rates, lower than even Kimco's. As a result, it too enjoys an above-average interest coverage ratio that means the high debt level doesn't currently threaten the dividend.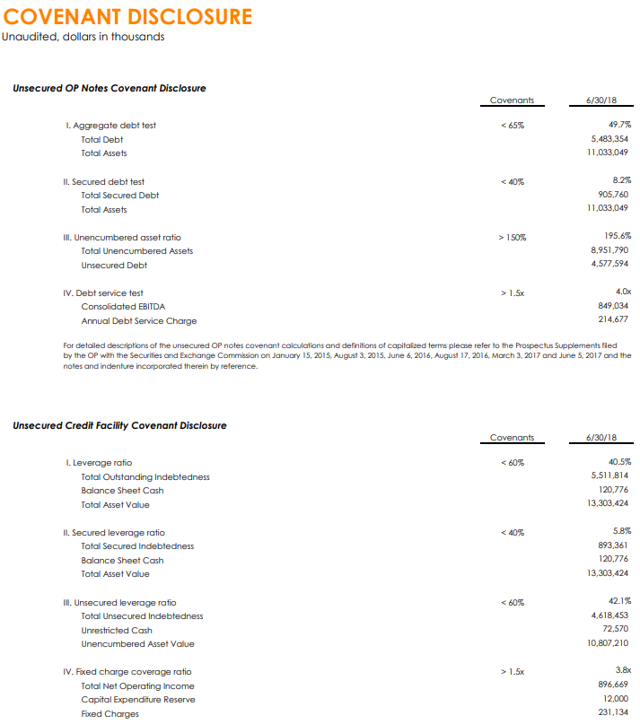 (Source: Brixmor earnings supplement)
That's because Brixmor isn't close to violating its debt covenants, which would allow creditors to call in loans immediately. That being said, I'll be watching BRX's balance sheet closely in the future to make sure management delivers on its promised deleveraging plan.
As for long-term dividend growth, both Kimco and BRX have done an admirable job of raising their payouts throughout their turnarounds. I expect that for 2019 and 2020 those growth rates might slow, in order to allow both REIT's to self-fund their property improvements.
But fortunately, in 2021 and beyond, analysts think both REITs should be capable of about 4% FFO/share and dividend growth. I consider that a reasonable estimate given the strong redevelopment pipelines both REITs enjoy. That means, even with no multiple expansion, BRX and KIM should be capable of generating long-term total returns of about 11% and 11.5%, respectively. For context the S&P 500's CAGR total return since 1871 has been 9.2%. This makes both REITs potentially excellent low risk, high-yield income growth investments. Ones with strong market-beating potential, even if Wall Street hates on them forever.
But when we consider valuations then each REIT looks even better. That's because from current valuations Morningstar, BlackRock (NYSE:BLK) and Vanguard estimate the S&P 500 is likely to deliver between 0% and 5% CAGR total returns over the coming five to 10 years. On dividends alone, even assuming zero payout growth, KIM and BRX would beat that.
But when we consider the likely total return boost each REIT will get from multiple expansion as their turnarounds succeed in delivering stronger long-term growth? Well, then BRX's and KIM's 10 year CAGR total return potential rises to about 17.5% and 18%, respectively.
That's courtesy of truly eye-popping low valuations that make both REITs screaming buys that are too cheap for me to ignore any longer.
4. Valuations: Both REITs Are Screaming Buys At Today's Prices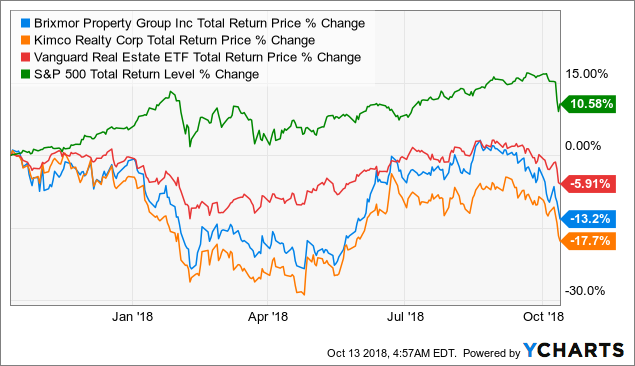 BRX Total Return Price data by YCharts
It's certainly been a bad year for BRX and KIM investors, at least in terms of total returns. While REITs have badly underperformed the S&P 500, Kimco and Brixmor remain mired in their years long bear market. However, while some may see such weakness as signs that they are "dead money" and a reason to avoid them, I instead see something different. That would be two of the best high-quality, deep value opportunities you can find today.
There are dozens of ways to value a stock, but for REITs two in particular work best over time. The first is to look at the P/FFO, or REIT equivalent of a P/E ratio.
| | | | | |
| --- | --- | --- | --- | --- |
| REIT | P/FFO | Long-Term Growth Rate Baked Into Price | Analyst Expected Long-Term Growth Rate | Historical P/FFO |
| Brixmor Property | 7.7 | -0.4% | 3.8% | 12.3 |
| Kimco Realty | 10.2 | 0.5% | 3.8% | 14.3 |
(Sources: management guidance, F.A.S.T.Graphs, Benjamin Graham)
Today Kimco's P/FFO is far below its historical norm, as well as the approximately 16.5 average for the REIT Sector. This multiple implies a long-term growth rate of just 0.5%, about eight times less than what analysts (and I) expect from it. Meanwhile, BRX is trading at even more ludicrously low levels, just 7.7 times 2018's FFO/share guidance. That actually implies negative long-term growth, that I think is highly unlikely.
Ok, so both stocks are probably deeply undervalued. But what does that mean in terms of total return boosts when multiples expand if the turnarounds succeed? For that I turn to a time-tested (since 1966) valuation method that works well for REITs called dividend yield theory, or DYT.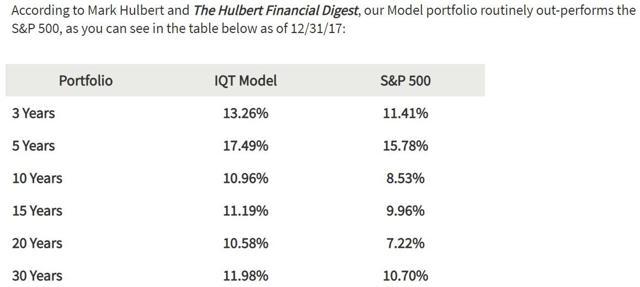 (Source: Investment Quality Trends)
DYT has been what asset manager/newsletter publisher Investment Quality Trends has been exclusively using to generate decades of market beating returns. The model works because for stable businesses like REITs, where long-term growth rates don't change much, yields tend to be mean reverting. Or to put another way, they cycle around a relatively fixed historical point that approximates fair value. Buy when the yield is above this level, and shares will appreciate faster than cash flow and dividends when the valuation returns to normal levels.
| | | | | | | | | |
| --- | --- | --- | --- | --- | --- | --- | --- | --- |
| REIT | Yield | 5 Year Average Yield | 13 Year Median Yield | Estimated Fair Value Yield | Discount To Fair Value | Price Upside At Current Valuation | Long-Term Annualized Valuation Boost | Valuation Adjusted CAGR Total Return Potential |
| Brixmor Property | 7.2% | 3.9% | 3.7% | 3.8% | 47% | 89% | 6.6% | 17.6% |
| Kimco Realty | 7.6% | 4.1% | 4.0% | 4.1% | 46% | 85% | 6.4% | 17.8% |
(Sources: Simply Safe Dividends, Gurufocus, Dividend Yield Theory, Moneychimp)
Based on an average of each stock's five-year average and 13-year median yield, I estimate BRX's and KIM's fair value yields at 3.8%, and 4.1%, respectively. That implies a discount to fair value (margin of safety) of about 47% for each stock. It also means that eventually, if the turnaround succeeds (on track to), each stock could nearly double on multiple expansion alone.
I can't predict when that will occur, or how long it will take. But even if it takes 10 years, that would still mean each stock's share prices would appreciate about 6.5% faster than FFO/share and dividends. Which is how I get to my expected valuation adjusted return potential of about 17.5% for BRX and 18% for Kimco. That's about double the market's historical return, and all while enjoying some of the best safe yields you can find today.
This is why I consider both Kimco and Brixmor "very strong buys" and added them to my portfolio. What's more I intend to buy more on any further weakness caused by the Sears bankruptcy, and or further market freakouts over interest rates.
But as excited as I am to recommend these REITs today, it's always important to be aware of a stock's risk profile before buying it.
Risks To Consider
While I consider both Brixmor and Kimco low-risk stocks from a dividend safety perspective, that doesn't mean there aren't some risks to be aware of.
First and foremost, it's important that current and potential investors understand that their turnarounds, while succeeding so far, are long-term strategies. In 2019, both are expected to return to FFO/share growth which is expected to accelerate in 2020 and beyond. However, in the meantime, dividend growth might slow as both REITs focus on retaining cash flow for deleveraging, reinvestment, and buyback purposes.
It's also important to point out that Kimco is far ahead of Brixmor in its turnaround, especially in regards to debt.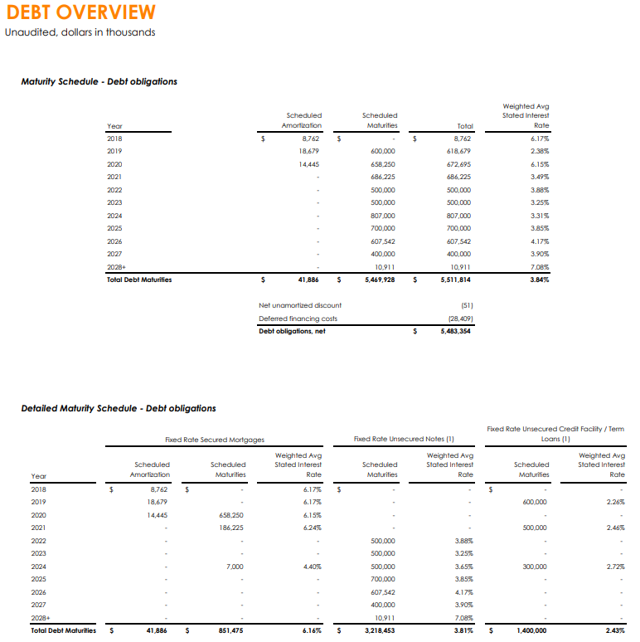 (Source: Brixmor earnings supplement)
While I'm confident that Brixmor's steadily falling leverage ratio will eventually earn it credit upgrades, I'll be watching closely to make sure its debt/adjusted EBITDA ratio falls as expected. That's because Brixmor has borrowed at long-term, fixed, and low rates. But should long-term rates rise in the coming years, when it refinances that debt it might be at higher rates that could increase its interest costs and create FFO/share growth headwinds.
Kimco doesn't face the same risk, since it's likely to receive a "A-" credit rating in the next year or two. However, like BRX, Kimco faces the potential risk of a recession striking in the next few years. While I don't expect a repeat of the Great Recession, when Kimco was forced to cut its dividend due to credit market uncertainty and much higher debt levels, occupancy rates and lease spreads might fall in an economic downturn. For Brixmor, recession risk is higher due to its more leveraged balance sheet. This is why it's so important for BRX investors to make sure the leverage ratio falls steadily over time.
And on a long-term fundamental basis, investors will want to watch both REITs' lease spreads to make sure that the investment thesis remains intact. The risk is that in the future e-commerce might make physical locations less valuable, which might reduce shopping center landlord pricing power. I consider this a low-risk, since omni-channel and mixed use properties are showing that brick & mortar isn't dead, nor likely to decline in the future. However, fundamental metrics like occupancy, lease spreads, and SS NOI are the only ways investors have to make sure the investment thesis remains sound.
Which brings us to short-term price risk, which many REIT investors are understandably concerned about. As the recent years have shown, markets can remain irrational bearish on even quality REITs for long periods of time. In the event of a recession all stocks are likely to fall during the bear market that will accompany it. Depending on their valuations at the time Kimco and Brixmor would probably fall less, but you should still expect a decline, even if the price remains at current levels.
What about fears over rising long-term interest rates hurting REITs? Well, in the long-term there is no significant correlation between 10-year yields and REIT total returns. However, in the short term there certainly can be.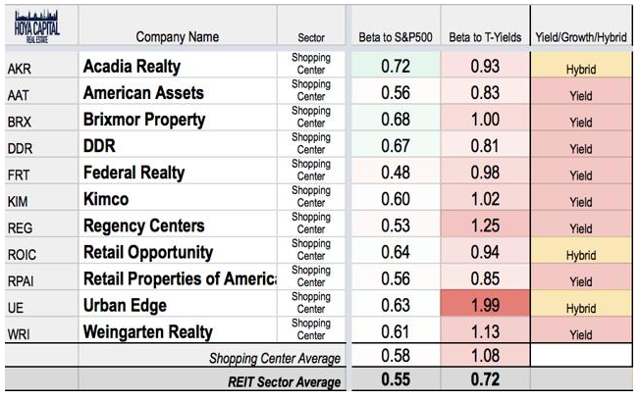 (Source: Hoya Capital Real Estate)
Due to their long leases (about 10 years), shopping center REITs have been highly rate sensitive to 10-year yields over the past year. Kimco and Brixmor both have beta to yields of about 1. This means that should the 10-year yield rise by 1%, their yields might also increase 1%, resulting in share prices declining by about 13% or 14%.
For long-term investors, such as those primarily concerned with generous, safe and growing income, this isn't a major problem. But if you need to sell shares to fund expenses (such as retirees living on 4% rule), this short-term price risk is one to keep in mind.
And of course we can't forget that the market's hatred of retail REITs, even those with almost no exposure to malls or failing companies like Sears, might get worse before it gets better. The reason I am writing this article now is because I think the Sears bankruptcy might serve as a capitulation point, where retail REITs washout and finally start a sustained long-term recovery.
But such a recovery might not necessarily happen for several more quarters, or even years. Which is why only patient investors willing to wait for stronger growth in 2019, 2020, and beyond, should own these REITs. I'm personally well prepared and even excited about the potential for further drops. This would allow me to increase my positions sizes, lower my cost basis, and boost my safe income from both stocks.
Bottom Line: Now Is The Time To "Be Greedy" On These 2 High-Quality REITs
I fully understand why many income investors are sick and tired of retail REITs. After years of underperformance, and much of the industry currently in turnaround mode, it can be enough to try the patience of even dedicated buy and hold investors.
That being said, for investors with the iron discipline and patience to let quality retail REITs adapt to changing industry conditions, I think the long-term profit potential is immense. That's why I recently added Brixmor Property Group and Kimco Realty to my portfolio.
That's thanks to strong confidence that both REITs are nearing the end of their disposition fueled turnaround mode, and will meet analyst expectations of accelerating growth in the future. And thanks to the perfect storm of negative factors, today both REITs are trading at fire-sale valuations.
That means that patient investors are able to lock in mouth-watering, but safe yields, with long-term dividend growth potential of about 4%. Combined with the strong multiple expansion likely in the coming years, this equates to about 18% annualized total return potential over the next decade.
The bottom line is that anyone willing to be patient for the next two years, while enjoying a safe 7+% dividend, should consider Brixmor and Kimco. Because while markets can be extremely bearish on stocks and industries for many years, they can't ignore solid and improving fundamentals forever. Which is why I consider now the perfect time to "be greedy when others are fearful" on these two high-quality REITs, and added them to my own retirement portfolio.
Disclosure: I am/we are long KIM, BRX. I wrote this article myself, and it expresses my own opinions. I am not receiving compensation for it (other than from Seeking Alpha). I have no business relationship with any company whose stock is mentioned in this article.
Editor's Note: This article covers one or more microcap stocks. Please be aware of the risks associated with these stocks.