This article will be the final one in the series on E&P companies as far as mid-year results go. If readers have not previously read my 4 prior articles, see: Bottom of the Barrel Club #18-4; Bottom of the Barrel Club Ex-Chapter 11 #18-5; Middle of the Road Club (Non-Permian) #18-1; and Middle of the Road Club (Permian) #18-1.
Each of those articles deal with a different group of E&P companies and, when combined with this article will give overviews and details about more than 60 E&P companies. Links to each company's most recent presentation allows for further research and analysis by each reader, in addition to what I provide here.
Much has been made of the term "Tier One" in connection with acreage within each shale play, even though there is no standard definition. Likewise, I am designating this group as my "Tier One Producer" or "TOP" Club, mostly because the companies included herein are those most favored by institutional investors. Many are also designated with "Investment Grade" ratings. Analysts generally pick and choose from among this group for their own top picks group as well.
This group could just as well be depicted by the photo below. These are the "big dogs" of the industry, and next to them, other companies often pale in comparison, in size if not in performance. Of course, many investors might prefer smaller dogs or pups, but those are the kinds of companies discussed in my prior articles.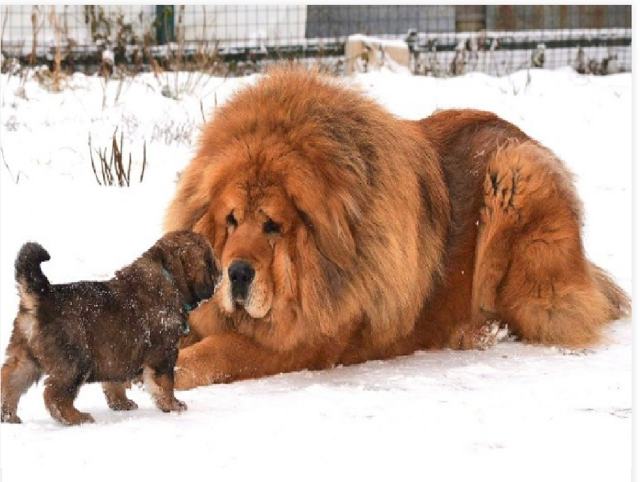 I'll follow a similar format to my other articles, first presenting an overview of each company, then including my summary of notes from 2Q data and presentations, moving on to a detailed look at 2Q numbers and finishing up with some observations and conclusions. As usual, I do not make specific recommendations due to varying investment strategies and time frames that may apply to different readers, and those readers should do their own research and analysis before making an investment decision. I compiled the data myself from public sources, and although I have checked for errors, there will be some that I do not catch. The opinions expressed are my own.
Company Overviews
As this article is intended as an introductory piece, despite the amount of detail that will follow, the overview is intended to show only what each company considers its main advantages or strategic positioning. The links provided after each company that are designated as their presentation will take you to the full presentation at each company's website, for further review and analysis if desired.
Anadarko Petroleum
Like a few other E&P companies in my prior articles, Anadarko (APC) was spun out from a pipeline company, Panhandle Eastern. APC is one of the biggest independent E&P companies in the world, with 1.4 bboe of reserves.
Anadarko's portfolio includes assets in the Delaware and DJ basins in the U.S. onshore. The Company is also among the largest independent producers in the deepwater Gulf of Mexico and has exploration and production activities internationally, including activities in Algeria, Ghana, Mozambique, and other countries. It also operates a significant midstream segment (Western Gas Partners) and has other, separate midstream assets as well.
The company has had its share of environmental issues in the past, including a fine of $160 mm paid for its ownership interest in the Deepwater Horizon oil spill (operated by BP) and a $5 billion settlement with the DOJ for cleanup by a subsidiary (Tronox) it acquired in connection with its acquisition of Kerr-McGee. More recently, an explosion of an uncapped well it had acquired from another operator in the DJ Basin is credited by many with increasing support for the Colorado initiative that would essentially ban all fracking there.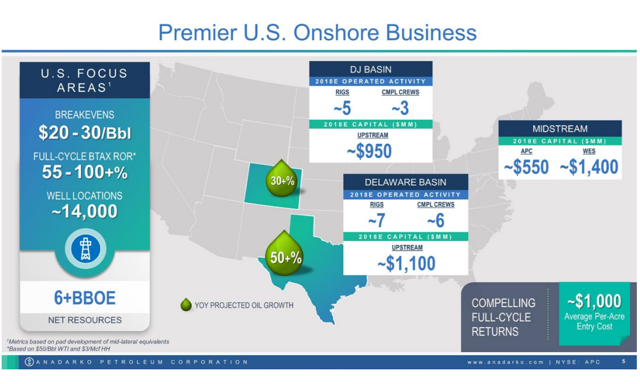 Anadarko Petroleum presentation June 19, 2018
Antero Resources
Antero Resources Corporation (AR) and its subsidiaries are engaged in the exploration, development, production, and acquisition of natural gas, NGLs, and oil properties located in the Appalachian Basin. AR focuses on unconventional reservoirs, which can generally be characterized as fractured shale formations. As of December 31, 2017, AR held approximately 620,000 net acres of oil and gas properties located in the Appalachian Basin in West Virginia and Ohio.
Antero's consolidated subsidiary, Antero Midstream Partners LP (NYSE:AM) is a public master limited partnership which was formed to own, operate, and develop midstream energy assets to service AR's production and completion activities under long-term service contracts. AR's consolidated financial statements include AM's financial position and results of operations. AR recently proposed to combine its general partner, (NYSE:AMGP) with AM.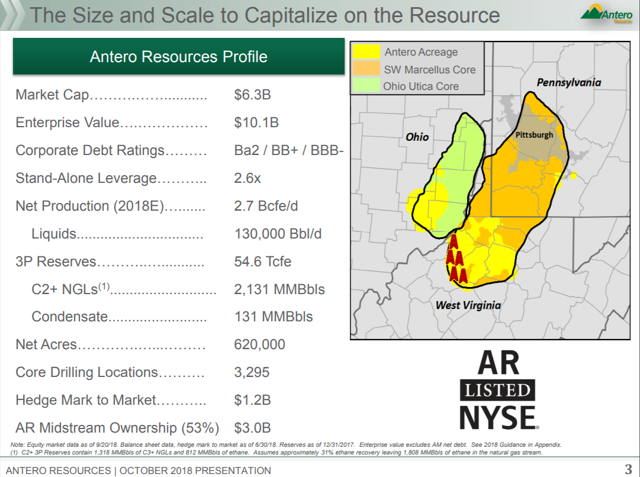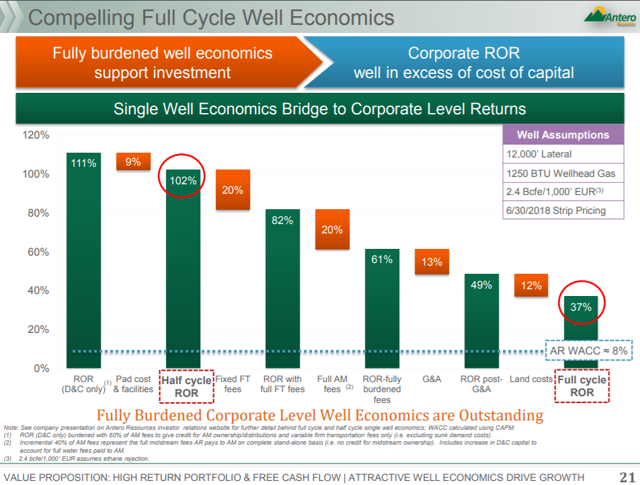 Apache Corporation
Apache Corporation (APA) was formed in 1954 and originally based in Minneapolis. Its founders sponsored drilling programs, and those were consolidated in the 1970's. In 1981, APA created the first public MLP, Apache Petroleum, with oil prices at $30 and a rig count of 4,000. In 1988 it became the first company to consolidate its MLP with the company, a trend that has re-emerged in recent days in the E&P industry.
Various early acquisitions established APA as a significant owner in the Gulf of Mexico, but it also expanded onshore. Recent efforts have focused the company back to three main areas: the US, Egypt and the North Sea, with its recent Alpine High discovery in the Permian Basin its primary focus area going forward.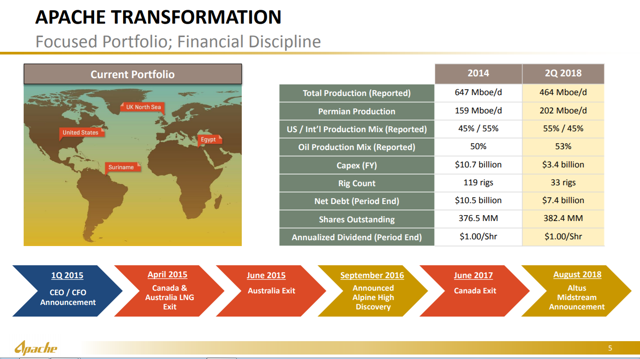 In connection with its Alpine High discovery, APA is combining its midstream operations there with a SPAC (KAACU) formed by Kayne Anderson, to be called Altus Midstream. Closing is expected in 4Q '18.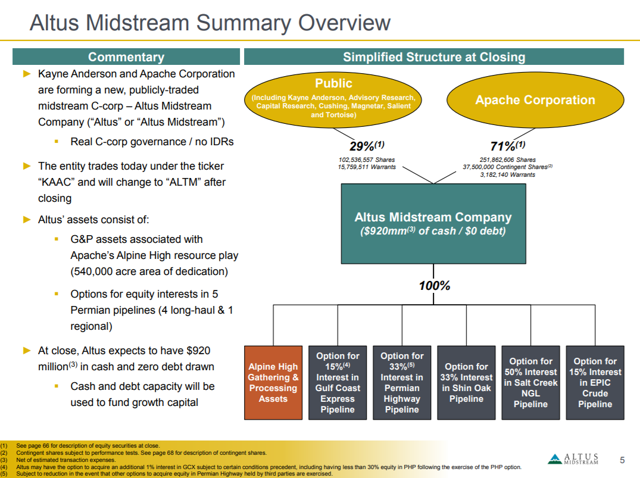 Concho Resources
Concho Resources (CXO) was formed in 2006 and operates exclusively in the Permian Basin, where it has become one of the largest operators. It recently acquired RSP Permian, significantly increasing its scope there. That follows other acquisitions dating back to its origin, including Chase Oil, Henry and 3ROC; the company was originally also backed by PE firm Yorktown.
This is the third iteration of Concho, the two previous versions having been sold in 2001 and 2004, respectively. CXO's founder previously was an EVP with Parker & Parsley, now Pioneer Resources, where he worked with PXD's CEO.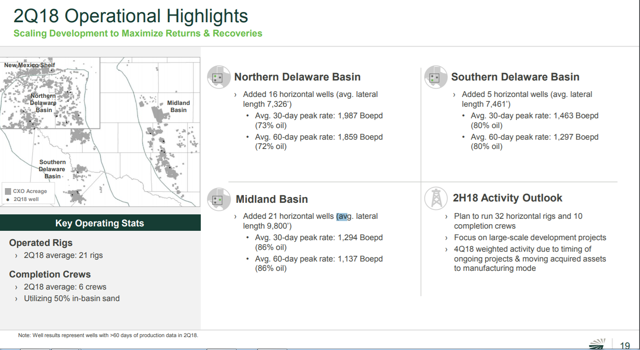 There is a recurring theme in many of these companies' presentation, which in one form or another describes oil and gas operations as a "manufacturing process." Whereas in previous times, E&P companies developed individual prospects that could be drilled and, if successful, produced, the introduction of shale plays and the relatively consistent geology over large swaths of acreage has resulted in a more mechanized and (hopefully) predictable process.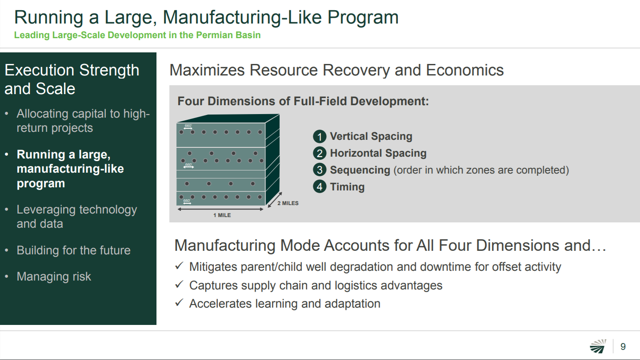 ConocoPhillips
ConocoPhillips (COP) is the world's largest independent exploration and production (E&P) company, based on proved reserves and production of liquids and natural gas. ConocoPhillips was incorporated in 2001 in connection with the merger between Conoco Inc. and Phillips Petroleum Company. The merger between Conoco and Phillips closed on August 30, 2002. In April 2012, ConocoPhillips completed the separation of the downstream business into an independent, publicly traded energy company, Phillips 66 (PSX).
COP has operations and activities in 17 countries, with a diverse portfolio that includes resource-rich North American tight oil and oil sands assets; lower-risk conventional assets in North America, Europe, Asia and Australia; several liquefied natural gas (LNG) developments; and an inventory of global conventional and unconventional exploration prospects.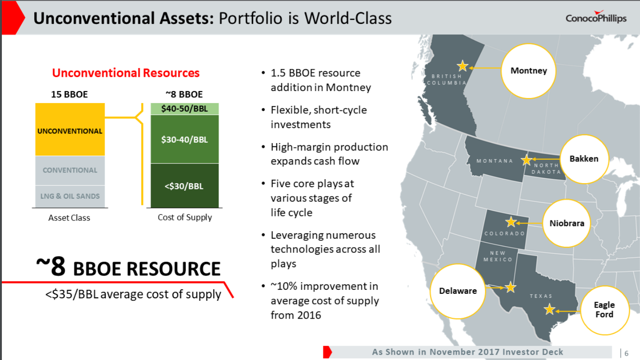 Continental Resources
Continental Resources (CLR) was formed in 1967 and originally operated primarily in Oklahoma. In the 1980's, CLR expanded into the Bakken Trend in North Dakota and Montana, which comprises 50% of CLR's oil reserves today. In recent years, it has expanded into the STACK and SCOOP areas of Oklahoma, which comprise the remaining 50% of reserves today.
As of December 31, 2017, CLR had estimated proved reserves of 1,331 MMBoe, with estimated proved developed reserves of 602 MMBoe, or 45% of total estimated proved reserves. Crude oil represents approximately 48% of estimated proved reserves as of December 31, 2017. The standardized measure of discounted future net cash flows totaled approximately $10.5 billion at December 31, 2017.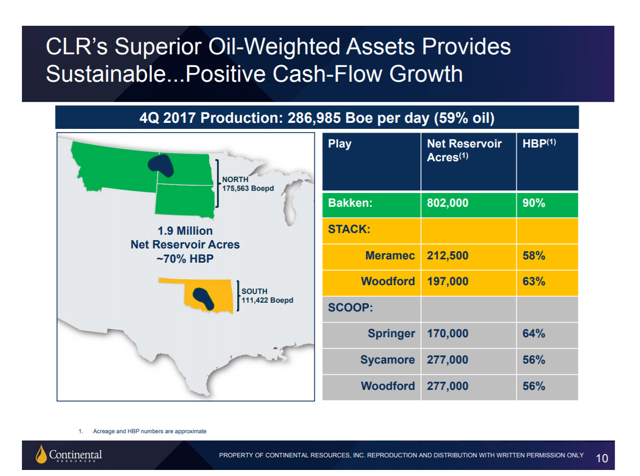 Continental Resources presentation 9/5/18
Devon Energy
Devon Energy (DVN), like APA, got its start sponsoring drilling programs, having been founded in 1971 by John Nichols and his son, Larry. Also like APA, they had formed a publicly-traded MLP, Devon Investors, in the early '80's, and after the 1986 price crash, they took Devon public by merging the private general partner with the MLP.
As my notes and their presentation show, DVN has been dramatically changing the company to focus on core areas in the Permian and in Oklahoma, having divested several asset areas and its units in EnLink, a midstream MLP it used to own. Like many other companies, these actions are part of an overall plan to re-position the company after the most recent price crash, reducing debt and returning cash to shareholders.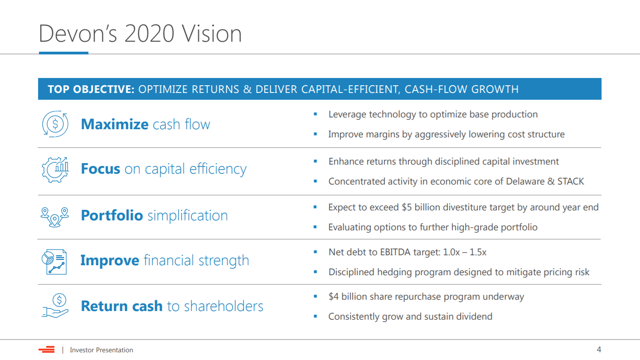 Encana Corporation
The only company in this "Club" that is incorporated outside the US, Encana (ECA) was initially a Canadian-focused company. However, since the 2000's it has expanded into the US, where the EagleFord and Permian comprise its two primary focus areas. In the Permian, ECA owns almost 120,000 net acres and is in the top 10 operators there.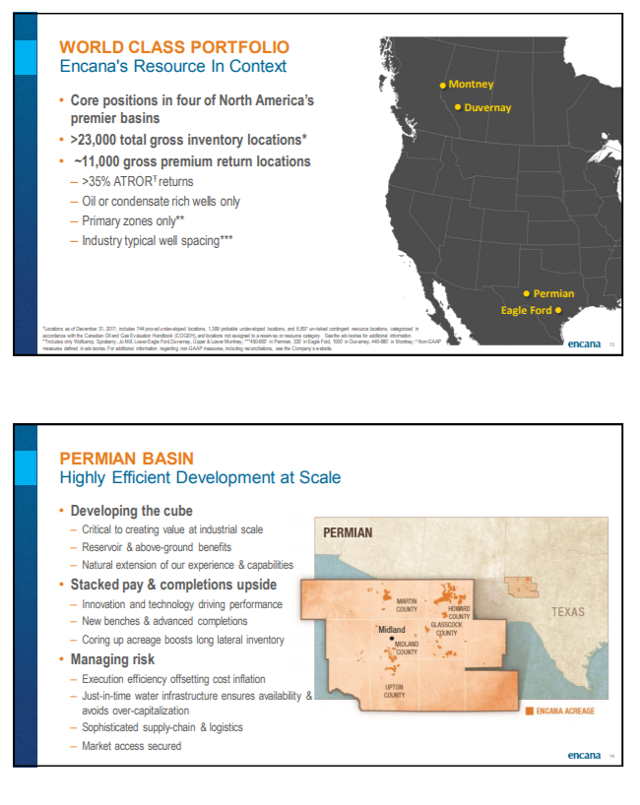 Encana Corporation presentation
EOG Resources
Another former subsidiary of a pipeline company, EOG Resources was originally known as Enron Oil and Gas. EOG was created in 1985, and it separated from Enron in 1999. Today, EOG and COP are regarded as the two largest independent E&P companies, both with market capitalizations approaching $100 billion.
At December 31, 2017, EOG's total estimated net proved reserves were 2,527 million barrels of oil equivalent (MMBoe), of which 1,313 million barrels (MMBbl) were crude oil and condensate reserves, 503 MMBbl were natural gas liquids (NGLs) reserves and 4,263 billion cubic feet (BCF), or 711 MMBoe, were natural gas reserves. Approximately 97% of EOG's net proved reserves, on a crude oil equivalent basis, were located in the United States,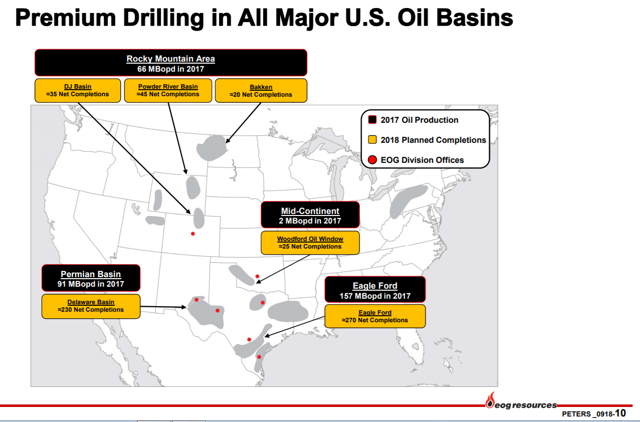 One thing that EOG believes separates it from other companies is its corporate culture, which was originally instilled by Mark Papa, its initial CEO after the Enron split and now CEO of Centennial Resource Development (CDEV).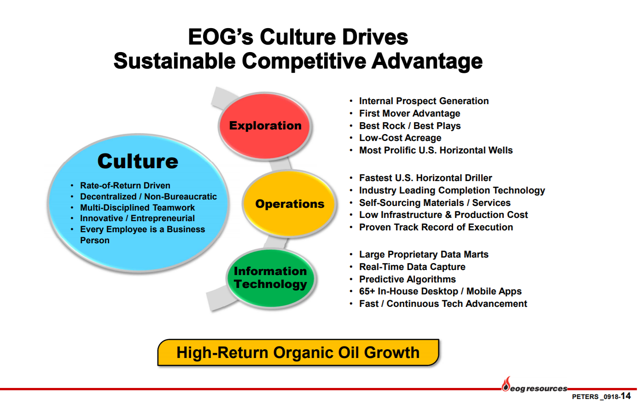 Hess Corporation
Hess Corporation (HES) is the successor company to a company originally formed in 1920, the Amerada Petroleum Corp., an oil producer. In 1968, Hess Oil, an oil refiner controlled by Leon Hess, proposed a merger, and Amerada Hess was created.
The company changed its name in 2006 and has largely disposed of its refining operations through a dramatic transformation since 2013, in transactions too numerous to mention here. The resulting company has assets primarily in the Bakken Trend and internationally, including major recent discoveries offshore Guyana.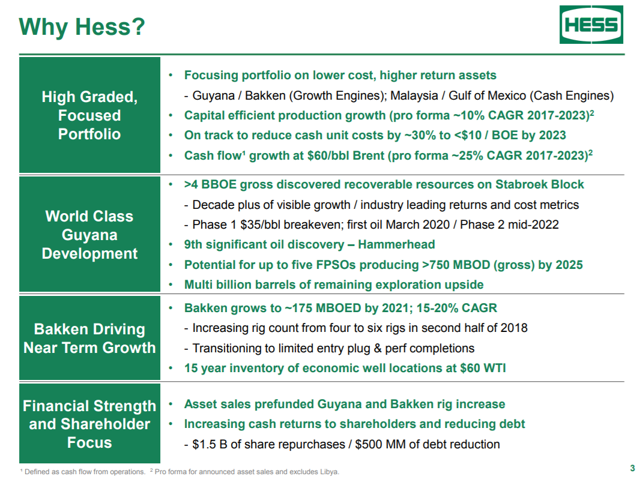 Noble Energy
Noble Energy was founded in 1932 by Lloyd Noble as Samedan Oil, named for the founder's children (Sam, Ed and Ann). Beginning in the early 1970's a holding company, Noble Affiliates, was created to hold Samedan and Noble Drilling, which was spun off in 1986.
In recent years the company acquired Rosetta Resources in the EagleFord and Clayton Williams in the Permian to complement its DJ Basin core properties. It also made major discoveries offshore Israel.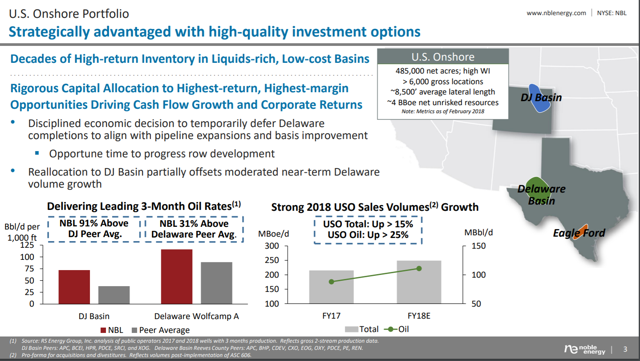 Pioneer Natural Resources
Pioneer Natural Resources (PXD) was created in 1997 through the merger of Parker & Parsley Petroleum with MESA, another early MLP, controlled originally by T. Boone Pickens. Done in by leverage and a persistent belief that natural gas prices would rise faster and farther than they ultimately did, MESA was rescued by Richard Rainwater, who then merged the company with Parker & Parsley, primarily an oil producer.
Today, PXD is a major Permian operator, having announced plans to exit other areas beginning in 2018. Those areas included the EagleFord, the Raton Basin (CO), the West Panhandle Field (TX) and two other areas in South Texas.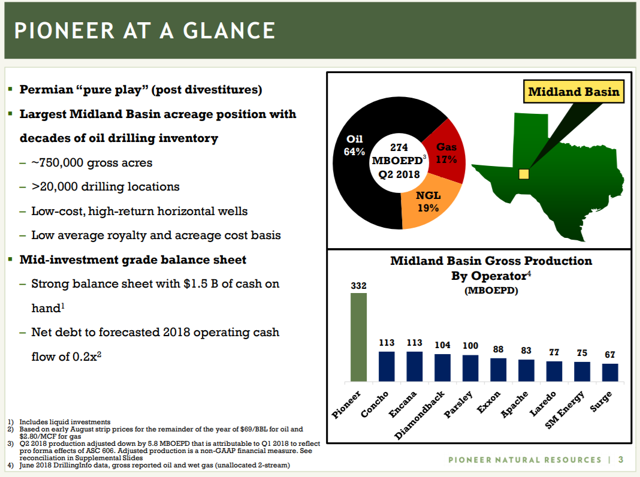 Pioneer Natural Resources presentation
Review of 2Q Results
The notes below are mine from reviewing public data from 2Q, including press releases, SEC filings and presentations. Other readers may have picked up on different items.

Financial Results
In the other articles, I have included detailed information regarding each company's 2Q results. Here, however, I will supply data I have extracted from a recent EnerCom/OilandGas360.com statistical supplement instead, since it has many of the same data and concepts as I would have prepared.

The overall impression from these results is very positive in terms of showing low leverage, attempts to grow production by investing CAPEX within cash flow, etc. However, those kinds of results do not come with cheap valuations, so it is important to follow the quarterly results and guidance numbers very closely. The results for 3Q will start coming out in the next week, and while some companies will wait until later in the 4Q or early 1Q '19 to provide guidance for '19, others may begin to signal at least production and/or CAPEX plans soon.
Discussion
Certainly, each one of the TOP Club members has its own advantages, at least in the context of an overall market environment. AR and COG are top natural gas producers with very low leverage, so when natural gas becomes in favor again, they are likely to be among the top performers overall. APC and NBL have DJ Basin operations that are currently very much out of favor, so the upcoming Colorado initiative results may give direction to those stocks. APA, CXO, ECA and PXD are in serious Permian growth phases, and CLR, MRO, DVN and NFX have core areas in the Bakken and/or the Mid-Continent as well. COP and EOG are at the top of the TOP Club, both in terms of size and in terms of attractiveness to institutional investors; simply maintaining growth in reserves and production is an achievement in itself at that level.
Many of these companies have international operations that are extremely hard to value. HES's Guyana concessions have proven to be among the top discoveries worldwide in recent years, APA has long had significant concessions in Egypt, NBL has had more recent success offshore Israel. COP has been an international E&P company going back to its days as a major, integrated company. Marathon still maintains operations in Equatorial Guinea and Libya. Keeping an eye on international developments means looking forward for several years, as the time from initiation of a project to discovery to full field development is often lengthy, although companies are seeking to reduce such timeframes substantially.
My personal favorite companies within this group are DVN and NFX. DVN has been among the best-managed companies in E&P for many years, it is taking difficult steps to reduce debt and return funds to shareholders, and its positions in the STACK/SCOOP and the Permian should allow it to re-start growth. NFX is among the most focused companies outside the Permian, and has the size that makes it an attractive takeover target at some point, in my opinion. Of course, with stock declines in any of these companies, they could offer attractive entries at some point in the future; pullbacks to support followed by upward price and volume movement highlight possible entry points. I will also be watching the Colorado initiative results very closely, not only because APC and NBL have core areas there, but because smaller companies covered elsewhere, like HighPoint Resources (HPR), SRC Energy (SRCI), Bonanza Creek Energy (BCEI), Extraction Oil & Gas (XOG) and PDC Energy (PDCE) do as well.
Conclusion
The group of companies in the TOP Club look like very worthwhile companies to follow and possibly trade or invest in the future. At least leverage is not an issue like it is with so many companies, so members should be able to implement their strategies without the baggage of legacy debt to contend with. While progress still needs to be made, and/or needs to be supplemented by further price increases, the current price environment may prove to have the tailwind that companies need to be more than merely FCF neutral or low growth from this point forward. For these companies, maintaining growth and satisfying the market's need for continued growth presents challenges that most other companies do not fact.
As an introductory overview, I have supplied a lot of data and information which will hopefully be of use to readers. While no recommendations are made by me, hopefully, this article also serves as a takeoff point for further research by some readers, and in any case, I appreciate any input you have about this kind of article as to whether it proves useful.
For comparative purposes, readers may want to review the articles linked at the beginning of this article, which include the following "Clubs" and their component companies:
The MOTR Club (Non-Permian Edition) includes Alta Mesa Resources (AMR), Carrizo Oil & Gas (CRZO), Extraction Oil & Gas, Gulfport (GPOR), Oasis (OAS), PDC Energy, Range Resources (RRC), Southwestern Energy (SWN), SRC Energy, Whiting Petroleum (WLL) and WildHorse Energy (WRD).
The MOTR Club (Permian Edition) includes Callon Petroleum (CPE), Centennial Resource Development (CDEV), Cimarex Energy (XEC), Earthstone Energy (ESTE), Jagged Peak Energy (JAG), Laredo Petroleum (LPI), Matador Resources (MTDR), Parsley Energy (PE), QEP Resources (QEP), Ring Energy (REI), Rosehill Resources (ROSE), SM Energy (SM), and WPX Energy (WPX).
The Bottom of the Barrel Club includes Abraxas Petroleum (AXAS); Approach Resources (AREX); California Resources (CRC); Chesapeake Energy (CHK); Comstock Resources (CRK); Contango Oil & Gas (MCF); Denbury Resources (DNR); EP Energy (EPE); Eclipse Resources (ECR); High Point Resources; Jones Energy (JONE); Northern Oil & Gas (NOG); Resolute Energy (REN); Sanchez Energy (SN) and W&T Offshore (WTI).
The Bottom of the Barrel (Ex-11) Club includes Amplify Energy (OTCQX:AMPY) (formerly Memorial Production Partners); Berry Petroleum (NASDAQ:BRY) (formerly a subsidiary of Linn Energy); Blue Ridge Mountain Resources (OTC:BRMR) (formerly Magnum Hunter); Bonanza Creek Energy; Chaparral Energy (NYSE:CHAP); Energy Gulf Coast (NASDAQ:EGC) (formerly Energy XXI); Goodrich Petroleum (NYSEMKT:GDP); Halcon Resources (NYSE:HK); Harvest Oil & Gas (OTC:EVEPQ) (formerly EV Energy Partners); Linn Energy (OTCQB:LNGG); Midstates Petroleum (NYSE:MPO); Penn Virginia Corp. (NASDAQ:PVAC); Sandridge Energy (NYSE:SD); Silverbow Resources (NYSE:SBOW) (formerly Swift Energy); Talos Energy (NYSE:TALO) (formerly Stone Energy); Titan Energy (OTCPK:TTEN) (formerly Atlas Energy Partners); Ultra Petroleum (NASDAQ:UPL); and Vanguard Natural Resources (OTCQX:VNRR).
Disclosure: I/we have no positions in any stocks mentioned, and no plans to initiate any positions within the next 72 hours.
I wrote this article myself, and it expresses my own opinions. I am not receiving compensation for it (other than from Seeking Alpha). I have no business relationship with any company whose stock is mentioned in this article.
Editor's Note: This article covers one or more microcap stocks. Please be aware of the risks associated with these stocks.