The US stock markets offered another blip last week. US stocks (IVV) fell by some 3% in one day. But that was enough for some Seeking Alpha authors to call it a stock market crash …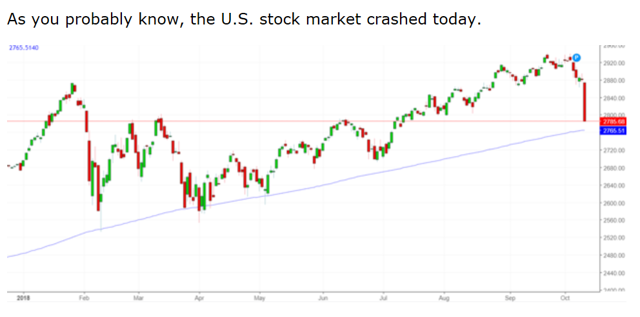 Seeking Alpha News offered …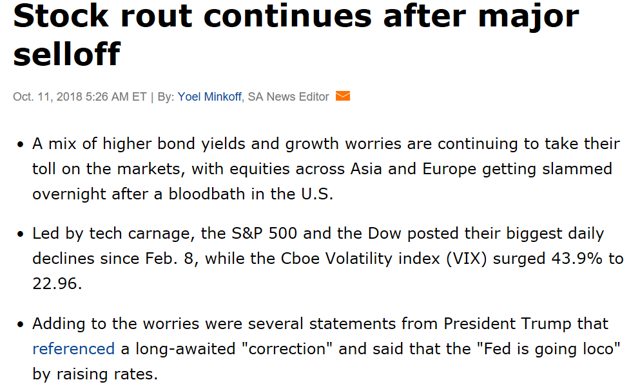 Wow, it's a bloodbath. I thought it was just normal and expected stock market behavior. Stocks are volatile, they're not often very rational in the short term; they're kind of moody. As I like to write Stocks are the Unruly Kids, Bonds are the Adult in the Room.
From CNBC, here are the other 'Plunges' that were fit to ignore for the year.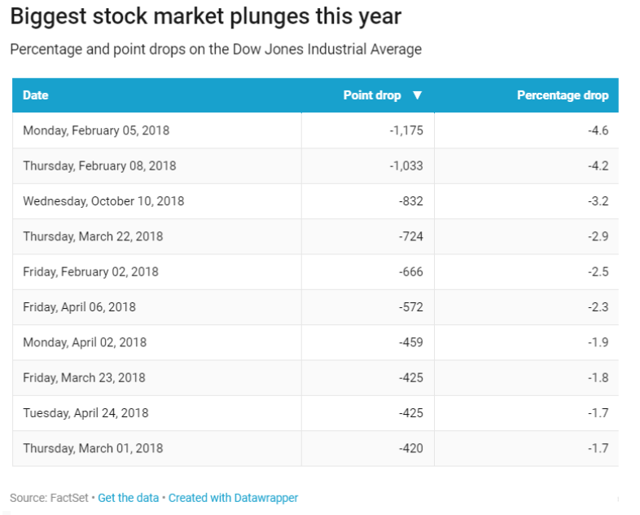 And here's some of the headlines and warnings heading into the little stock market correction...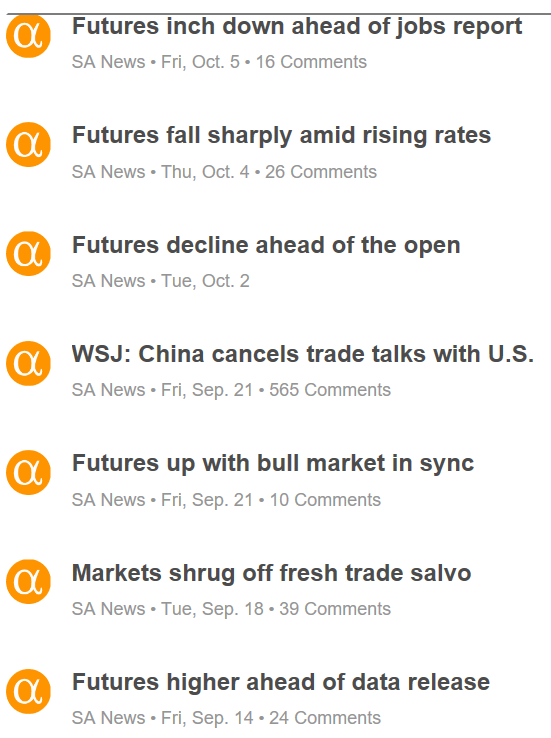 It was summed up or framed nicely by The Calafia Beach Pundit.
The S&P 500 has lost about 5% since last month's record high, but it's still up about 4% year to date. It's painful, but still short of a typical correction (-10%). The culprit? News reports cite the 80 bps rise in 10-yr bond yields this year, Fed tightening, rising tariffs, and the flatter yield curve.
But it may turn out that this event does not even make the infographic lists of things to ignore in 2018. But it's enough of an event to make headlines on Seeking Alpha, around the blogosphere and on major news outlets.
Here's a wonderful infographic from ftportfolios detailing the events that we could have/should have ignored as stocks markets soldiered on over a ten year period to deliver annual returns of nearly 9%. Now if you are one to attempt to hop in and out, your returns 'may vary'. This is what the patient, stock-market-noise-agnostic investor might have gained.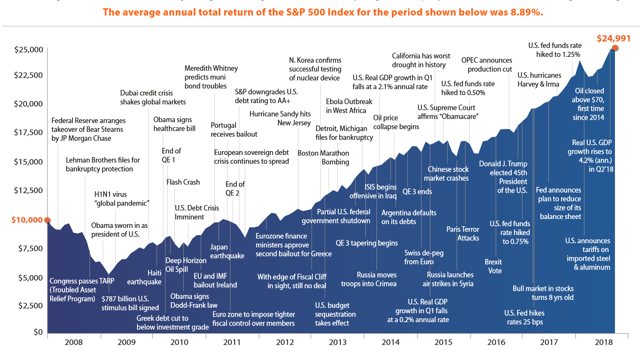 Can you imagine if you actually 'invested' based upon all of this short term noise? Well of course the word 'invested' is a poor choice. Anyone making buy and sell decisions based on these events is a trader, not an investor. I'd suggest that you pick a lane. If you attempt to be an investor/trader, you're likely to leave a lot on the table as we simply can't predict the future.
Fear is not an investment strategy. Though many make monies selling that fear; don't be a buyer.
I hope that graphic expands for you so that you can read some of the events unworthy of reading; or let's say not worth your time as an investor. But let's run through a few of the major headline makers that were attempting to throw you off of your investment game. Here's just a warning shot sampling …
Greek Debt Cut Below Investment Grade.
The End of Q1.
The End of Q2.
We have a flash crash.
North Korea confirms testing of nuclear device.
European Sovereign Debt Crisis.
We've gone to the fiscal cliff.
US budget sequestration.
Partial US government shutdown.
Q3 ends.
Oil bear market.
And oh my, now the Fed Fund rate is hiked again.
Run for the hills? Or stay the course?
The current market correction looks like another blip on that long term chart. It hardly registers. And it should hardly register on your 'things to consider' list, as an investor. Your 'things to do list' might include checking your risk tolerance level and if all is good and your portfolio matches your risk tolerance level - continue adding monies on a regular schedule. Stay calm and carry on.
If you're in retirement or near retirement, stay the course if you already have a sensible portfolio that is prepared for any stock and bond market turmoil that might show up. We're always prepared for this stuff. As my friends at Mawer Investments write …
You Don't Fix A Ship In A Hurricane.
And we NEVER know when that hurricane might hit. Listening to stock market prognosticators is no different than going to a Tarot card reader. This is for entertainment purposes only.
We might listen to the world's greatest investor, Warren Buffett, who does not invest based on short term market events or economic predictions. From a June 2018 time.com/money interview.
I'm no good at predicting out two or three or five years from now, although I will say this: There's no question in my mind that America's going to be far ahead of where we are now 10, 20 and 30 years from now.
Yup. An investor (in stocks) is a long term optimist. An investor certainly needs that long term time horizon to match that long term perspective. The two go hand in hand. We have faith that human ingenuity and effort will be the engine that grows the world's economies, both developed and developing nations. When we invest in enough of the market leading companies we are going to participate in, and profit from, that growth over time.
I'll have to gladly admit that I did not notice the little market correction that happened this week, I was too busy mid-week, enjoying life and driving to wonderful Prince Edward Island. I am writing from PEI of course as I prepare to head into Charlottetown to watch my daughter and some of her friends take part in the local Marathon. It's one of the top 5 qualifiers for the Boston Marathon.
So I was playing catch up on all of this market meltdown stuff. I was too busy looking at the wonderful and spectacular Fall colours that 'are ready' and ablaze in Eastern Quebec and New Brunswick. In my weekly blog wrap up, I wrote Those Spooky October Stock Market Corrections and The Balanced Portfolio.
Once again, we are always prepared and it is not that difficult to create a portfolio that can match your risk tolerance level. That might include those US stocks IVV, International Stocks (EFA) and bonds (AGG) (TLT) (IEF) for support. When those two events are in sync we can then ignore all of the noise - and enjoy life.
Author's note: Thanks for reading. Please always know and invest within your risk tolerance level. Always know all tax implications and consequences. If you liked this article, please hit that "Like" button. If you'd like notices of future articles, click the "Follow" button.
Dale
Disclosure: I am/we are long BNS, TD, RY, AAPL, NKE, BCE, TU, ENB, TRP, CVS, WBA, MSFT, MMM, CL, JNJ, QCOM, MDT, BRK.B, ABT, PEP, TXN, WMT, UTX, BLK. I wrote this article myself, and it expresses my own opinions. I am not receiving compensation for it (other than from Seeking Alpha). I have no business relationship with any company whose stock is mentioned in this article.