On Tuesday, September 11, 2018, Norwegian fertilizer giant Yara International ASA (OTCPK:YARIY) gave a presentation at the Nordic Large Cap Seminar hosted by Handelsbanken. As is the usual case with presentations like this, the company devoted a significant amount of time discussing the broader trends in the industry and how the company fits into the industry as a whole. It also devoted a significant amount of time discussing its own investment proposition and its growth strategy going forward. As is always the case, I highly recommend that prospective investors review this presentation for themselves but I will naturally provide a summary of it below and add my own thoughts where appropriate. Overall though, this is a great company that is well positioned for future growth in a very necessary industry, which could prove profitable for investors.
Yara International is one of the largest fertilizer companies in the world and the single largest producer of both nitrates and NPK.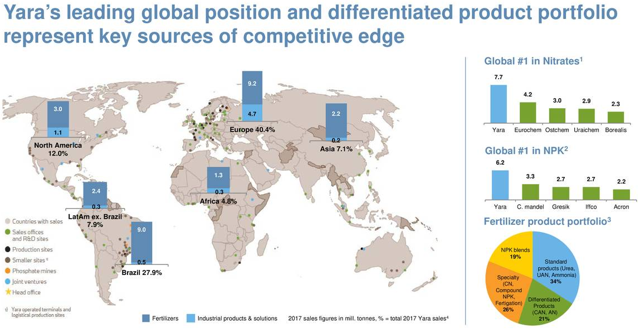 Source: Yara International ASA
This provides the company with a few advantages. One of the most notable of these is that it provides it with a certain amount of protection against regime risk, which is the risk that a governing body of a region will take some action that causes a negative impact to a company's top- or bottom-line. By diversifying its operations across a variety of countries, it limits the impact that any singular government can have on the company as a whole.
A second potential advantage of having operations in multiple markets is exposure to markets that may have different fundamentals and dynamics. While fertilizers are a commodity business and therefore are greatly influenced by global dynamic trends, there can be some regional factors, such as weather, that can affect fertilizer pricing or demand in a single market. The company's global operations help insulate it from these risks.
A few years ago, there was some concern among investors due to falling prices. This problem has reversed itself however and prices for urea, which is an inexpensive form of nitrogen fertilizer, have been moving higher for the past year or so.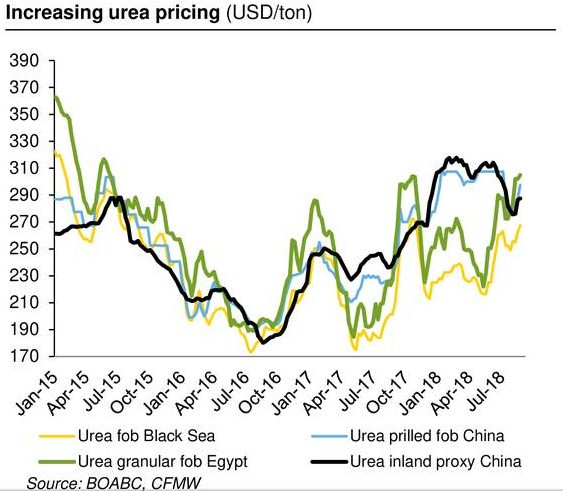 Source: Yara International ASA
One of the most significant reasons for this is that the exports of urea coming out of China to the rest of the world have been decreasing.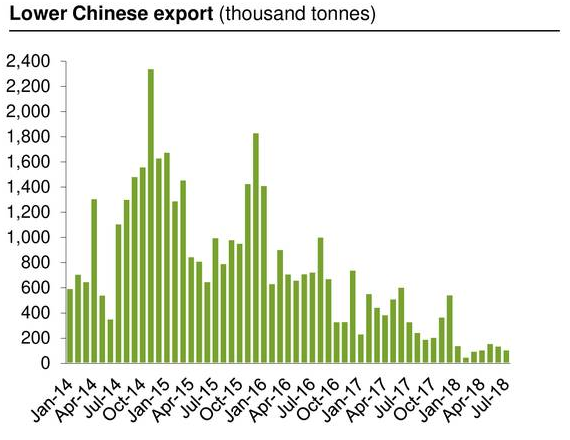 Source: Yara International ASA
Thus, we have an issue where the basic economic law of supply and demand is resulting in prices moving higher due to supply declining. This has a positive impact on Yara International's revenues and cash flows, which is always nice to see.
Despite this improving market, Yara International has been working on an improvement program, meant to improve its EBITDA. It aims to accomplish this primarily through cost reductions, although some of the measures do require an upfront investment. Thus far though, it has had a positive impact, with the company's EBITDA improving by $350 million ($310 million of which is reflected in the company's second quarter results) since the program was initiated back in 2015: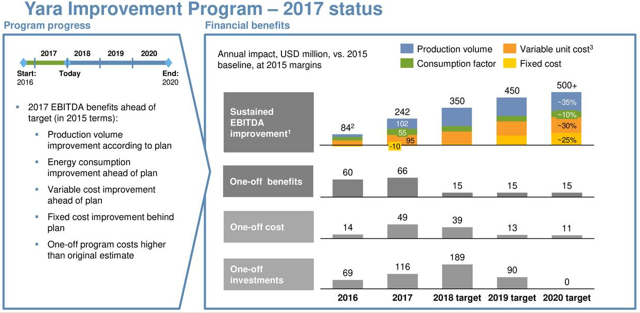 Source: Yara International ASA
As we can see here, it intends to continue with this program going forward with an end target of having an annual EBITDA that is $500 million higher than in 2015. Of course, it is worth noting that this EBITDA improvement assumes that all else is equal and it rarely is in the world of business. However, this is still a net positive for the company even if its EBITDA does not visibly increase by as much as planned due to other factors.
The company's improvement program is not the only method that it is using to stimulate its forward growth. Another method that it has used is acquisitions. For example, one of the recent acquisitions that Yara International highlighted in its presentation is the Tata Chemicals fertilizer business: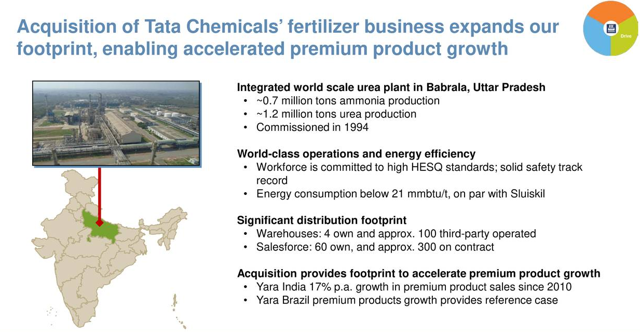 Source: Yara International ASA
As we can see here, the purchase of this plant boosts Yara's ammonia production by 0.7 million tons annually and its production of urea by 1.2 million tons annually. We have already discussed urea and ammonia is used to extract nitrogen, which is also a fertilizer product. Thus, the result of this acquisitions and others like it is to increase the amount of fertilizer that the company has to sell. Naturally, this will generally boost revenue unless fertilizer prices decline.
Unfortunately, with a possible exception in urea prices as already mentioned, this has not been the case: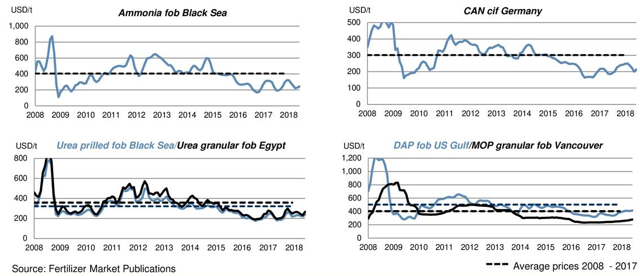 Source: Yara International ASA
As we can see here, fertilizer prices are generally lower than they were in 2015. However, as was the case in urea, they are generally stable to improving compared to where they were in 2016 when they bottomed out. As prices have been relatively steady, the added production that Yara International has been generating from its acquisitions has grown its overall revenue.
This continues the company's historic record of delivering growth and, ultimately, returns to its shareholders. Since Yara International conducted its IPO in 2004, it has delivered an average annual shareholder return of 20%: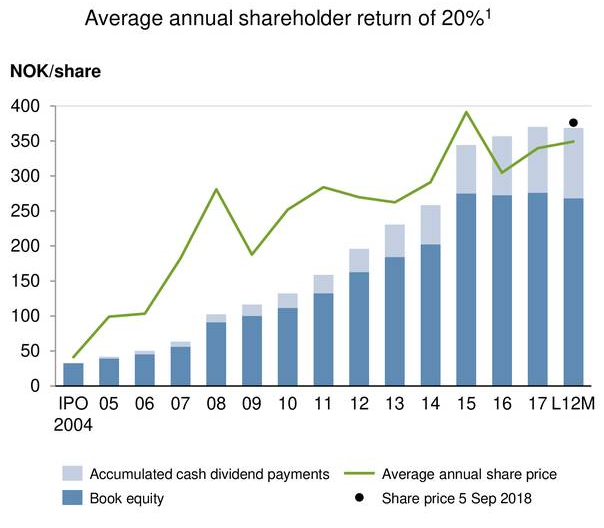 Source: Yara International ASA
A 20% annual average return is significantly better than what the S&P 500 index (SPY) has historically returned. Therefore, this is definitely something that should get an investor to sit up and take notice, particularly when the company is continuing on with its growth ambitions, as it is doing currently. In addition, the company has been hiking its dividend annually, which should endear it to dividend growth investors. Overall then, this appears to be a company that is worthy of further research.
Disclosure: I/we have no positions in any stocks mentioned, and no plans to initiate any positions within the next 72 hours. I wrote this article myself, and it expresses my own opinions. I am not receiving compensation for it (other than from Seeking Alpha). I have no business relationship with any company whose stock is mentioned in this article.
Additional disclosure: I have no direct holdings in Yara International, but I am long Norwegian funds that hold shares of Yara International.
Editor's Note: This article discusses one or more securities that do not trade on a major U.S. exchange. Please be aware of the risks associated with these stocks.