Oil Sags And The Market Gags
Includes:
BNO, DBO, DDM, DIA, DNO, DOG, DTO, DWT, DXD, EEH, EPS, EQL, FEX, FWDD, HUSV, IVV, IWL, IWM, JHML, JKD, OIL, OILD, OILK, OILU, OILX, OLEM, OLO, OTPIX, PSQ, QID, QLD, QQEW, QQQ, QQQE, QQXT, RSP, RWM, RYARX, RYRSX, SCHX, SCO, SDOW, SDS, SFLA, SH, SMLL, SPDN, SPLX, SPUU, SPXE, SPXL, SPXN, SPXS, SPXT, SPXU, SPXV, SPY, SQQQ, SRTY, SSO, SYE, SZO, TNA, TQQQ, TWM, TZA, UCO, UDOW, UDPIX, UPRO, URTY, USAI, USL, USO, USOD, USOI, USOU, UWM, UWT, VFINX, VOO, VTWO, VV, WTID, WTIU
by: Douglas Adams
Summary
Expectations of rising global oil prices have long occupied the investor mindset after the Trump administration's withdrawal from the Iranian Nuclear Pact of 2015 last May.
In the announcement's immediate wake, global oil prices actually fell, reversing course in the closing weeks of June to a new YTD high.
At the same time, the dollar continued to strengthen while the Federal Reserve continued to tighten US monetary policy, applying downward price pressure on oil through mid-August.
Meanwhile, Treasury notes began to sell off as yields rose steadily, breaching the 3% threshold by mid-September to a high of 3.26% through Tuesday's market close. Markets swooned.
Increased US, Saudi and Russian production coupled with lower global demand for energy should offset the loss of Iranian crude in world oil markets moving forward.
Global oil prices were widely projected to increase sharply with the Trump administration's abrupt pullout from the 5-nation 2015 Iranian nuclear pact this past May. Surprisingly, Brent futures (blue line) moved to the downside, falling just over 8% through mid-June. Brent futures pushed higher in the latter part of June, up 23% on the year to just over $78/barrel. Western Texas Intermediate (WTI) crude futures (green line) sketched out a similar path, falling just under 9% through the first part of June. WTI reversed course in the 3rd week of June hitting a YTD high just across the $70/barrel threshold, up just over 20% through the end of the end of the 2nd quarter. The resulting spread between the two oil benchmarks came to roughly $8/barrel, handing US oil exports a handsome price advantage in world oil markets. The US dollar (red dotted line) strengthened considerably over the period, up just over 6% from mid-April through the beginning of June, adding another 1.5 percentage points by month's end. Since oil is priced in dollars, the greenback's appreciation sliced the US price/barrel advantage from 11% to about 5% in local currency terms over the period. At the same time, the effective federal funds rate (orange line) is now at 1.95% through September. The effective rate is, so far, at the low end of the 2.00% to 2.25% federal funds range—but still at its highest level since August 2008. Yet the impact of a rising fed funds rate is applying upward pressure on borrowing costs throughout the economy with the yield on the 10-year US Treasury note (green area) closing at 3.26% as markets closed on Tuesday, falling to 3.16% by Friday in the aftermath of a $1.7 trillion market deluge (see Figure 1, below).
Figure 1: West Texas Intermediate Crude, Brent, the US Dollar, the Federal Funds Rate against the 10-year US Treasury Note, YTD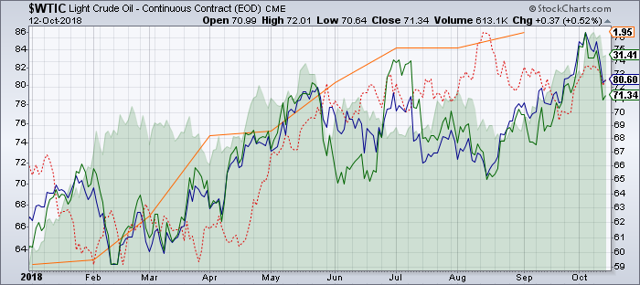 The resulting yield spread between the 10-year and the 2-year note remains narrow at 31 basis points, the better part of double the 19 b/p post of 24 August when the Treasury selloff began. The 10-year constant maturity less the federal funds rate hit a post-recession low of 87 b/p at the end of September, jumping to 105 b/p through the week ending 5 October. Moody's Baa corporate bond yield relative to the 10-year Treasury note now stands at 188 b/p through the end of September, up from 165 b/p through the end of February—the lowest post since June 2007. As rising borrowing costs mesh with a flattening yield curve and hardening tariff regimes, investor focus has increasingly narrowed in on outsized corporate and government debt positions. Lower tax rates promulgated by Tax Cuts and Jobs Act (TCJA) fattened corporate net earnings and hollowed out government revenue streams, forcing the Treasury to sponsor larger and more frequent debt issues to fill gaping revenue shortfalls. Servicing that debt is now at levels higher than during the Great Recession of 2007. With a backdrop of high multiples amongst a narrow base of largely technology stocks, stagnant wage growth and ongoing monetary tightening by the Federal Reserve, the momentum from triggered algorithmic strategies moves quickly through markets as the backdraft of Treasury selling through much of September aptly demonstrates. Through the end of August, the yield on the 10-year Treasury note stood at 2.85%. The psychologically important threshold of 3% was breached by mid-month. The selling didn't die down until Tuesday with a YTD high of 3.26%—the highest post since April 2011. As the 10-year yield wends its way toward 3.50%, bonds become all the more attractive to the risk adverse as the spread between risk free and speculative assets shrink.
Historically, bond yields serve as a proxy for where investors think economic growth and inflation are headed. And after a decade of real interest rates hovering near zero bound, a move into more positive, more neutral measures that sustains growth without fanning inflation proved more than jarring for markets. For stocks, particularly in the domestic high yield, small cap and the emerging market spaces, the impact of a decade of uber-low borrowing costs threatens to pressure forward economic growth by redirecting more cash from investment to debt service. Hardening tariff regimes and the administration's innate protectionism is now pressuring US companies to uproot international supply chains, particularly those that copiously flowed through China—at the cost of billions upon billions of dollars in direct investment and indirectly via lost shareholder value worldwide. By Thursday's market close, an estimated $1.7 trillion in market value had disappeared from the S&P 500. All of this juxtaposes precariously against the relative strength of the US economy, juiced by uber-generous corporate tax cuts, where the national unemployment rate now stands at a 49-year low and GDP growth breached 4.2% YOY in the final estimate of 2nd quarter output. Market indigestion is an inevitable byproduct.
Of course, higher borrowing costs are far less temporal and migrate quickly through the greater economy applying lasting downward pressure on spending for those entering the capital markets to finance a new home, an automobile, or take out a variable small business or personal loan. Rapid rate increases in the US strengthens the US dollar in world currency markets, causing dollar denominated commodity prices to rise in local currency terms. Rising prices spark local inflation, applying downward pressure on local spending and, in turn, local economic growth. Higher inflation amidst tight labor markets, rising oil prices and artificial barriers to trade from tariff regimes could cause the Fed to get ahead of the neutral level of interest rates—just at a time when the fiscal stimulus of TCJA slowly washes out of YOY earnings comparisons. Future growth depends on just how much further the Fed, not to mention investors, think the economy has yet to run. Central banks in advanced countries have been forced to recalibrate estimates on the natural level of unemployment. Similarly, the link between low levels of employment and inflationary pressures from rising wage packages—appear thus far to have noticeably weakened. For markets, inflation expectations appear far more potent than actual inflation measures to date. Pressure from higher raw material, energy and labor costs on margins will be a critical component as we enter into the 3rd quarter earnings season and get forward guidance on earnings for the rest of the year and beyond.
Figure 2: West Texas Intermediate Crude, Brent, the US Dollar, the Federal Funds Rate against the 10-year US Treasury Note, August to YTD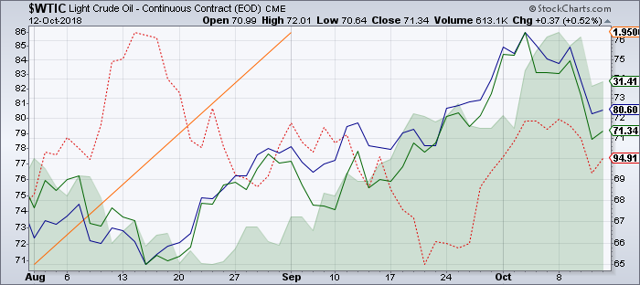 As the summer driving months draw to a close, US crude inventories usually increase as refineries close for maintenance and demand for gasoline falls. True to form, by the week ending 21 September, US crude inventory had increased by 1.8 million barrels. By the week ending 28 September, that inventory total had risen just under 8 million barrels. By the week ending 5 October, US crude inventory had increased another 5.9 million barrels. US gasoline inventory also rose by 1.5 million barrels in the week ending 28 September and another 951,000 barrels through the week ending 5 October as supply exceeded demand for the period. WTI future prices (green line) took another path, surging 21% through the first week of October for November delivery. Brent futures (blue line) shot up 23% for December delivery over the same period. The dollar (red dotted line) strengthened from a YTD low sketched out in the third week of September through the first week in October with a 2% gain. These are likely tertiary market moves based on expectations rather than underlying fundamentals (see Figure 2, above).
While both candidate Trump and President Trump have disparaged the Iranian Nuclear pact with aplomb, the US withdrawal from the Pact and the current round of US sanctions on Iran have little to do with Tehran's compliance with the agreement. On the contrary, the International Atomic Energy Agency stated last May that while Iran could do more in terms of cooperation with inspection teams, the report stopped well short of stating that Tehran was out of compliance with the 5-power agreement. Under the agreement, the US president had to certify Iranian compliance with the agreement every ninety days. The Trump administration last certification was in January for 120 days which expired in May when the US withdrew from the agreement. The current round of US sanctions is specifically designed to punish Iran for its direct and proxy interventions in Syria and Yemen and its continuing support for Hezbollah in Lebanon and Gaza. The Iranian Nuclear pact was a tool of convenience, falling well within the purview of Mr. Trump's long-held aversion to multinational agreements.
So far, oil markets have ignored global trade tensions—with the sole exception to date being a 10% Chinese tariff on US LNG imports that went online the 24th of September. That said, oil prices have become much more sensitive to geopolitical tensions as global supplies continue to be questioned in the wake of the Trump administration's withdrawal from the 5-power Iranian Nuclear Pact (2015) this past May. US sanctions will target Iran's crude exports, particularly the financing, insurance and payment regimes for Iranian crude throughout the western world. Oil provides more than 40% of government revenues. The demand for US dollars to finance Iranian imports is expected to increase the spread between the official and street exchange rates by more than 150% for the duration of the sanction regime while pushing inflation past the 30% threshold and likely beyond. While some shippers are currently making outsized margins transporting Iranian oil to world markets, shipments of oil to Europe have fallen off by almost half through the end of September YOY. Yet US sanctions and international compliance with US sanctions under the threat of US sanctions on noncompliant companies further strengthens the tariff regime. Few western companies would deign to circumvent US sanctions that buy, ship or insure shipments of Iranian oil or other Iranian imports and possibly lose access to the US market and the dollar dominated global financial system. The Iranian market is simply too small, the US market too large and the dollar denominated global financial system too omnipotent to contemplate such a move.
Estimates vary, but up to 1 million b/d of Iran's total output of roughly 2.4 million b/d could fall out of the global supply side possibly applying upward price pressure across global oil markets—at least according to current market expectations. Nonetheless, oil prices fell sharply on Wednesday (10 Oct) and again on Thursday. WTI futures for November delivery have fallen just over 7% to $71.12 since peaking on the 3rd of October at $77/barrel. Brent futures for December delivery have fallen just short of 8% to $80.44/barrel. Rising US inventories and the unexpected reopening of four major ports oil exporting ports in Libya this past July that once again fell under state control caused Brent futures to fall almost 7%. Russian and Saudi production quietly increased by 150,000 b/d and between 200,000 to 250,000 b/d in September, respectively. At the same time, Iranian production continues to fall, declining by 150,000 b/d in September to an average of 3.45 million b/d during the month. OPEC data indicated that total global oil supply rose by 230,000 b/d to an average 99 million b/d for last month while lowering global demand forecasts for the remainder of 2018 and for 2019 by about 80,000 b/d and 50,000 b/d respectively.
The S&P fell 3.35% on Wednesday and another 2.06% through Thursday's market close. The equity sell-off also came on the heels of a report by the International Monetary Fund that further cut its global economic growth estimates for the balance of the year to 3.7%, down from 3.9% estimate in April. The report cited rising trade tensions and growing protectionism, a strengthening dollar, growing financial stress in emerging markets and the flight of international capital flows to safe harbor investment vehicles for the downgrade. Lower global growth means continued weakness in demand for oil and oil-based derivative products from both industry and consumers. Meanwhile, US production through the first week in October stood at 11.2 million barrels/day, up just over 18% YOY—this despite the loss of nearly 720,000 b/d from Gulf of Mexico production shut down by Hurricane Michael during the week. The US Energy Information Agency, the statistical arm of the US Department of Energy, estimates domestic production to reach 11.9 million b/d next year. Friday's data on active rigs in the US oil patch hit 1,063 through the week ending 12 October—a 123-rig YOY increase. While betting on oil prices to remain weak is likely premature, rising US production, slowing global demand for oil and hardening tariff regimes could negate the falloff of Iranian production hitting world markets and keep a lid on oil prices for the foreseeable future.
Adding to the downdraft, Wednesday's new rules published by the Treasury Department sketched out new parameters for facilitating the blockage of foreign investment in the US technology space--predicated on national security grounds. The initiative was specifically directed toward preventing China from gaining access to sensitive American technology. The Committee on Foreign Investment in the US (CFIUS) now has a mandate to require a national security review across 27 technology sectors, including semiconductors, telecommunications and defense. With roughly 83% of the YTD gains on the S&P 500 coming from Microsoft (MSFT), Apple (AAPL), Amazon (AMZN) and Netflix (NFLX), the ruling hit technology stocks hard. Apple fell 4.5%, Netflix fell 8.4% and Amazon fell 6.2%. Microsoft broke with the pattern, slipping 0.69% on the day after a late day rally.
The equity downdraft was worldwide in scope, with heretofore high-flying technology issues taking on the brunt of the resulting market hit. Fast growing technology companies benefited greatly from the low interest rate environment of the past decade, making such stock positions highly attractive by comparison. In a low interest rate environment, the bond-equity tradeoff provided few ready investment alternatives as technology positions quickly became the most crowded trade on the market. TCJA provided further incentives as earnings were artificially juiced by windfall tax savings throughout the course of the year. As yields began to poke through the 3% threshold by mid-September, a greater array of fixed investment options slowly began to materialize, arguably setting up the worldwide selloff of high premium equity positions.
Herd behavior in markets invariably ends badly. In addition to the pummeling of the S&P benchmark during the course of the week, the Philadelphia Semiconductor Index fell 5.33% through Thursday's market close before Friday's recovery that left the Index with a 3.57% loss for the week. Throughout the week, the raw material components of today's myriad electronic devices and applications took a direct market hit. Much of those raw materials come from Asian fabricators. In Asia, the Shanghai Composite dropped 5.22% while Hong Kong's Hang Seng dropped 3.44%. Tencent plunged just over 9% through Thursday's market close, down almost 32% on the year. Japan's Nikkei Composite and Topix dropped 3.47% and 3.52%, respectively, South Korean Kospi dropped 4.44% and Taiwan's tech-heavy exchange, fell just over 6% on the day. Foxconn, a semiconductor supplier for Apple, Samsung and Amazon electronic devices broke through to correction territory on the year at Thursday's market close. The technology hit provides the clearest signal yet that investors are rising to the realization that the hardening of tariff regimes between China and the US bode ill for global economic growth prospects.
In the EM space, rising interest rates and a strengthening dollar provided the downside impetus. The yield on the 10-year Treasury note on Tuesday's start for the holiday week was 3.26%. By Friday's market close, the yield had fallen to 3.16%, a drop of just over 3% over the four-day period as global capital flows sought safe harbor investment vehicles. Brazil's Sao Paulo Bovespa fell almost 1%, South Africa's FTSE/JSE All Share fell 1.11% while Argentina's Merval fell 3.28%. Emerging and developing markets using a purchasing power parity measure comprise 59.18% of total global output. Already, Turkey and South Africa are in protracted financial trouble, while Argentina and Pakistan are currently hammering out bailout terms with the International Monetary Fund. Indonesia is planning to impose up to a 10% import tariff on downstream consumer products and a 2.5% tariff on imported raw materials to stem the ongoing slide of the rupiah against the dollar.
In Europe, trade tensions continue to apply downward pressure on growth estimates across the bloc's export economy. Germany is responsible for about a third of the euro-zone's annual output and its reliance on trade amidst growing trade tensions continue to draw concern on forward economic growth. Rising borrowing costs, outsized corporate and sovereign debt and proposed Italian government spending proposals mixed with falling US issues pressured European stocks to the downside. The German DAX fell 1.48%, the UK FTSE 250 fell 2.14% while the Italian FTSE MIB fell 1.84%.
For his part, President Trump spent much of Thursday's casting aspersions on the Federal Reserve, linking the Fed's ongoing monetary tightening with the market's six-day slide. The president's criticism, and the frequency of that criticism, has no precedent in the Fed's 115-year tenure. Historically, the closest parallel comes from Andrew Jackson's campaign against a precursor of the Fed, the Second Bank of the United States in the 1830s. Chartered in 1816, the bank was plagued with mismanagement and outright fraud. Its charter was not renewed when it came due in 1836, and the US did without a central bank capability until the founding of the Federal Reserve in December 1913—despite a woefully inadequate monetary base in silver and gold coins throughout the period to pay for goods and services in the greater economy.
Lost amidst the volatility of last week, consumer price index (CPI) unexpectedly fell during the month of September with headline price inflation coming in at 2.3% and core inflation posting 2.2%, YOY. Energy prices dropped 0.5% during the month while food prices registered no change for the month. Inflation remains tame in the present. Forward inflation expectations also remain tame. Fed funds futures project a 34% probability that the Fed will increase rates at least three times by its June 2019 meeting, down from 42% just last week.
All that said, the remaining question is whether the current market slide amounts to just another dance with a market correction or whether it represents a true slowing of market momentum. Bank stocks took broadside hits on Thursday despite the upward thrust of interest rates. The jury is still out on defensive stocks like utilities, REITs and other high dividend market plays all fell for the week. Investors pulled an estimated $4.2 billion from high yield bonds last week. The high yield spread to US Treasuries narrowed to about 358 b/p by week's end.
The lure of technology stocks and their explosive growth YTD, while smitten remains largely intact—and for good reason. After this week's market deluge, Amazon is still up just over 50% for the year. Apple is up just over 29%. Netflix is up 66% and Microsoft is up just over 27% YTD. Meanwhile, the broader equities market as represented by the S&P 500 is up 3.499%—almost 2 ½ times less than the Nasdaq through Friday's market close. For the more risk savoy investors among us, technology issues are now on sale. The reward for taking risk in the pursuit of higher returns in equity markets has indeed been reduced—but is hardly disappearing any time soon. The upcoming earnings season will likely calm the nerves of many a nervous investor. TCJA YOY comparisons will continue to smile on earnings through the end of the year which will likely continue the market momentum of well-positioned issues that have outperformed throughout the course of the year to date. This will include technology stocks.
Bull markets die from recessions, and a recession in the US remains remote through at least the middle of 2019, given the impact to date of TCJA on corporate EPS measures. The music will continue—until it stops.
Disclosure: I am/we are long AMZN, MSFT, NFLX, AAPL. I wrote this article myself, and it expresses my own opinions. I am not receiving compensation for it (other than from Seeking Alpha). I have no business relationship with any company whose stock is mentioned in this article.