The S&P 500 (SPY) produced a -4.07% total return in the week ending October 12th. With the combined market capitalization of the S&P 500 hovering around $25 trillion before the sell-off, the large cap benchmark constituents shaved an easy trillion of market value last week.
While in the midst of a market sell-off, it may feel to some like the sky is falling, last week's performance was the worst weekly performance since... the third week of March.
Using data back to 1928 for the S&P 500 and its predecessor indices, last week was the 201st worst total return (out of 4,734 weeks), putting it in the 4th or 96th percentile depending on if you are a glass half full or half empty kind of investor. It was a bad week for stocks, but not a historic week.
We have experienced two worse weeks in 2018, but this was notably the 14th worst week since stocks bottomed in March 2009. Not a single week in 2017 was worse, but, of course, that was a historic year that saw positive monthly returns each and every month.
In addition to the long string of solid returns in 2017, the large cap index also did not have a week that was as bad as this past week over a three year period from mid-May 2012 to mid-August 2015. Stocks did not have a week this bad from late January 2003 to late July 2007... or from September 1990 to August 1998... or from October 1981 to September 1986. For the astute investors, those time horizons represented early-to-mid-cycle points for various business cycles. I hope this relationship shines through on the graph below for investors with a keen sense of market history.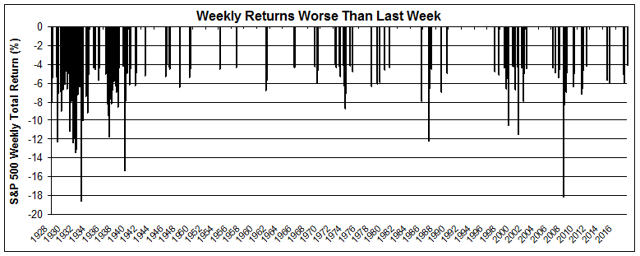 Source: Standard and Poor's; Bloomberg
We have had risk flares in the post-crisis environment - the U.S. downgrade and sequestration in 2011, rolling European debt crises, the commodity crash of 2014-2015, various flash crashes - but generally extraordinary monetary accommodation has acted as a volatility suppressant in this extended economic expansion. While severely negative weeks for the S&P 500 tend to cluster in recessionary environments as pictured, this is the 201st worst week in 90 years. That means we have this type of weekly performance 2-3 times per year on average. We are on pace for that figure in 2018.
I hope Seeking Alpha readers benefit from this long-run perspective. Last week's equity market return was not uniquely abnormal. Market corrections happen. Extended periods with no weeks this bad are typically mid-cycle periods. Those halcyon days may be drawing to an end, and portfolios should adjust to the likelihood of a return to more normalized volatility as the Federal Reserve normalizes monetary policy.
Author's Post-Script
A hectic personal and professional schedule over the past several months has temporarily reduced my contributions to the Seeking Alpha community. The article ideas continue to percolate, but I have not always had the time to get them published for my valued and growing readership. After a very interesting week for global financial markets, I resolved to get a few articles out to my readership. These include (see profile):
How Bad Was It? A ninety year look at weekly performance for the S&P 500 that puts last week's move into a historical context.
The Path Forward: History Lessons from Bad Weeks takes the same ninety year dataset examines the 50 weeks most similar to last week and examines returns over the next week.
Stocks vs. Housing: More Expensive? looks at long-run data series to demonstrate the price of the stock market and housing relative to average earnings. The multiple of stock prices to hourly earnings is at a record, and this article discusses some of the potential drivers to this rich valuation.
U.S. Vs. The World: Rolling Return Comparison takes a look at the performance of the S&P 500 versus the MSCI All-World (ex-US) Index in rolling 1, 3, 5, and 10-year periods over the past 5 decades.
Performance & Valuation by Country looks at global equity returns amongst key indices over the last week and year-to-date. The article also includes relative trailing and forward P/E ratios to put U.S. valuation in a global context.
The Hidden Bear Market examines the nearly one-third of S&P 500 constituents that are trading more than 20% from their 52-week high and illustrates some themes that group these companies.
12 Dividend Aristocrats in Bear Market highlights the 12 consistent dividend payers that are now more than 20% from their 52-week high.
Stocks Holding Up Market details the decile of the S&P 500 that is trading closest to its 52-week high. With nearly one-third of S&P 500 constituents in bear market territory, this article looks at the 50 stocks most impactful in keeping the S&P 500 elevated.
Cheap or Rich? Two View of High Yield Bonds examines the high yield bond market, which traded at its tightest spread in a decade early in October, but now boasts yields that are as high as any time in the past two years.
The Bearish Spread Signal For Stocks discusses the typically negative relationship between credit spreads and stock prices. Widening credit spreads early in 2018 may have been a harbinger for the recent sell-off.
Disclaimer
My articles may contain statements and projections that are forward-looking in nature, and therefore inherently subject to numerous risks, uncertainties and assumptions. While my articles focus on generating long-term, risk-adjusted returns, investment decisions necessarily involve the risk of loss of principal. Individual investor circumstances vary significantly, and information gleaned from my articles should be applied to your own unique investment situation, objectives, risk tolerance and investment horizon.
Disclosure: I am/we are long SPY. I wrote this article myself, and it expresses my own opinions. I am not receiving compensation for it (other than from Seeking Alpha). I have no business relationship with any company whose stock is mentioned in this article.