I doubled down on Blackstone Mortgage Trust, Inc. (BXMT) last week because I think the market sell-off is a good opportunity to load up on high-quality income vehicles with potential for dividend and capital growth. Blackstone Mortgage Trust has a large floating-rate debt investment portfolio that is set up to deliver net interest income gains in a rising rate environment. Further, BXMT has excellent dividend coverage for an almost eight percent yielding REIT, and I can even see a dividend hike on the horizon. Shares have become much more affordable lately, and an investment in BXMT comes with a 7.7 percent entry yield.
Blackstone Mortgage Trust - Business Overview
Blackstone Mortgage Trust is structured as a real estate investment trust and, therefore, is required to distribute the majority of its earnings as dividends to shareholders. The REIT predominantly invests in senior commercial real estate loans, which tend to be floating-rate. Companies with variable-rate asset bases are preferred income vehicles for dividend investors as the Fed pushes interest rates higher.
Blackstone Mortgage Trust has seen very strong demand for new mortgage originations in the last couple of years. In Q2-2018, for example, the REIT originated a record $3.9 billion in new loans. All of Blackstone Mortgage Trust's new originations were senior loans with variable rates.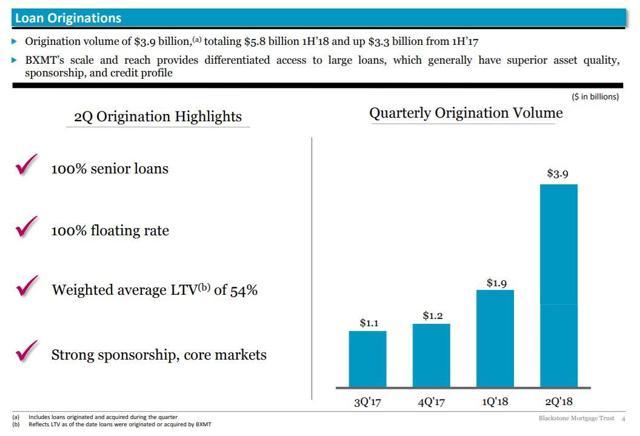 Source: Blackstone Mortgage Trust Investor Presentation
Backed by strong demand from CRE investors, Blackstone Mortgage Trust's origination volume has surged in 2018.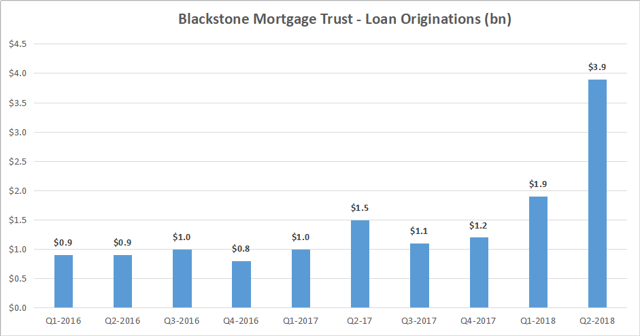 Source: Achilles Research
Blackstone Mortgage Trust has considerable earnings upside in a rising rate environment, thanks to its large floating-rate investment portfolio. According to Blackstone Mortgage Trust's second quarter investor presentation, a whopping 95 percent of the REIT's investments are floating rate. The higher rates climb, the better for BXMT and its shareholders.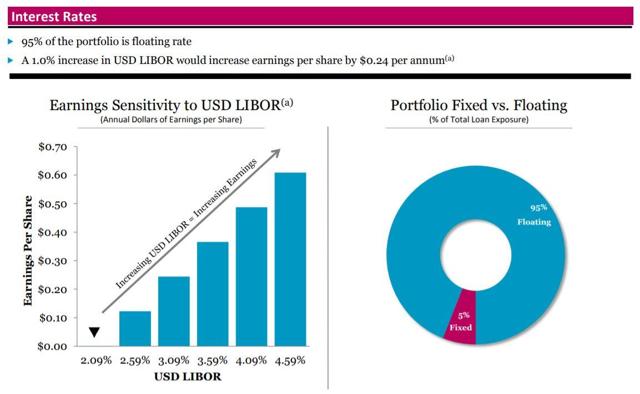 Source: Blackstone Mortgage Trust
The Dividend Has Room To Grow
Blackstone Mortgage Trust has maintained a stable quarterly $0.62/share dividend rate for years, but the REIT could hike its dividend in case higher interest rates effectively translate into higher net interest income.
The real estate investment trust earned an average of $0.67/share in core earnings in the last twelve quarters, which compares favorably against a stable dividend rate of $0.62/share.
See for yourself.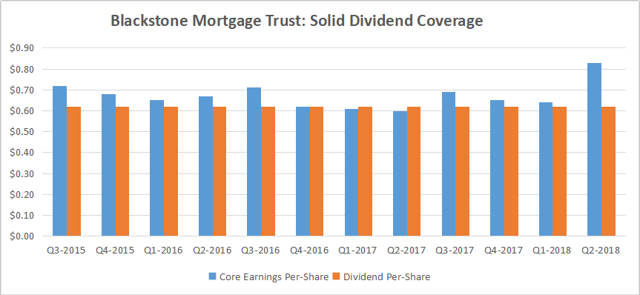 Source: Achilles Research
And here's Blackstone Mortgage Trust's dividend coverage ratio (average: 108 percent).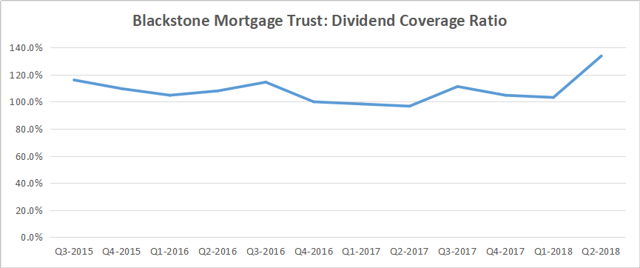 Source: Achilles Research
Buy The Drop
Blackstone Mortgage Trust's shares have become a lot cheaper as stocks dropped precipitously in the last couple of days.
Today, income investors seeking a high-quality income play in the commercial real estate sector pay just ~9.7x Q2-2018 run-rate core earnings for BXMT. Importantly, Blackstone Mortgage Trust's shares are now oversold, according to the Relative Strength Index, RSI.
And here's how BXMT compares against other REITs in the sector in terms of price-to-book-ratio.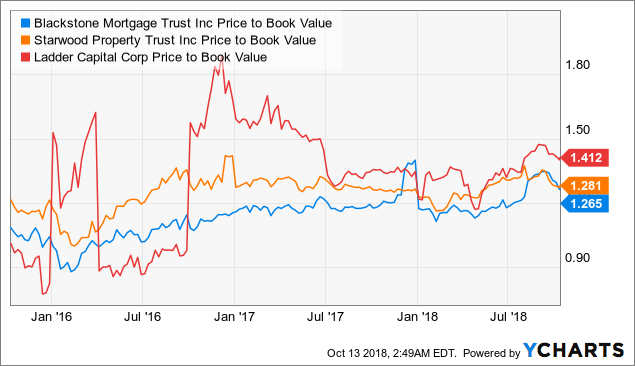 Risk Factors Investors Need To Consider
Major risk factors include:
A U.S. economic recession and an associated decline in commercial real estate values (less demand for new loan originations);
A deterioration in dividend coverage;
Slower-than-expected rate of dividend hikes.
Your Takeaway
Blackstone Mortgage Trust looks like a really good deal today. Blackstone Mortgage Trust's origination volume hit a new record in Q2-2018 because the U.S. economy and the commercial real estate market are in excellent shape. Further, BXMT has considerable NII-upside, and has very good dividend coverage stats for an 8%-yielder. The company could definitely already afford a dividend hike. Shares have become more affordable on the market drop, which opens up a buying window for opportunistically minded high-yield investors. Buy for income and capital appreciation.
If you like to read more of my articles, and like to be kept up to date with the companies I cover, I kindly ask you that you scroll to the top of this page and click 'follow'. I am largely investing in dividend paying stocks, but also venture out occasionally and cover special situations that offer appealing reward-to-risk ratios and have potential for significant capital appreciation. Above all, my immediate investment goal is to achieve financial independence.
Disclosure: I am/we are long BXMT, STWD, LADR. I wrote this article myself, and it expresses my own opinions. I am not receiving compensation for it (other than from Seeking Alpha). I have no business relationship with any company whose stock is mentioned in this article.