Background
Over the past month, we already looked twice and compared the current markets to the ones we witnessed 10 years ago.
First it was September 15th, 2018, marking the 10th anniversary of the Lehman bankruptcy. No doubt, a day to remember.
Then, we looked back on 9/19/2018, a day that brought a sigh of relief to the markets as a result of three major announcements:
Bush/Paulson outline TARP plan ("hundreds of billions").
Treasury plan to insure money market funds.
SEC bans short-selling in 799 financial stocks.
This is neither September 2008 nor a time that required such mega-size announcement. However, one can't ignore two notable similarities:
1. The past week was an unusual week for the markets and, interestingly, so was that very same week 10 years ago.
2. The White House announced that President Trump will meet with the Chinese leader Xi Jinping during the G-20 summit in Buenos Aires scheduled for the end of November.
In light of those similarities, we have decided to compare the two weeks, now (2018) and then (2008).
Big Loss for the Market
Global stocks (VTI, VEA, EFA) lost no less than $2.2T during Thursday's rout, bringing losses since January to almost $12T. That's an amount equal to the GDP of China (FXI, MCHI)!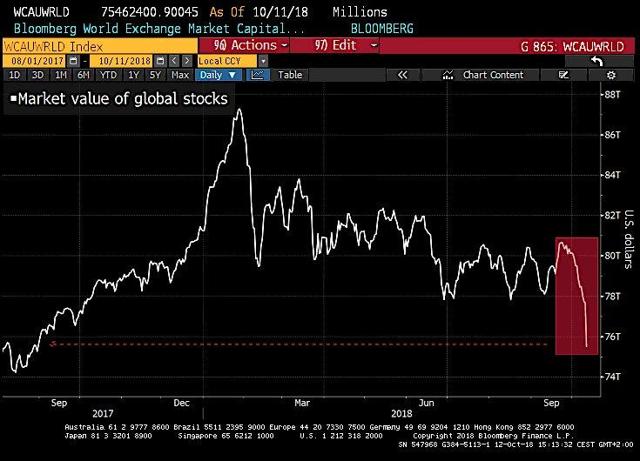 Since there was no specific reason for the kind of move we've seen on Thursday, many are looking to blame those they can't hear, see or otherwise sense - algos and machines.
Some claim that those are the automated algos and machines we need to point our fingers at. They are set/tuned to buy (more on) the strength and sell (more on) the weakness, thus - whether like/meant it or not aggravating the moves we see.
Big Gains for Big Banks
Three of the largest US banks - JPMorgan Chase & Co (JPM), Citigroup, Inc. (C) and Wells Fargo & Co. (WFC) - reported better-than-expected earnings last Friday. Nonetheless, investors seemed unimpressed, especially until ~1:40pm.
The three banks had two main themes in common during Q3/2018:
1. Fantastic results on the lending side that allow for further cuts in expenses for bad loans. Using JPMorgan CEO and Chairman Jamie Dimon's words, consumer lending since the financial crisis "has been pretty damn good".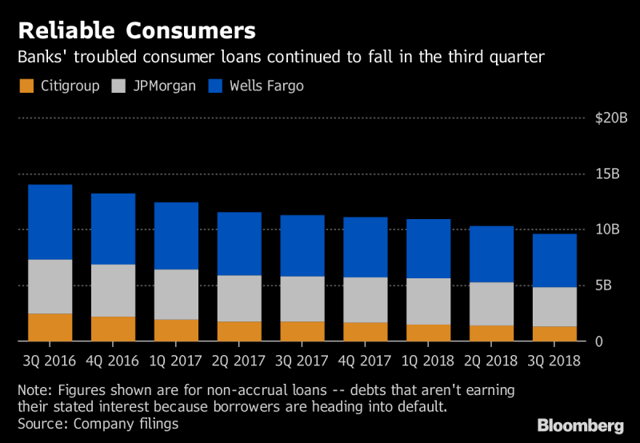 2. Fantastic outcome out of Trump's tax cut initiative. After paying over 30%, on average, over the past three years, these banks are now seeing a tax burden of less than 25%.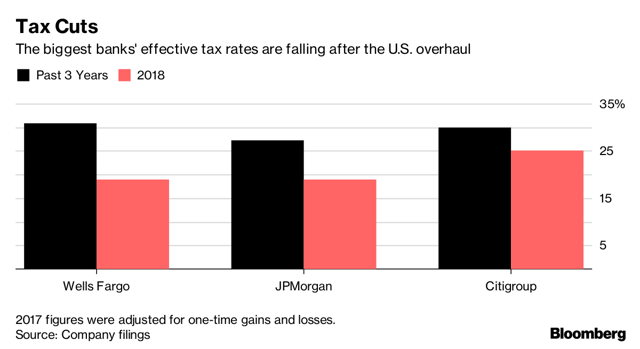 JPMorgan
On one hand, JPM missed on debt trading and sales. According to FINRA data, US junk bond (HYG, JNK, AWF) trading volumes fell ~18% Y/Y, while the less lucrative businesses of Treasury (SHV, SHY, IEF, TLT) and investment-grade ("IG") (LQD, AGG, BND) debt trading were up only marginally.
On the other hand, the bank also reported record net interest income, as revenue from customers' loan payments minus payments to depositors jumped to $13.9B.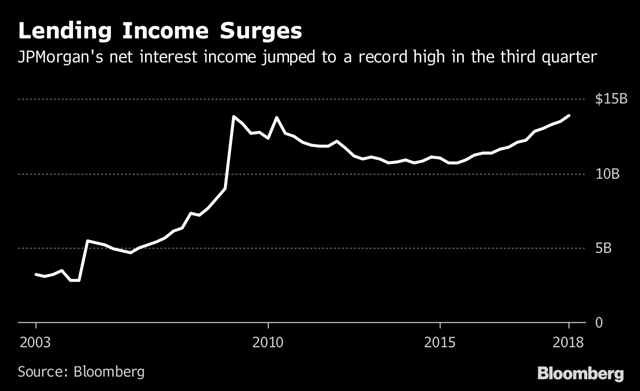 Citigroup
On one hand, C posted a rare drop in revenues in its US consumer banking unit. A sign of something bad/worse brewing underneath?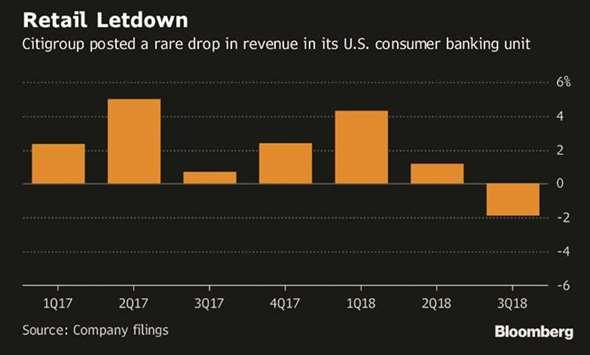 On the other hand, the bank managed to translate the high volatility in credit markets to a high performance in its fixed-income trading.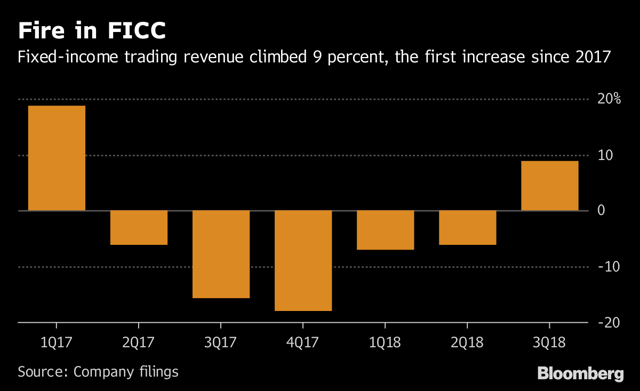 Wells Fargo
WFC - the "weakest link", at least in recent years - managed to move the revenue needle from pointing down to a slight upward angle.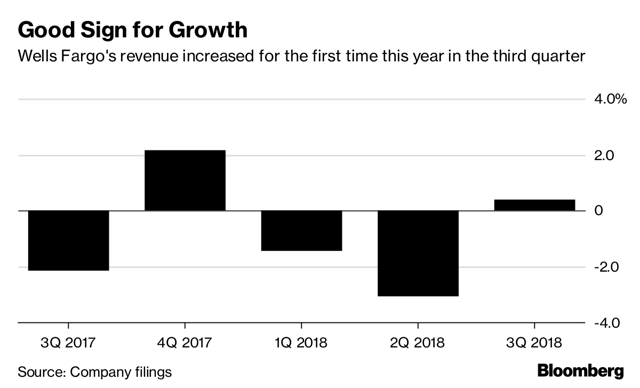 Small Gains for Small(er) Banks
Unlike the big banks and the Financial Select Sector SPDR ETF (XLF), the smaller regional banks continue to suffer even on Friday.
The SPDR S&P Regional Banking (KRE) lost nearly 2%, following the disappointing earnings of PNC Financial Services (PNC) that saw softer growth in both loans and deposits.
PNC - the first of large regional banks and one of the ETF's key components to report Q3/2018 results - closed at -5.6%, after being down as much as 7.5% earlier in the day.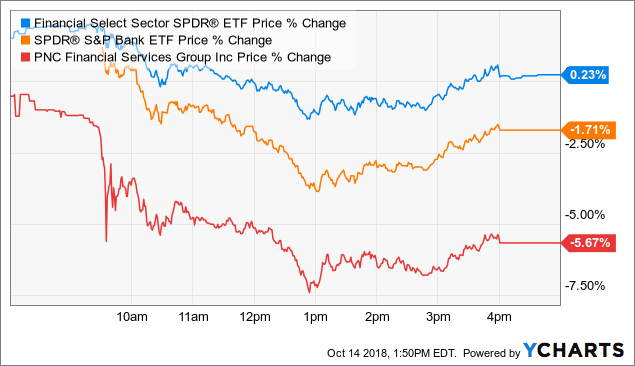 Other regional banks (KBE, IAT, KBWB, QABA, KBWR, DPST, WDRW, FTXO) lost KRE components falling - KeyCorp (KEY), SunTrust Banks (STI), Regions Financial (RF), CIT Group (CIT), and BB&T (BBT) lost between 1% and 3% of their value in tandem.
Overall, quite a divergence among financials/banks on Friday.
Performance During 6-11 October - 2018 vs. 2008
It was a painful week indeed, but nothing compared to the same week exactly 10 years ago:
| | | |
| --- | --- | --- |
| Instrument / Index | 2018 | 2008 |
| VIX (VXX) | +44% | +55% |
| | +1% | +5% |
| Gold (GLD) | +1% | +3% |
| 30-Yr Treasuries (TLT) | +1% | -4% |
| Hang Seng (EWT) | -3% | -16% |
| TSX (EWC) | -3% | -16% |
| Crude Oil (OIL, USO) | -4% | -17% |
| IBEX 35 (EWP) | -4% | -21% |
| Nasdaq (QQQ) | -4% | -15% |
| Dow (DIA) | -4% | -18% |
| S&P 500 (SPY) | -4% | -18% |
| FTSE 100 (EWU) | -4% | -10% |
| ASX 200 (EWA) | -5% | -16% |
| FTSE MIB (EWI) | -5% | -14% |
| KOSPI (EWY) | -5% | -15% |
| Russell 2000 (IWM) | -5% | -16% |
| Nikkei (EWJ) | -5% | -24% |
| DAX (EWG) | -5% | -22% |
| CAC 40 (EWP) | -5% | -22% |
| Shanghai (CHINA) | -8% | -13% |
Major Indices - Percentage Below 52-Week High
Basically all major equity indices across the globe except for the US market are already in a correction territory:
Volatility
The volatility index, aka VIX, has more than doubled over the past six trading days. That is the 9th largest six-day spike (percentage wise) in history!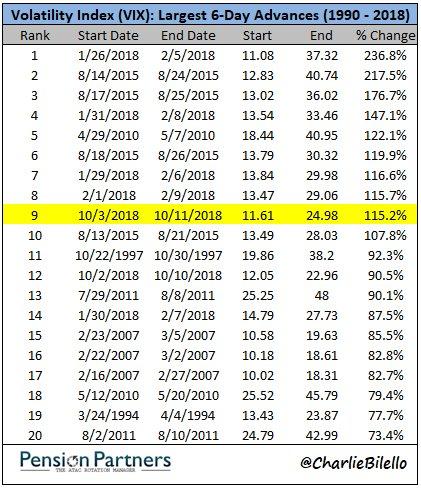 Interestingly, you can't find among the top 20 largest six-day advance in the volatility index dates from 2008 to 2009. How come? Because, despite many single crazy days, the level (of the VIX) was already elevated when the Lehman Brothers bankruptcy took place (9/15/2008), thus leaving less room for big spikes from a percentage perspective.
Below: VIX levels over six months from 9/9/2008 to 3/9/2009.
Goldman Sachs (GS) points out that the VIX move on Wednesday 10/10 was an extremely unusual event, being the 25th-largest one-day VIX spike in recorded history.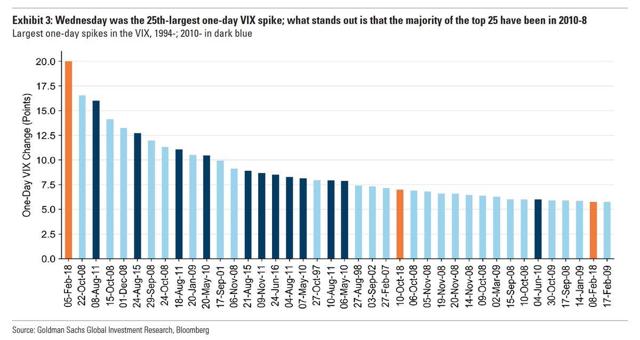 Unsurprisingly, the majority of the top 25 spikes occurred during 2008-2010.
What History Suggests
The S&P 500 (SPY) has shed 7.8% of its value over the past 20 days. Checking all the index 5%+ corrections since 3/9/2009 shows that the median correction is -8.4% and it lasts over 26 days.
So if you wish something to hang onto, you may expect things to cool down this coming Thursday (26 days since 9/21) and only about a 0.6-0.7% further decline.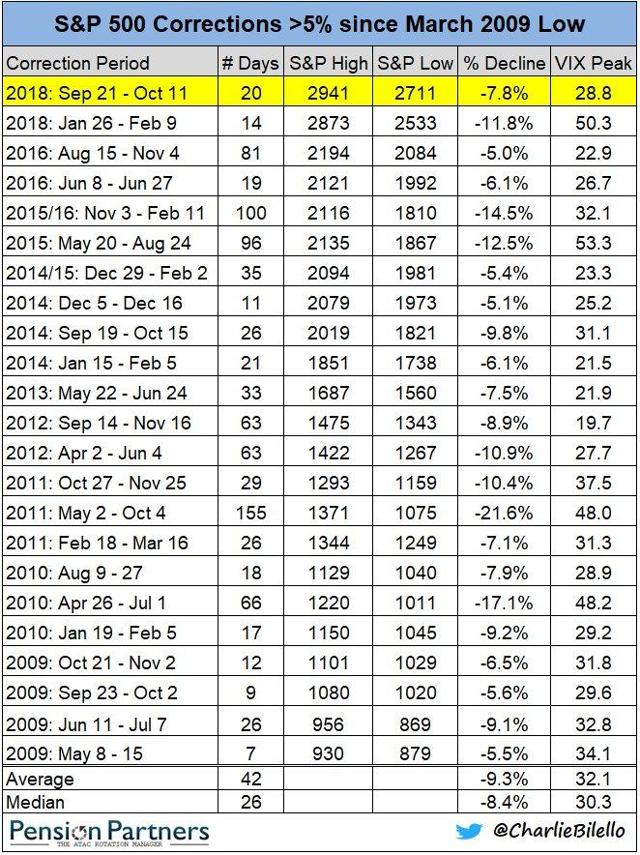 On the other hand, only 41% of stocks in the S&P 500 closed the week above their 200-day moving average ("DMA"), fewest since February 2016.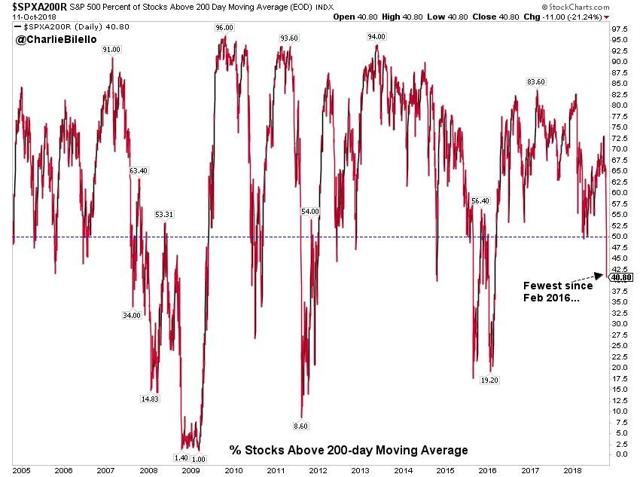 Furthermore, we are down to only ~10% of stocks in the S&P 500 trading above their 50-DMA, fewest since January 20th 2016.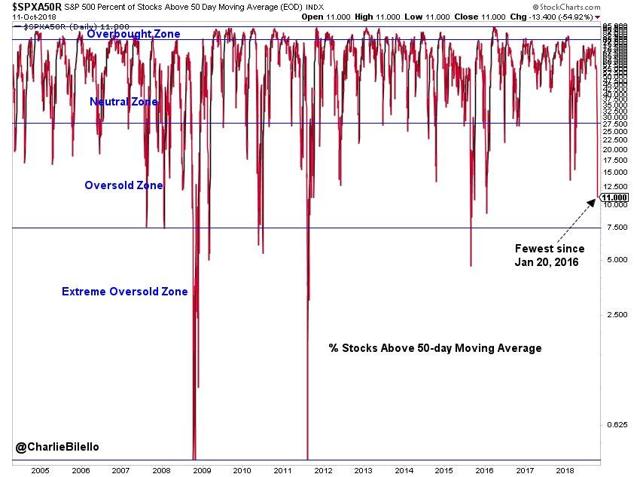 Less than 10% of stocks trading above their 50-DMA is a reading that falls below 98% of historical data points, i.e. reflecting the bottom 2% of cases.
Here are the results from a study done by Pension Partners in early 2016. The conclusion, back then, was that you tend to see above-average forward returns following such oversold readings.

Remember:
1. "Tend to" is not the same as "Always"!
2. There are no certainties in the markets, only probabilities. Odds are now in favor of a bounce.
Trade War
So the two leaders - Trump and Xi - are going to meet next month at the G-20 summit. However, before they do, the below chart should perhaps be better off not finding its way to President Trump's desk...
China's trade surplus with the US exploded and hit a record $34.1B, according to official figures released in Beijing, as US companies front-loaded China imports before the latest round of tariffs kicks in. That's the power of tariffs!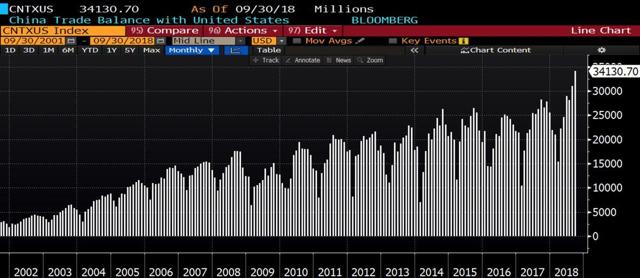 Mad World
Until not long ago, i.e. October 2018, the red-hot tech sector was an unstoppable machine, pushing the market to new highs over and over again.
The recent madness in the world's markets saw investors rushing to hedge their long red-hot technology (XLK) sector bets in.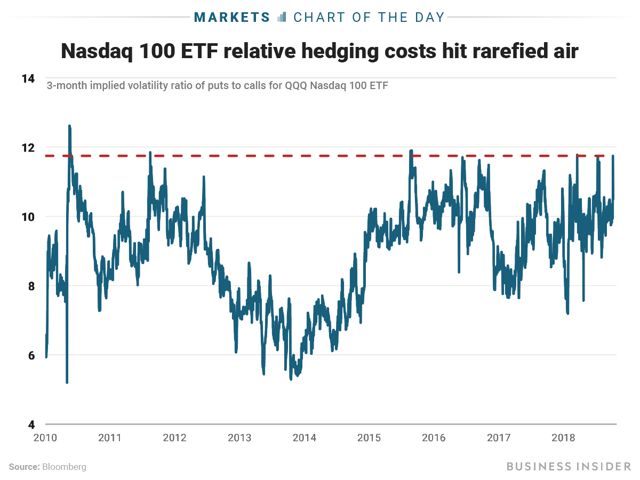 Consequently, alongside this massive run-up, but also as a result of the Nasdaq 100 (QQQ) dropping 8.8% over the six trading days (between 4 and 11 October), the cost to hedge against losses in tech has skyrocketed to levels seen on very few occasions since 3/9/2009.
It's a mad world indeed.
Author's note: Blog post notifications are only being sent to those who follow an author in real time. In order to receive notifications for both articles and blog posts, go to Author Email Alerts, which lists all the authors you follow, and turn on "get e-mail alerts" (see below).


The Wheel of FORTUNE is one of SA Marketplace's most comprehensive services. We view our service as a "supermarket of ideas" with an emphasis on risk management and risk-adjusted returns.
We cover all asset-classes: common stocks, preferred shares, public debts, baby bonds, options, currencies, and commodities.
With Trapping Value on-board, you're getting two leading authors for the price of one.
Before committing to the service on a long-term basis, take advantage of the two-week free trial.
Disclosure: I am/we are long JPM, C.
I wrote this article myself, and it expresses my own opinions. I am not receiving compensation for it (other than from Seeking Alpha). I have no business relationship with any company whose stock is mentioned in this article.