One of the keys to succeeding as a Dividend Growth Investor (DGI) is to be patient, keep cash on hand, and be ready when opportunities present themselves. Through the first three quarters of the years, the stocks within my portfolio and those I keep tabs on have risen steadily.
Since embarking on my investing journey with individual equities back in early 2009, I have been committed to a philosophy that if I was willing to own a stock whatsoever, I should also be willing to buy more of it on declines. Otherwise, I reasoned, the stock should not be in my portfolio where the emphasis is dividend security and growth. I hold true to this philosophy today.
While my portfolio has held up well through 2018, there are three high quality companies within it which have lately shown considerable weakness and have thus earned their spot on my immediate watchlist as we move into the final stretch of the year. Remarkably, they are all treading water around the 52-week low mark; that's just where I like them given I have cash on hand to invest.
Please note that the three charts presented below are representative of the Canadian iterations of these companies given that I own each of them in CAD on Canadian exchanges.
Bank of Nova Scotia (BNS)
If there is one thing I enjoy as an investor, it is a protected industry with a few key players controlling the majority of the market share. Financial services in Canada is home to a powerful oligopoly lead by what is known as the "Big Five" banks.
BNS ranks third in size and is the most international of the pack. Through fiscal Q3, Canadian Banking brought in 50% of the earnings with the remainder split between International Banking and Global Banking and Markets at 31% and 19%, respectively.
In terms of dividend growth, BNS has managed to boost its payout to shareholders in 43 of the last 45 years–which is remarkable when you consider that during this period we experienced the worst economic downturn since the Great Depression. Going back to 2008 the company has managed a 7% compound annual growth rate which, if maintained, would see a doubling of dividend income for investors moving forward. Over that same period, annual diluted earnings per share growth has been 9% which supports the dividend growth.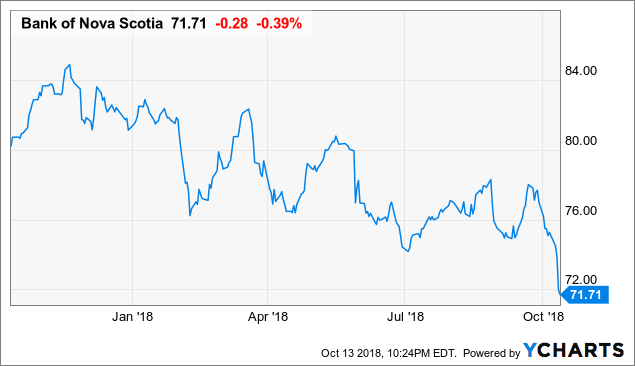 I have already picked up 75 BNS shares (in CAD) since the beginning of the year but am seriously considering it at this lower price-point. Opportunities to average down on companies such as BNS are a welcome sign in my books. As the dividend yield approaches 5%, I become increasingly ready to pull the trigger once more.
Brookfield Renewable Partners L.P. (BEP)
Of all the virtual-certainties I can see when peering into my crystal ball for the future, one of my favorites is the reality that the citizens of the world will continue to consume ever-greater amounts of energy in the decades to come. We are living in a technological, electronic age. The speed at which this takes place is accelerating daily. Beyond that, the consumer has grown to be far more socially and ecologically minded than ever before.
When you take these two factors together, the demand for companies able to fuel our global economy will continue to increase. That's the macro view.
In terms of BEP itself, the company is one of the largest publicly-traded renewable power platforms with 876 generating facilities. It has hydro, wind, solar, and other renewable assets across North America, South America, Europe, and Asia. Just over 75% of the portfolio is centered around hydroelectric power.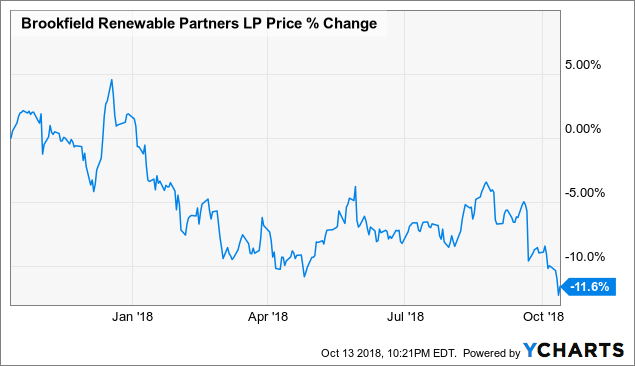 Sporting a current dividend yield of ~6.7%, BEP offers a bountiful payout for investors at the present moment. One aspect of investing in BEP that I most enjoy is the company's transparency with investors; it is very clear that the goal is to deliver 12-15% in long-term annualized returns with annual distribution increases of 5-9%.
While I've already picked up shares of BEP on two occasions recently and only initiated a position back in July, I will be glad to increase my stake at these levels.
Canadian Utilities Ltd. (CU.TO)
CDUAF provides services in three segments; Structures & Logistics, Electricity, Pipelines & Liquids, and Retail Energy. Similar to my thesis for BEP above, demand for these services has been increasing over time.
Beyond this, one of the best aspects of this industry is that competitors would be hard-pressed to challenge a company's dominance once it has been established. I wish the best of luck to any upstart company looking to move into the utility market and supplant a top-flight operator such as CDUAF. Given the regulated nature of the industry, it is possible to generate highly predictable income streams regardless of economic climate.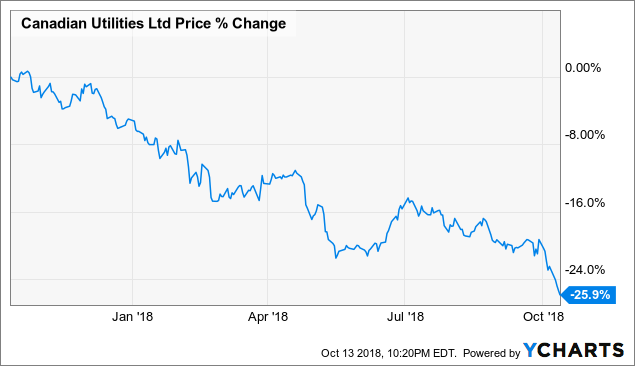 I have been an investor with CDUAF since late 2015. The share price has lately been under fire, possibly because of rising interest rates–though I tend not to speculate too mightily on the why given there are so many countless factors that go into stock prices in the short run. There's always another reason that can be pointed to.
What I love most about CDUAF is its dividend growth record. It has posted increases in each year since 1972 and thus sports the longest track record of annual dividend increases of any Canadian publicly traded company. Despite that impressive run, the company seems to be showing no signs of slowing with 10% bumps in both 2017 and earlier this year. As an investor, I believe dividend increases send signals and this is a promising sign. With a dividend yield approaching 5.5%, the entry point is attractive.
While I felt earlier this year that I would not add to my CDUAF position after rounding it out, the current price may well pull me back in for another round.
Conclusion
Market weakness is only a bad thing if you're planning to sell investments. I am firmly on the path of accumulating assets and have been waiting for a moment such as this.
I will take a look on Monday when the markets open to see where my capital will be best allocated, but these are the three frontrunners for my investment dollars at the moment.
Thank you for reading.
Disclosure: I am/we are long BEP, BNS, CDUAF.
I wrote this article myself, and it expresses my own opinions. I am not receiving compensation for it (other than from Seeking Alpha). I have no business relationship with any company whose stock is mentioned in this article.
Additional disclosure: All companies owned in CAD on Canadian exchanges.
Editor's Note: This article discusses one or more securities that do not trade on a major U.S. exchange. Please be aware of the risks associated with these stocks.