There is a growing crisis in the American economy and it's not what you think. Problems with trade, rising inflation, and rising interest rates have gripped the market now, but there is an elephant in the room no one is talking about. The actionable takeaway is this: growth estimates for some businesses are based on positions that can't be filled. If the positions can't be filled, growth potential won't be realized and that will result in slowing growth within the US economy.
The crisis is a shortage of available workers and employees. I see evidence of the shortage everywhere I go; help wanted signs, job opening, and most recently, closed businesses. I've seen and heard of several stores in my city being closed because there was no one to fill the shifts and even more stories of businesses operating short-staffed for the same reason.
From the Facebook group, West Asheville Exchange.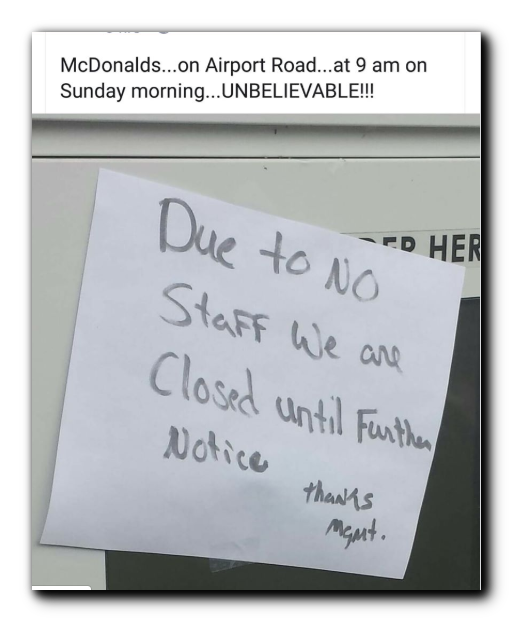 The recently released 3.7% unemployment rate is a historical low but so low some economists fear it's not sustainable. Based on data from the BEA Non-Farm Payrolls Report and the BLS JOLTs report, there are far more jobs available than available workers which suggest historically low unemployment levels can not only be sustained, they can be improved. There are, in fact, so many job openings in America, but there aren't enough workers to fill them all.
The JOLTs report on Job Openings and Labor Turnover shows job openings trending at 6.9 million and at historic high levels. The Non-Farm Payrolls report shows that the number of unemployed people in America has fallen to 6.0 million. This means that if every unemployed person in America accepted employment tomorrow, there would still be nearly a million jobs left unfilled.
The high number of job openings and high demand for workers have led to the highest level of worker confidence the US has ever seen. The Labor Turnover portion of the JOLTs report shows that job quits are trending at record highs. Job quits are used as a gauge of worker confidence because a worker who quits their own job must be assured of newer, better, higher paying work somewhere else.
What this data means is that competition for employees is going to be fierce and some businesses will be left out in the cold looking for help. Companies like McDonald's (MCD), Wendy's (NYSE:WEN), Domino's (DPZ), and Yum! Brands, Inc. (YUM) are only the easy targets when considering what this crisis means for business; they are among the lowest paying in the US. Companies like Red Robin Gourmet Burgers (RRGB), Chipotle Mexican Grill (CMG), and Shake Shack (SHAK) also face the dual problems of rising wage inflation and the possibility of business contraction if positions can't be filled and maintained.
The Fed's Beige Book has been tracking tightening labor conditions for many months. The last read, for September 2018, made note of widespread labor shortages ranging from low-end entry-level positions through skilled labor and trucking so the shortages aren't limited to fast food. The Beige Book report also makes note of three districts that showed no growth due to a lack of labor and another six that cited labor shortages as constraining growth.
From the FOMC Beige Book, September 2018:
Labor markets continued to be characterized as tight throughout the country, with most Districts reporting widespread shortages. While construction workers, truck drivers, engineers, and other high-skill workers remained in short supply, a number of Districts also noted shortages of lower-skill workers at restaurants, retailers, and other types of firms.
The Conference Board's US Forecast concurs with the FOMC outlook. According to the forecast, upward wage pressures will be exacerbated by a shortage of employees that is not limited to a single sector.
Conference Board US Forecast, October 2018:
Upward wage pressure will be further exacerbated by a shortage of blue-collar workers who are seeing their wages rise faster than their white-collar counterparts.

With an increased number of firms facing labor shortages, HR departments are looking for alternative talent sources. . . As long as the economy remains strong though, hiring managers will still face heavy competition for talent and rising pressure on wages.
Some businesses, like Starbucks (SBUX), are already ahead of the curve. Starbucks raised its corporate minimum wage earlier this year in a move that is not as altruistic as it may have seemed, the company had no choice but to raise the minimum wage or else face the same challenges as its lesser paying counterparts. Others on the list include Amazon (AMZN), Target (TGT), Disney (DIS), Charter (CHTR), and Ben & Jerry's (UL) which have all committed to providing a $15 per hour minimum wage and other employee benefits.
What the labor shortage doesn't mean is an end to the US economic expansion. The expansion is driven by demographic forces that can't be stopped and most jobs pay more than minimum wage. Businesses that can attract and maintain a workforce will be the winners. What the labor shortage does mean is that the US economy is going to experience a period of slowing growth among the lowest paying business that will drag on GDP in future quarters.
McDonald's and other fast-food/retail/consumer businesses may want to expand, but they will have to find the workers to do it and I say they aren't available. If those businesses can't even find the workers to fill current job openings, there aren't enough employees for expansion. With this in mind, I say there is high probability revenue for these companies will miss, growth targets will fall short and stores will be closed until a new workforce can be hired, trained, and put into action.
Disclosure: I/we have no positions in any stocks mentioned, and no plans to initiate any positions within the next 72 hours. I wrote this article myself, and it expresses my own opinions. I am not receiving compensation for it (other than from Seeking Alpha). I have no business relationship with any company whose stock is mentioned in this article.